Ever since the appointment of Meg Whitman as Hewlett-Packard's (NYSE:HPQ) new CEO on September 22, the company has enjoyed a respectable run in its stock price - almost 40%. It seems that HP is now responding in a way that it wasn't able to with its former embattled leader Leo Apotheker who tried (unsuccessfully) to transform HP into "the new HP" - essentially forgetting what it does best.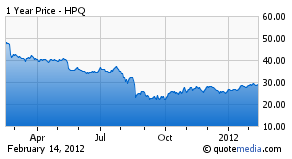 Being dominant in printing and PCs was not enough. HP wanted to also compete head on with Apple (NASDAQ:AAPL) and Google (NASDAQ:GOOG). It seems losing share to Cisco (NASDAQ:CSCO) and Oracle (NYSE:ORCL) each quarter did not pose enough of a challenge. Some CEOs continue to forget that "the new Coke" never panned out. However, ever since new CEO Meg Whitman was appointed as leader and the stock now has some new found life, the question investors want to know is: Is the company now a value play or a value trap? I tend to think it's the former considering what a great job Whitman has done in its most recent quarter.
Its recent quarter
As the company prepares to report earnings in a couple of weeks, this is when our question in terms of value play or value trap will be answered. But investors need to only look back a few months ago for some insight in terms of what to expect. Only a couple of months into her new role, investors are already seeing the difference that Meg Whitman is able to make as CEO. HP reported its Q4 2011 earnings results and what I can describe as a "decent quarter." But more importantly, while listening to the call, it was clear that she had established a firm grasp on the company and understands its weaknesses unlike her predecessor.
Admittedly, there are some glaring problems, but they are also correctable. For starters, HP reported Q4 non-GAAP net revenue of $32.3 billion, which was down 3 percent from the same quarter in 2010. The company also posted non-GAAP diluted earnings per share of $1.17. Analysts had been expecting the company to post earnings of $1.13 a share on revenue of $32.05 billion. Full year fiscal 2011 GAAP net revenue for the fiscal year 2011 was $127.2 billion, up a modest 1 percent compared with the prior year. Non-GAAP net revenue for the full fiscal year 2011 was $127.4 billion, also up 1 percent compared with the prior year.
For the fourth quarter, GAAP net revenue of $32.1 billion was down 3 percent from the prior-year period. GAAP diluted EPS was $0.12, down 89 percent from the prior-year period. HP Software revenue grew 28 percent year over year, driven by revenue growth in licenses and services. Revenue in HP's commercial businesses declined 2 percent year over year. Revenue in HP's consumer businesses, within PSG and IPG, was collectively down 9 percent year over year.
Earnings expectation for the quarter
First-quarter profit forecast and full-year earnings' outlook both missed analysts' estimates. But Whitman's blueprint for rejuvenating HP should not be underestimated. The company plans to focus heavily and inject capital into its PC division as well as its IT Services business which includes boosting research spending and limiting the size of acquisitions. This is a far stretch from the company's previous strategy that involves neglect some of its key assets.
Profit for the quarter ending in January will be 83 cents to 86 cents a share, excluding some items, the company said in a statement. The average estimate of analysts surveyed by Bloomberg was for $1.11 a share. Excluding certain items, profit will be at least $4 a share in fiscal 2012, which began Nov. 1, missing the average forecast for profit of $4.58.
I asked previously if Meg Whitman was up for the task of turning around HP. That question was clearly answered during the conference call on Monday as she more than demonstrated based upon HP's guidance that she has a more realistic sense of the company's challenges by making the following two statements:
HP has a great opportunity to build on its strong hardware, software and services franchises with leading market positions, customer relationships and intellectual property.

We need to get back to the business fundamentals in fiscal 2012, including making prudent investments in the business and driving more consistent execution.
Recently, an analyst from Sterne Agee raised its rating on the stock from Neutral to Buy and said it sees an upside price target at $34 per share as it sees uncertainty lifted and the stock as widely oversold. The firm issued the upgrade while lowering estimates, citing the company's own revised guidance.
Summary
With still almost 20 percent upside remaining in terms of price target, HP still definitely has some value and I would buy ahead of earnings. The company is taking a new strategic direction - one that I think makes perfect sense. But investors must not make the mistake of expecting an immediate turnaround. This is going to take some time to realize. As bad as things once looked for this company with its indecision regarding its PCs and tablet initiatives, investors should be comfortable in its new leadership and the fact that it has indeed turned the corner.