JPMorgan (NYSE:JPM) is one of the largest institutional investors in the stock market. It is a truly global investment management company that employs thousands of investment professionals around the world. The company aims to provide a comprehensive and competitive range of products through several investment vehicles. The investment titan offers 118 mutual funds managed by money managers. 49 of these funds invest in equity markets (34 U.S. equity funds and 15 international funds).
As of the December quarter, JPMorgan fund advisors had a diversified portfolio of equities. Financial stocks constitute 27.7% of the holdings followed by technology (16.25%) and service stocks (13.71%) companies. According to Edgar Online, JPMorgan increased its ownership of 1564 stocks, while reducing its positions in 1724 stocks. I have examined the biggest 4 buys and 1 big sell from a fundamental perspective, adding their year-to-date returns.
| | | | | |
| --- | --- | --- | --- | --- |
| Company Name | Shares Held | Change in Shares | % of TSO* | YTD Return |
| Bank Of America (NYSE:BAC) | 267.34 million | 43.92 million | 2.54% | 48% |
| Vimpelcom (VIP) | 67.52 million | 31.49 million | 4.17% | 18.8% |
| Cisco Systems (NASDAQ:CSCO) | 89.06 million | 18.83 million | 1.66% | 11.15% |
| General Electric (NYSE:GE) | 78.03 million | 13.58 million | 0.74% | 6.5% |
| Sprint Nextel (NYSE:S) | 37.38 million | -40.7 million | 1.25 % | -1.28% |
*TSO: Total share ownership by the JP Morgan funds. Data obtained from Finviz/Morningstar and is current as of February 14.
Bank of America
Bank of America is among the top buys of JP Morgan Chase. I think that is a positive signal for the expected performance of financial stocks. JP Morgan is pretty bullish on Bank of America, and increased its shares by 20% in the last quarter. It currently owns 2.54% of outstanding shares.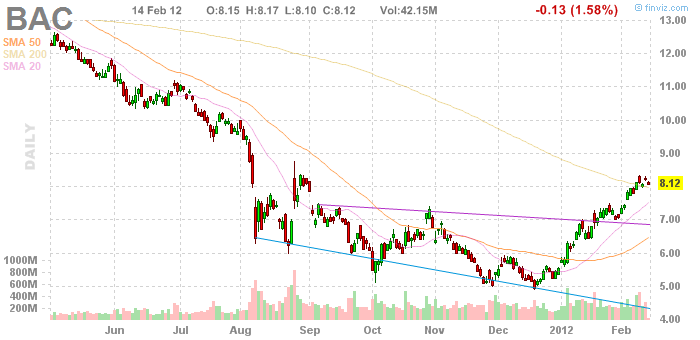 I was pretty bearish on Bank of America in the last year. I particularly did not like to see a highly inflated "goodwill" of $73.8 billion in the Bank of America's already complicated balance sheet. However, after Warren Buffett stepped in with fresh capital injection, I changed my stance. Buffett rarely makes any mistakes-- particularly when it comes to investing in financial stocks.
Bank of America's balance sheet is still complicated though. It suggests goodwill of almost $70 billion, along with an "intangible" asset valuation of $15.5. Thus, the stock's P/B ratio of 0.38 is quite a bit misleading, considering the significant weight of these invisible assets in its book value. A tangible book value per share of $12.15 offers a more realistic ratio of 0.68. So, does it mean that you should stay out of Bank of America? Of course not. While, I do expect a sharp pullback in May or even before, it is very likely for Bank of America to test its 52-week highs. Any price below $10 is a good entry point, as long as you have the patience to wait for the stock to double in 2012.
Vimpelcom
Headquartered in Netherlands, Vimpelcom is among the largest wireless communication providers in ex-SSSR countries. The company offers a wide-range of wireless, fixed, and broadband services primarily in ex-SSSR countries. Its customer portfolio also includes subscribers from other parts of the world. JP Morgan is pretty bullish on the stock, as it almost doubles its shares in the last quarter. Total share ownership stands at 4.17%.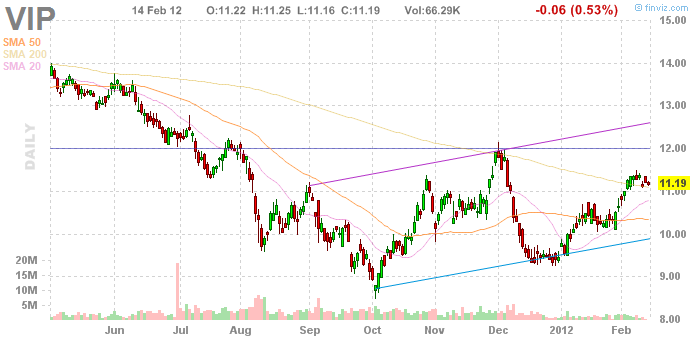 I am a big fan of telecommunication stocks that pay solid dividends, and Vimpel is no exception. It offers a yield of 7%, supported by a payout ratio of 76%. While the dividend payout rate looks pretty high compared to U.S-based wireless companies, Vimpel's forward P/E ratio of 8.52 suggests that dividends have plenty of room for growth this year. Besides, the balance sheet shows significant amount of cash and equivalents to support the dividends. Vimpel's market cap was slashed by 30% in 2011, but the stock returned 18.8% since January. I think it is on its way back to the $14-$15 range. It is a good buy for the yield and capital appreciation.
Cisco
Cisco is consistently ranked among the Nasdaq's most active stocks. The active stocks usually tend to have high-short interest, but Cisco is an exception. Only 1% of the shares in float are shorted with a short coverage period of slightly above a day. JP Morgan is pretty bullish on the stock, as it increased its shares by 26.8% in the last quarter. Total share ownership stands at 1.66%.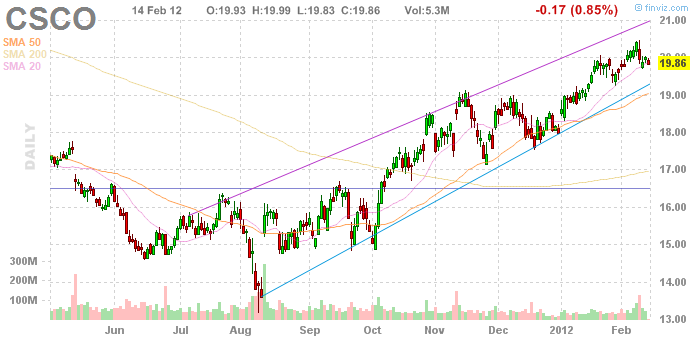 At the peak of the tech-bubble, Cisco was trading at a market cap of near $500 billion. Since then, it has been a huge disappointment to shareholders. While other bubble stocks recovered most of their losses, Cisco significantly underperformed its peers. However, this year has been a good one so far, as it returned 11.15%. Cisco is sitting on a huge pile of cash, but management is not good at converting this cash into shareholder happiness. Its next dividend payment of 8 cents is better than the previous installment of 6 cents, but it is still too low compared to other tech companies. (Check tech companies that show you the money)
General Electric
JP Morgan is pretty bullish on General Electric, and increased its shares by 18.3 million in the last quarter. GE is also favored by Goldman Sachs. Goldman counts General Electric as its "favorite super-cap for a combination offense and defense."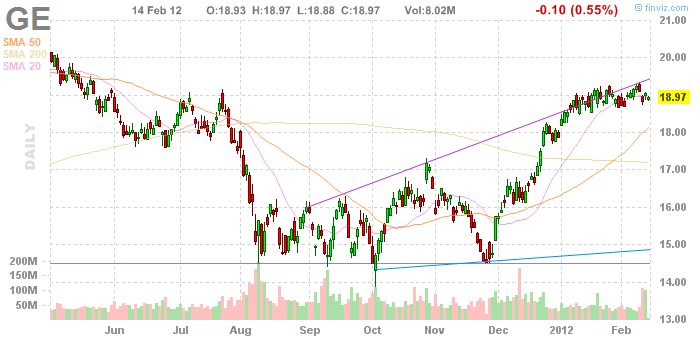 The Connecticut-based company is trading at a P/E ratio of 15.5, and a forward P/E ratio of 10.77. It sports an attractive dividend of 3.57%, supported by a payout ratio of 50%. General Electric is among the most popular congressional investment for the sixth time in a row. After disappointing its shareholders in the last year, GE is on the bounce. Since the beginning of the year, the stock has returned about 6.5% already. Given its performance and growth, we may see another boost in General Electric's dividend this year. I suggested buying this stock three months ago, and the company returned about 17% since then. I still rate GE as a buy for strong income in 2012.
Sprint
Sprint was among the biggest losers of 2011, but it failed to bounce back like other loser stocks did. JP Morgan decreased its shares by 40.7 million, but still owns 1.25% of the company.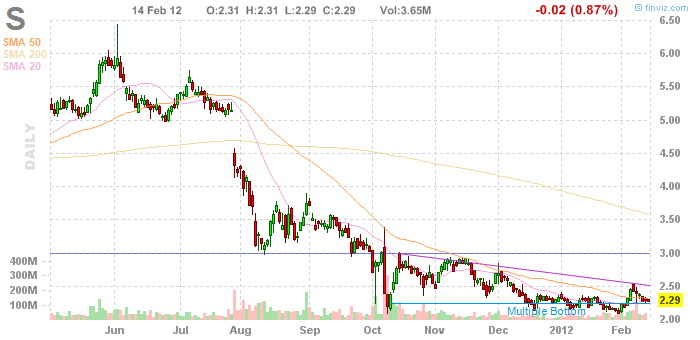 One of the biggest mistakes Sprint management has made in the past decade was their decision to stay away from an iPhone deal. Maybe it was not their decision, but while AT&T's (NYSE:T) deal with Apple (NASDAQ:AAPL) was boosting its revenues, Sprint was trying hard to retain its customers. Finally, it offered iPhone packages and was able to increase its subscriber base, but that came with a big price. The company reported a net loss of 43 cents per share. As fellow SA contributor Bill Maurer suggests, Sprint is still, months, years away from a turnaround. Nevertheless, given its cash-rich, subscriber hungry competitors, Sprint can be a perfect takeover or merger target. Furthermore, the stock has already bottomed. Therefore, I rate it as a buy.
Disclosure: I am long AAPL.