Ocata Therapeutics (NASDAQ:OCAT) has just signed a definitive agreement with Astellas Pharma Inc. (OTCPK:ALPMY) which values OCAT shares at $8.50 each. While this is great news for those who purchased shares in recent months, including yours truly, it would merely be break-even for those who have been hanging on since Ocata (then Advanced Cell Technology) announced its long awaited interim results 13 months ago. For those who bought in the run up associated with Nasdaq listing, the month before, or at many other points in the company's past, it represents a sizable loss. This article will examine some general investing principles that can and should be applied even in the very difficult process of valuing development stage companies.
Technology Matters, but Time Can Matter More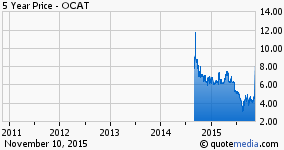 I've always been a fan of Ocata's technology, even though my first article on the company was interpreted otherwise. The problem with great new technologies is that investors often underestimate and/or mis-price the time it will take to fully develop a technology or bring it to market. More seasoned investors always discount valuation based on the amount of time estimated to a given event. This is why forward P/E multiples should always be lower than trailing ones, and why I often use a hybrid P/E methodology when determining current fair value. The discount applied can vary depending on the stock's beta (its volatility) as well as investor goals and risk tolerance. I'd say a 10% per year discount is a minimum and many investors go much higher.
The point here is that good as a technology may seem, it's worthless to shareholders until a company is able to generate some return on it. The important question then becomes, will the company make it that far, and what will management have to do in the process? Ocata has now completed all the steps I laid out for it, but as we've seen, that hasn't helped long-term investors at all. Quick & Current ratios are good, simple metrics for evaluating how much money a company has on hand in relation to debt. Learning to calculate such metrics by hand will allow an investor to also assess whether or not the company in question has enough cash for anticipated expenses.
Dilution Always Matters
The main thing that Ocata had to do to get to this point is dilute shareholders. This tends to occur whenever a company is faced with running out of cash. Many investors dismiss dilution as just a fact of life with development stage companies, but they are wrong to do so. Since shares are theoretically partial company ownership, when a company increases the share count, each share is worth intrinsically less.
Another company I've written about, Superconductor Technologies Inc. (NASDAQ:SCON) is a great example of this. By my calculations, STI's latest capital raise valued shares at just 14 cents each! By contrast, American Superconductor Corporation (NASDAQ:AMSC), the companion stock in that article, has avoided dilutive funding most recently.
Whenever a company does dilute, it's very important to look at what the terms were and what institutional investors paid. In the case of AMSC, that was $6, and I continue to think the stock represents a good speculative opportunity below that level. Sometimes the terms of financing can even imply a higher value. In my opinion, anyone who invests in development stage companies should be able to work these sorts of things out for herself.
Event Timing & Valuation
Ultimately, it's what a company produces for others that sets its value. That doesn't necessarily mean that the product has to make it to market, but there typically does have to be at least a mostly working demonstration. Another recent home run of mine, Energy Recovery (NASDAQ:ERII), provides an excellent example, where the anticipated end of field trials coincided nicely with a game changing deal. Current investors in that stock would do well to consider the time discounts covered above against anticipated payouts. For the biotech, this typically comes in Phase II, as it did with Ocata, or Phase III trials. However, the biotech industry represents an especially difficult sector, in that it is highly regulated, and incumbents regularly do expert technology analysis, which individual investors simply can't duplicate.
That said even, ballpark analysis can still be very useful. The best way to go about this is by estimating TAM (total addressable market) and market share. An Ocata-specific example is given here. It pays to be conservative when doing this, and again, to discount for time to market. Note that the eventual value of OCAT came in at about half of the theoretical maximum that I calculated.
Other Guidelines
In all my writings on development stage companies, I try to emphasize that such investments are only generally suitable for investors with high risk tolerance, and even then, positions that comprise a small percentage of one's entire portfolio. My first article on ExOne (NASDAQ:XONE) emphasizes that as well as any, and the history there gives a good example of what can happen. Indeed, investors should recognize that failure is by far the most common outcome with development stage companies. It also gives what I think is valuable advice about evaluating buyout prospects, which mostly boils down to "ignore them and stick to valuation."
I write about many of these companies because I consider evaluation of technology to be my most unique edge, and don't enjoy writing about what others have already covered. Nonetheless, it is investments in safer, more established companies that primarily accounts for most of my income. It can be great to juice returns a little with home runs like these, but if you try to make them life changing, you are likely to succeed, just not in the way you had hoped.
Final Thoughts
I congratulate others who also made money on OCAT. If they did, hopefully, it was at least partially due to conservative analysis. Regardless of entry price, my guess is that the best option for current shareholders is to tender. By doing so, they are likely to get the highest possible price, even if the final sale price winds up rising, which I do not see as especially likely. I think the only other reasonable option is to sell now, which protects the holder from the possibility of the deal not going through at all.
Although I also see that as unlikely, it probably is the safest course, especially in light of open market insider sales. Those who do not tender or sell beforehand risk having to sell after the deal at a lower price, as happened with another buyout prediction, that wound up being correct. Knowing technology has been invaluable to me in using the market to leave behind a day job, but knowing the basics of business and investing has been at least as important.
Disclosure: I am/we are long ERII, OCAT, AMSC, SCON.
I wrote this article myself, and it expresses my own opinions. I am not receiving compensation for it (other than from Seeking Alpha). I have no business relationship with any company whose stock is mentioned in this article.
Editor's Note: This article covers one or more stocks trading at less than $1 per share and/or with less than a $100 million market cap. Please be aware of the risks associated with these stocks.