Overview
By a strange coincidence, I am currently long both Progenics Pharmaceuticals Inc. (NASDAQ:PGNX) and Ironwood Pharmaceuticals (NASDAQ:IRWD). It's not that I am particularly interested in constipation meds - the timing has just worked out this way.
IRWD's constipation med (Linaclotide) is focused on irritable bowel syndrome related constipation. PGNX, however, aims to treat constipation brought on by opioid use. Their drug (Relistor) is currently marketed for this purpose to patients who are using opioids for cancer-related pain. They are now seeking to extend that label to include patients on opiates for non-malignant reasons.
Product
Relistor is a peripherally acting small-molecule opioid antagonist that counteracts the constipating effects of opioids in the GIT without compromising the central analgesic effects. Pain is mediated by centrally located receptors while constipation is due to peripheral receptors.
Based on company press releases, sales in the malignant pain environment have not been very impressive. Total revenues in 2010 were $16M. Salix (NASDAQ:SLXP) took over marketing in April 2011. Global sales in Q2 2011 were ~$5.2M. In Q3 2011 sales had increased to $9.1M. Note that PGSX royalties were considerably less than these total sales numbers.


The company filed an sNDA for use of subcutaneous Relistor in patients with non-cancer pain last year. It has a PDUFA date of April 27th for this indication.
In May 2012 the company reported phase 3 results of a year long safety study in chronic non-malignant pain patients. The study looked at patients who had a history of chronic pain (e.g., back pain, fibromyalgia) and who had experienced opioid induced constipation for at least one month prior to enrollment.
624 patients were treated for one year or longer. Objective and subjective measurements showed statistically significant improvements in symptoms of constipation. The injections did not interfere with pain relief or cause withdrawal symptoms.
The company has also reported results of a phase 3 trial assessing safety and efficacy of oral Relistor for the same patient group. The drug showed a statistically significant improvement in outcomes over placebo. Efficacy of the oral dose was comparable to the subcutaneous approach. The company plans an NDA submission in mid 2012.
Market
Chronic non-cancer pain is a common problem in the developed world. The prevalence is difficult to establish, however in primary care settings, an average 22% of patients have been shown to report chronic pain.
Studies have shown that use of opiates for chronic non-cancer pain in the primary care setting has increased significantly over time. From 1980 to 2000, opiates prescriptions in these patients doubled (from 8% to 16%). Assuming the same increase in use, opiates would now be prescribed for ~22% of visits.
A meta analysis of 11 studies of the use of opioids in non cancer patients showed that constipation was the most commonly reported side effect (41% of cases).
Traditional laxatives are the first line approach to treatment. It is difficult to say in what percentage of patients they do not work, but an 85% efficacy rate seems reasonable.
If Relistor is approved for the non-cancer setting it should manage to make some inroads into this patient population. If they manage to score an oral formulation that should additionally drive penetration. A 33% penetration might be achievable.
I have estimated an average cost per patient year of $2,500 for Relistor. At $10 per day this is significantly greater than laxative alternatives.
Given the data above, here's a back of the envelope approach to estimating Relistor's (and PGNX's) peak US revenues from this drug: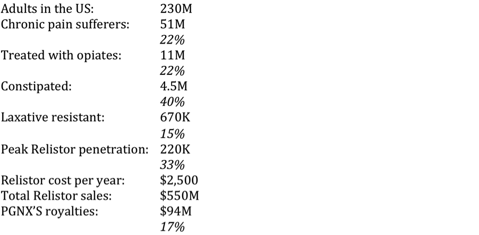 So the drug could potentially (and eventually) achieve reasonably impressive revenues. Of course, this is predicated on getting approval in this patient group for the sub cut and oral formulations and upon SALX's ability to market the drug effectively.
Partnerships
The drug was originally licensed to Wyeth. In 2009 Wyeth paid $10M to return all rights to PGNX. This was probably a reflection of a strategic rebalancing ahead of the Pfizer (NYSE:PFE) merger as well as a reflection of disappointment with Relistor sales.
It is now licensed to Salix. According to the latest 10-Q, the SLXP license agreement entitles PGNX to future payments upon realizing revenues and hitting certain milestones with the drug. These include:
Up to $40M upon FDA approval of the drug in non-cancer pain (the April 2012 PDUFA)
Up to $50M upon approval of an oral formulation (NDA to be submitted mid-2012
Up to $200M upon hitting commercial milestones in the US
Royalties between 15 and 19% of net sales
Salix Pharmaceuticals is a specialty pharmaceutical company that is focused on commercializing drugs for gastrointestinal disorders. Its revenues for 2010 were $337M and for Q3 2011 were $146M. Its largest product, Xifaxan, realized sales of $$264M over the first 9 months of 2011. Given its focus on GI disorders and its existing sales force, it seems like a good strategic fit for Relistor.
Conclusion
PGNX has an sNDA PDUFA date coming up in April. The drug, Relistor, has been on the market for the same indication in a different patient population since 2008.
Saliz/Progenics seem to have a solid development strategy for the drug which should help drive its momentum in the market. Salix also has expertise building sales of GI drugs. The market itself is large and under-served by novel therapies.
Bears may point to Relistor's poor sales record as an indication of its future potential. I think though that the market they are addressing with the sNDA is considerably larger. In addition, I think that the past sales were handicapped by an uncommitted marketing partner. With the visibility of a strategic development plan and an experienced GI marketing partner in SLXP, PGNX should outperform the market in the short term leading up to the PDUFA date.
Disclosure: I am long PGNX.