Over the past couple of years, much has been written on REITs and interest rates and specifically on the sensitivity (or lack of) of REITs price performance to rising rates. The price performance of REITs in a rising rate environment is a function of numerous variables, many of which are completely unrelated to REITs or to real estate in general - broad market sentiment, global macro changes, just to name a few. It's thus difficult to isolate the effect of rising rates on REITs, through price movements.
Therefore, due to the many unrelated affecting variables, looking at the history of price performance of REITs in a rising rate environment provides data with which there's not much to do.
To provide data with which there's more to do (data which is based more on real estate specific variables), is to provide investors with a better founded starting point from which to analyze where things may be heading this time around as to future performance of REITs in this coming cycle.
Interest rate effects on real estate performance - a multi-dimensional process
Interest rate changes (up or down), potentially affect real estate fundamental performance in two major ways:
o Change in cost of Debt (interest rates paid on debt),
o Change in asset pricing (changes to real estate Cap rates).
Cost of Debt
Real estate in general is a capital intensive business which uses leverage in its ongoing operations, more so than other asset classes. The cost of the debt affects REITs' cost of capital, which affects its ability to gain profits.
The historically low cost of debt over the past 5 years, among other reasons, assisted in the profitable operations of REITs throughout the period.
The average debt to total market capitalization for REITs in the US currently stands at ~35%, low based on long run leverage averages.
Assuming a 50 basis points (bps) rise in long term rates and in borrowing costs, REITs' weighted cost of capital (debt AND equity) would increase by 17.5 bps (35%*0.50%). So for example, if current cost of capital for a REIT stands at 6.2%, following a 50 bps rate rise, it would rise to 6.375% (all else being equal). This is hardly a crisis.
Also important to note, that REITs have had several years to prepare for rate hikes - so the average REITs' existing debt structure is relatively "rate hike friendly" - maturities are gradual, much of the debt is based on fixed rates and much of it is long term debt. So in effect, a 50 bps raise in rates will only affect borrowing costs gradually and over time, not at once, enabling the business to "get used" to the higher borrowing costs through new acquisitions, etc.
In any case, it seems that the potential increase in debt costs, given average leverage levels for REITs now days along with debt structure and schedules, isn't dramatic and isn't the primary concern for investors, going into the hiking cycle.
Change in asset pricing - the Cap rate
I attribute most of the recent volatility and declines in REITs to participants' concerns over the future pricing of assets (real estate in this case), in an increasing rate environment where Fed funds and treasury yields are rising. These benchmark rates serve as the basis to all assets pricing (with the 10 year US treasury generally considered a benchmark rate, for real estate purposes).
The most common way to value real estate assets is by the use of the well-known Cap rate, which serves as the discount factor, used to discount an assets' Net Operating Income (NOI), to arrive at that assets' value.
Asset prices are generally highly sensitive to changes in discount rates and real estate values are sensitive to changes in Cap rates. An increase in Cap rates, all else being equal, brings to a lower asset value and lower equity value. This is understandably a concern for real estate investors, private or listed real estate.
It's worthwhile therefore to look at past cycles and the effects of interest rate rises on the real estate cap rate.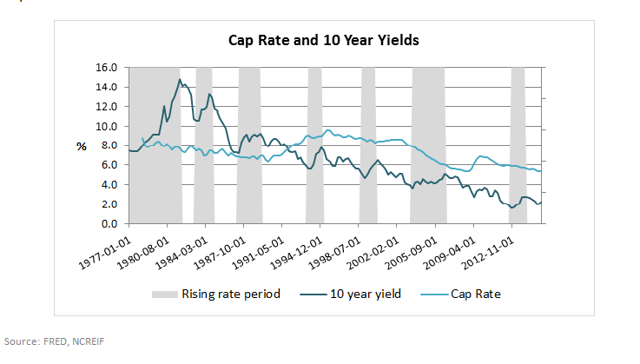 Although rates have been in a long term declining trend, since the late 70's, markets have experienced 7 periods of increasing long term rates, as can be seen in the exhibit above.
Each of the 7 rising interest rate cycles above is unique. The next cycle will never be similar to the previous cycle and each cycle is affected by a large number of variables, from growth rates in emerging markets to consumer spending growth and space demand domestically, so making generalizations on the counter relation of interest rates and Cap rates, is tough.
Given this caveat, it's useful to look back at history if only to get a broad indication of real estate's pricing sensitivity to interest rate increases: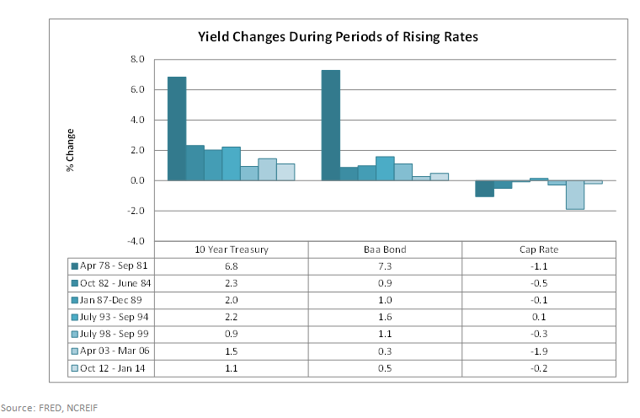 As can be seen above, in all cycles:
- 10 year treasury and the Baa corporate bond yields have risen,
- Real estate Cap rates have largely remained stable, sometimes even decreasing, with an average negative change (i.e. a reduction in Cap rates).
Effectively, as both benchmark rates and risk appetite have increased with the accompanied economic growth, the Cap rate spread over treasuries has declined, absorbing the hiking effect, with limited effect on the Cap rate and market pricing of real estate.
This declining spread effect can be clearly seen in the next graph - in all rising periods (the shaded areas), the spreads (the line graph) are decreasing.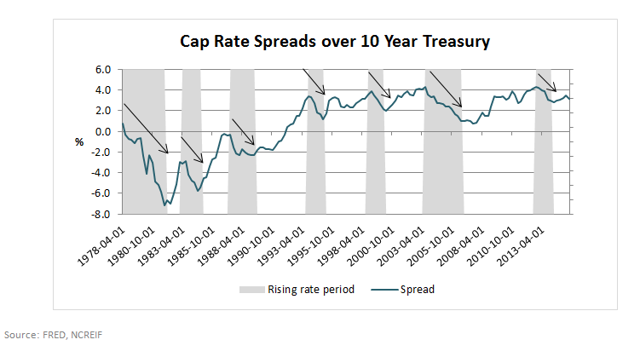 It should be noted, that current spread of Cap rates over the 10 year yield is roughly a 50 bps greater than the long term average, so there's room for that spread to decrease, before reaching the longer term norm.
These dynamics, of rising benchmark yields and stable real estate Cap rates may seem counter-intuitive, but can be demonstrated analytically (see the appendix below).
Conclusion
In all 7 instances over the past nearly 40 years, where long term rates have increased, real estate cap rates haven't really.
The reasons for this seemingly counterintuitive behavior are a change in required risk premium and/or a change in expected growth (see details below).
Whatever the reasons may be, and given the relatively consistent response of cap rates to increasing long term rates in the past, as shown - it's safe to say that the assumption that real estate prices are about to fall due to increasing rates (an assumption which I believe drives much of the REITs' weak performance and high volatility in 2015) is far from an axiom and in fact, history shows otherwise.
Higher long term rates DON'T NECESSARILY equal higher cap rates/lower asset values.
Appendix -
Why Cap rates change may differ from benchmark rate changes in magnitude and direction
Cap rate is the discounting factors based upon which Net Operating Income (NOI) cash flows are being discounted, in order to arrive at an assets' value.
Cap rate is a growth implicit rate, meaning that it encompasses an estimation of future growth rates. Mathematically, the Cap rate value can be described as follows:

In English:

As opposed to "plain bond" prices which are a function solely of interest rates, real estate pricing is a function of rates, risk appetite and future growth. So both in theory and in practice (as demonstrated by history, shown above) a rise in benchmark rates doesn't necessarily lead to an equivalent rise in real estate Cap rates.
As shown above from past cycle experience, real estate Cap rates have remained stable in light of benchmark rate increases, as:
o An INCREASE in investors' required return was accompanied with an INCREASE in future growth expectations, or
o An INCREASE in the risk free rate was accompanied by a DECREASE in the required risk premium (spread), or
o A combination of the above two scenarios.
Real estate asset pricing is more complex than bond pricing in terms of factors affecting it and should therefore not be treated as bonds when thinking of behavior in a rising rate environment.
Past behavior isn't a guarantee for the future, but if history teaches us anything with regards to real estate and interest rates, it is that real estate (which possess both bond and equity traits) is far more resilient than bonds when encountering a tightening economic environment.
Disclosure: I/we have no positions in any stocks mentioned, and no plans to initiate any positions within the next 72 hours. I wrote this article myself, and it expresses my own opinions. I am not receiving compensation for it (other than from Seeking Alpha). I have no business relationship with any company whose stock is mentioned in this article.