Three months have passed since the last update to the Value Portfolio. It is time to measure performance and make any changes to allocations, and perhaps we can find some real deals that rival Black Friday.
About the Value Portfolio Model
I developed and fitted a model for quantitative asset selection that identified the top 5 most likely to outperform within the Dividend Aristocrats group and in March 2015 adapted it to cover the Dividend Champions list. By using this group, concerns of company size, dividend stability, and earnings consistency were reduced by looking at this small subgroup of companies in the stock universe with similar attributes. Without getting too technical, the model accounted for a few simple fundamental value metrics such as book-to price ratio, trailing 12-month earnings, dividend, and free cash flow yields, sales growth rate, and average consensus analyst ratings.
Stocks were ranked based on the fitted formula and portfolios evenly holding the top 10 stocks were constructed and entered the Value Portfolio. The model was fitted in 2008 and rebalanced quarterly. The out of sample performance was evaluated and rebalancing occurred quarterly for 11 periods starting in 2009.
The Value Portfolio is measured by comparing its total return performance to the ProShares S&P 500 Dividend Aristocrats ETF (NYSEARCA:NOBL) and secondarily the Vanguard Total Stock Market ETF (NYSEARCA:VTI).
For more detail on this, see my article at the Value Portfolio. Below are the model parameters used for estimating the next period's total return. The stocks are then ranked by largest total return estimates. Looking at the coefficient, essentially an increase in any of the factor values has a positive impact on expected total return.
| | |
| --- | --- |
| Factors | Coefficient |
| Constant | (11.14) |
| Earnings Yield | 0.55 |
| Book/ Price | 14.87 |
| Dividend Yield | 1.65 |
| FCF Yield | 0.25 |
| Consensus Recommendation | 0.39 |
| Revenue Growth | 0.02 |
Value Portfolio Performance - Updated November 10th
Recall, in the second quantitative Value Portfolio selection in amid the sharp market volatility and sell-off at the end of August, the Value Portfolio stock selections were:
Chevron Corporation (NYSE:CVX), Universal Corporation (NYSE:UVV), Helmerich & Payne, Inc. (NYSE:HP), Old Republic International Corporation (NYSE:ORI), Aflac, Inc. (NYSE:AFL), First Financial Corp. (NASDAQ:THFF), Telephone & Data Systems Inc. (NYSE:TDS), Cincinnati Financial Corp. (NASDAQ:CINF), Community Trust Bancorp Inc. (NASDAQ:CTBI), and Archer Daniels Midland Company (NYSE:ADM). Of these, AFL and CINF were new additions.
Below is a table showing how each stock performed as of market close 11/09/15 (note this analysis does not assume re-invested dividends in the total return). As you can see, the Value Portfolio had a strong period mainly driven by CVX, ORI and CINF. The average total return was 14.3%. Over the period, the Value Portfolio outperformed both NOBL with 7.1% and VTI with 9.6% total returns respectively. Note that ADM was the only stock on the list to have a negative total return over this period.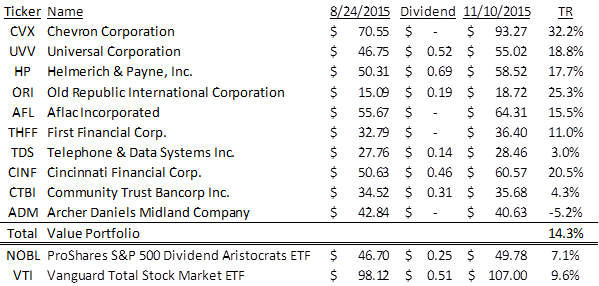 Year to date, including the returns from the March-August selections, the Value Portfolio has had a strong year with a return of 11.3%. This is good especially considering the two benchmarks were virtually flat over the same time period. While there is not twelve months of data to track portfolio turnover yet, this is something I like to keep an eye on, and I have done so in the last row of the table.

November Value Portfolio Update:
Using the quantitative ranking model and data as of market close 11/10/15 via FINVIZ, the top ten results of the 100 stocks in the Dividend Champions list is presented below. While the rankings within the top ten have changed, this time around there is two stocks change on the list. ADM and CINF dropped out with HCP, Inc. (NYSE:HCP) and AT&T (NYSE:T) joining the list.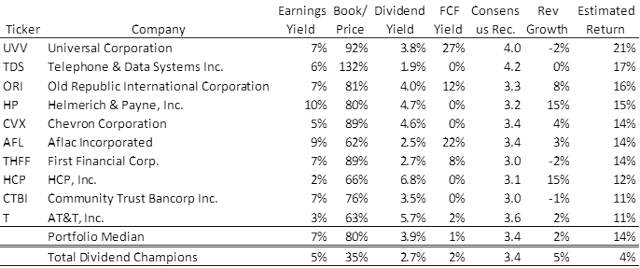 source: FINVIZ
The median earnings yield per share and book-to-price ratio are 7% and 80% respectively compared to a total Dividend Champions list of 5% earnings yield and a 35% book value coverage. By choosing stocks with much more conservative valuations relative to book value, but a slower than total market sales growth record is expected to return 10% points better than the median stock on the list. With that said, given the strong outperformance of many of the stocks in the portfolio, I would use caution adding to existing positions in these stocks at current price levels.
While I can say that I have used this simple model to make some of my best market outperforming investments from 2009 to 2012, I cannot say I will pick the winners going forward. Having squeaked out a positive differential return over the market is something, being able to do so over the long run is the ultimate challenge. I will continue to monitor and report results whether they defend or obfuscate my initial hypotheses.
Until then, send me your thoughts and feedback especially related to UVV, TDS, and T as I intend to take a closer look at them all in the next few weeks.
Disclosure: I am/we are long AFL.
I wrote this article myself, and it expresses my own opinions. I am not receiving compensation for it (other than from Seeking Alpha). I have no business relationship with any company whose stock is mentioned in this article.