Last week we wrote about Curtiss-Wright (NYSE:CW), the aviation component and industrial company that can be traced back to the Wright Brothers, attracting interest from a variety of analysts and investment companies. This was in advance of their announcement of 4th quarter and full year earnings for 2011 on Valentine's Day.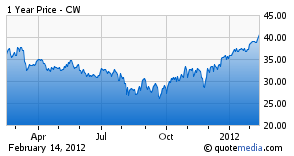 The stock hits its 52 week high with the close of the market Tuesday at $40.82 and even briefly flirted with a value of just under $42.00. It hasn't been that high since late 2008 when it reached as high as $54.00. Even so, the company has over the last several quarters delivered earnings per share over what analysts had predicted and also paid dividends which are two of the reasons that attention was being paid to the stock.
After the close the company reported earnings right in line of expectations at 84 cents a share. The first three quarters of 2011 the company had beat estimates by 6, 9 and 8 cents, respectively. Year-to-Year sales and operating income were up 7% and net earnings 9. 2011 saw an increase in net sales of $160 million, operating income $25 million and earnings up 47 cents a share. Part of the increase in the last quarter was due to recent acquisitions that added $31 million.
The company did see an adjustment in their defense business with that contributing only one percent of growth. Their commercial market though more then made up for it by increasing 12%. It can be expected with the proposed slow downs in ship construction and defense spending in general that this trend might continue into 2012. Curtiss-Wright like other companies is expected to see quite a bit of growth due to demands from Boeing (NYSE:BA), Airbus, part of EADS, and other commercial aircraft producers.
The company continues to be well liked with Deutsche Bank keeping a Buy rating on it. For the last two years CW has consistently been a Moderate Buy overall and Deutsche Bank's thoughts reflect this consensus.
Whether Curtiss-Wright can keep up their recent performance in 2012 validating those recommendations remains to be seen. The median estimate for the 1st quarter of 2012 is only 57 cents, a decline of almost 50%, and that could be easy to beat. Historically, Curtiss-Wright has always reported fairly low earnings in the first quarter of each year and the estimate is consistent with that performance.
The stock has seen a good run up the last six months from its 52 week low of $25.67 in September. It may have a tougher time continuing this increase and breaking past the $42 mark. The predictions for 2012 seem to indicate a good possibility that might happen.
Disclosure: I have no positions in any stocks mentioned, and no plans to initiate any positions within the next 72 hours.