I hope my fellow solar enthusiasts enjoyed 2012′s solar run while it lasted. Solar stocks went on a tear to start the new year, but now the fun is done. Reality bit hard in the form of a bankruptcy filing from Energy Conversion Devices (NASDAQ:ENER) - one more in a series of industry bankruptcies.
In 2012, the stock ran from $0.20 per share to as high as $1.74 on January 18, a gain of 770%. Almost a month later, ENER was on its way to rechallenging those lofty levels before bankruptcy struck. This process was the clearest sign that the solar run consisted largely of momentum for momentum's sake; surely investors and traders did not go into a buying frenzy in anticipation of going bust.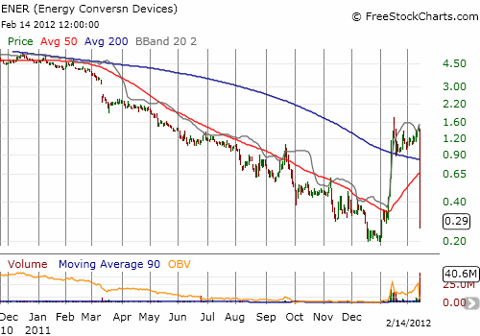 Energy Conversion Devices ends the solar fun with an exclamation point
The sympathetic selling in solar stocks was enough to knock First Solar (NASDAQ:FSLR) off its uptrend from December's multi-year lows. Another likely confirmation that the solar fun is done for now.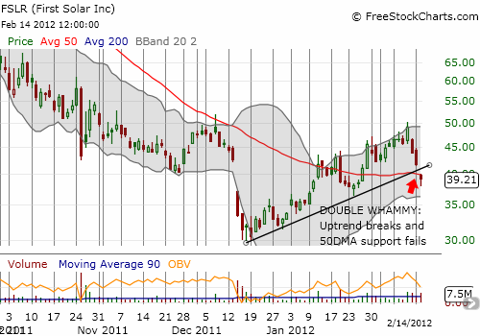 First Solar's fun ends with a break in its uptrend from December's four-year lows
2012 indeed began in promising fashion. On January 12, Axiom's Gordon Johnson, a noted solar bear, upgraded several solar stocks. It was like a "backhanded compliment" because in the same breath Johnson also predicted that by year-end solar stocks would hit new all-time lows. Johnson's basic argument was that German feed-in-tariff (FIT) decisions would drive a burst in installation activity to take advantage of today's more favorable subsidies. This burst would then encourage shorts to cover and momentum traders to chase solar stocks higher. Historic low stock prices would also further embolden buyers given many of these stocks look like value plays.
Previous rallies in the solar sector were similarly ignited by German market activity. However, all this music will end once Germany implements FIT cuts and installations drop. Analysts on Tuesday predicted that Germany is planning even steeper cuts in subsidies this year. This news added to the pressure on solar stock prices. Watch the Bloomberg video for Johnson's fundamental analysis on specific stocks, including his claim that Suntech Power (NYSE:STP) would effectively get a bailout similar in form and motivation as the bailout LDK Solar (NYSE:LDK) received.
As if to confirm Johnson's short-covering thesis, renown hedge fund manager David Einhorn proclaimed just a few days later that his Greenlight fund closed out its short position in FSLR, calling it "…one of our most profitable shorts in the history of the Partnerships."
The charts below demonstrate that shorts started covering positions as early as October and November. A few stocks, like ReneSola (NYSE:SOL) have seen a recent resurgence in short interest, albeit still small relative to earlier highs. Short interest is normalized to November, 2009 levels or the first day of trading, whichever is later, to facilitate comparisons of trends across stocks.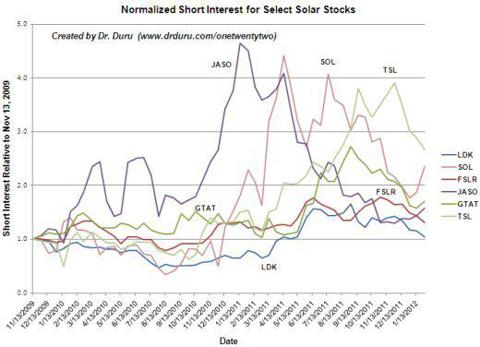 Ticker guide: LDK Solar, ReneSola, First Solar, JA Solar (NASDAQ:JASO), GT Advanced Technologies (GTAT), Trina Solar (NYSE:TSL)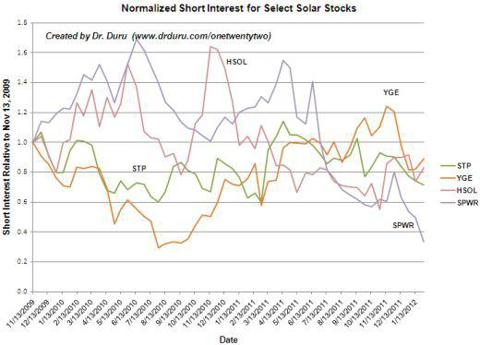 Ticker guide: Suntech Power , Yingli Green Energy Holdings (NYSE:YGE), Hanwha SolarOne Co., Ltd. (HSOL), SunPower Corporation (NASDAQ:SPWR). Note that SPWR's short interest has dropped as Total (NYSE:TOT) has purchased the companies shares.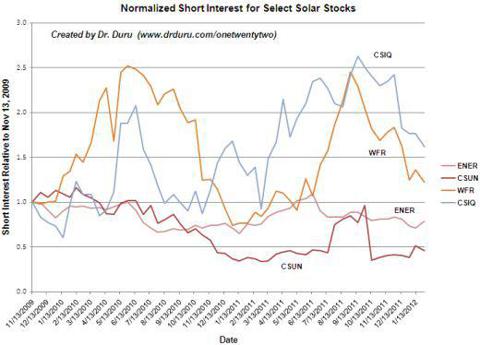 Ticker guide: Energy Conversion Devices (ENER), China Sunergy Co., Ltd. (NASDAQ:CSUN), MEMC Electronic Materials, Inc. (WFR), Canadian Solar (NASDAQ:CSIQ)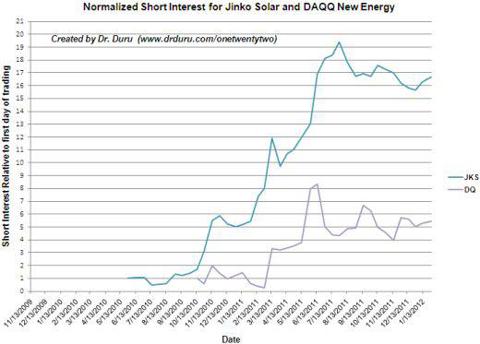 Ticker guide: Jinko Solar (NYSE:JKS), DAQQ New Energy (NYSE:DQ)
Source: NASDAQ.com
The main story for 2012 will be a continuation of margin pressure and increasing bankruptcies as some companies run out of cash before solar demand returns in sufficient volume. Here is Greentech Media's latest assessment of polysilicon pricing and its impact on the industry (see "Polysilicon Prices Hit Record Low in 2011; Will Head Even Lower, Enabling $0.70/W PV in 2012").
While spot pricing has collapsed and contract pricing is expected to follow, the cost of production has changed little, which implies substantial margin contraction in the coming years. With spot prices below $30 per kilogram, the scores of smaller, higher-cost producers face bleak options: continue to operate at a loss, hoping that pricing will recover before their cash runs out, or moth-ball the plant and live to fight another day. While oversupply will push many companies to shutter plants and lay off employees, other low-cost players will thrive and expand their share of the market…
Margin pressures will impact the industry for years to come:
…The end result is that the current roster of over 170 polysilicon manufacturers and startups will likely be winnowed down to a dozen survivors by the end of decade.
In another corner of the ring is the tremendous drop in natural gas prices brought on by overwhelming supply. Not only do these low prices encourage capable utilities to switch to natural gas from coal, but also the resulting pressure on coal prices makes coal-fired plants more cost-effective. (See "Coal Fundamentals: Straight From The Experts" for more of the fundamentals on coal.) These pricing dynamics should push out current projections of grid parity in related areas.
First Solar's technical advancements in thin film should help it remain one of the survivors. For example, in mid-January the company announced another efficiency world record for CdTe solar photovoltaics. First Solar's technical achievements will help it keep pace with lower energy prices on its march to grid parity.
In the meantime, I used the rally to significantly reduce my exposure and also take some profits where I had them. If you are investing/trading in solar stocks, it still makes sense to think defensively: puts, covered calls, tight stops, small position sizes, etc. As always, I highly recommend NOT chasing these stocks when they are rocketing higher. As this week demonstrates, you just never know when the music will come to an abrupt stop and the fun ends.
(Click here for an archive of past solar commentary).
Be careful out there!
Disclosure: I am long FSLR, GTAT, TSL, JKS, LDK, JASO.
Additional disclosure: I am also long FSLR puts