Although revenue shrank for Goodyear (NASDAQ:GT) during the most recent quarter, profits rose on the back of low raw material prices, cost control, and products shifts in the replacement and original equipment tire segments. North America generated the best returns geographically. We were surprised to see Asia show positive signs with the slowdown in China. This only shows the strength in demand of its new product mix with Assurance Fuel Max, Kelly Edge, and Wrangler All-Terrain tires.
Goodyear's huge dealer network is being complemented tremendously by its new e-commerce site. Consumers appear to be loving the new platform and it makes it much easier for buying decisions. The commercial truck segment of Goodyear continues to be a leader in its industry. With depressed commodity prices and drivers paying less at the pump, there will be more drivers on the road. We expect this trend to continue over the short-to-intermediate term.
With shares approaching multi-year highs, does Goodyear have enough to cross the finish line…or will it burn out?
Leading Global Tire Manufacturer:
Goodyear was organized in 1898. Today it can count itself as one of the largest tire manufacturers with 67,000 employees and 52 manufacturing facilities worldwide. The company has strong brand recognition with brands, such as Goodyear, Dunlop Tires, Kelly Tires Debica, Sava, and Fulda.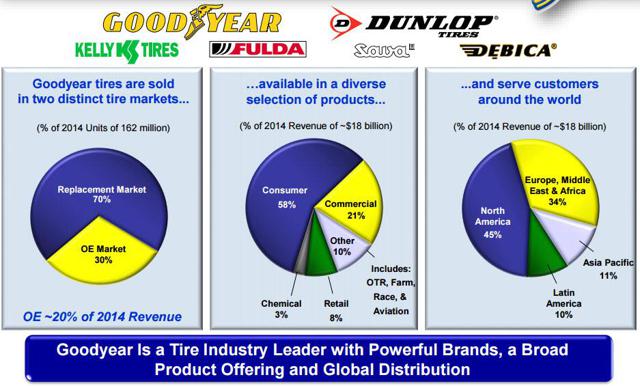 In 2015, consumer tires accounted for 58% of the revenue. EMEA accounts for 1/3 of revenue while North America brings in 45%. Revenue market breakdown consists of replacement (70%) and original (30%) segments. In addition, Goodyear is also one of the largest commercial truck and tire retreading servicers in the world. It is the go-to in the commercial trucking industry.
Business model and limited competition allows for excess free cash flow generation:
Goodyear is one of the three biggest tire manufacturers in the world with top brand names tires. The current free cash flow of $1.3 billion (adjusted) gives us a FCF yield of 14.50%. Capex runs at ~$1 billion a year with D&A around $750 million. Main competitors include Michelin (OTCPK:MGDDF) and Bridgestone (OTCPK:BRDCY).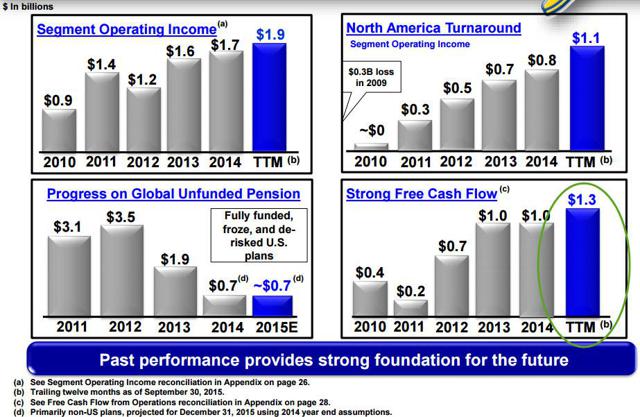 The Business is exposed to input cost cycles and price increases:
Material input cost decreases have been a friend of Goodyear over the past year or so. How long this is likely to continue is anyone's guess. The company's exposure to natural and synthetic rubber, carbon black and petrochemical-based commodities could be a big issue if there were a sudden rise in commodity prices. The net-debt and unfunded pension obligations makes the equity exposed to revenue growth deceleration.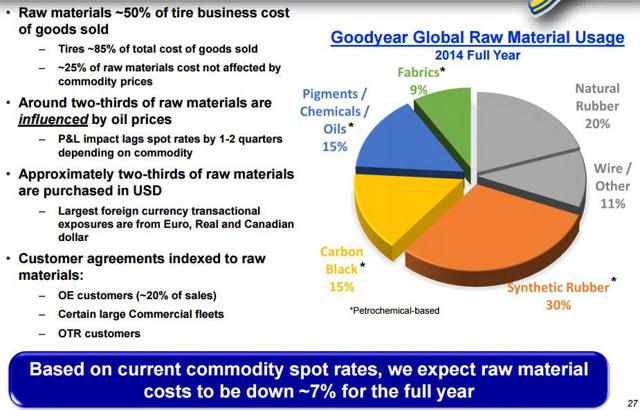 With that said, the company has been able to take advantage of the down cycle to help meet the growing demand for its HVA tires. The company is currently building a plant in San Luis Potosi, Mexico and it will be the first plant it has built in the America's in 25 years. Low manufacturing cost (mainly from lower commodity prices) is help drive the resurgence in North American manufacturing again. The low commodity prices appear to be working out quite well for Goodyear right now. We'll see how it will be able to handle a commodity up-cycle with its debt burden.
Net debt and capital structure is a concern:
Goodyear has ~$5.11 billion in net debt. It's not all bad news though as ~3.5 billion isn't due till 2019 or later. Also, the company has ample liquidity with $1.69 billion cash and 2.60 billion in available credit lines.

Of the 67,000 employees, ~35,000 are unionized which can make for difficult conditions and operational issues over time. The $700 million in unfunded pension liabilities is worrisome to some investors, however, it appears to be manageable. This is likely to decrease over the coming years from cash flow, however, it's something to keep in mind nonetheless. Management appears to be aware of the issues and is responding accordingly.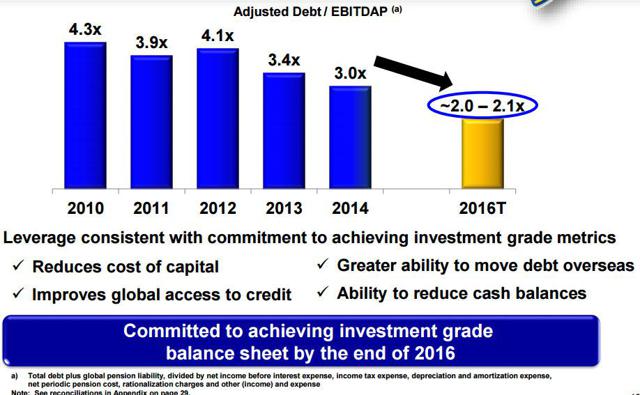 The industry appears to be positioned for long-term growth:
There are multiple factors that will drive the future growth and sustainability of tires sales. Among the few are:
* More drivers on the road as global populations continue to grow.
* The continued demand and growth of HVA tires in mid-tier cars.
* Shifts in user buying preferences and behaviors with new brands and technology.
* More drivers on the road during current low commodity cycle.
* And continued emerging market growth.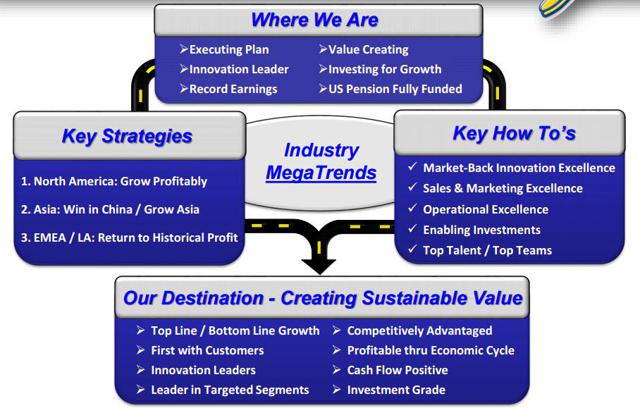 Bottom Line
The net-debt and unfunded pension obligations makes the equity exposed to revenue growth deceleration. This is a real possibility given how depressed the cycle in commodities is right now. Prices are likely not sustain at these lower levels forever.
With that said, unless Doc Brown figures out how to mass produce DeLorean's, growth in the tire manufacturing space should continue over the long term. This should bode for the big three (Goodyear, Michelin, and Bridgestone). With a FCF yield of 14.50% (adjusted) and dividend yield of 0.77%, shares look attractive at current levels and should be given a look.
Notable Shareholders:
David Tepper | Diamond Hill Capital | Joel Greenblatt
Please share your thoughts in the comments section below as I learn just as much from you as you do from me. It can be a timely endeavor, but I answer all of your comments and questions myself. Your patience and understanding is greatly appreciated. I will get to your comments as soon as possible. :)
Source of above figures: Company Presentation, Company Presentation
Disclosure: I/we have no positions in any stocks mentioned, and no plans to initiate any positions within the next 72 hours.
I wrote this article myself, and it expresses my own opinions. I am not receiving compensation for it (other than from Seeking Alpha). I have no business relationship with any company whose stock is mentioned in this article.