Introduction
Fortuna Silver Mines (NYSE:FSM) has always been one of my favorite silver mining companies as it has always been able to manage its assets pretty well. That's mainly due to the very strong management team, headed by some members of the Ganoza-family, a very well-respected family with a very credible track record in the mining sector.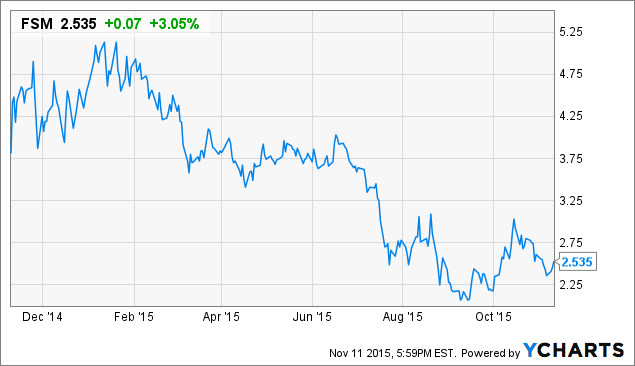 No surprises in the third quarter…
Fortuna Silver once again produced a pretty decent amount of silver and gold with a quarterly production of respectively 1.73 million ounces and almost 11,000 ounces. Thanks to the very nice gold (and base metal) components, Fortuna's cash cost per ounce of silver was less than $4, and that's pretty good! Unfortunately the all-in sustaining costs were pretty high, but that's mainly due to the fact the majority of its capital expenditures are rated as sustaining capex. The majority of these expenses however are non-recurring (For instance the $32M spent on the dry stack tailings disposal at San José will only have to be incurred once).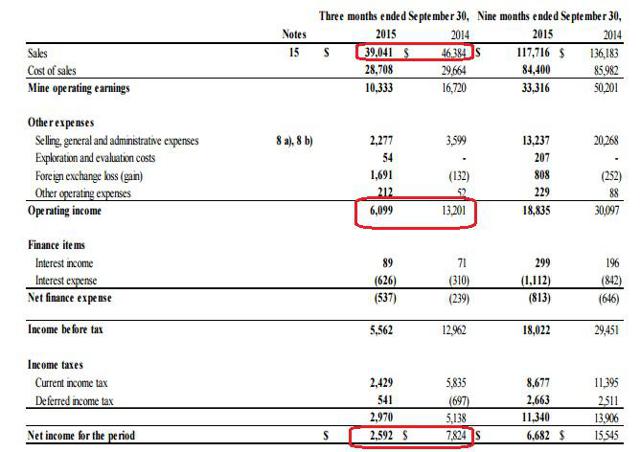 Source: financial statements
The company generated a revenue of $39M in the third quarter as a higher production rate wasn't sufficient to compensate for the (much) lower silver and gold price. That's the main reason why the mine operating earnings fell by 40% to $10.3M. The operating income fell by almost 55% despite Fortuna Silver doing a good job to reduce its SG&A expenses. Fortunately the company remained profitable as the bottom line shows a net income of $2.6M.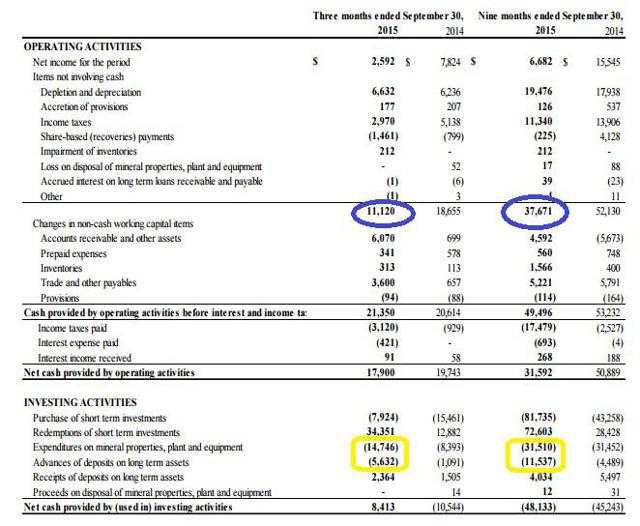 Source: financial statements
The cash flow statements are pretty important for a mining company as well, because the depreciation rate is usually higher than the sustaining capex needed to replace the equipment or to complete additional mine development. However, in Fortuna's case I wasn't expecting the company to be free cash flow positive given the fact 2015 will be a tough year for the company. Not only is it investing $32M in the dry stack tailings in Mexico (see above), it also pulled the trigger on a $30M expansion of the San José mine which should see the throughput increase by 50% by the summer of next year.
These two major investments will predominantly be recorded during the current financial year, so the capex in the first nine months of 2015 was exceptionally high at $43M and should come down pretty fast in 2016 and 2017.
… But you should expect Fortuna Silver to be free cash flow negative in the final quarter of this year
Fortuna Silver has confirmed it remains on track to spend approximately $70M on capital expenditures this year;
With respect to our capital project, our CapEx guidance through the year for 2015 is $17.6 million (note from The Investment Doctor: this is probably a typo in the transcript, the amount should be $70.6M (seventy instead of seventeen); the allocation is $56.5 million to the San Jose mine and $14 million to the Caylloma mine. We have executed $31.6 million at the end of the quarter, $26.1 million at San Jose and $5.5 million at Caylloma.
As some of the capex has been pushed back to Q1 2016, Fortuna now expects to spend $22-24M on capital expenditures in Q4 so you should most definitely not expect Fortuna to be free cash flow positive in Q4.
The capex spending will continue into H1 2016 (albeit at a much lower rate as the dry stack tailings investment will be completed by the end of the year). For H1 2016, I'm expecting Fortuna to spend $25M on the expansion of the San Jose mine which will have a huge impact on the company's production numbers.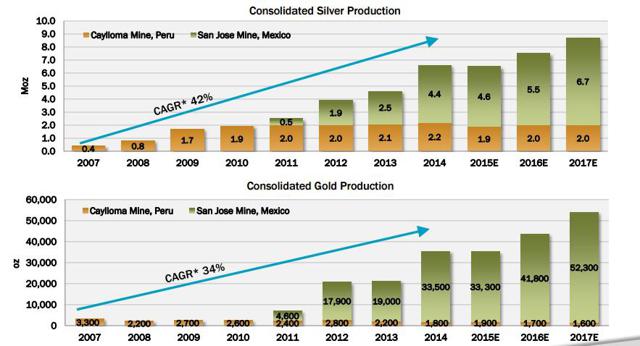 Source: company presentation
As the capacity of the San Jose mine will be increased by 50%, the silver production should increase from 4.6 million ounces this year to 6.6-6.7 million ounces in 2017 once the 3,000 tpd mill will be in full production.
So yes, 2016 will be another transitional year but the impact of the long-term investments should already be much lower than this year. Additionally, Fortuna Silver is a company you should buy with an 18-24 month time horizon. The company's management team is aiming to produce 8.7 million ounces of silver in 2017 (vs 6.5Moz this year) at a consolidated AISC of less than $10.5/oz (versus the $16-17/oz anticipated for the current financial year).
Investment thesis
Fortuna Silver has plenty of cash resources available to complete its large $70M capex program. The dry stack tailings project should be completed by the end of this year, and the expansion at San Jose should be completed by the summer of next year.
Once both large projects have been completed, Fortuna Silver will most definitely be free cash flow positive again, and using a silver price of $15/oz, I'm expecting a free cash flow of approximately $30M in 2017 (and closer to $60M should the silver price increase again to $20/oz). This means Fortuna Silver is an investment for a shareholder with a longer-term view. The 'worst' part is over, and Fortuna will soon be able to benefit from its capital investments.
Disclosure: I am/we are long FSM.
I wrote this article myself, and it expresses my own opinions. I am not receiving compensation for it (other than from Seeking Alpha). I have no business relationship with any company whose stock is mentioned in this article.