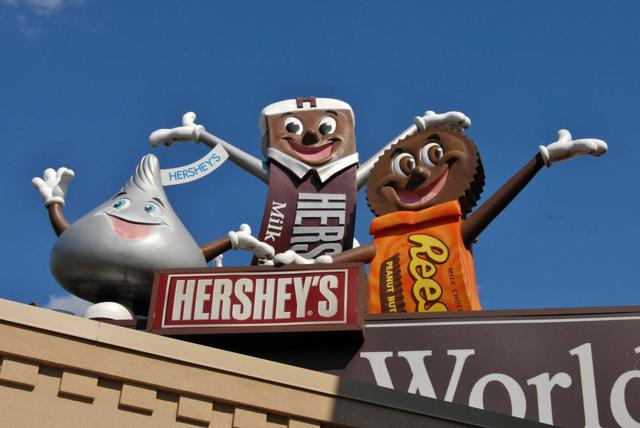 Back at the very beginning of 2015, I covered dividend darling Hershey (NYSE:HSY) and called the stock a strong sell. That wasn't particularly well received by holders of the stock but as it turns out, my sell call was - very fortunately - almost perfectly timed. The stock was $103 when I said investors should unload it and while it subsequently rose to $109 in the next few trading days, it has been all downhill from there. The stock has been in a very steep downtrend for all of 2015 and we now find the stock near its lows at $86. I called out some risks to HSY in January and why I thought the valuation was out of control but on the back of Q3 earnings, I'll take a fresh look at the candy maker and see if it might be nearing value territory.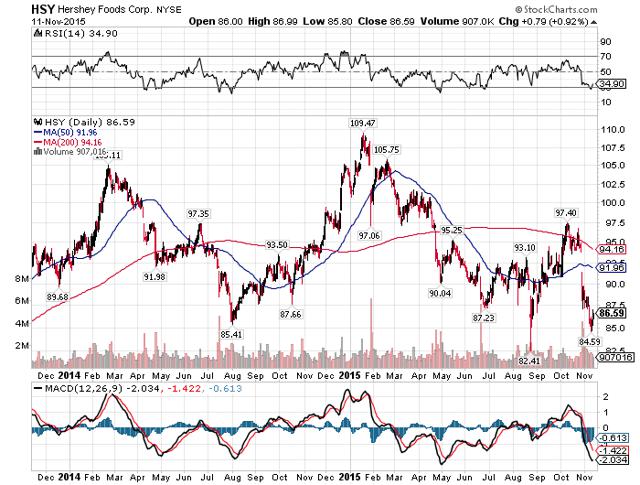 Hershey reported flat revenue during Q3 but if we exclude the impact of acquisitions, divestitures and forex translation, organic sales rose 1.5%. No one is shocked that Hershey's organic growth rate is so low because it has been a tough year for the company's sales. Further, the company's own guidance for this year has been roughly flat sales and it delivered just that. The company's candy, mint and gum retail takeaway business showed broad weakness during the quarter against this year's second quarter as consumers and merchants alike eschewed HSY's wares. This is potentially a serious problem should it continue although I'd caution that one quarter doesn't tell us anything by itself.
But one thing Hershey has been getting right - and something I called out in January - is its ability to increase margins. The company saw gross margins and EBIT margins both fly higher during the quarter against last year's comparable quarter as productivity initiatives continue to bear fruit. HSY has been hard at work in this space for a few quarters now and the initiatives are certainly a great success. This hasn't changed since January and that's a good thing; these gains in margin are sorely needed as sales have been very weak but HSY is delivering in a big way.
In addition, both sales and margins were helped by price increases that have continued throughout 2015. I spent considerable space in January talking about price increases because there are lots of downstream impacts from such a strategy. First, the company's revenue is higher than it otherwise would be. Second, margins increase as prices go up and lastly, market share is often eroded as prices increase.
During Q3, HSY saw a huge 5.8% increase in revenue from price increases which is a terrific result. The problem is that volume is still very weak with a 4.3% offsetting loss. This is the same problem HSY has had all year and a big red flag for why I thought the stock was overvalued at $103. Volume losses are never a positive thing and HSY is just continuing to do the same thing over and over again. Price increases are great but not if they are at the expense of volume. Alienating customers with continuous price increases is not something most businesses can withstand so what happens next year? HSY will be comparing against this year's price increases so unless it boosts them again - which would likely result in more share loss - it will have nothing left for revenue gains as volume has been very weak. That is why I worry about HSY; margin gains from price increases are great but they are also temporary. No business can raise prices forever and I'm quite worried about HSY's volume losses.
I saw the same worrying trends in Q3 that I saw earlier this year for HSY and with the company also lowering its guidance for Q4, I think the stock has lots of good reasons to be trading near its lows. However, it is fair to point out that since I made my very bearish call in January that the stock has come down a lot so is the right play still to short HSY?
Analysts are still bullish on HSY for some reason, forecasting 2.5% sales growth next year and 8% EPS growth despite the fact that those numbers will be very difficult to achieve. HSY still has a ~2% forex headwind to contend with as the dollar continues its trek higher and its volume losses have been massive in 2015. I don't consider price increases to be a sustainable way to boost revenue and with this year's increases becoming comparable in 2016, revenue gains are going to be very difficult to come by for HSY. The same is true for margins as higher prices and productivity gains will become largely comparable in 2016 and that spells trouble for margin growth as well. In short, I have no idea why analysts think HSY can grow earnings at 8% next year.
Even if I'm wrong HSY is still trading for 19.6 times forward earnings at present. This is much better than the 23 it was trading for in January but is still very expensive on an earnings basis. And if I'm right that HSY's estimates are still too high, its actual forward PE could be 21 or 22 right now. Time will tell but I think that's where we are; HSY has no catalysts for materially higher sales or margins heading into 2016 so the idea that it will grow EPS by 8% is unfathomable to me.
For that reason, the stock's 2.6% yield is nowhere near enough to compensate investors for the risk they are taking owning HSY shares. I think there is still significant downside possible as HSY's estimates are too high for 2016. I believe the company will miss and/or lower guidance in 2016 and that will lead to a lower share price not unlike what we've seen in 2015. HSY has come down a lot but not enough as this business is struggling to grow and that means it is still a nice short candidate.
Disclosure: I am/we are short HSY.
I wrote this article myself, and it expresses my own opinions. I am not receiving compensation for it (other than from Seeking Alpha). I have no business relationship with any company whose stock is mentioned in this article.