The year 2012 provides a good opportunity to invest in recently underperforming Technology growth companies as the U.S. economy heads toward recovery.
National Instruments (NASDAQ:NATI)
About the Business
National Instruments is one of the leading companies in the world in building testing and measurement (T&M) equipment for scientific and engineering purposes. Their most widely used product is LABView, a data acquisition software. LABView is in over 7000 universities worldwide and spans many different commercial applications: from LEGO's Children Robotics to the Particle Accelerator at CERN. And according to the CFO, T&M has contracted in the last decade, which has opened the door for National Instruments to gain market share. They also invest heavily in Research and Development, which is attributable to lower profit margins, especially since the turnover period for R&D is relatively long.
National Instruments continues to show excellent growth, quarter after quarter and year after year. Their most recent earnings release of 0.27 per share (Diluted, non-GAAP) for Q4 2011 was slightly above estimates, but revenues fell a little bit short of estimates coming in at $280M.
The bottom line is however, that NATI continues to set company records for revenues on a yearly basis: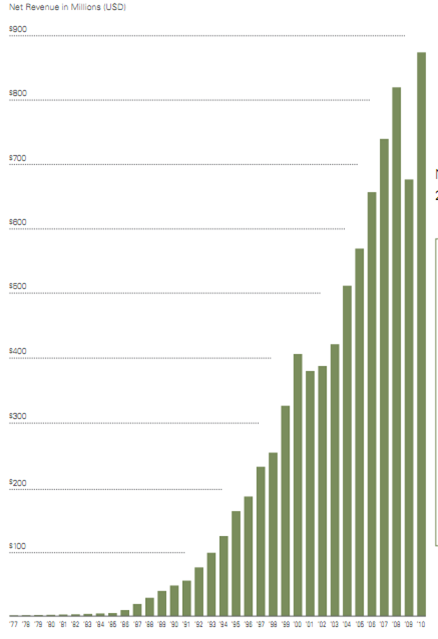 (Taken from the National Instruments website.)
2011 Revenues came in at $1.02B, which would extend beyond the chart above.
In a peer analysis of similarly companies and competitors, National Instruments comes out on top:
Compared Companies:
Leverage Ratio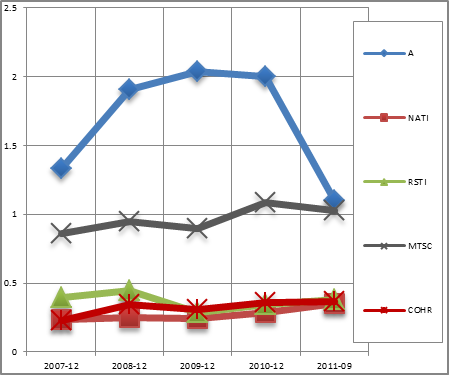 National Instruments has a low leverage ratio, similarly structured to those companies of similar size, maintaining its solvency.
NATI also maintains diversification within its business structure both by industry and by region. Academia provides 12% of NATI's revenue, which is the highest of any industry (no other industry makes up greater than 10%). They also split their sales among the three major geographic regions: Americas (41.2%), Europe (29.9%), Asia-Pacific (28.9%).
Gross Profit Margin Average Growth %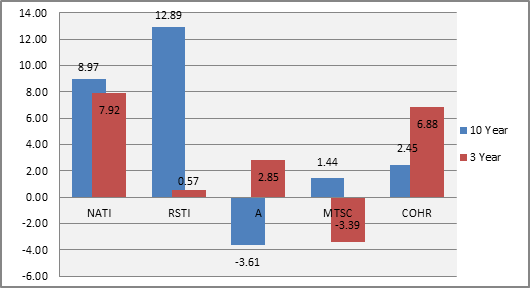 NATI is has been able to consistently grow its gross profits on a yearly basis. Unlike the peer group, National Instruments keeps its margin growth high on both a 10 year and 3 year average basis.
Average Yearly Employee Growth Rate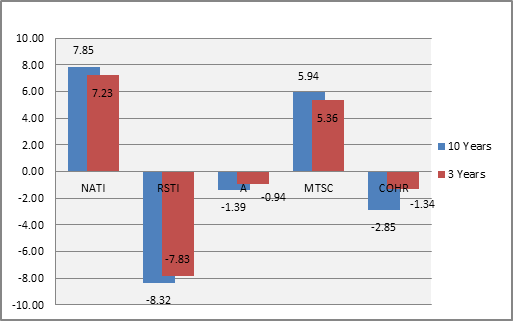 Again, National Instruments shows the best overall numbers in its peer group. With average growth above 7% for both 10 years and 3 years, NATI has been one of very few companies to continue to grow its business even after the 2008 financial crisis. They have a great reputation surrounding their work environment as they have been published on the Forbes "100 Best Companies to Work for" list 13 years straight.
Risk Factors
NATI recently terminated their sales contract with the federal General Services Administration (GSA) in May. After over 12 years of business together, GSA decided that National Instruments was overcharging them for the procurement of NATI's products. This resulted in a lawsuit which cost National Instruments $13M, decreasing the Q3 '11 net income by over 50%. This low EPS resulted in many downgrades from analysts. Going forward, NATI does not expect to be liable to GSA for any more "overpayments." NATI now has contracts with 6 other authorized federal resellers. Though there is some future risk, this seems to have led to a possibly undervalued situation for NATI.
Summary
NATI is and has been one of the most reliable leaders in the T&M sub-industry for over a decade. They believe in redistributing their income directly to shareholders as they have a high dividend (recently increased by 40% to $0.14, quarterly), which is uncommon amongst peers. They are committed to research and development, and it has paid off with parabolic increases in yearly revenues. NATI, though typically trades at an industry premium in terms of P/E, exemplifies growth, and could provide excess returns for investors in a bull market.
Disclosure: I have no positions in any stocks mentioned, but may initiate a long position in NATI over the next 72 hours.