PJT Partners (NYSE:PJT) released its first quarterly earnings report as a publicly traded company. The financial advisory was spun off from The Blackstone Group (NYSE:BX) on the first of October and now operates as a wholly distinct advisory firm.
PJT had an excellent third quarter, posting an 85% increase in revenue and adjusted net income of $3.07 per share versus $0.12 per share in the third quarter last year. The huge jump in earnings this quarter was primarily due to a very large increase in advisory fees.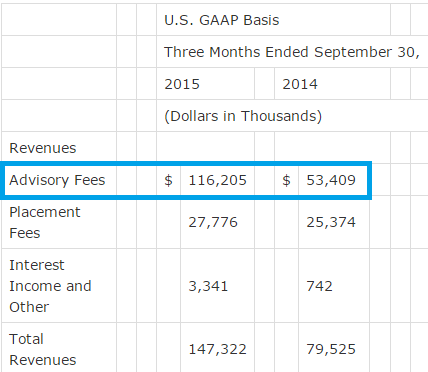 (source: PJT Earnings Release)
PJT earns a large portion of these advisory fees from merger and acquisition (M&A) transactions. These transactions typically take a significant amount of time to complete, but once each deal is finished PJT typically receives a lucrative fee for their services.
Closing key deals in the third quarter allowed PJT to post earnings that represented the majority of profits for the entire year. In the first two quarters, PJT only generated $0.15 per share of adjusted earnings versus $3.07 in the third quarter.
A Strong Environment for M&A Transactions
The current low interest rate environment has led to a boom in merger and acquisition transactions. Thanks to the Fed's zero interest rate policy, corporations have access to cheap capital.
At the same time, modest growth in the overall global economy has made it hard for large corporations to meet their growth targets.
The answer for many of these companies has been to borrow capital cheaply and use that capital to acquire smaller competitors. This way, large corporations can "grow" the size of the business by absorbing competing firms.
Evidence of this trend can be seen both in the higher debt levels of U.S. corporations, and the expanding "goodwill" on the balance sheets of these firms. (When a corporation buys a "target company" for more than the book value of the target company, the difference in value is recorded as "goodwill" on the balance sheet).
Below is a chart from Goldman Sachs showing how lower interest rates have led U.S. corporations to nearly double their level of debt since 2007.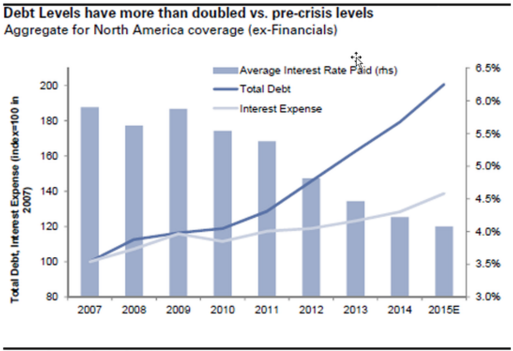 (source: Goldman Sachs Global Investment Research)
And the percentage of goodwill on corporate balance sheets shows that a large portion of this debt is being used to fund merger and acquisition transactions.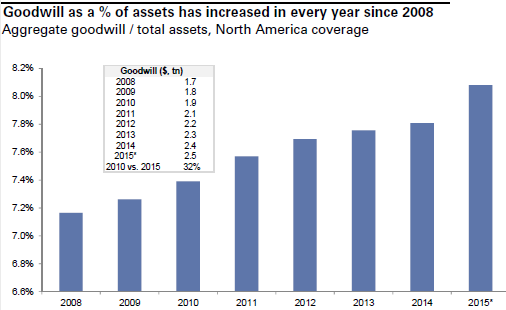 (source: Goldman Sachs Global Investment Research)
This ongoing trend has been instrumental in boosting profits for PJT. The big question for PJT investors is whether the trend will continue to propel strong earnings.
If the M&A Market Stays Hot, PJT Will Thrive
Economists are split on whether the Fed will raise rates at their December meeting or not. At the time of writing, futures markets are pointing to about a 70% probability that the Fed will hike rates, but that probability continues to fluctuate.
While the Fed may raise rates before the end of the year, it appears certain that the Fed's target rate will still remain well below historical levels.
In the third quarter, U.S. GDP growth was reported at a 1.5% annualized rate, which represented a sharp contraction from the second quarter reading of 3.9%. Lower economic growth should influence the Fed to keep rates relatively low, and slow growth also provides an incentive for corporations to continue to seek growth through merger and acquisitions.
This is good news for PJT as the company should continue to be able to generate revenue from these lucrative deals. Meanwhile, now that PJT is completely separated from Blackstone, the company is able to pursue new business opportunities without potential conflicts of interest tied to Blackstone's other business lines.
While PJT's third quarter profit of $3.07 per share may have been an anomaly, investors should be encouraged by the large potential for profits from the current M&A boom.
Even if PJT's annual profits only level out to be 70% of this past quarter's profits, the stock is still trading at roughly 10 times ongoing earnings. This represents an attractive multiple on PJT's business, and gives investors plenty of room for profits if PJT is able to repeat the success it saw in the third quarter.
Disclosure: I/we have no positions in any stocks mentioned, and no plans to initiate any positions within the next 72 hours.
I wrote this article myself, and it expresses my own opinions. I am not receiving compensation for it (other than from Seeking Alpha). I have no business relationship with any company whose stock is mentioned in this article.