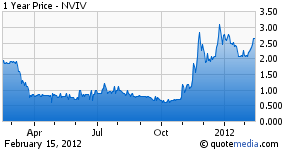 InVivo Therapeutics (NASDAQ:NVIV) is moving again. Shares flew to nearly three dollars late last year, from well under the dollar mark as news circulated regarding the company's revolutionary treatment for treating and potentially curing the devastating effects of spinal cord injuries (SCI) and paralysis, but have since dropped back towards two dollars as the traders went looking for the next immediate-term payday.
That said, NVIV could be positioned for another move higher with multiple catalysts pending - including the initiation of human trials - and might also be shaping up to be quite the buyout candidate.
Pre-clinical results for InVivo's biopolymer scaffold device (BSD) in treating SCI was highly encouraging, and should the success of the early studies continue into the human phases of testing and development, then the investing community might start to grasp this company's potential in infiltrating nearly ten billion dollar SCI and paralysis market. Big pharma could also start salivating at the opportunity to bring this technology into their own fold - either through partnerships or an outright buyout - for a relative discount, when considering future prospects.
There have been some initial key indicators that InVivo's technology might actually be everything that the company advertises it to be, even though human trials have yet to begin.
As previously outlined, InVivo's biopolymer scaffold device has, in early studies, demonstrated a significant therapeutic effect in healing the spinal cords of rats and primates. Although we're still waiting on the FDA to approve the initiation of human trials, InVivo's BSD is being developed as a medical device, not as a pharmaceutical, which means that even as a pre-clinical company, the technology is closer to market than many other pre-clinicals, given the shortened time to approval for medical devices as compared to new drugs or pharmaceutical therapies.
Another key factor for success is that InVivo's BSD also addresses the threat of secondary injuries to the spinal cord that generally lead to the most severe cases of SCI and paralysis and, as described by company founder and former paralysis patient himself Frank Reynolds, can be customized to fit each spinal injury and can be administered right there in the operating room when an SCI patient first arrives into the ER. Ninety percent of SCI patients are not initially paralyzed, rather they only suffer from spinal shock, only to become paralyzed by secondary injuries caused by inflammation, bleeding and scarring.
Again, InVivo's BSD looks to heal the spinal cord in a timely manner before those secondary injuries take effect. The BSD is convenient enough to be administered in conjunction with the current standard of care, which consists of installing rods and screws in and around the damaged area of the spine, and wards off those devastating secondary injuries by allowing the spine to heal itself quickly.
If the secondary injuries can be warded off, the theory holds, then so can paralysis.
In support of that theory, 100% of the monkeys treated with InVivo's scaffold in preclinical studies were up and running within 12 weeks. Expectations are high for the move to human trials as well, given the similarities in anatomy and bodily structure between the monkeys used in the preclinical studies and humans; it's the shift from rats to monkey that was the larger technological leap.
Speaking of Geron, InVivo received another boost last year when Geron Corp (NASDAQ:GERN) decided to place its stem cell based treatment for SCI on hold, due to financial restraints. Geron's developmental hold essentially put InVivo in the lead in the race for developing a cure for serious SCI and paralysis, but it also brought notice to the fact that stem cell therapies such as those developed by Geron could be used in conjunction with InVivo's BSD.
The door is wide open for InVivo to potentially land some big-named partnerships, as recent company reports have emphasized that future plans are in place to initiate trials using stem cells, drugs or other combination therapies in conjunction with the BSD. The combination therapies could included products - already approved or not - from those potential partners, highlighting the future probability of increased revenue streams. These prospects make InVivo's growing patent portfolio for its scaffolding technology that much more valuable in the now-time, while preparing for future growth potential.
InVivo has already tested its device in combination with drugs and/or cells in primates, also with huge success. Plans are in place to continue that testing line and eventually file for approval of the BSD in conjunction with the combination therapies.
Another angle that InVivo is pursuing revolves around an injectable, gel-based scaffold that is also being pushed through the developmental phases and for which human trials are expected to commence about mid-year 2012. In fact, in the video clip linked above, CEO Frank Reynolds noted that the hydro gel actually produced the best results in the completed monkey studies.
Given the early success and huge potential in a multibillion dollar market, there's little doubt as to why InVivo is beginning to garner the attention that it has over the past months.
The company's market cap stands at just over 122 million, and while one could say that that's about right for a company with no human trials yet completed, another might still consider this the ground floor of a potential game-changing player in a big market. With big pharma dropping serious dime on mergers and acquisitions these days, InVivo could be had now for relative chump change, when compared to where the market cap might be after a successful trial or two in humans - let alone the valuation if this technology makes it to market.
To gauge the current market sentiment for novel and new technologies, consider the Verastem (NASDAQ:VSTM) IPO that valued the company's pre-clinical pipeline at over two hundred million dollars. That's a clue that deep-pocked investors - and not just deep-pocketed pharmaceutical companies - might be on the prowl to target novel technologies as investments during the earlier stages, well before relevant trials and the buyout rumor mill leads to elevated share prices.
Speculative money is starting to trickle back into the market since signs of an overall economic recovery are in sight, and plays such as NVIV could benefit. Volume has slowed quiet a bit after the big run late last year, but as news starts circulating again as we draw closer to the start of human trials, then we could start seeing that volume edge higher again - and where there's volume, price usually follows.
All in all, 2012 could be a pivotal year for InVivo.
As I've noted in previous discussions, InVivo was already set to start making some noise as a company with a potential cure for severe SCIs and even paralysis, but with Geron now out of the game until a partner is landed, the race to the cure for paralysis might not be a race anymore - it might be NVIV's game to lose.
Disclosure: I have no positions in any stocks mentioned, and no plans to initiate any positions within the next 72 hours.