As an investor in AT&T (NYSE:NYSE:T), a couple of recent articles on Seeking Alpha have caught my attention. The first cited an article on Investor's Business Daily that correctly pointed out that AT&T's price had only appreciated around 19 percent over the past 20 years. This trailed the S&P over the same time period, which was up about 256 percent. The second argued that AT&T's dividend was a "red herring." These two articles caused me to wonder what a dividend investor might have gotten out of their investment over the past 20 years, as I'm hoping to get paid for the next 20 years after my initial recent investment.
AT&T is definitely not a growth stock, and investors who invested hoping to see a big run-up in the stock's price around 1995 would have been increasingly disappointed over the long run. What these numbers do not take into account is the power of the dividend. When dividends are reinvested, the return of the S&P 500 would look more impressive than the 256 percent return stated. AT&T would look better as well when taking its ever-increasing dividends into account.
The "Real" Returns for AT&T Investors
I went to the AT&T investor website to get some information on the dividend starting in November 1995 to the present. The first dividend received would have been $0.4125. A 2-for-1 stock split in March 1998 doubled the number of shares that an investor would have held. There have been no splits since, but the post-split dividend has grown from $0.23375 to the current $0.47 over this period of time. The current dividend yield is approximately 5.75 percent, which is pretty high for a stock that's a component of the S&P 500.
Over the past 20 years, an investor who bought one share of AT&T would have received a total of $53.18 in dividends, which nearly equals the $53.57 that our hypothetical investor would have paid for this share. When added to the approximately 19 percent return that's noted in the IBD article referenced above, this investor would have more than doubled his or her money. When looking into dividend reinvestment, the return is, not surprisingly, even better. I was able to locate a calculator on DQYDJ.net (for Don't Quit Your Day Job) that shows the total return for basically any stock that's listed on a major US exchange. The numbers that the calculator returned showed: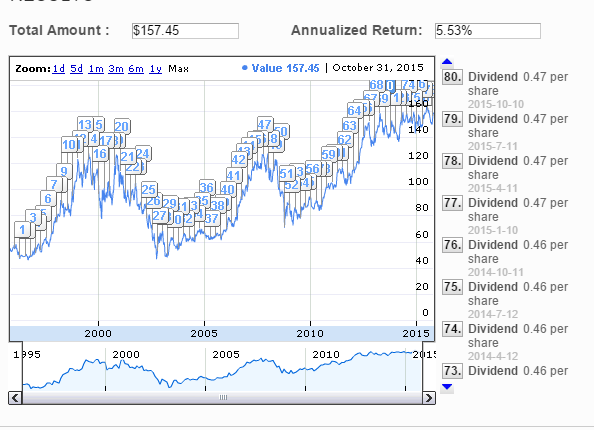 The overall return for the stock was well above the ~1 percent annual growth that the Investor's Business Daily article noted. More than 4 percent of the 5.53 percent annualized return was the result of dividends. The dividend has increased each and every year without fail over the past 20 years (the streak actually goes back to 1984). Our initial single, solitary share of stock that was paying $0.4125 per quarter has now grown to approximately 4.7 shares of stock that are paying out an annualized $8.83 in dividend income. That's a yield on cost of nearly 27 percent at today's prices. Therefore, while the share appreciation has been pretty miniscule, the dividend income has provided a reasonable return, especially when accounting for the lost decade of the 2000s.
Is AT&T a Good Holding for Dividend Growth Investors?
This brings up the initial question that my title posed: Is AT&T a good holding for a dividend growth investor? I've invested in T for the (slightly) growing dividend that it provides. I don't believe that the dividend is a red herring in the short term, as the payout ratio is currently less than 70 percent, according to Dividend.com. The free cash flow estimate and EPS estimates were just upgraded to between $2.68 and $2.74 for the EPS and more than $15 billion for free cash flow for 2015. The dividend has cost right around $10 billion, give or take a few million, over the past five years. Therefore, there is plenty of room to maintain the dividend.
Conclusion
With a 5.75 dividend yield, my income should grow by about this rate each year when reinvested if the share price continues to sit where it has for the past 20 years. With the 2 percent annual growth in the dividend that has been standard over the past five years, I could reasonably hope to see my income from my investment grow at an annual rate of around 7 to 8 percent on an annualized basis even if I never add any new capital other than my reinvested dividends. While in the accumulation phase, my hope is that AT&T will provide me with a growing income that could double basically every decade. This increased income should exceed inflation unless it grows much faster than it has in the past couple of decades. As part of what basically amounts to a duopoly, it is not likely that AT&T goes out of business any time soon. For these reasons, I believe that AT&T is a great foundation stock for my dividend growth portfolio and that concerns over lower capital appreciation and a dividend that would be immediately unsustainable are largely unfounded.