We've already known for a while that sentiment, as measured by the AAII (American Association of Individual Investors) is too bullish.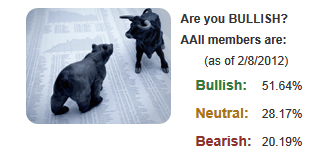 But how much is too much?
There are signs of unwarranted euphoria everywhere, and I'll leave a few here.
Amazon.com (NASDAQ:AMZN)
Amazon.com has, again, lowered estimates heavily for the next quarter, which prompted another huge drop in forward earnings expectations. It also reported earnings for 2011 that fell as much as 45% below those of 2010. This is a stock that trades at a 2012 P/E of 146, and 2012 is again expected to represent a drop in earnings from 2011. So you have a stock that has several years of declining earnings and declining estimates, a stock whose earnings are back to where they were in 2004, trading at multiples that are around 10 times higher than the market. And it doesn't fall (much).
Amazon.com earnings estimates, Q1 2012
Current Estimate: $0.08
7 Days Ago: $0.09
30 Days Ago: $0.37
60 Days Ago: $0.40
90 Days Ago: $0.43
Amazon.com earnings estimates, 2012
Current Estimate: $1.31
7 Days Ago: $1.32
30 Days Ago: $1.93
60 Days Ago: $2.01
90 Days Ago: $2.05
Energy Conversion Devices (NASDAQ:ENER)
ENER filed for Chapter 11 today. ENER went bankrupt.
What did ENER stock do before going bankrupt? What did it do in the last two months?
It went up 386%, in two months. Right into bankruptcy. If that isn't a sign of euphoria, what is?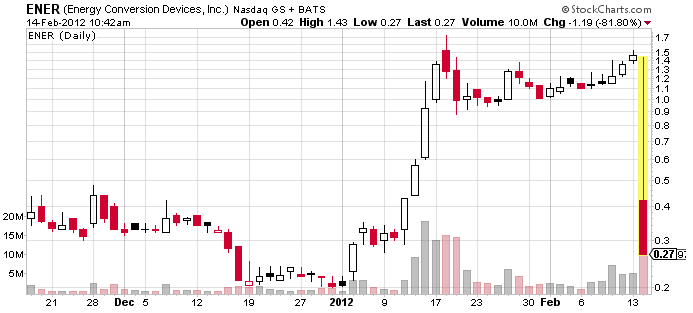 Dryships (NASDAQ:DRYS)
The very quick drop in freight rates, as represented by the Baltic Dry Index, is one of the big stories of 2012. The Baltic Dry Index is down 58% year-to-date, and the index is based on the prices that shippers charge, so there's no doubt that this has a deep fundamental impact.
But the euphoria is much stronger than reality. So what did DRYS recently do? It went up, 66%, against a backdrop that, much as in ENER's sector, will lead to several bankruptcies.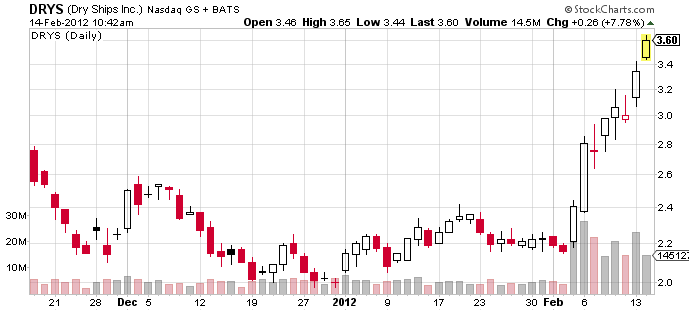 Conclusion
Mass euphoria has hit the market, certainly helped by the successive supportive actions of Central Banks all over the world, leading to many incredible rallies on stocks whose fundamentals do not warrant such happiness. It's to be expected that such euphoria will lead to a significant correction both in the market, and in the stocks whose movements are not supported by any fundamental improvement.
Given that exuberant sentiment - as seen in these examples and in AAII's sentiment survey - is a contrary signal, and also given what has been happening in the basic materials sector, I believe it would be prudent both for traders and investors to sell the present rally.
Disclosure: I am short AMZN.