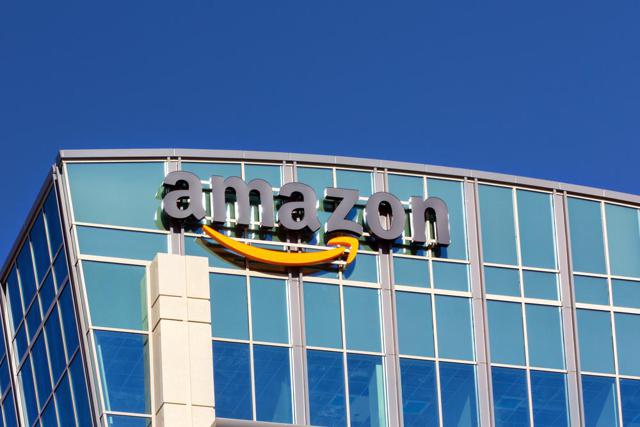 Amazon (NASDAQ:AMZN) recently joined the $300 billion club, i.e., Amazon's market capitalization exceeded $300 billion. Moreover, the stock price has been on a bit of a tear since July of this year.
Much of the, dare I say euphoria, seems to surround Amazon's cloud computing offering, Amazon Web Services (AWS). In particular, AWS is seen as the disruptor in one of the most profitable areas of information technology, namely Enterprise IT.
Now AWS has plenty of competition in this space (Microsoft (NASDAQ:MSFT), IBM (NYSE:IBM), Google (NASDAQ:GOOG) (NASDAQ:GOOGL) and Oracle (NYSE:ORCL) to an extent, plus regional champions). However, there is an "AWS devourer of worlds" argument made by proponents that roughly revolves around AWS having huge scale and a massive first-mover advantage.
The scale of AWS
To quote from a (slightly dated) article at Enterprise Tech:
James Hamilton, vice president and distinguished engineer for AWS, has revealed the size and scope of the AWS cloud just to remind everyone that it has first mover advantage and that Amazon is absolutely committed to building out this business and the infrastructure that supports it.

Scale is perhaps the most important thing, and no one needs to teach an online retailer like Amazon anything about that. With Amazon, there is very little talk of public cloud, and that is because Amazon believes that, by its nature, cloud means it cannot be private. Over the long haul, Amazon believes the massive scale of the public cloud will mean that very few organizations will run their own datacenters.

Period. Full stop. Chew on that.
The article further points out that ...
Every day, AWS installs enough server infrastructure to host the entire Amazon e-tailing business from back in 2004, when Amazon the retailer was one-tenth its current size at $7 billion in annual revenue.
and moreover ...
Here's the server math. Amazon has 11 regions around the globe where it has datacenter capacity. Each of those regions have at least two availability zones, with a total of 28 availability zones across all of the regions. (This includes the new region that was launched in Frankfurt, Germany two weeks ago.) These availability zones provide isolation and redundancy at a local level for workloads, like a kind of fault tolerant system akin to Tandem or Stratus only at a datacenter and services level than by literally lockstepping bits as they move through two systems. Each availability zone has at least one datacenter and some have as many as six datacenters. (In January 2013 at re:Invent, Hamilton said that the US East region had more than ten datacenters all by itself, but in his presentation at re:Invent 2014 he said that no zone had more than six datacenters.) The idea is that customers architect their applications to run across different availability zones for local data protection and then across multiple regions for an even higher level of availability. Amazon scales up the capacity in each availability zone by adding whole new datacenters.
That sounds pretty sobering as far as competitors are concerned. However, there is a flaw in this whole line of reasoning (which is often made in discussions of scale as a source of competitive advantage). Namely, scale as a competitive advantage is usually a local phenomenon (for example, Wal-Mart's (NYSE:WMT) U.S scale doesn't give it much of an edge in say Australia). The rest of this article elaborates on this in the context of AWS in Europe and certain data residency laws (similar remarks also apply to issues of latency, data gravity, etc., but in order to keep things simple, I will not discuss these here).
AWS Regions
We need to take a short detour on the basic model that underpins AWS.
AWS is hosted in multiple locations in the world, i.e., there are multiple data centers that run the workloads and store the data that you put on AWS. When you deploy services on AWS, you must choose a region on which to host. The regions are completely isolated from each other (and can only communicate via the internet; this has implications for input/output costs, but that is also a discussion for another time). A full list of currently available regions can be found here.
For the purposes of this article, the key thing to note is that there are two regions in Europe and the corresponding data centers are located in Frankfurt, Germany and Dublin, Ireland. Since this is important, let me belabor the point: The only European countries that AWS currently has data centers in are Ireland and Germany.
Of course, this doesn't mean that if you are in Europe, you have to be in these countries to use AWS. All it means is that these are the countries in which your computing resources and data will be sitting.
However, do note (as quoted above) AWS expects customers who need maximum resiliency to achieve this by running applications in several regions.
Europe and data residency
In most countries (the U.S, and European countries in particular) there are extremely stringent laws regarding where data originating in said countries may be stored. This is particularly relevant to the sort of data that financial services firms, telecoms and health services deal with (or even say employee records for an arbitrary firm).
In many countries, data simply can't move (legally) beyond their borders; other countries require strict assurances for privacy and data governance.
What this means is that if you are a financial services firm (or a telecom, or a retailer, or a...) in the U.K. (or the Netherlands, or France, or...) and are looking to move a computing workload that handles sensitive data to the cloud, then AWS isn't even an option. Doesn't matter how much capacity AWS has, is adding, etc. Remember, in Europe, the only datacenters that AWS currently has are in Ireland and Germany (let's even ignore the fact that all AWS services aren't available in every region).
Period. Full stop. Chew on that.
Now certainly AWS can add (and has plans to add) data centers to address this issue. However, the point is:
In this regard, AWS simply does not have a first-mover advantage in many countries (compare AWS footprint with that of Microsoft, Google and IBM).
The total scale of AWS is irrelevant with regards to resources that are subject to local considerations such as data residency and privacy laws.
Of course, one can point out that there are plenty of areas where these sort of data residency issues are not a problem. However, let me point out that, at least anecdotally, financial services, telecoms, etc. are where the largest profit pools in Enterprise IT lie.
Let me further point out that this is the sort of problem that isn't solved by simply opening a new data center in a country. Let's take Germany as an example. AWS now has datacenters in Frankfurt. So one would imagine that this makes it easy for a financial services firm in Germany to use AWS (for sensitive workloads).
Unfortunately, this is simply not true. The key words are resilience and auditability.
As mentioned earlier, AWS expects customers to architect maximum resiliency by running applications in multiple regions. This is a complete no-go as far as sensitive data goes. In fact even for non-sensitive data, there are practical issues with replicating data, but that is a bit tangential from the main thrust of the current article.
Auditability, at risk of over simplifying, refers to what you, as a financial services firm in Germany say, tell your regulator when they come knocking and ask you where your regulated data is stored, who has access to it, etc.
Naively, it would seem that simply pointing out that all your sensitive stuff is sitting in AWS' Frankfurt region would be sufficient.
However, reality is different. There is a difference between pointing to AWS (or any other cloud provider) and knowing the precise location and access to the data (rack unit, network port, server, network interface controller, etc.). A certain level of granular transparency is required which AWS does not, at least at the moment, provide.
Conclusion
As I alluded to earlier, these sort of local considerations don't just apply to data residency laws. They also apply to issues of network latency and the like (we don't yet know how to circumvent the limitations imposed by the speed of light).
Furthermore, these local considerations aren't just with respect to geography and physical location. For instance, AWS provides a "one size fits all" model for IT infrastructure, regardless of what a specific organization's needs may be. This has large implications for performance. For example, the entire architecture of AWS is born from the lessons Amazon learnt from the needs of its retail operation. This is not necessarily optimal (or even good enough) for other uses.
In other words, AWS' scale and first-mover advantage is not as large as might seem at first glance. In many areas it is even non-existent.
Disclosure: I am/we are long IBM.
I wrote this article myself, and it expresses my own opinions. I am not receiving compensation for it (other than from Seeking Alpha). I have no business relationship with any company whose stock is mentioned in this article.