On Friday's episode of Mad Money, host Jim Cramer engaged in what he called the "Battle of the Beds" comparing mattress makers Tempur-Pedic (NYSE:TPX) and Select Comfort (NASDAQ:SCSS). Cramer prefers SCSS to TPX as the company beats TPX in every major metric Cramer considers in an investment. He mentioned that while SCSS trades at a slightly higher PEG ratio of 1.2 compared to TPX's PEG ratio of 1.1, SCSS is "much better company" and deserved to trade at a higher premium to TPX. So is he right?
In this article, I will compare SCSS to TPX and identify the company best suited for your investment dollars.
Tempur-Pedic first came on my radar when Moore Capital Management initiated a position in the stock during Q3 2011. My initial research indicated the company had a lot of room to grow especially with the introduction of Tempur-Simplicity, the company's newest offering in a lower price point which would allow it to double its target market.
As always, my analysis included the evaluation of historical growth rates in revenue, net income, and book value, and consistency of historical gross and operating margins. I also looked at the return on invested capital, liquidity and debt ratios to evaluate how well the companies were using their financial resources to generate returns and to verify the financial health of the firms. Finally, employing a very subjective analysis, I ranked the two companies based on the individual criteria. The growth rates and operational characteristics are presented below. Data presented in the tables below was sourced from Morningstar.

TPX clearly comes out ahead when it comes to historical growth rates in revenue and income. However, the company has a very disappointing book value growth rate and I consider this to be a major negative.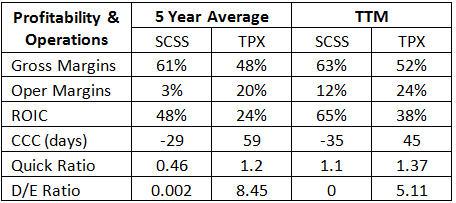 SCSS has a distinct advantage when it comes to operational metrics such as ROIC, D/E ratio and cash conversion cycle. In fact, CCC is negative for Sleep Comforts indicating that the company has a strong position with its customers and suppliers. TPX has been more consistent over the years in maintaining its margins and sports an operating margin which is 1200 basis points better than SCSS. TPX does have a sizable debt load compared to the debt free balance sheet of SCSS. In summary, the two companies have their own strengths and weaknesses and I would not give a significant advantage to one firm over the other. In fact, analysts expect the firms to grow a very similar long term growth rate of 15% to 16% compared to the projected growth rate of 11% for S&P500.
To break the tie, the next step was to determine the fair value for the two companies. This was done using relative valuation. It should be noted that the P/E estimates were developed using historical analysis of the earnings multiple from the last several years. The analysis and results are shown in the table that follows: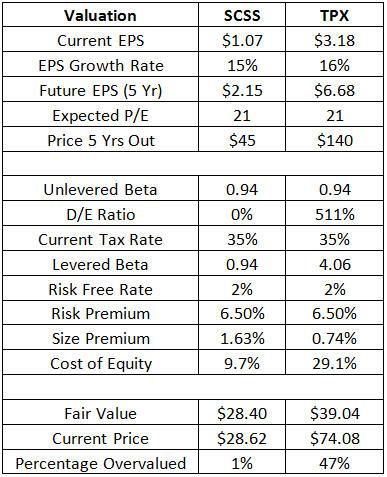 As shown above, TPX is overvalued by 47% while SCSS is fairly valued at current levels. I would have to agree with Cramer that SCSS presents a better investment opportunity. I would like to however discuss couple of interesting facts about the results.
The cost of equity, which is my discount rate, is approximately 10% for SCSS and 30% for TPX. This variance is due to the lack of debt on SCSS's balance sheet and the heavy debt load on TPX's balance sheet. Comparing the 5-year price targets, from current levels TPX is expected to almost double in price while SCSS projected to increase by 50%. TPX is however predicted to deliver a return which is lower than the cost of equity. For investors willing to accept a discount rate of 15% or lower, TPX becomes the obvious choice. In my opinion, SCSS should deliver a solid return with low levels of risk. I would look to open a position in SCSS if and when it trades below $25 a share.
(Kindly use this article for information purposes only. Please consult your investment advisor before making any investment decision)
Disclosure: I have no positions in any stocks mentioned, and no plans to initiate any positions within the next 72 hours.