Commodities as an asset class have historically played an important role in diversified portfolios. Commodity Trading Advisor (CTA) programs have allowed investors to diversify risk due to their low correlation with stock returns. However, in recent years CTA performance has deteriorated due to several factors at play. The most important factor that has negatively impacted CTA performance in the last 10 years is the fact that momentum trading is a crowded space. Given also the fact that commodity futures trading is a zero-sum game before frictional effects of trading are included, an increasing number of well-informed players with significant assets under management (AUM) has put pressure on profits and returns.
The result of the consolidation of profits in the CTA space is that in the last seven years, the group of 535 CTA tracked by Barclays Hedge has realized an annualized return of 0.09% versus 14.95% for the S&P 500 total return (NYSEARCA:SPY). In addition, the group of top 20 CTAs tracked by the same company has realized an annualized return of just 0.74%. In the last five years, the large group and the top 20 group have annualized returns of -0.06% and 0.78% respectively, versus 12.5% for the S&P 500 total return. This is an indication that CTA returns in the long-term may be actually drawn from a distribution with 0 mean and there is no positive skew. Apparently, even if that is the case, there will always be some CTAs that outperform and others that underperform. However, when investigating the performance of this group of managers, we have to look at averages of samples and not at selective performance figures.
Below is a chart of yearly returns of the Barclay Index that is comprised of 535 CTAs: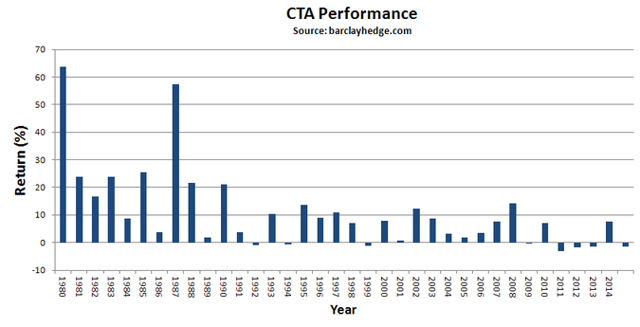 Some analysts prefer the index of top 20 CTAs instead. Below is the chart of yearly returns of the BTOP50 index: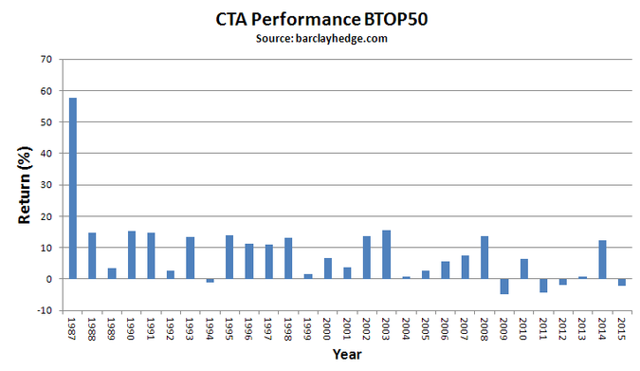 Note that the first chart that shows the performance of the 535 CTAs starts in 1980 while the second starts in 1987. Below is a table of CAGR values for the last 3, 5, 7 and 10 years, based on the above charts and compared to S&P 500 total return:
| | | | | |
| --- | --- | --- | --- | --- |
|   | 3-yr CAGR | 5-yr CAGR | 7-yr CAGR | 10-yr CAGR |
| CTA (535) | 1.53% | -0.06% | 0.092% | 3.09% |
| CTA (20) | 3.41% | 0.78% | 0.74% | 3.11% |
| SP500TR | 14.91% | 12.5% | 14.95% | 7.24% |
The gross underperformance of CTAs even in the 10-year period that includes a 55% drawdown in S&P 500 is evident. In recent years the underperformance has accelerated, both the absolute and the relative to S&P 500 total return. Annualized returns in the last 5 years are -0.06% and 0.78% for the group of 535 and 20 top, respectively. But is it possible that the top 20 group has a better ability in generating absolute returns? This question is answered after performing a paired t-test on the data samples from the yearly returns of the two groups:
| | | |
| --- | --- | --- |
|   | Mean | Standard deviation |
| CTA (535) | 0.0881 | 0.1465 |
| CTA (20) | 0.0855 | 0.1159 |
The T-value is 0.6633, indicating no difference in the two means. Thus, the argument that the Barclay CTA Top 20 index is more representative of CTA returns is rejected.
Obviously, the variance of returns of the top 20 group is lower, as expected. However, the non-significant result of the t-test is an indication that they are not able to do better than the large group. This should be expected since they are trading the same markets, mostly with the same tools and strategies.
In a recent article I attempt to explain the gross underperformance of the CTA group via basic backtests that show reduced effectiveness of simple trend-following strategies when there is no serial correlation in returns. Note that in recent years serial correlation of daily returns has disappeared from virtually all major markets due to the emergence of new trading styles that impact profits of traditional trend-following, e.g. HFT and algos based on mean-reversion. These faster traders are taking advantage of a crowded space in momentum strategies to profit and in the process they arbitrage those anomalies out of the market. Actually, profits from momentum are an anomaly and at some point they will disappear because too many people are after them using simple methods.
Disclosure: I/we have no positions in any stocks mentioned, and no plans to initiate any positions within the next 72 hours.
I wrote this article myself, and it expresses my own opinions. I am not receiving compensation for it. I have no business relationship with any company whose stock is mentioned in this article.