Expanded Summary
Although the Internet of Things (IoT) is heavily overhyped, the specific case of healthcare (HCIoT) may be uniquely well positioned.
The number of players jockeying to be involved in HCIoT is huge. This article attempts to "cherry pick" those who will "move the needle" as opposed to proving comprehensive coverage. We divide the players into categories and provide analysis of the anticipated key players in each category. We also anticipate that HCIoT may bifurcate into a consumer HCIoT and a separate health system HCIoT and derive our categories accordingly.
Technology is rapidly enabling new generations of healthcare-related devices, both implanted and wearable. These devices will both generate data and be remotely controllable and thus usher in a host of opportunities (e.g. remote monitoring) and challenges (e.g. security and privacy).
Expect the unexpected... - Large capitalization players investing large amounts of money in a hot new area have generated considerable publicity. However, like many emerging areas, it's likely that key beneficiaries will be unusually insightful and nimble as opposed to just being big. Examples to watch closely include "low tech" solutions that drive automated re-stocking and preventative maintenance and the controllers of the "master key" data - Electronic Health Records.
Important regulatory challenges remain - examples include The Medicare Telehealth Parity Act of 2015, the FDA's Unique Device Identifier (UDI) rules and the Drug Supply Chain Security Act (DSCSA).
Finally, healthcare has a unique challenge - there is already a wealth of little used data being collected without HCIoT. Thus, the Big Data conundrum - how to combine plentiful old data with a flood of new data and turn it in to actionable policies that add real value for healthcare providers and patients.
Introduction
Note to the reader: This article assumes you are familiar with the Internet of Things. If not, then we suggest an excellent article in the Harvard Business Review by Porter and Heppelmann for a strategic introduction. For the specific case of healthcare IoT, we suggest a healthcare specific paper. Caveat - be aware that the HBR article is co-written by a company called PTC (NASDAQ:PTC) and that the healthcare article is written by Freescale (NYSE:FSL), apply the appropriate filters.
After writing and publishing Part I of the series on long-term care on Seeking Alpha, I was working on writing the next article in the series on the topic of hospice. While working on this topic, I happened to pass through a well known "high tech" hospital in Silicon Valley as well as a nearby nursing home. I was surprised to see the state of technological innovation and decided to take a closer look at the progress and possibilities of the much publicized Internet of Things as it specifically applies to healthcare (referred to as HCIoT for the remainder of the article). What I found was sufficiently important to move forward the planned technology article in this series to the front of the queue.
[subsequent note to reader - two additional articles in the series have been published: Can Big Data Fix Healthcare Part I and Can Big Data Fix Healthcare Part II]
In my opinion, IoT is currently in a substantially "overhyped" phase. Perhaps the case of healthcare is slightly different. There actually exist strong drivers for change in the healthcare system - namely the difficulties of rapidly ageing baby boomers in getting convenient and cost-effective care combined with the repercussions of the Affordable Care Act (ACA) which include driving cost reductions and operational efficiencies. Long before the phrase IoT became commonplace, there were an important set of initiatives underway to address these drivers and the buzzphrase was digital healthcare. One way to get a feel for the resulting innovations is to examine the venture capital-related investments that are being tracked by Rock Health. The number of companies and funding involved has been impressive - e.g. refer to the recent Rock Health report for the 2015 snapshot and the consolidated Rock Health report for a historical review.
The Big Picture
Many companies of all sizes have come to realize that both IoT in general and the HCIoT in particular are important business opportunities. Thus, we will not be able to cover all of them. Instead, we looked for a way to "cherry pick" - i.e. create a useful set of distinct categories for the HCIoT industry and place companies into the respective categories. We can then focus on those companies which will "move the needle" in terms of impact in driving progress in HCIoT and garnering associated revenue. This cherry picking can be a tricky business. When something new emerges you need to ask some questions - e.g. Is it fundamentally new? Is it an extension of something existing? Is it the convergence of several things? Is it all of the above? Thus, you might compare the case of HCIoT to the case of the mobile phone industry. If you had known 10 years ago the extent of smartphone usage that exists today, then you might have guessed that Motorola, Nokia (NYSE:NOK) and BlackBerry (BBRY) would be powerhouse entities. Of course, the lion's share of the benefits went elsewhere due to savvy decisions made by Apple (NASDAQ:AAPL), Qualcomm (NASDAQ:QCOM), Google (NASDAQ:GOOG) (NASDAQ:GOOGL) and Samsung (OTC:SSNLF) (The lesson to keep in mind is that just because big players recognize the opportunity and make big investments, they don't necessarily reap the benefits).
A good start at describing the Big Picture of HCIoT that we expect to emerge is surprisingly captured by the models created by two industry consortia - the Continua Alliance and the CommonWell Health Alliance.
Continua Alliance describes itself as "the only organization convening global technology industry standards to develop end-to-end, plug-and-play connectivity for personal connected health. Continua is dedicated to the development of design guidelines and test tools to expedite the deployment of personal connected health devices and systems". The potential power of this alliance is best depicted by Continua's architecture diagram below: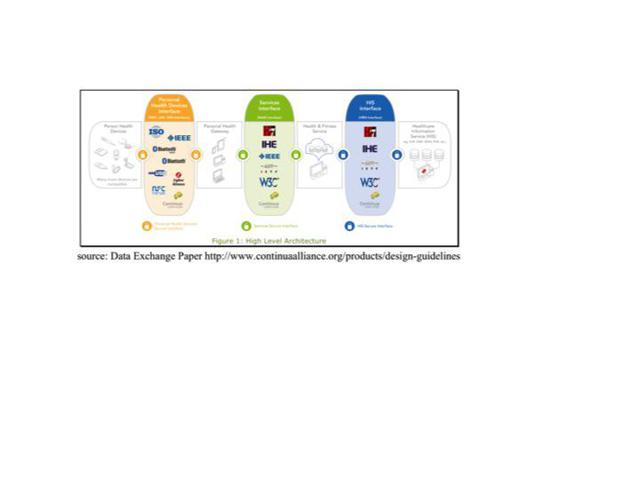 The importance of this diagram and architecture is that it provides a plug-and-play means of connecting the huge diversity of HCIoT devices and sensors to the comprehensive gateway infrastructure, independent of the numerous underlying protocols. The gateways in turn provide connectivity to health and fitness services (e.g. home health monitoring/telehealth). The HFS then provides connectivity to healthcare information services (HIS). The key HIS providers control electronic health records (EHR), which as we will discuss below are likely to become the "master key" data of the industry. This architecture also foreshadows an HCIoT bifurcation - namely a home/mobile segment that we will refer to as consumer HCIoT and a health systems segment that resides largely in the institutional realm of hospitals, healthcare systems and insurance companies. The alliance currently has ~120 members including: UnitedHealthcare, Novartis (NYSE:NVS), Amgen (NASDAQ:AMGN), Roche Diags. (OTCQX:RHHBY), Qualcomm, Samsung, Philips (NYSE:PHG), HP (NYSE:HPQ), IBM (NYSE:IBM), Intel (NASDAQ:INTC), Freescale and Kaiser Permanente.
CommonWell Health Alliance describes its mission as follows: "We are creating and executing a vendor-neutral platform that breaks down the technological and process barriers that currently inhibit effective health data exchange. Health data should be available to individuals and providers regardless of where care occurs". Although it has been little noticed, the underlying capabilities provided by the Continua Alliance may open the door for a fundamental change - the ability of the patients to traverse the so-called continuum-of-care and have their associated data and records migrate along with them in a manner that ensures data persistence and "Meaningful Use". The idea is captured in the diagrams below: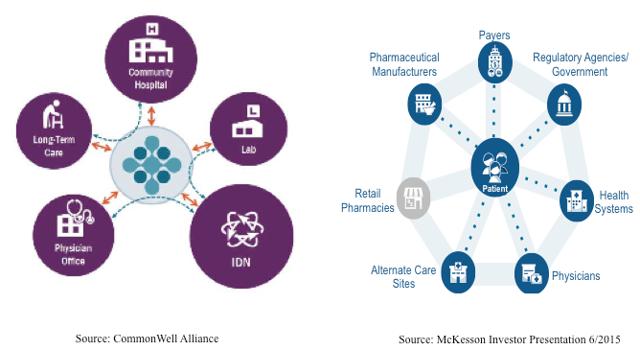 The founding members of the CommonWell Alliance include Cerner (NASDAQ:CERN), McKesson (NYSE:MCK), Allscripts (NASDAQ:MDRX) and athenahealth (NASDAQ:ATHN). Subsequently, a number of powerhouse organizations such as the Social Security Administration, CVS Caremark (NYSE:CVS) and Varian Medical Systems (NYSE:VAR) have joined the Alliance, and RelayHealth is acting as the initial nationwide service provider.
The Categories and the Players
Given these considerations, our derivation of the HCIoT categories and the assignment of players to categories is described below. Note that the categorization is highly debatable and certain to change over time as HCIoT develops and evolves.
Mega-Platform Players
When we take the consumer HCIoT perspective, it seems clear that two companies standout in terms of their market capitalization, resources, influence, ecosystem and strategic capabilities to potentially dominate - namely Apple and Google.
Apple is strongly positioned in HCIoT. The company offers two broad frameworks: (1) HomeKit and (2) HealthKit. These powerful platforms are combined with the Health App and of course a strong lineup of "things" e.g. iPhone, Apple Watch and iPad. Interestingly, AAPL has added ResearchKit - "an open source framework introduced by Apple that enables your iOS app to become a powerful tool for medical research" - to the set of frameworks and is touting key partnerships with UC San Francisco, Massachusetts General and Stanford in the areas of diabetes, asthma, Parkinson's disease, and breast cancer. The results are available via the Apple App Store.
Google key entry point was the acquisition of Nest complete with the Works with Nest ecosystem and the associated acquisition of Home Hub maker Revolv. The subsequent approach has been to create an OS platform akin to Android known as Brillo along with an associated set of communication protocols known as Weave. These platforms can then be utilized in conjunction with the Google Cloud with its extensive Big Data capabilities. However, Google has taken a fundamentally different approach in at least 2 ways: (1) by investing heavily in internal healthcare-related technology, and (2) by entering into creative partnerships with healthcare industry leaders such as Novartis, Johnson & Johnson (NYSE:JNJ), DexCom (NASDAQ:DXCM) and LabQuest that leverage Google's intellectual property (see the discussion below in the Medical Device section for details).
The Hungry Contenders
This category is for the select few who are legitimate contenders to migrate to the mega category above but are lacking at this particular moment.
Samsung has a formidable stable of consumer devices such as the various Samsung Galaxy mobile phones, tablets and gear wearables. Although Samsung is a key player in the Android ecosystem, it has released its own OS known as Tizen which it touts as the "OS of Everything". Samsung moved into the SmartHome space via the 2014 acquisition of SmartThings. SmartThings provides a mobile phone app and a hub which enable connectivity to a variety of "Things" ranging from lightbulbs, to speakers, to thermostats. The company has a family of IoT chips/modules and a partners program that includes Arduino. Samsung is a founding member of the Open Interconnect Consortium, allowing it to help drive IoT standards and interoperability. In a manner somewhat analogous to GE (NYSE:GE) Healthcare, Samsung offers an extensive line of healthcare products ranging from CT scanners to diagnostic tools. It is launching new healthcare-related consumer products such as the SleepSense sleep monitor device and of course the gear fitness/health wearables. Samsung has launched a joint effort with the University of California, San Francisco Medical Center known as the Digital Health Innovation Lab aimed at "accelerating the validation and commercialization of new sensors and algorithms for preventive health solutions". Finally, the company offers SAMI - an IoT cloud development platform. All told, Samsung provides a wide variety of moving parts, but faces the challenge of gaining strong market traction for each. In order to make the leap to the Mega-Platform player category, Samsung needs to show that each part is moving well and that the parts are moving well together and that it has sufficient clout to drive underlying platform selection.
Qualcomm has been the dominant player in mobile chips and intellectual property (NYSE:IP). QCOM has launched a broad IoT marketing program called the Internet of Everything (IoE). The program specifically addresses the healthcare vertical. Qualcomm positions a variety of products including the SnapDragon processor family, the IZat location services and the AllPlay media platform as key products for its IoE initiatives. Qualcomm launched the AllJoyn IoT framework - "It provides an open, secure and universal framework and core set of services that enable interoperability among nearby devices, products and applications across platforms and operating systems". AllJoyn was contributed as an open source project. Qualcomm has subsequently been instrumental in forming and driving the growth of the related AllSeen Alliance - thus providing it with an important platform and set of partnerships. Note carefully that QCOM has also joined the Google Thread consortia. In the specific arena of healthcare, Qualcomm has been unique and incisive. In a perfect example of early recognition and delivery of solutions that will subsequently come to be re-labeled as IoT, Qualcomm founded a separate venture called Qualcomm Life (QL) in the year 2000. The key entities developed or acquired by QL were a set of gateways now known as 2net Hub and 2net Mobile and two middleware platforms, the 2net Platform and the HealthyCircles Platform. The overall mission of QL is described as "mobilizing healthcare to improve lives and advance the capabilities of medical devices. QL is focused on device connectivity and data management, empowering medical device manufacturers to deliver wireless health quickly and easily to those who need it". The overall architecture of Qualcomm Life's solution is depicted below: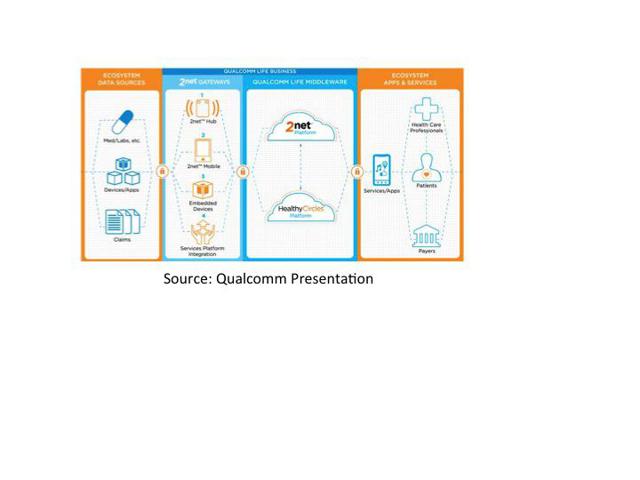 QL includes a venture capital arm and recently acquired Capsule Technologie and its SmartLinx Medical Device Information System capabilities. Capsule gathers data from a huge array of medical devices (700+ at last count), transitions device makers away from proprietary data collection protocols and solutions, and gathers both key operational data and patient data. (Note that operational data may prove to be a surprising "blockbuster" in HCIoT as institutions such as hospitals focus intently on cutting costs and improving service delivery by driving operational efficiencies). Thus, on the one hand, Qualcomm has shown impressive savvy and foresight in the HCIoT space. On the other hand, QCOM is struggling with rather fundamental business issues that will make it quite difficult to join the small club of mega players - namely that its unique IP position in CDMA wireless will not be reproducible in IoT/HCIoT.
Amazon is rolling out Amazon Web Services (AWS) IoT designed to "easily and securely connect devices to the cloud and reliably scale to billions of devices and trillions of messages". AWS IoT will leverage the suite of AWS services "to build IoT applications that gather, process, analyze, and act on data generated by connected devices, without having to manage any infrastructure". Amazon's IoT blog provides a useful view of its perspective and various links to developer tools. AMZN has designated healthcare as a key vertical target and recently announced a partnership with Philips Healthcare whereby the HealthSuite digital platform will utilize AWS IoT capabilities. What seems to be little known about Amazon is the quiet acquisition of a company called 2lemetry. 2lemetry developed a very interesting IoT platform known as the ThingFabric™ which offers quite a comprehensive set of capabilities. When combined with the capabilities of the Amazon Echo and Amazon Dash, it's well worth giving thought to the idea that Amazon may outmaneuver BigIron/BigSoftware players and migrate to the Mega-Platform category
Big Iron and Big Software
This is the category for an alternative set of players that have huge market capitalization, resources, influence, ecosystem and strategic capabilities, but not the consumer reach of the "MegaCap" players above. This category includes players such as GE and IBM that are trying to reshape/recharge their businesses around new digital opportunities as well as influential enterprise software giants looking to expand/reshape their portfolios.
IBM offers the Internet of Things Foundation managed cloud service together with the Bluemix application development environment and IBM analytics based on the much-touted Watson. The company has formed what is referred to as a "Watson in Medicine" business unit and has announced an initial set of partnerships with Apple (Watson-based apps for HealthKit and Research Kit), Johnson & Johnson (helping patients with knee-implant and hip-implant procedures) and Medtronic (NYSE:MDT) (collecting data from implantable cardiac devices and diabetes solutions and providing insight about device operational status and performance). IBM has also partnered with ARM mbed, Raspberry Pi, Intel Galileo, TI SensorTag and BeagleBone and Arduino to offer shrink-wrapped IoT starter kit board platforms. IBM has announced a raft of organizational changes and internal investments and acquisitions aimed at accelerating its overall IoT presence. Finally, the company has a long history of healthcare solutions focus which is actively being re-positioned towards HCIoT
General Electric - In several ways, the situation at GE and IBM is quite analogous. Significant investments in IoT are viewed as a means of reviving stagnating business prospects via a potentially supercharged, high-growth digital infrastructure and services play. In particular, the opportunity for GE in healthcare is twofold: (1) HCIoT-enabling products in the GE Healthcare portfolio ranging from patient monitoring to CT and PET scanners, and (2) offering HCIoT solutions to the broader healthcare market via the Industrial Internet Predix platform offerings.
As expected, Oracle (NYSE:ORCL) has a major presence in the healthcare industry and a very strong position among the major payors and providers alike. Oracle markets an Internet of Things Platform under the Connected World umbrella which "provides an end-to-end solution for a comprehensive, scalable and cost effective architecture". Oracle has attempted to explicitly address the differences in the capabilities required on "dedicated devices" vs. "smart devices" (i.e. consumer devices) vs. those needed for enhanced gateway functionality vs. those needed at the "backend" where complex enterprise applications need to be integrated. We need to closely watch Oracle's ability and commitment to driving Java as the key language and environment for HCIoT development.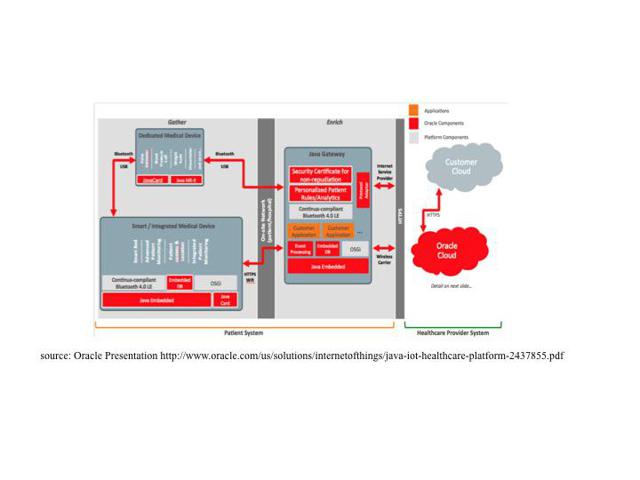 SAP (NYSE:SAP) is attempting to uniquely position its IoT offering as the Internet of Things for Business - i.e. you need SAP capabilities in order to actually make your business perform better. SAP's offering is based around the HANA Cloud Platform for the Internet of Things and includes an application platform with real-time analytics and embedded software for sensor devices. SAP has recognized two highly useful approaches to HCIoT: (1) placing an early focus on predictive maintenance, and (2) recognizing the overabundance of data and providing analytics which make the data useful for making decisions that lower costs or enhance patient care. The company has a significant relevant early success story, the myEarlySense solution that provides continuous home health monitoring and preventative analytics. SAP and Samsung have entered into a highly publicized (but nebulous) partnership in which Samsung devices including smartphones and wearables (i.e. the Gear™ products) are combined with SAP HCIoT capabilities to deliver mobile solutions for healthcare.
Salesforce.com (NYSE:CRM) recently introduced its IoT solution known as IoT Cloud Powered by Thunder. Salesforce has positioned Thunder as the key underlying technological capability - "world's most scalable event processing engine, designed to ingest and orchestrate billions of events from the connected world in real time". The company deepened an already close partnership with Informatica (NASDAQ:INFA) to extract data from IoT-enabled sensors. Notably, Informatica was recently taken private in a $5B deal, with Salesforce and Microsoft (NASDAQ:MSFT) both taking stakes in the deal. Salesforce has issued significant HCIoT-related press releases with Philips and Under Armour (NYSE:UA).
The Chip Guys
The list of chip companies making IoT investments and announcements is large and growing. We'll severely prune the list to a few key players with strong, specific HCIoT focus and impact potential:
ARM (NASDAQ:ARMH) - ARM offers the IoT subsystem for Cortex® and the mbed IoT device platform which includes software development tools, a feature rich OS platform and a substantial partner ecosystem. ARM has made significant acquisitions such as Sensinode to enhance the platform. ARM has a focus on the wearables vertical and is a key component of devices from Fitbit (NYSE:FIT), Pebble and many others. ARM is likely to be a key beneficiary of HCIoT's success.
Note to the reader: Numerous other chip vendors deserve coverage but space does not permit. In particular, there has been extensive M&A activity in the sector that has been driven by IoT opportunities including Silicon Labs (NASDAQ:SLAB) and Linear Technology (NASDAQ:LLTC). Also, well deserving of coverage are Texas Instruments (NASDAQ:TXN) and Broadcom (BRCM) (being acquired by Avago (AVGO)).
EMR/EHR Biggies
A small number of companies are the dominant providers of electronic health/electronic medical records in major hospitals and healthcare systems - e.g. EPIC, Allscripts, Cerner, athenahealth and NextGen. You can get a quick overview of this segment from CMS data. When we think about healthcare data, it may be useful to divide it into two categories: (1) immediately actionable, and (2) persistently actionable. The immediately actionable includes data collected by the slew of new consumer wearables. In order to make the data persistently actionable, it needs to migrate to the patient's EMR/EHR. Thus, the EHR becomes the "master key" data and those who control it are potentially in a very strong position (Note carefully this may be creating an opportunity for Google and Apple to gather and store the data). However, having the data and having a plan to leverage it vis-à-vis HCIoT can be very different. At some level, the industry leader is EPIC. EPIC has not clearly laid out an HCIoT strategy and it is not publicly traded. The publicly traded vendor that has taken the lead on HCIoT matters is Cerner.
Cerner has an existing solution, the SmartRoom™, based on an underlying technology known as the CareAware iBus. The SmartRoom is essentially a local (hospital wide) version of HCIoT as it provides device connectivity and automates workflows and processes.
Source: Cerner April, 2015 Investment Community Presentation
Cerner is actively pursuing key HCIoT alliances and partnerships at two levels. First, given the emergence of a rapidly growing set of devices, wearables and apps with unique "connectors", an appropriate type of aggregation platform is required that can track the velocity of the change. Thus, Cerner has partnered with Apple, Qualcomm 2net and Validic to handle this functionality. Secondly, at a higher level, there is the need for health information exchange capabilities that can cross the care continuum boundaries. Cerner has worked diligently to form and drive the CommonWell Alliance to accomplish this purpose (see the section on CommonWell above).
The Smaller Iron
STANLEY Healthcare is part of Stanley Black & Decker (NYSE:SWK). STANLEY Healthcare has a ubiquitous but low key presence in the acute and long-term care markets. STANLEY acquired AeroScout in 2012 and combined its wireless capabilities and WiFi tags with WanderGuard signaling devices, Hugs Infant protection devices and InnerSpace asset management and inventory controls. STANLEY now provides a wonderful case study of IoT-based repositioning in healthcare - (1) it's selling largely the same solution but now under the IoT banner, (2) it's using IoT to attempt to transition from the "analog" past to the digital future, and (3) much of its focus is on operational and security efficiencies, e.g. real-time location-based asset management and resident tracking. STANLEY is rapidly ramping up its efforts to capture market share and mindshare via such headlines as "STANLEY Healthcare Driving Solution Innovation for Senior Living". Thus, it is well positioned to leverage its HCIoT solutions in both nursing homes and assisted living communities.
HP/Aruba Networks (NASDAQ:ARUN) - Strange as it may seem, we'll place HP in this category by momentarily ignoring its larger IoT story. Instead, we'll focus on Aruba which provides an interesting example due to its strong position as a WiFi access point solutions vendor to the healthcare vertical. Aruba provides a range of products including APs, mobility and cloud services controllers, analytics and location engine, outdoor wireless mesh, Bluetooth low energy-based beacons for location aware services and an extensive set of security/policy features such as the RFProtect intrusion protection family. Aruba is currently attempting to pivot to an HCIoT leadership position and has authored an excellent whitepaper to describe its functionality. ARUN argues that the key issue to HCIoT deployment is what it describes as "legacy trust". Aruba proposes a unique solution based on its "Connect-and-Protect" security architecture
The Medical Device Players
The medical device industry will likely see the most rapid and pervasive changes as a result of HCIoT technology. The dividing line between "medical devices" and "consumer devices" has rapidly diminished. Is a sensor-laden mobile phone or watch a medical device or a consumer device or is it both? What about pills with embedded wireless chips or sensor-laden clothing? In addition, the Medical Device industry was already under heavy pressure to make changes due to a variety of macro factors ranging from the impact of the ACA (e.g. tax levies), increased regulation (e.g. Unique Device Identifier rules) and an ongoing series of safety concerns. The industry has responded by: (1) bulking up via acquisitions, (2) implementing technological innovations, e.g. very small form factor wireless pacemakers and neurostimulators, and (3) partnering with key external technology innovators. A summary of the activities of selected big players including acquisition activity and partnership formation is below:
| | | |
| --- | --- | --- |
| MDevice Player | Acquisition (A) and Innovation Partners (P) | Technology Example(s) |
| Novartis/Alcon | Google Smart Lens, Proteus Digital | Sensor-enabled contact lens measures and reports glucose; ingestible sensor in numerous pills. |
| Medtronic | Covidien (A$42B), CardioCom (A$200M), Zephyr, Glooko, Corventis (A$150M) | Wearable sensors, wireless glucose monitor for diabetes, patch for chronic heart failure detection and0 remote monitoring. Wireless pacemaker. |
| Philips | Google Glass | Wearable assistance for MD surgery, anesthesia. |
| St. Jude (NYSE:STJ) | Thoratec (NASDAQ:THOR-OLD) (A$3.4B) | Advanced heart failure solutions; wireless pacemaker. |
| Becton, Dickinson (NYSE:BDX) | CareFusion (NYSE:CFN) (A$12B) | Transition from SmartPump -> Intelligent Infusion. |
| Stryker (NYSE:SYK) | Mako (A$1.6B), Patient Safety, Small Bone Innovations (A$375M), CHG Hospital Beds, Orthosensor | Robotic surgery assist for hip and knee implants MakoPlasty. Sensor driven surgical optimization, ongoing implant monitoring. |
| Johnson & Johnson Ethicon | Google | Next-generation robotic surgery. |
| Varian SmartConnect™ | PTC/Axeda | Remote monitoring of real time and historical device data, predict pending failures, remote repair and upgrade, maximize uptime, minimize MTTR. |
Device Contenders
As we can see from above, the Medical Device category is too large to be covered in its entirety. However, it's well worth creating a separate category to highlight the newer players with potentially breakthrough technologies and key partnerships. One particularly interesting and little known example is Exoskeleton (wearable, powered, robotic shells). This is due to the tremendous amount of technological progress combined with the fact that several of the leaders in this emerging field are publicly traded e.g. ReWalk (NASDAQ:RWLK), Ekso Bionics (NASDAQ:EKSO) and Cyberdyne/Japan (ADR in USA coming soon under ticker (OTCPK:CYBQY)). Another field of particular interest is remote and continuous cardiac monitoring and analysis, looking for conditions such as atrial fibrillation (AFIB), bradycardia (slow rate) and tachycardia (fast rate). Emergent players include BioTelemetry (NASDAQ:BEAT) and iRhythm.
| | |
| --- | --- |
| Company | Capabilities and Partnerships |
| Aethon (private) | TUG autonomous robot + MedEx tracking. Aethon robots enable the automation of the delivery and retrieval process for multiple functions in the hospital e.g. medications, meals, linen and waste removal. Partners with Beckton, Dickinson for integrated medication management. |
| Under Armour | Partners with Zephyr for underlying wearable sensor and measurement technology. Invests heavily in ConnectedFitness initiative. Makes biometric compression shirts that measure, track and transmit underlying physiological data. Partners with SAP to build software infrastructure for integrated experience across apps. |
| Exoskeleton | Multiple small, innovative players. Ekso Bionics: EksoGT + step generator software + EksoPulse data collection and transmission. ReWalk: ReWalk Personal + ReWalk Rehabilitation stand/walk/turn/climb. Cyberdyne/Japan Hybrid Assistive (HAL) robot and controller - "fuses man, machine and information". |
| Cardiovascular Monitoring | Multiple, small, innovative players. BioTelemetry mobile telemetry and cardiac monitoring. Looks for asymptomatic events e.g. AFIB, bradycardia, tachycardia, etc. iRhythm ZIO arrhythmia detection and analysis. |
| Proteus Digital (private) | Sensor-enabled pills via embedded chip, patch records pills and physiologic signs. |
| Diabetes Management | Some conditions are so pervasive and expensive that they may justify their own specific vertical - prominent example being diabetes. A rapidly emerging platform at the time of this writing is Glooko which has key partnerships for continuous glucose monitors and insulin pumps with Roche, Johnson & Johnson LifeScan and Medtronic MiniMed. This is quite significant as you have several of the top tier diabetes players are migrating from proprietary platforms to HCIoT-based approaches and technology. Another important example in this category is DexCom which has been a leading innovator in the field of continuous glucose monitoring via innovative sensor technology combined with powerful data interpretation to enhance the usefulness of the data for patients, payors and providers. DexCom has partnered with Google to combine its sensor technology with Google's intellectual property. |
| Kit Check (private) | Kit Check offers RFID-based automated pharmacy and anesthesia kit checking solutions. It has established a key set of partnerships (e.g. McKesson and Zebra (NASDAQ:ZBRA)) and is experiencing substantial growth. Kit Check and its partners are well positioned to benefit from the requirements of the Drug Quality and Security Act and its downstream ramifications e.g. combating drug shortages, detection of counterfeits and quickly locating expired or recalled products. |
Wildcard Players
This category is reserved for players that didn't fit well elsewhere and are taking a surprising, unique and insightful approach that bears close watching.
Carriers
The role that communications carriers will play in HCIoT deserves an extensive discussion which space does not permit here. Suffice to say that we expect a mini-version of what occurred when Internet IP services were rolled out - anyone remember the days of hundreds of ISPs? Large incumbents such as Verizon, Comcast (NASDAQ:CMCSA) (CMCSK) and AT&T (NYSE:T) will maneuver to leverage their installed base and derive incremental revenue. New players who are IoT specialists will emerge, likely offering very focused HCIoT features and services - e.g. privately held SigFox touts a healthcare vertical.
Odds and Ends
Security - Concerns about HCIoT security are frequently expressed and more than one expert has noted the potential impact of hacking/hijacking sophisticated medical devices. A recently published article in Computerworld summarized the concerns nicely - hacking a pacemaker could cost the patient's life - and these very serious concerns apply to a range of other devices such as insulin pumps. It doesn't take much to extend this line of reasoning to utilizing these devices as backdoor entry points to hijack larger segments of critical healthcare infrastructure. Yet another important example of these concerns was work done to hack remotely operated surgical robots. Needless to say, we expect an increasing set of rules/regulations from the likes of the FDA and the FCC aimed at addressing these critical concerns.
Legislative/Regulatory Arena - There has been a long standing recognition that telemedicine and remote health monitoring may provide substantial patient benefits while driving down costs. However, current Medicare reimbursement practices have not kept pace with the rapidly expanding technological possibilities. A bill called HR2948 - the Medicare Telehealth Parity Act of 2015 - has been introduced in Congress by a bipartisan coalition to address these issues. The bill will provide for reimbursement for home telehealth conferences as well as for remote patient monitoring for a variety of chronic conditions including heart failure, COPD, diabetes and dialysis for end-stage renal disease. It also expands the set of providers who can provide telehealth services to include physical and respiratory therapists. Note carefully that although passage of this bill would alleviate numerous hurdles, similar bills were introduced in 2014 (HR5380) and 2013 (HR3306) and failed to pass due to partisan "wrangling". A key initiative in the regulatory arena is the Drug Quality and Security Act signed into law in 2013. Title II of this act is known as the Drug Supply Chain Security Act (DSCSA), which outlines the procedures to identify and trace key prescription drugs as they traverse the supply chain in the USA. This provides an obvious set of opportunities for the likes of McKesson, Zebra, Kit Check and others. Finally, there is the FDA's Unique Device Identifier regulations that require medical devices to embed UDIs in "machine readable form" - another obvious driver for HCIoT apps
Coming Back to Long-Term Care
So how does this all relate to long-term care? We suggest that several key trends will evolve more rapidly with "HCIoT assist":
Accelerated evolution towards home healthcare - Consider the example scenario created by the California HealthCare Foundation. As an aside, it's well worth reading a recent article by CHCF.org entitled "Baby Steps: Will Boomers Buy into Mobile Health?" for an alternative and quite insightful perspective on this topic. The HCIoT push makes it much more likely that both the technological and regulatory infrastructure will fall into place sooner and thus enable ageing baby boomers (and others) to reap the benefits of receiving the care they need in the place they prefer to live.
Evolution of nursing homes and assisted living - There is already considerable activity underway on multiple fronts - e.g. deploying wireless, equipping patients with sensor-enabled wristbands, placing sensors in the bed and floor to detect position and falls, tracking gait and tracking medication compliance. However, the real objective should be to reimagine the nursing home with a carefully planned technology overlay to powerful concepts such as the "Green House". An excellent article on this topic was published in the Atlantic in April 2015 and is well worth a careful read.
Enhanced ability to navigate the continuum of care - Many patients receiving long-term care need to make a series of transitions through the various modalities of care e.g. from hospital to nursing home to assisted living to home (or the reverse). As we mentioned above, a key capability of HCIoT solutions will be to transparently and persistently migrate the patient's EHR along the continuum of care.
Systematically improved processes, procedures and safety aspects - HCIoT will bring a wealth of new data to patients and to the healthcare system alike. If the data is used appropriately, the result could be Predictive Preventative Maintenance for both humans and machines. Much of our (patients') time in the healthcare system today is spent waiting... Superior workflow and maintenance would certainly at least allow us to spend the time in more comfortable situations. Another key example would be medication compliance - a huge concern of both the patients and the health system. Careful control and tracking of sensor-enabled medications throughout the supply chain terminating at the human mouth would go a long way towards illuminating the realities of the situation.
Finally, there is the little mentioned human side of long-term care. Although HCIoT will be a key driver for impressive technological change, the human challenges (e.g. workforce issues) remain. We must also decide how far to stretch the technology. Consider the example of the furry animal in the photo below: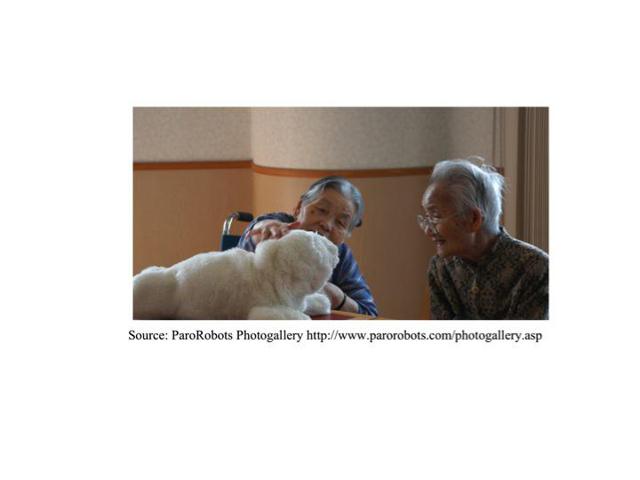 This cute, seal-like creature is actually a robot made by a Japanese company called PARO Robots and deployed in a number of nursing homes throughout Japan (and many other places). It could be an excellent, sensor-laden example of the prowess of HCIoT, but is this the direction that we should be headed?
The HCIoT Publicly-Traded Universe
It's too early to get a good handle on HCIoT revenues and profits, so for now we'll simply provide a table of the relevant publicly-traded tickers from the article along with their performance over the last 3 months and year to date. Strong performers over both periods are highlighted as are the unusually weak performing stocks. In general, it's been a difficult year for many medical device company stocks.