The chip market has been vibrant lately, emerging from a 10 year funk that started with the bursting of the post-2000 bubble. If you'd put your money on a broad basket of chip stocks, such as the Semiconductor ETF (NYSEARCA:SMH), you would be quite pleased with your portfolio outperforming both the S&P500 and NASDAQ. But an even better option is to bet on a company that bets broad (and in that sense provides the market diversity of a sector index), but executes better than almost everyone else (and in that sense is better than an index). That company would be Broadcom (BRCM).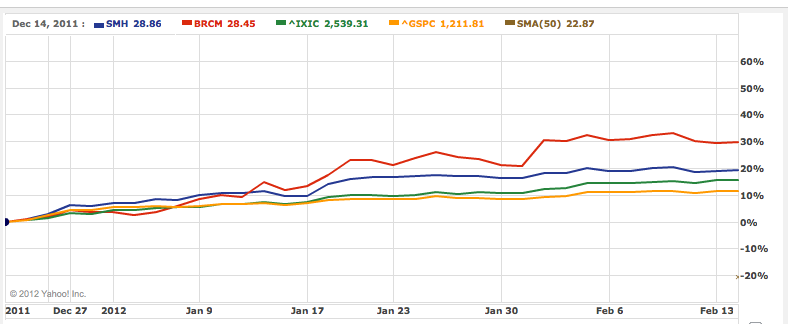 And as you can see, the market rewards Broadcom's superior execution with returns that are better than the index. I only show a 1 yr period in the above chart, but Broadcom has historically done better than its sector index, for reasons I cover below.
The first thing to understand about Broadcom is that it doesn't diversify like your typical large chip company. Sure an Intel (NASDAQ:INTC) or a Texas Instruments (NYSE:TXN) or on the analog side an Analog Devices (NASDAQ:ADI) tries to participate in multiple markets to diversify risk. But in the process they also accept lower returns from more stable but less lucrative markets. The big difference is that Broadcom diversifies not like a grazing sheep but a hunting hyena - one that has maintained gross margins of above 50% year after year for some time now.
Below I will illustrate the hunting hyena model with the evolution of the GPS (global positioning) market as an example. :
identify a new, broad niche market right before it pops - for instance the GPS market about 4 years ago, when the iPhone first came out
make a moderate acquisition of a pioneer in that niche market, in the GPS case it was a small, smart company called GlobalLocate
kill your competition rapidly (in this case the victim was SiRF, the GPS pioneer for the previous 8 years)
rapidly and efficiently integrate this new capability (GPS in this case) into a system-on-chip solution (or SoC) that is cheap, convenient and high performance (for the customer) and high margin (for Broadcom)
The beauty of the hunting hyena model is that the pioneer (some hapless little startup) takes the risk, Broadcom reaps the profits and the big customer. When a market drops below its profit threshold, Broadcom drops that market segment like a rotten fruit and moves on.
To be a hunting hyena you need a keen sense of smell (betting big on the wrong market is expensive), an ability to rapidly take over a fast growing market that is in flux, and superior SoC capabilities. Broadcom has an uncanny ability to do all three really well, and really consistently so.
So where are they today? Only in the top 3 markets - mobile and wireless (think about 14% of the bill of materials cost of an iPhone, see figure below!), infrastructure (growth of broadband) and home entertainment (a large stodgy market that is going to change, perhaps with Apple TV part 2 in the very near future).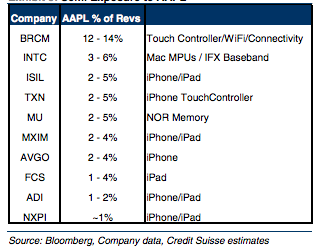 So you get a chip company that dominates the bill-of-materials cost of major handsets [Apple (NASDAQ:AAPL) & Samsung (OTC:SSNLF)], controls 3 fast growing markets, and has a slew of new product introductions [including rumors about Amazon's (NASDAQ:AMZN) Fire tablet] coming up - for a price to earnings ratio of between 12 (based on next years earnings projection). Sure you could buy Intel or Texas Instruments and hope they return to their former glory. But why? You have a company in BRCM that doesn't take innovation risk and reaps all the rewards in fast growing markets, at about the same value.
No story is perfect, and in the case or BRCM the caveats are valuation. The chart below isn't a rigorous technical analysis of the stock, but sufficient to make the point. BRCM is up about 20% over the last month (from a low in the $29's to $36 and change), and it's chart shows notable technical resistance at the $37 level.

But the good news is that BRCM has support not so far down at about $34, and very strong support at about $32. Conversely, discounted cash flow valuations and sum-of-parts valuations (such as this from Trefis) put the stock at between $45 and $52. As it happens, BRCM reached that level last year, a year that was no bed of roses for semiconductors. Further consider this, if Facebook lights a fire under the technology sector and the P/E ratios in tech reach a meaningful level of excitement, then a large, growth juggernaut like BRCM becomes highly attractive.
Disclosure: I am long BRCM.