We are getting closer and closer to the bottom in gold and silver and many are wondering once we bottom what would be a better investment moving forward, silver or gold?
To answer this question, we can look to the last bull market of 2000 to 2011 and see what the metals prices did.
| | | | | |
| --- | --- | --- | --- | --- |
| Year | Average Price of Silver | % Increase (Decrease) in Silver | Average Price of Gold | % Increase (Decrease) in Gold |
| 2000 | $4.95 | ---- | $279.11 | ---- |
| 2001 | 4.37 | (11.72) | 271.04 | (2.89) |
| 2002 | 4.60 | 5.26 | 309.73 | 14.27 |
| 2003 | 4.85 | 5.43 | 363.38 | 17.32 |
| 2004 | 6.66 | 37.32 | 409.72 | 12.75 |
| 2005 | 7.31 | 9.76 | 444.74 | 8.55 |
| 2006 | 11.54 | 57.87 | 603.46 | 35.69 |
| 2007 | 13.38 | 15.94 | 695.39 | 15.23 |
| 2008 | 14.98 | 11.96 | 871.96 | 25.39 |
| 2009 | 14.67 (financial crisis) | (2.07) | 972.35 | 11.51 |
| 2010 | 20.19 | 37.62 | 1224.53 | 25.94 |
| 2011 | 35.11 | 73.89 | 1571.52 | 28.34 |
There are a few important revelations I see in analyzing the growth of each metal each year. The first is that gold began to move up first. Silver was a laggard but did also start to move higher with gold in 2001.
After two years of gold leading silver higher, silver took over for gold and moved higher for 4 straight years. When the financial crisis hit silver had a negative return for the year but gold finished the year up 11.51%. The final two years of the bull run we saw silver outperform gold.
My conclusion is that gold should outperform silver once we bottom but after a couple years silver should lead gold higher.
Other Issues Affecting Silver more than Gold
One of the major issues that has affected silver on the way down is also an issue for silver's future return and that is deflation.
I have been making the case for a deflationary credit contraction ever since I wrote my book Buy Gold and Silver Safely in 2010. I updated those views in an article here on Seeking Alpha April Call To Wait And Buy Gold Below $1,000 Still In Effect. Gold was trading around $1,200 in April and is finding some resistance at its July lows of $1,080 as I write.
If you look at the prices of commodities as represented by the CRB Index (19 commodities) since March 2011, gold has fared better than the CRB Index as a whole and in particular, some notables of the Index; silver, copper, oil and natural gas which have all lost more than 50%. The question that needs to be answered, is how much more will deflation wreak havoc on these commodities?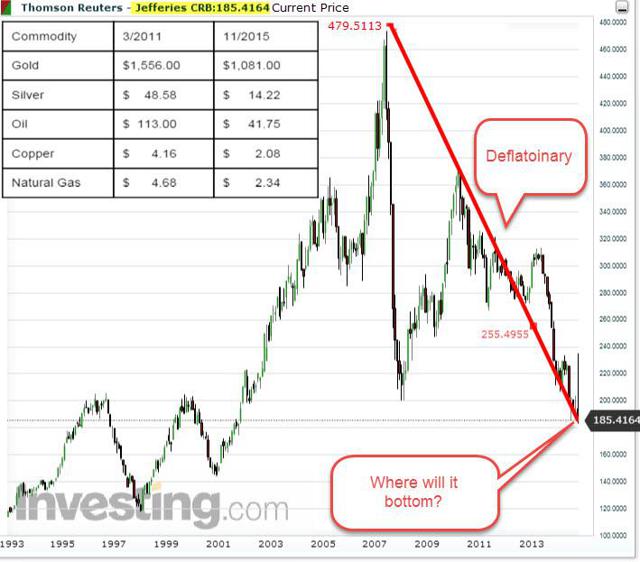 Gold A More Conservative Investment Than Silver
We don't know when this deflationary episode will end, but we do know that all these commodities, and especially gold and silver because of their perceived monetary connection, will take off. Gold will be the tortoise as it was from 2001 through 2011, consistently giving a positive return. Silver will start out slow then spring ahead like it did in 2004 and again in 2010.
I don't really think it will matter which investment you get in as both will do well. I will make one prediction though; silver will double before gold does. Once we hit bottom silver will more than likely have to quadruple in price before gold doubles in price. That's a lot of catching up to do. To predict that silver will double before gold doubles is not a real stretch, but a good strategy is to buy silver, have it double, sell half and buy yourself some free gold.
You can buy the silver and gold ETFs like (NYSEARCA:GLD) and (NYSEARCA:SLV) or if you prefer to have control of your wealth in your hands, buy the physical coins and bars. Have an idea of what you want by talking to a gold dealer before you buy. Shop around and see who has the best prices. All we do in pricing our metals is look at everyone else's and undercut them in price. It seems to work for our clients.
2015 Tax Selling Strategy
Speaking of selling, there is no doubt that many of you are underwater on your gold and silver investments. All is not lost though as there are some moves you can make to lock in those losses.
If your metals are not part of an IRA/401k, and you own the physical gold or silver, you can sell this and lock in the losses without having to deal with the wash rule like you would with or or any other gold and silver securities investment. The wash rule only applies to securities. It does not apply to physical metals.1,2,3,4 This means you can sell your physical gold on Thursday and buy it back on Friday and lock in the $3,000 a year capital loss that can be rolled over year after year till exhausted. Or if you are sitting on a capital gain in some stocks or real estate, it can be used to offset some of that taxable gain. As with any tax related moves, check with your tax advisor.
There would of course be commissions to the gold dealer involved but they should be minimal. In fact, talk to the gold dealer and negotiate a deal since there will be 2 commissions. You would have to physically send the metals in to be sold and established a paper trail.
If you do own securities like and or other mining stocks that have gotten hammered with the fall in the price of metals, you can still sell them and lock in the capital losses but you would have to wait 30 days to buy them back because of the wash rule or lose the write off. If you have losses in your IRA, I am afraid there is nothing you can do for the write offs, but you could consider rolling the IRA over into a ROTH IRA and have your future growth grow tax free with tax free use of it in the future. You take a tax hit today, but with many mining company stocks I think 100% to 500% or more returns are capable in the years to come when we will more than likely have higher tax rates as our government struggles with ways to pay the bills. Again, check with your tax advisors before doing anything.
Upcoming Interview
I will be interviewed by Avi Gilburt from Elliott Wave Trader on Wednesday that everyone is invited to attend. It is titled; Perspective Of The Metals Market From The Eyes Of A Metals Dealer: An Interview With Doug Eberhardt
I will be discussing how metals are priced, demand for metals at present, premiums and suggestions on what metals to buy followed up by a Q&A. Hope to see some of you there.
Disclosure: I/we have no positions in any stocks mentioned, and no plans to initiate any positions within the next 72 hours.
I wrote this article myself, and it expresses my own opinions. I am not receiving compensation for it (other than from Seeking Alpha). I have no business relationship with any company whose stock is mentioned in this article.