When I started to look at the LNG sector, I aimed to answer three questions:
How is this industry faring right now, and can I buy companies at a discount to intrinsic value?
From a macro view, is the industry expected to be strong from a supply/demand perspective?
If the answers to 1 and 2 are both yes, can I find a company within the sector that has an advantage against its peers?
In the long run, I feel that this strategy will net me a high likelihood of asymmetric returns. I say likelihood as nothing is certain. For LNG, the first and second questions are linked at the moment and were covered in part 1 here. Looking at the intrinsic value on a historical basis, many companies involved in LNG are trading at a large discount to their long-term earnings. This thought process provides a great likelihood of outperformance, as investing in a cyclical industry at the right time all but guarantees outperformance. That statement only works if you believe my conclusion in the first article that LNG demand will outstrip supply.
LNG Shipping
After the first article was published, there was a fantastic discussion in the comments and there were some great ideas proposed. Several readers identified companies to invest in LNG transport. These companies offered great returns at the moment, and several people iterated that in the discussion, and, to be honest, I had not originally considered the shipping stocks in too much detail. My main concern with the shipping industry is the same concern I have with the real estate industry. It moves in boom and bust cycles that can decimate your position. There are a large number of LNG ships under construction. With 64 LNG ships set to come onto the market in the next 4 years, we will see a growth in shipping capacity of roughly 18.5% into the beginning of 2018.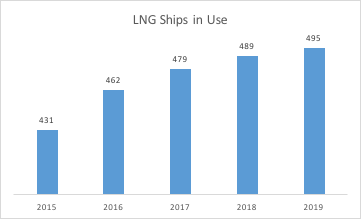 While I am bullish on LNG out to 2020, there may continue to be a softening of demand as Japan continues to bring its nuclear power back online. I doubt the LNG shipping stocks will see the bumper returns they have to date over the next 2-3 years, and at best they will maintain the current status quo. Overall, I think that there is too much downside risk in the existing LNG shipping industry. 2014 saw a decline in charter rates as well as utilization rates, which may get worse over the next 1-2 years before getting better. This may eventuate in the cost of running the ships, plus depreciation, to be cash flow negative. If that happens we may see ships being scrapped and big problems for the companies' high debt loads. When I looked at Golar LNG (NASDAQ:GLNG), I saw $475 million of debt due in 2016-2017 that will sap their earnings per share and provide some difficulty for them in funding it. While the upcoming LNG at Sabine may alleviate some pressures in the shipping sector, I think the investments that have already been made in 64 more LNG ships will put far too much downward pressure on shipping rates. These movements could severely handicap this part of the sector and I do not believe it to offer the promised asymmetric return of the first article. While Golar's foray into FLNG may net them some great returns in the short term that could keep the share price afloat, they currently carry too much risk for my portfolio. That being said, my main purpose for not proposing this investment is downside risk, not lack of upside potential. On to the recommendations.
LNG Producer (and Exporter) - Woodside Petroleum (OTCPK:WOPEF, OTCPK:WOPEY)
In my first article on Seeking Alpha, I compared Woodside Petroleum with Exxon Mobil (NYSE:XOM), Chevron (NYSE:CVX), and ConocoPhillips (NYSE:COP). Check out the article for a detailed account; however, for the purposes of this article, the most relevant numbers are in this figure.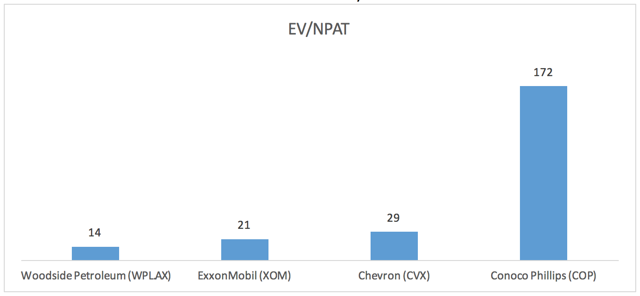 70% of Woodside's revenue is from LNG. However, they have the benefit of having medium-term contracts tied to oil, and for the most part, avoid the spot market altogether. With Browse Floating LNG expected to produce 3.9 MTPA, we are waiting for the final investment decision in 2016. I think that Woodside will only go into construction if they can lock in contracts to customers for the first few years. If they can't do that, they will likely hold the project until LNG starts to recover.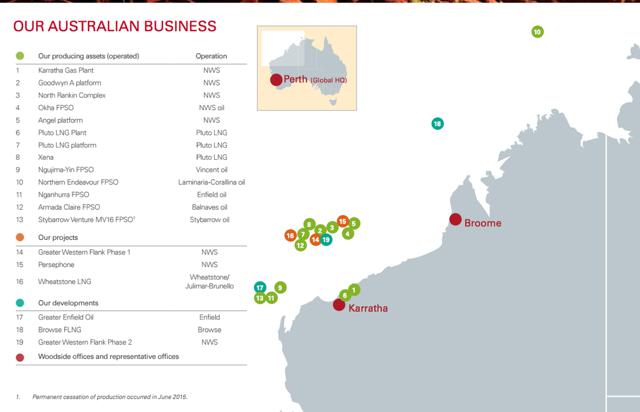 (Source)
Woodside has a significant advantage over North American LNG exports. They have been in the region for many years and have long-term contracts for the majority of their LNG production out to 2020 (2015 Half-Year Report, linked above). Woodside has a longstanding view of the sector and understands the LNG industry better than most. When they started construction on their large-scale LNG plant at Pluto, they purchased puts for a number of their contracts and have contracted out the remainder of their LNG for the medium term. This was all in response to the view that LNG would be moving into a supply surplus in the short to medium term out to 2020, followed by a supply shortage afterward.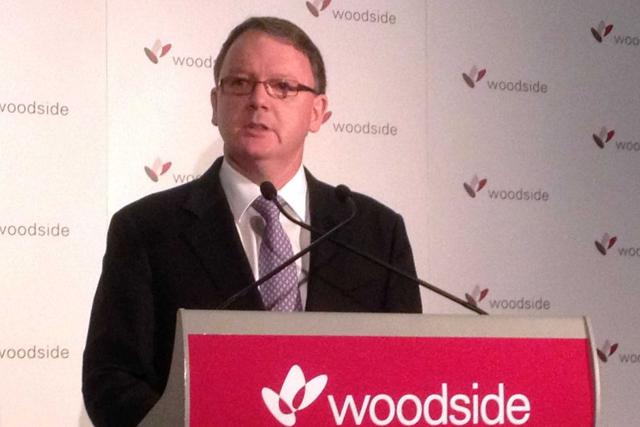 "We do have some spot in the first half of this year that is a little higher than we'd originally planned, but the reason for that is simply Pluto turnaround was a lot shorter than we planned and so we ended up with some more spot cargoes and then the unplanned outages around the cyclone events and the substation fire at the North West Shelf caused us then to get into the spot market. But they're unusual events and we actually see our exposure to spot being much smaller than that as we go out over the next 12 to 18 months. " - Woodside CEO Peter Coleman (Source)
LNG is primarily consumed in Asia, as Australia has a considerable depth of experience with Asian supply routes, companies, and governments. It has knowledge of the region that can not be matched by a North American peer. Woodside can use this knowledge to arbitrage prices globally.
Australia is a much shorter distance to Asia from North America. So while Australian operating costs are high, they can make up for that with the weaker Australian dollar and reduced shipping rates.
As I identified in the original article, the company provides a fantastic exposure to the AUD, if you share my opinion that the AUD will rise against the USD with oil as a continuation of its ties to commodity prices.
I am simply going to go long Woodside, as I see a minimal downside with a low of A$26-A$27/share. If the stock drops that low, I will be purchasing plenty more.
LNG Exporter - Cheniere Energy (NYSEMKT:LNG)
Cheniere Energy has no shortage of shorters (pardon the pun). According to Short Squeeze, 7.08% of the float has been shorted. Jim Chanos has openly shorted the company, and there are a few articles on Seeking Alpha that argue short positions in them here and here. There are also some other articles arguing a long position here and here.
When looking at a stock like this, I like to understand the short side of the market before I start considering the long side. These points are what I find to be the arguments to short Cheniere.
Overburdened by debt
Loss of arbitrage between North American and European/Asian markets
Significant negative cash flow
Decreasing demand from Asia
These are all absolutely true at the moment. However, they have a flaw of examining the market as is - and they have a short-term view. They also assume that the market is in a state of a new normal, where prices will stay low, a view that has consistently proven to be wrong across all commodities and years. Pointing out that a company in the process of building LNG export facilities is burning cash and has a high debt load is akin to complaining that the rental house that is half built isn't making any rent money.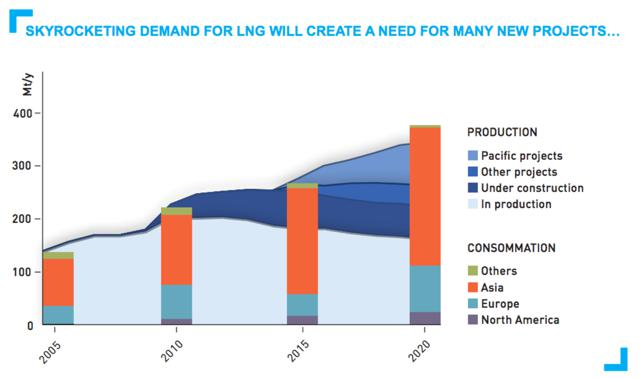 (Source)
Cheniere isn't without problems. However, they are an early mover in an industry that has a large capital demand. As they move through to production and cash flows, we will see the LNG market change and a large share of Cheniere's cash flows is locked in at contracted rates. Demand will grow, and Cheniere hopes to meet that demand and arbitrage the glut of gas in the USA versus the deficit of gas in Asia and Europe. In a few years, Cheniere will benefit significantly from the lack of investment in the current market. Very few companies around the world will step up to invest in the massive capital investment that is LNG, and as access to debt for the industry dries up in the USA, they will see an unprecedented barrier to entry going forward. All Cheniere has to do then is invest in the expansion trains proposed at both Sabine and Corpus Christi.
At Sabine Pass, we can expect 4.5 megatons per annum (MTPA) of LNG; that will have a large impact on short-term supply and I expect it will push domestic gas prices in the US upwards. However, based on Cheniere's contract strategy, higher gas prices increase their revenue as they are paid a percentage premium on domestic gas prices. Sabine is expected to produce revenue of $2.3 billion/year from fixed fees alone. At Corpus Christi, Cheniere has secured agreements to export LNG at a fixed fee of $3.50 plus 115% of Henry Hub price per MMbtu of LNG (Annual Report 2014). Furthermore, the fixed fee is adjusted for inflation and, even if customers elect to cancel the LNG deliveries, they are liable for the fixed fee. This equates to another $1.5 billion/year of cash flow starting in 2018.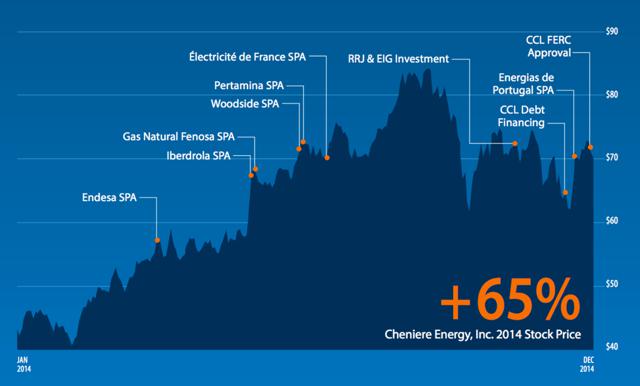 From Annual Report 2014
Let's say that Cheniere is late with Sabine, as such a large scale project is bound to run into problems, and it comes into full production in January 2017, and that Corpus Christi comes online in January 2019. My biggest concern would be that they cannot make their debt payments. However, there is a higher likelihood that my next flight across the Atlantic is on Virgin Galactic than that a debtholder or bondholder will want Cheniere to default. No debtholder in their right mind would want to try and liquidate or operate an LNG plant, and the best way for anyone to get their return on capital is to allow Cheniere to finish the project and become cash flow positive. If it becomes an issue the debt will be renegotiated and Cheniere will continue to operate.
So how do you trade Cheniere? In my opinion, you are looking at a stock that is bound to move quickly up or down in the short run but will certainly move up in the long run. People may panic as debt loads rise through the end of construction, as delays occur in commissioning, or LNG throughputs do not initially meet expectations. In the long run, they will sort out any of these issues and move into high profitability and free cash flow. One could open a protective put or straddle on the company to limit their exposure, however, that would increase the average purchase price per share. If you are buying for the long term, you simply need to buy and hold.
If you are worried about a short-term share price drop if there are significant delays at commissioning, you can buy June 2016 puts that strike at $40 for near $3 each. As I am writing this article, Cheniere has moved up 8.3%, which is likely to put some pressure on short covering and increase the volatility, driving up the cost of the options. If Cheniere executes well during commissioning and cash flow is coming online as they ramp up the LNG trains at Sabine, the share price will rise more than enough to cover the 10% it takes to cover your expense of the put option.
Risks and Uncertainties
Both of these stocks have a majority of cash flow coming from a small number of operations. If a process upset event occurred at one of these facilities, the cash flow for these companies would be drastically reduced and would drag heavily on the cash flow and share price. Woodside has more direct price exposure to LNG at the moment, and their share price tracks the price of oil closely as we speak (most of their LNG contracts are tied to oil). Cheniere will have plenty of upcoming risks as they commission the Sabine plant. Commissioning is one of the most difficult parts of a construction operation, and I have experienced enough of them myself to know that nothing is ever certain. The engineers and operators will have their hands full in attempting a fault-free startup.
Conclusion
Both Woodside and Cheniere Energy provide great exposure to LNG. Woodside has very little downside and is my preferred stock for exposure. However, Cheniere will provide returns better than Woodside if the plant is brought online as proposed and free cash flow comes available. In the short term, Cheniere has some significant risk and that is why risk-averse investors may steer clear, or purchase a protective put against their position. In the long run, I believe that Cheniere will provide significant returns in both dividends and stock price appreciation over the next decade. Either of these companies will grow significantly with the industry, and the upside for both companies is asymmetrically weighted against its downside if you are holding with a time horizon of over 5 years. While I am normally a focus investor, I believe it is a good idea here as both companies provide an opportunity for outsized returns. With 10% of my portfolio weighted to liquefied natural gas exposure, I will put half of that into each stock. Buying Woodside also has the benefit of AUD exposure, which is likely to rise against the USD with commodity prices.
Commentary on Part 1
Thanks for the great discussion everyone. I gained some valuable ideas and information, and I was forced to examine my ideas in even more detail by some opposing opinions. I hoped to cover many of the companies discussed in finer detail; however, I felt that for the other companies, I could not provide anything more insightful than what other Seeking Alpha authors had already proposed on the stocks without dragging the article on for much longer. I plan on doing a peer comparison of 3-4 pipeline companies in the upcoming weeks, so shoot me some suggestions in the comments.
Disclosure: I am/we are long WOPEY.
I wrote this article myself, and it expresses my own opinions. I am not receiving compensation for it (other than from Seeking Alpha). I have no business relationship with any company whose stock is mentioned in this article.
Additional disclosure: I plan on initiating a position in LNG in the next 72 hours.
Editor's Note: This article discusses one or more securities that do not trade on a major U.S. exchange. Please be aware of the risks associated with these stocks.