Any investor in today's market who turns on CNBC, Bloomberg, or opens any investment magazine knows Apple (NASDAQ:AAPL) can do no wrong. I personally cannot say any different, as I personally own everything Apple, with Macbooks, iPhone, iPad, and Apple TV. Just a couple years ago -- I am the first to admit it -- I was a huge AAPL hater. My tech dork friends and myself used to claim Macs were for people did not know how to use a PC. Windows was king and Microsoft (NASDAQ:MSFT) Windows 7 finally was a platform to run on ease of use.
I could not have been more wrong. When it comes to products such as the ones described, combined with integrated software such as iMovie, iTunes, and iPhoto, there is a very clear and concise winner in this space. I turned in my PC, and now run everything with the help of VMWare (NYSE:VMW). Now I have Windows, Linux, and everything Mac on one platform with incredible user-friendliness.
This dominance is no more evident than when AAPL reported on January 24th. Analysts expected earnings of $10.08 going into these earnings. AAPL came in with an insane beat of $13.87 on an incredible iPhone sales number of more than 37 million in a single quarter. The sad part is this is an incremental update which even the most optimistic forecast had only 35 million handsets.
In my personal opinion, the real reason this beat is so impressive is despite intense increased competition from Samsung, Nokia (NYSE:NOK), Google (NASDAQ:GOOG), and Motorola (MOT). The tablet market again was dominated by AAPL despite the best attempts of competitor Amazon (NASDAQ:AMZN) with the Kindle Fire. Even with Fire priced at an incredibly low $200, the iPad still sold 15.4 million units in a single quarter. Again, this amazing beat was done without AAPL buying back a single share of stock, unlike other companies' so-called earnings beats.
So we all know where AAPL stands on the throne of technology, and the stock price reflects the domination. AAPL this week crossed the $500 share price and continues to rally, now nearly touching $525. The euphoria of AAPL has continued, and is no more evident than in the world I play and follow in the options market. Last week the options for AAPL were so dominant they accounted for an astounding 10% of all options traded, mentioned in my daily articles. In the Wednesday trading session more than 25,000 options contracts traded in just the first 2 minutes, which accounted for more than 15% of total contracts.
Tuesday more than 25 million of positive net premium came into the calls as investors continue to rush in, chasing performance. AAPL added more than 22 billion in market cap in an astounding 8 trading days, moving from $460 to $520. This has now put AAPL a record almost $95 above the 50-daily moving average, and $136 above the 200 daily moving average.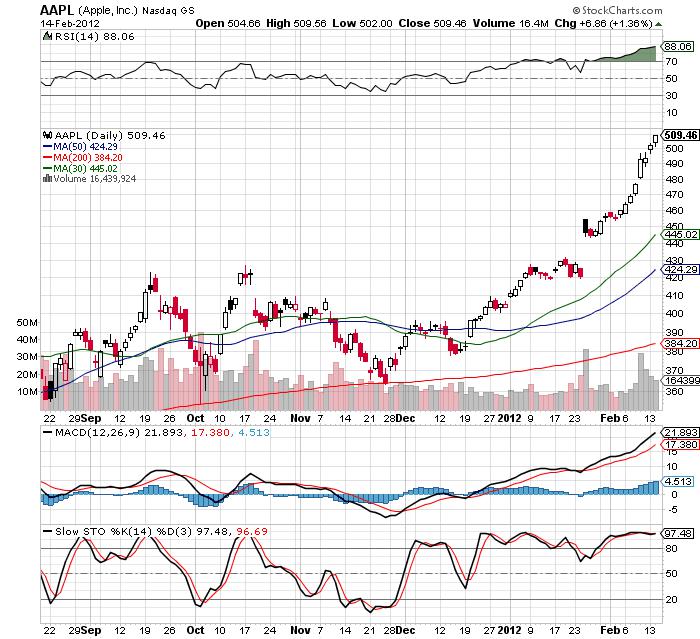 So the question is what is the next play. History tells us there are large price runs prior to expected product releases. In this case, we have many potential catalysts. The announcement of any use of the crazy $100 billion in cash sitting on AAPL's books. Talks of a special dividend or stock buyback continue to light up the message boards and articles on sites such as Seeking Alpha. Product releases of the iPad 3, iTV, and iPhone 5 have this stock buzzing. The question is, after this wild run in the stock, what is the next move?
My simple play is a capture the historic divergence between where AAPL is currently trading and the daily moving averages. Combine this with the RSI for AAPL is now north of 88, which is considered way overbought. I am looking to capture any type of disappointment in either the stockholders meeting later this month or a sell-the-news event after a possible product release next month.
A purchase of the 500-475-450 put fly for ~3.50. This trade structure is as follows:
Long 1x 500 March put @ 10.75
Short 2x 475 March puts @ 4.50
Long 1x 450 March put @ 1.75
This risks just $350.00 with a potential to make $2,150 in just over a month on a pullback to the $475 level.
In my opinion, this unprecedented move in AAPL has investors buzzing, which leads me to caution. Seems everyone feels there is no risk in this stock, and although I do agree that in the long term, AAPL could very well continue to dominate, the short term steps could be lower once the euphoria dies down.
As always, happy trading and stay hedged. Remember - equity insurance always looks expensive until you need it.
Disclosure: I am long SDS, APC, TBT, NUAN, JBL. I am short SIAL, PBI, FXE, DB, EEM.
Disclaimer: The opinions in this document are for informational and educational purposes only and should not be construed as a recommendation to buy or sell the stocks mentioned or to solicit transactions or clients. Past performance of the companies discussed may not continue and the companies may not achieve the earnings growth as predicted. The information in this document is believed to be accurate, but under no circumstances should a person act upon the information contained within. I do not recommend that anyone act upon any investment information without first consulting an investment professional as to the suitability of such investments for his or her specific situation.