Citizens Financial Group (NYSE:CFG) has outperformed the market on a YTD basis (6.4% vs. Financial Select Sector SPDR ETF (NYSEARCA:XLF) and +6.1% vs. S&P 500). Its 3Q15 results were also in line with expectations, as an EPS of $0.40 was reported for the quarter. Meanwhile, Citizens saw its revenue and net income grow by 4.1% and 16.4% y/y, respectively.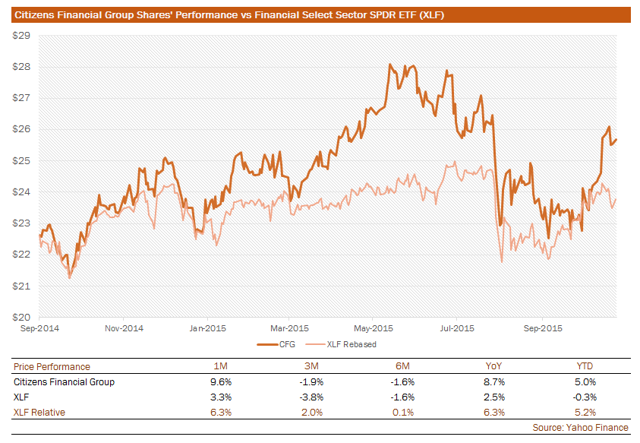 Citizens used to be a wholly owned subsidiary of the Royal Bank of Scotland (NYSE:RBS) before the Edinburgh-based bank was forced to spin it off. In September 2014, Citizens raised $3 billion in an initial public offering in NYSE, which was the second-largest IPO in the U.S. that year. In March 2015, another part of shares that was worth $3.2 billion was sold by the RBS in an effort to reduce its holdings in the American retail bank. Following the sale, the free float for Citizens was 55%.
After nearly fourteen trading months in the market, Citizens' shares are now trading at 16.2x P/E 2015E and 0.68x P/BV 2015E. They are at a significant discount to the peers on book value, while the stock is traded with a premium on earnings multiples. Considering that the bank has been posting RoATCE figures slightly above 6% (and RoAE around 4.5%), the low P/BV may seem justifiable, however, in my view, the higher earnings multiple explains Citizens has solid growth prospects, which are recognized by the market to some extent. Those prospects include management's plans to post a double-digit RoATCE in next 2-3 years. This is likely to be the key driver for the stock's performance in the medium term.
So the question is, will Citizens have an RoATCE over 10%? As may be guessed, it requires a good strategy to be implemented correctly for such an improvement in profitability. For now, there is enough evidence to be optimistic.
For revenue growth, the bank seeks for an increase in its loan originations. The bank has seemed to succeed on this with a retail loan growth of 7% vs. the peers' average of 1%, and a commercial loan growth of 10% vs. the peers' average of 6%, which has led revenue growth of 4.1% vs. the peers' average of 1.2% (as of 3Q15, y/y). I believe it is worth to note the bank has faced only 2 bps decrease in loan yields during this period, which were relatively low considering the current interest rate environment. This, coupled with higher interest rates on the horizon, build a supportive case for upward loan pricing in Citizens that will eventually result in an improvement in NIM as well as a stronger top line.
On another positive note, the bank launched two initiatives called as TOP 1 and TOP 2 to improve its efficiency through operations transformation and further reductions in procurement. With TOP 1, which is nearing completion, the bank expects to generate a $200 million run-rate pre-tax impact in 2016. That said, TOP 2 is recently launched in order to focus the organization on opportunities that can drive meaningful growth. Management expects an increase of $50-65 million in revenue and a cost saving in the $40-$50 million range. The efficiency ratio of Citizens stood at 66% in 3Q15, down from 68% in 3Q14. One can claim that Citizens has been operationally not productive enough, while there are lean and mean banks out there working with efficiency ratios at 50s. But remember that Citizens will have plenty of upside potential from where it is now, once cost-savings initiatives are successfully implemented.
I believe an explanation with numbers would be helpful at this point. The table below shows how the RoAE of Citizens would change when NIM and efficiency ratio improve, ceteris paribus.

According to my estimates, each 1% improvement in efficiency takes the profitability metric up by 0.17%, while a widening of 1 bps in NIM causes an increase of 6%-7%. Considering a 10% improvement in efficiency ratio and a 20 basis point widening in NIM as a base-case scenario in the next two years, the bank would increase its current RoAE by more than 2.5% to 6.88%. Please note that the estimates here ignore the volume growth which, in fact, should be another important source of earnings growth.
Citizens is also loved by the analysts, as 11 out of 18 analysts covering the stock have a buy rating. The bank is also expected to post EPS figures of $0.41 and $1.90 for 4Q15 and full-year 2016, respectively. 11 analysts interestingly have revised down their EPS estimates in the last four weeks; however, Citizens has a history of surprising the market to the upside.
Due to the reasons discussed above, I expect Citizens to expand profits by a wide margin over the next two years. Management's focus will lead the bank to increased profitability. With the expectation of an RoAE ratio around 8% (or +10% RoATCE), the bank, in my view, should trade at ~0.8x times its book value that would lead the share price above $30. This means a significant upside potential to the upside in the near term, as the stock is currently trading in the $25-$26 range. I am of the opinion that Citizens has many of the characteristics of a successful story, and recommend investors consider building a position.
Disclosure: I/we have no positions in any stocks mentioned, and no plans to initiate any positions within the next 72 hours.
I wrote this article myself, and it expresses my own opinions. I am not receiving compensation for it (other than from Seeking Alpha). I have no business relationship with any company whose stock is mentioned in this article.