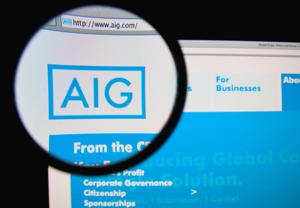 On October 28, Carl Icahn wrote a letter to Peter Hancock, AIG's CEO, urging him to break up the company by selling or spinning off its Life Insurance and Mortgage Insurance businesses and accelerating its cost cutting program to improve return on equity.
In response, on AIG's 2015 third quarter conference call, Mr. Hancock said that AIG has been working diligently and with a sense of urgency to improve shareholder returns. He pointed to actions already taken or currently underway, such as the sale of 50 businesses since 2008 (which raised $90 billion), nearly $26 billion in share repurchases since 2012 and a $500 million restructuring program.
Mr. Hancock argues that AIG derives great benefits from its confederation of insurance businesses. AIG's credit ratings are higher because of its diversified business mix. Mr. Icahn wants AIG to downsize to escape the ongoing high regulatory costs associated with its SIFI (systematically important financial institution) designation, but Mr. Hancock says that the potential savings are small because SIFI regulation is only a portion of AIG's total worldwide regulatory burden.
AIG's three main financial targets (through 2017) are: (1) growing the stock's book value per share by at least 10% annually; (2) reduce general operating expense by 3%-5% per year and (3) increase normalized return on equity (excluding accumulated other comprehensive income (AOCI) and deferred tax assets (DTA) from its equity base) by at least 50 basis points per year to a target of 10%. The company expects to get there by focusing on core operations, increasing efficiency, maintaining its innovative edge and market leadership and returning excess capital to shareholders.
With all the noise, you might think that AIG's stock performance has been dismal, but so far this year, the stock is up 10.5% on price (11.5% with the dividend), much better than the S&P 500's 0.9% gain and the S&P 500 Financial Sector's 1% decline. This outperformance extends back to the beginning of 2012, with AIG up more than twice as much as benchmarks.
Despite that outperformance, AIG's stock is still valued at only 80% of book value, when its peers in both the property & casualty and life insurance businesses trade at 1.3 times book. This is evidently the source of Mr. Icahn's frustration. In making his bid to break up the company, he is looking to bridge that value gap, at the very least. Doing so could add $35 or so to AIG's $62 share price.
AIG's management has set its sights on a higher stock price through its performance targets. Growth in equity book value per share (BVPS) is a standard metric on Wall St. for evaluating the financial performance of insurers. (Warren Buffett typically uses this as a primary performance benchmark is his letters to Berkshire Hathaway shareholders.)
Buying back stock at 80 cents on the dollar raises BVPS, helping AIG achieve its 10% BVPS growth target. Buybacks also boost EPS and return on equity. Using buybacks in combination with efforts to improve profitability, AIG's management has set a target ROE (excluding AOCI and DTA) of 8.4% in 2016. An extra half a point a year would then bring AIG's ROE to 10% in 2019; but this is not fast enough for Mr. Icahn. He wants AIG to take steps now to achieve its performance benchmarks immediately.
With all of the talk about breaking up the company and lifting profits by reducing costs, I think AIG should consider raising the dividend (again). Besides increasing the share price, this would help it to achieve other goals, such as maintaining a strong capital base.
AIG raised its quarterly payout significantly in September, more than doubling it from $0.125 to $0.28. At the current annual rate of $1.12, the stock has a dividend yield of 1.8%, now roughly in line with the peer group average. Even with the boost, however, AIG's 25% payout ratio (on projected 2015 earnings) is still behind the group's 30%. If 2016 consensus earnings projections prove true, its payout ratio will fall further vs. peers to 21%, compared with the group's projected 29%.
If AIG were to boost the dividend in 2006 by a percentage comparable to 2015's, its annual payout would rise by 114% to $2.40. This would, in my view, cause investors to sit up and take notice. It would almost certainly have a positive impact on its share price. Shareholders might, for example, bid up the share price by a third to $80, giving the stock a 3% dividend yield. That $2.40 dividend would then represent a 46% payout of the current 2016 consensus earnings projection of about $5.20 per share.
That proposed payout ratio is obviously well above the peer group average, but consider this: With 1.24 billion shares currently outstanding, a $1.28 dividend increase would cost AIG an additional $1.6 billion annually and the total dividend of $2.40 would cost $3.0 billion. By comparison, AIG has spent $12.4 billion over the past 21 months buying back stock. If the company thinks that it has excess capital which should be returned to shareholders, it will probably spend more in 2016 and beyond (than this proposed dividend increase) buying back stock, because the 80% of earnings retained will continue to raise its already too big capital base.
Despite the logic of buyback mathematics, there is a growing sentiment that share repurchases are losing their effectiveness. I am admittedly biased, but a dividend boost requires a long-term commitment to return cash (and capital) to shareholders. A second large dividend increase would put additional pressure on AIG to deliver higher earnings on a sustained basis; but the numbers suggest that AIG can handle it and it would almost certainly require less cash than buying back stock.
If the added dividend is successful in raising AIG's share price, it would also reduce pressure on management to return additional capital to shareholders. In that way, AIG would be able to operate with an added cushion against future losses, which would reduce the riskiness of owning the stock.
At the same time, in the current low rate environment, there is considerable investor demand for stocks with sustainable 3% dividend yields. AIG just might find that the higher payout would help to broaden its shareholder base.
Without a new approach, such as raising the dividend as I have suggested here, it is likely that the discussions between Mr. Icahn and management will continue into the new year, with the possibility that Mr. Icahn may seek to nominate his candidates for AIG's board, if an agreement cannot be reached. It has been reported that Mr. Icahn may align with the hedge fund, Paulson & Co., which like Mr. Icahn, holds about a 1.3% equity stake in AIG. Unlike Mr. Icahn, John Paulson seems to be more open to the idea of selective sales of assets or businesses, as an alternative to a break-up. It is probably a fair bet that the parties will be able to agree to put AIG's mortgage insurer, United Guaranty, up for sale; but it is doubtful that AIG will agree to part with its life insurance business.
Management was already in the process of implementing virtually all of the initiatives put forth by Mr. Icahn and more. For better or worse, all of the hubbub will probably serve to keep the spotlight on AIG's undervalued shares.
Disclosure: I/we have no positions in any stocks mentioned, and no plans to initiate any positions within the next 72 hours.
I wrote this article myself, and it expresses my own opinions. I am not receiving compensation for it (other than from Seeking Alpha). I have no business relationship with any company whose stock is mentioned in this article.