It's that time of year again! Stores are decked out with festive holiday decor, shoppers are hitting the malls (and tablets!), and investors are anticipating another Santa Claus rally. If you are fortunate enough to have completed your holiday shopping and happen to have a little bit of that Christmas bonus left over, you have a few options. You could go buy yourself a new pair of UGGs, possibly new Teva sandals, or, if you're so inclined, - 'tis the season, after all - a pair of Sanuk yoga slings for your wife. But, being the intelligent investor that you are, you know the prudent move would be to invest your funds in a growing company with the good chance that in a couple of years' time, you could buy twice as many sheepskin boots as you could right now. Enter Deckers.
Deckers Brands (NYSE:DECK) is a California-based footwear and apparel company founded in 1973 that embodies the west-coast outdoor surfer lifestyle. The company's share price has been more than halved from its December 2014 high of around $99 to its current selling price at the time of writing of $47.38, which equates to a market capitalization of around $1.5 billion. While the retail sector is notorious for its unpredictability due in large part to consumers' finicky and constantly evolving tastes, the strong underlying fundamentals of Deckers combined with the excessive 2015 sell off of its shares offers a lucrative buying opportunity for the astute value investor.
History and Company Structure
As mentioned, the company was founded in 1973 by University of California, Santa Barbara, alum Doug Otto and Karl F. Lopker. Deckers' original intent to create and market new comfortable casual footwear resulted in what became the sandal many of us still wear today. Angel Martinez, Deckers Outdoor Corp. President and CEO, had this to say about Otto in the press release announcing the ground-breaking of their new headquarters in 2011:
"He really invented the modern flip-flop we know today, the neoprene rubber with parachute webbing. They were called Deckers."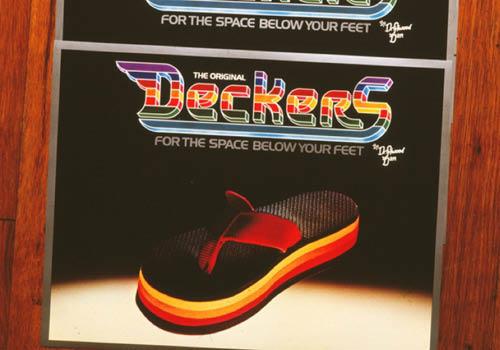 (Source: Company timeline)
Over the course of the next four decades, Deckers purchased the rights to numerous other brands: Teva, Sanuk, Hoka One One, Ahnu, MOZO (recently sold), and most notably, UGG Australia in 1995. Angel Martinez was named the CEO and President of the company in 2005 after serving as VP and Chief Marketing Officer of Reebok International and CEO of The Rockport Company. Deckers has a presence in North America, the Caribbean, Europe and Asia.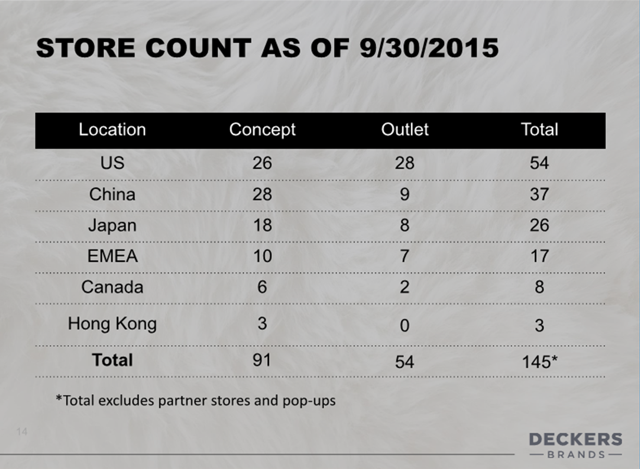 (Source: October 2015 Investor's Presentation)
Deckers became a publicly traded company on the NASDAQ in 1993 and became listed on the New York Stock Exchange in 2014. The company has experienced some success amid volatility since the turn of the century, with shares hitting highs of over $163 in 2007 and again in 2010, but dropping below $40 per share during the 2009 financial crisis. The UGG brand boots have been featured on Oprah on numerous occasions since debuting on her "Favorite Things" segment on an episode in 2003.

(Source: Google Finance)
Deckers was named to Outside Magazines "Best Places to Work" every year from 2008 through 2014, except for 2010.
Financial Performance and Balance Sheet
Deckers fiscal year 2016 runs from April 1, 2015 to March 31, 2016. Deckers reported record revenue of $487 million for the recently reported second quarter 2016, slightly above the same quarter last year, which registered $480 million. However, the strong dollar relative to the British Pound, Euro, and Yen, took its toll, as revenue growth would have resulted in a 5.4% increase on a constant currency basis to $506 million for the quarter. Deckers earnings per share for the quarter was $1.11, down from $1.17 a year ago but representing an increase of 21% on a constant currency basis. Domestic sales increased 4.3% to $301.6 million but international sales decreased 3.1% to $185.3 million. However, on a constant currency basis, international revenue would have shown a 7.1% increase, again highlighting the significant effects of the exchange rate.
The strong dollar has also been partially to blame for the squeezed gross margins, which have are down from 46.6% last year to 44% this year. The exchange rate accounted for 210 basis points of that decline, according to the second quarter financial results press release.
Deckers carries around $316.8 million in short term borrowings, but with $100 million in cash and a current ratio of 1.7, liquidity should not be a concern any time in the near future. Most of the borrowed funds were used to purchase inventory ahead of the heavy holiday shopping season and to repurchase stock, as I'll discuss more about below.
Reported revenue (not on a consistent-currency basis) has increased every year for the last decade and the company has never lost money in that timeframe, even though earnings have somewhat leveled off over the last few years.

(Source: Morningstar)
As shown below, the majority of revenue and income is still generated from the UGG brand, although management is focused on expanding their other brands and offering more year-around products beyond shoes. As one example of management shifting additional focus on the other brands, running shoe maker HOKA ONE ONE grew at 51% on the year and was the third most worn shoe at the IRONMAN World Championships this year as opposed to the sixth most worn last year.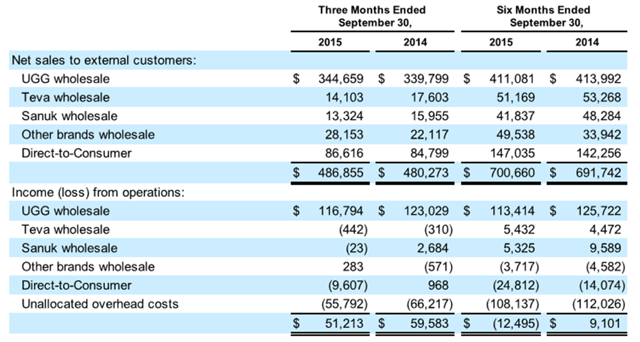 Management has guided 2016 reported EPS of $5.18, an 11.2% increase over FY 2015. On a constant-currency basis, and maintaining a 48% gross margin, management expects 2016 EPS to be around $5.23, representing a 16% increase over the previous year.
Risks
One of the obvious risks is a continuing strengthening dollar. While I am often wary of the justification of reported financial results on a 'constant currency' basis, - it's an unavoidable but anticipated consequence of doing business globally, after all - in situations like we are currently in, where exchange rates move strongly in one direction consistently, the 'constant currency' comparison does provide a perspective into how the company's products are selling year over year. For the company to have negative international comps that are positive when converted to a constant-currency basis, the company needs to be selling more products overseas. The increase in units sold is overshadowed by the strengthening dollar.
To better explain this concept, let's look at an example: If a pair of boots sells in year 1 for 12,300 JPY = $100 at a 123 Yen/$ exchange rate, then the Yen drops to 128 Yen/$ in year 2, the 12,300 Yen will now only net the Company $96 in revenue as opposed to $100 in year 1 if foreign prices are not adjusted. If the Company sells the same number of products as last year, say 200 pair of boots (for the sake of using small round numbers), the company will claim a 4% drop in international revenue from the previous year, but no change on a constant currency basis. So, for the company to increase revenue on a constant-currency basis amid a strengthening dollar (as in Deckers case), sales must have increased. In our example, the company now sells 206 pair of boots in year 2. The company will claim $19,776 in revenue, but $20,600 on a constant-currency basis. Hence, the comp is still negative on a reported-revenue basis, but the actual units sold has increased, meaning the company is still enjoying brand growth.
In the short term, this does not bode well for Deckers, as the Fed is likely going to hike the interest rate in December which should, in turn, further strengthen the dollar as Europe and Asia embark upon further monetary easing. A catch 22 develops as raising prices in foreign markets may result in less sales as consumers opt for more reasonably priced domestic products; but maintaining current international pricing results in a loss on the exchange rate. It doesn't matter how much growth the Company can produce if the exchange rate continues to work against them.
Another risk factor is the weather. While most of us welcome the Indian summer currently gracing the majority of the U.S., the mild late-fall temperatures negatively impact the sales of a company whose primary product is meant to keep customers warm and dry. As mentioned, Deckers is working to expand their year around products, but UGG clearly still dominates the Company's revenue with nearly 71% of the most recent quarter's sales.
Catalysts
Since 2010, Deckers has invested heavily to implement an industry leading omni-channel and management has stated that their investment has started to bear fruit in FY 2016.
For those unfamiliar with the term:
Omnichannel (also spelled omni-channel) is a multichannel approach to sales that seeks to provide the customer with a seamless shopping experience whether the customer is shopping online from a desktop or mobile device, by telephone or in a bricks and mortar store.
Deckers' strategy involved opening brick-and-mortar stores that offer all of their brands as, currently, most of their products are sold via larger mall retailers, while only their largest brands have a few dedicated stores. The new stores would not be considered solely as a means to increase revenue, but as more of an experimental ground to connect with shoppers and test "new technologies and selling strategies". For example, if an item was sold out, a wall of iPads would be available in the store for customers to order items to be delivered free of shipping charges. This is all a part of Deckers' "Innovation Lab" strategy to better align the company with the consumer.
According to Dave Powers, Deckers' president of omni-channel, "Our new store will serve as the showcase for all of Deckers' brands and our expression of next generation retail. With the launch of this 'innovation lab,' we're better able to listen to customers' feedback, make product and service adjustments more efficiently, and heighten the overall customer experience."
A second catalyst is global expansion and management's meticulous and consistent scrutiny of individual store performance with the intent of expanding business in only the most profitable markets. Through 2Q, the company has closed 6 stores, but still intends on opening 11 new stores this fiscal year. Additionally, Deckers will open 26 partner doors in China, bringing total Chinese openings to 49. The omni-channel will also assist in the global expansion of the brand as the company will be better suited to reach consumers who do not have access to the large retail stores that carry their products.
A final catalyst is management's penchant to repurchase the company's common shares. Since 2011, the company has repurchased $417 million worth of its own stock reducing its overall share count from around 40 million to 34 million shares. Recently, the company purchased some 354,000 shares in the 2Q 2016 for an average purchase price of $67.18. As share repurchases reduce the number of outstanding shares, the net result is an increase in the earnings per share. The market appears to have yet to account for this phenomena, as the share price has actually decreased. The result is a stock trading for a 10.8 P/E ratio, only 58% of its average P/E for the last decade of 18.6. Once the market recognizes that Deckers continues to pump out strong earnings with a reduced number of outstanding shares, the share price should see a sharp rise.
Commentary, Analysis, and Valuation
While the risks described above are real and are currently impacting the Company, they, along with a competitive macro environment and sputtering economy, have combined to create the current buying opportunity in the stock. The Company continues to increase revenue, which says a lot about the strength of the brand and the management team's decision making prowess on pointing the Company in the right direction. Further the omni-channel investment should maximize management's ability to recognize what products will resonate with their target consumer. As 46% of holiday shopping is projected to be done online this year, it appears the roll out of the omni-channel strategy was well timed to maximize e-commerce.
The current price-to-book value of 1.78 is a little higher than I typically prefer, however, the P/B to historical (10-year) P/B is only 0.52. Only minimal intangible assets are included in book value, which I perceive as a positive. I prefer the "P/B to historical P/B" metric, as it provides an indication of where the market typically values a company relative to its book value under average operating conditions while minimizing the volatility created by single-quarter reporting. In other words, it provides a measure of where the company currently stands relative to its typical investor sentiment cycle.
In the chart below, it is obvious that Deckers is undervalued within the industry by a number of metrics. The historical ratios consider the last decade of data.

As a conservative approach using the P/E to Historical P/E ratio and assuming mean regression, the company would have a 73% upside potential, which equates to a share price of around $82. Using, instead, the less conservative (lower) P/B ratios, the share price would approach $91. The downside risk appears limited in the near term with the increasing sales numbers (units and revenues), maintenance of healthy margins, strength of brand name, and a deliberate, decisive management team. Additionally, the timely investment in the omni-channel should further strengthen the margin of safety. I can see a recovery in the company stock price over the next 12-18 months to the mid-$80s range.
With the retail sector in full swing as the holidays approach, a strong, prudent analysis is necessary to separate the best retail stocks from the rest. A fundamentally strong company with a management team focused on global expansion warrants a long investment - and Deckers fits the bill.