Warren Buffett and his conglomerate investment holding company Berkshire Hathaway's investment returns are legendary. Over the long-term, the company has averaged over a 20% growth in book-value, and its stock (NYSE:BRK.B) has returned over 76% from 2000-2010 v/s a negative return for the S&P 500 during the same period. Berkshire holds a very concentrated portfolio of 35 stocks, with the top four positions in his portfolio, namely, Coca Cola Inc. (NYSE:KO), IBM (NYSE:IBM), Wells Fargo & Company (NYSE:WFC) and American Express Co. (NYSE:AXP), at 20.7%, 18.6%, 17.5% and 11.8% respectively, accounting for over two-thirds of its 13-F portfolio assets of $66.2 billion for Q4, that was filed just yesterday. Most of the investments in the portfolio are held for the (very) long-term, with the churn in the portfolio in Q4 of just 4%, implying a holding period of about a quarter of a century.
The following are select major buys and sells in Q4 based on that analysis (see table):
IBM: Big blue, as it is more commonly known in investing circles, is a U.S. multinational technology and consulting corporation. It provides computer hardware and software, and it offers infrastructure, hosting and consulting services. At $12.29 billion, including $1.26 billion added during Q4, this is the second largest position in Berkshire's portfolio, after non-alcoholic beverage concentrates and syrups manufacturing company Coca Cola Co., in which Berkshire holds a $13.68 billion position. Together, these two positions account for almost 40% of its 13-F portfolio assets.
IBM has been rallying ever since it released a stellar Q4 report last month, on January 19th, beating earnings ($4.71 v/s $4.62) and guiding earnings higher for FY12 ($14.85 v/s $14.81). Perhaps even more significantly, IBM reaffirmed a long-term earnings target of at least $20 in 2015, which implies double-digit compounded earnings growth of at least 10.5% between 2011 and 2015. This is in-line with their historical earnings growth, and implies a price target of at least $300 over the next three-to-four years based on a 15 P/E multiple, an astronomical return rate given its relative safety. Currently, shares are at all-time highs, and trade at 11-12 forward P/E compared to the average of 15.1 for its peers in the integrated computer systems group. With low valuation, strong growth, blue-chip status, and an attractive dividend yield of 1.6%, there is a lot to like with Big Blue and the stock should appeal to a wide cadre of investors, including dividend hunters to growth and value and growth seekers.
Johnson & Johnson (NYSE:JNJ): Johnson & Johnson develops healthcare products and provides related services to the consumer, pharmaceutical and medical markets. Berkshire cut $545 million, its largest sell by far in Q4, from its $2.42 billion prior quarter position. JNJ shares have flat-lined for much of the past decade. Earnings rose from $3.39 in 2005 to $5.00 in 2011 at a respectable 6.7% compounded annual growth rate, or almost 50% in the last six years. The stock meanwhile is still trading in the same $55-$70 band, and we believed is primed for a strong breakout to the upside.
DirecV Inc. (DTV): DTV provides digital television entertainment in the U.S. and Latin America, providing direct-to-home digital TV services, as well as multi-channel video programming distribution services in the U.S. Berkshire added a massive $747 million, its second largest buy in Q4, to its $197 million prior quarter position. DTV is scheduled to release its earnings tomorrow before the market opens. Its shares currently trade at a discount 14.1 P/E on a TTM basis versus the 20.6 average for the satellite communications group.
Wells Fargo & Company: WFC is a diversified financial services holding company with 9,000 offices primarily in the U.S., and provides retail, commercial and corporate banking services. Berkshire added $675 million, its third largest buy in Q4, to its $10.92 billion prior quarter position. WFC trades at a discount 8-9 forward P/E, and at 1.1 P/B, compared to averages of 9.6 and 0.7 for the major regional banks group, while earnings are projected to rise at a 13.3% annual rate from $2.82 in 2011 to $3.62 in 2013.
Other major moves in Berkshire's portfolio in Q4 include:
Table
Click to enlarge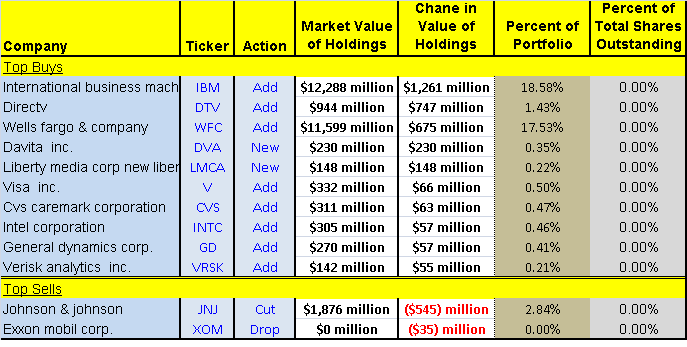 Credit: Historical fundamentals including operating metrics and stock ownership information were derived using SEC filings data, Zacks Investment Research, Thomson Reuters and Briefing.com. The information and data is believed to be accurate, but no guarantees or representations are made.
Disclaimer: Material presented here is for informational purposes only. Nothing in this article should be taken as a solicitation to purchase or sell securities. Before buying or selling any stock you should do your own research and reach your own conclusion. Further, these are our opinions and we may be wrong. We may have positions in securities mentioned in this article. You should take this into consideration before acting on any advice given in this article. If this makes you uncomfortable, then do not listen to our thoughts and opinions. The contents of this article do not take into consideration your individual investment objectives so consult with your own financial adviser before making an investment decision. Investing includes certain risks including loss of principal.
Disclosure: I have no positions in any stocks mentioned, and no plans to initiate any positions within the next 72 hours.