Lasted week I published a series of articles about Zipcar (ZIP) which argued that:
Since then earnings were announced, the fleet size updated, expectations for 2012Q1 lowered, and the stock price dropped 14%. As a bookend to my original series, I will address each of these issues and how it relates to my prior analysis.
Earnings
Note: All dollar values are in $1,000s, except EPS.
ZIP posted a fourth quarter revenue of $62,898 and an EPS of $0.09. My estimate had been $66,000 revenue and $0.03 EPS. The precise breakdown of the actual results and my expectations are shown below :

My estimates as a percent of revenue were extremely accurate: The operating profit margin was 3.4%, compared to my estimation of 3.0%.
The key deviation between the actual results and my expectation was in Other Income - $2,513 versus $175 due to the sale of Zero Emission Vehicle (ZEV) credits. This is an annual event; last year ZIP earned $1,200 from the sale of ZEV credits. Looking forward, this annual benefit should increase - dependent on future legislation - as ZIP continues to switch to hybrid and electric vehicles.
Without the benefit of these ZEV credits, ZIP would have still turned a profit - $0.036 EPS.
Each of the other expenses was within 0.5% of my prediction, indicating a stability that bodes well for their future.
Size of the Fleet
The worries expressed about the number of vehicles in the fleet decreasing from 9,489 to 8,904 indicate a misunderstanding in the seasonal business cycle of Zipcar.
As described in my earlier article, rental usage rises during the summer and declines during the winter. Considering the fixed costs of maintaining vehicles, it is common sense to decrease the size of the fleet during periods of less use.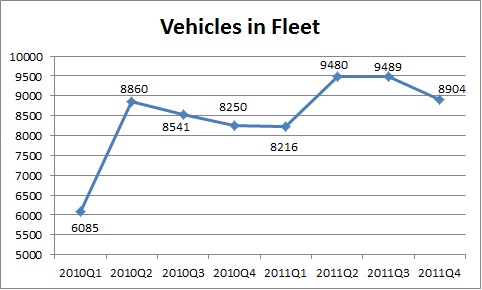 The important point is that there is year-on-year growth in the fleet size, which has been consistently strong. I expect Q1 will show another decrease, perhaps to 8,700 vehicles and Q2 will show a large increase to approximately 10,000 vehicles.
Q1 Forward Outlook
It was announced that revenue for Q1 is expected to be between $58,000 and $60,000 with an EBITDA loss between $500 and $1,500. This decrease, as with the size of the fleet, is an example of the seasonality of ZIP's business. Consider the historical revenue stream: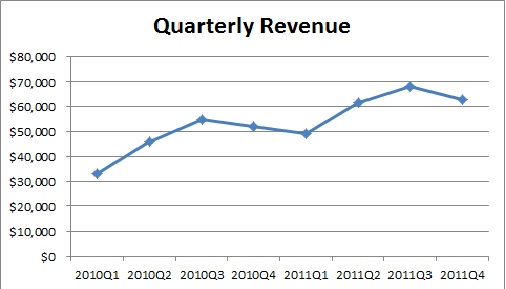 There was a 5.7% fall in revenue between 2010Q4 and 2011Q1. This quarter, the decrease is expected to be between 4.6% and 7.9%. Given the rapid expansion - especially in Europe - and the assumption from my first article that the seasonal effects are especially strong in newer regions, these revenue expectations are reasonable and certainly not indicative of an upcoming stumble.
The expected EBITDA loss is approximately equal to 3% of revenue whereas loss in 2011Q1 was 7% of revenue.
While it is easy to dwell on the negative aspects of the outlook, when put in context, the company's outlook is quite positive.
Stock Price Reaction
On Tuesday, ZIP closed 14.25% down - not what any investor wants to see. However, volatility comes with owning a recent IPO that has yet to turn an annual profit. Because it is priced entirely on the expectations of the market, when the outlook gives a hint of turning negative there is an inordinately large drop in the price. As the market digests results, the price will likely recover.
Conclusion
Though my exact predictions differed slightly, I believe the fundamentals of my arguments continue to hold up, and are reinforced by these results.
In focusing on these few issues, I have skipped several points of good news that are worth noting, but for which I do not have any detailed analysis:
Membership Growth - Total membership grew by 25% YoY. Notably, the 22% growth in revenue in established markets was driven primarily by new membership indicating that these markets still have significant growth potential.
FY2012 Outlook - The Company is introducing its 2012 outlook with full year revenue expected in the range of $290 million to $296 million. Full year 2012 Adjusted EBITDA is expected to range from $15 million to $19 million and US GAAP net income is expected to range from $2 million to $6 million." This means not only a 20% increase in revenue but also its first annual profit - between $0.05 and $0.15 EPS. This estimate seems very reasonable though likely conservative, but I will wait until Q1 results are out before publicizing a strong opinion.
Slower UK Growth - The revenue growth in the UK was lower than expected, due continuing adjustments from the 2010 acquisition of Streetcar. They are working hard to adjust their approach, eliminate existing redundancies, and put growth back on track. This, as well as Zipcar's expansion in Europe, is a topic is worth exploring and I may write about it in the future.
My advice: look forward to more strong results as the year progresses.
All data is collected from Zipcar's quarterly reports, prospectus, earnings release, and conference call, unless explicitly stated otherwise.
Disclosure: I am long ZIP.