The Energizer Battery Christmas Season
Summary
Energizer Holdings is now a standalone battery business, and Duracell is about to be transitioned from Procter & Gamble to Berkshire Hathaway, heightening interest in the battery category.
As Energizer recently reported, the soft alkaline category shows signs of stabilizing.
Energizer and Duracell shares are stable, with no sign of any breakout by Energizer.
Energizer's A&P support is improving.
Energizer EcoAdvanced is gaining retail space and has a presence in Wal-Mart.
Overview
While Energizer (NYSE:ENR) disappointed the market with its fiscal Q4 earning reports, Alan Hoskins, the CEO, on November 12, highlighted several battery market and share developments that could portend improving results:
"Signs of stabilization within the battery category."
"Improved our value market share by 120 basis points over the latest 52 weeks."
"Increased our A&P investment by 150 basis points as a percent of sales."
"Launched EcoAdvanced, the world's first battery made with recycled batteries."
So, let's look at the record of the alkaline market.
"Signs of stabilization within the battery category." Yes, and the latest data for the Nielsen period ending October 31 shows volumes even stronger at +1.5% vs. YAG, and positive now for 3 consecutive periods. The situation in Europe though October 4 is still decidedly negative, but that trend is also clearly an improvement. The negative trends created by rechargeable device design and flashlight LED design factors are now well embedded in trends for a longer period than the device life cycle of about 5+ years, and we are seeing a related stabilization of alkaline growth rates in the U.S. and the beginning signs of such stabilization in Europe.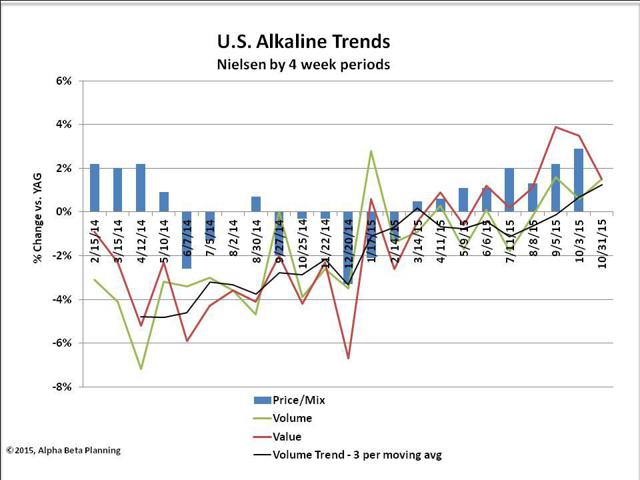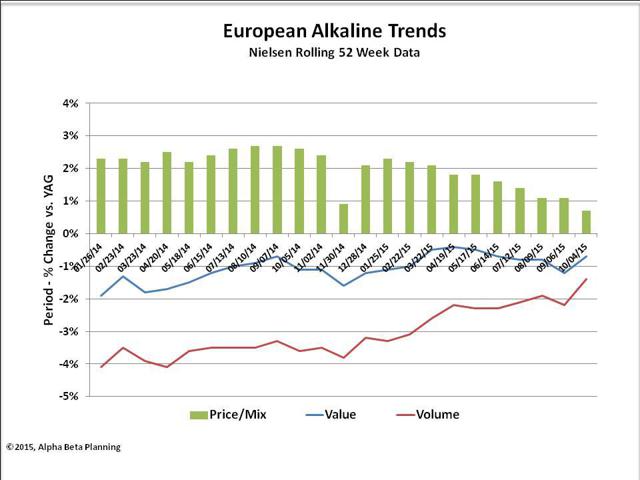 Alkaline Market Share
"Improved our value market share by 120 basis points over the latest 52 weeks." I am not seeing the 120-basis point improvement in 52-week value market share that Mr. Hoskins reports, either in the U.S. or in Europe based on the Nielsen data, whether I look at just alkaline or all batteries. I do see a meaningful period-to-period gain of 0.7 for Energizer value shares of alkaline for the 4 weeks ending October 30 at 30.2, but that is still below the year-ago figure. Duracell (Procter & Gamble (PG), transitioning to Berkshire Hathaway (BRK.A, BRK.B)) declined .6 period-to-period, and Spectrum Brand's Rayovac (SPB) held period-to-period at 9.3, a 4-year low. The Energizer situation in Europe is similar, with no share gains through the October 4 period.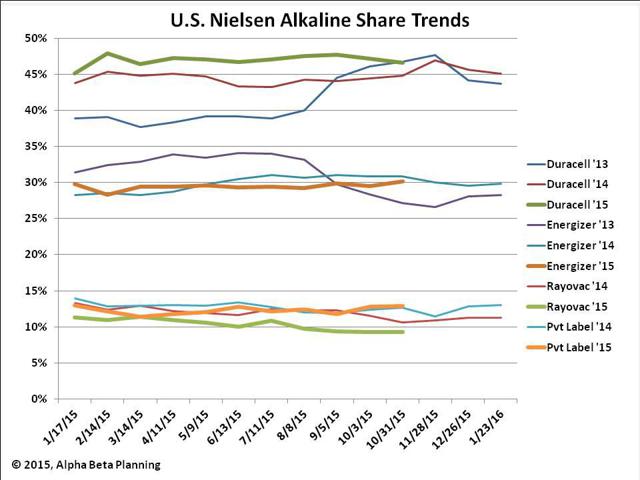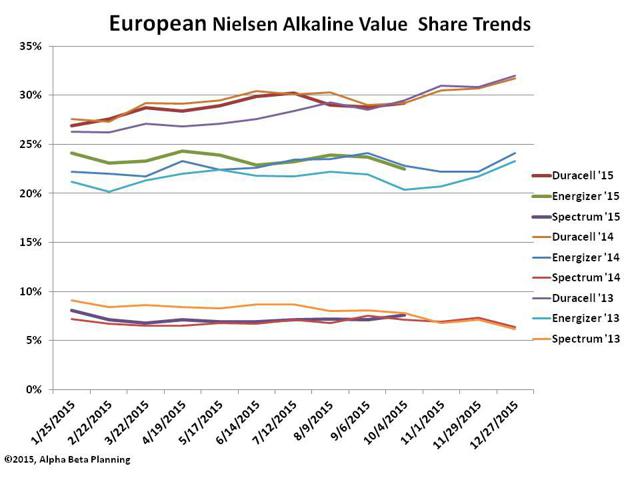 Advertising & Promotion
"Increased our A&P investment by 150 basis points as a percent of sales." We do not have Q3 data (the end of the Energizer fiscal year) for advertising yet, which should be available in 2-3 weeks. However, the Q2 data supports a stance of increased A&P support.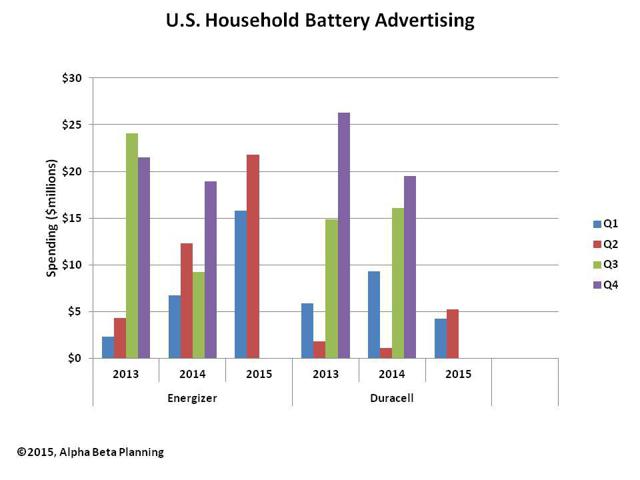 .
Premium Launches and Retail
"Launched EcoAdvanced, the world's first battery made with recycled batteries." We are seeing store presence for each of the major brand new premium entries: EcoAdvanced from Energizer, Quantum from Duracell and Fusion from Rayovac. All have equal numbers of facings in Wal-Mart, based on November 14 store checks, but Wal-Mart (WMT) only had 2 facings each. Energizer shares had have suffered from reductions in share of shelf in Wal-Mart going back to mid-2012, when they went from roughly a 40% share of shelf down to about 25%, with Duracell as the major beneficiary of those changes. While there has not yet been a major change, Energizer now has a 35% share of the main battery rack, comparable to the Duracell share. They are at roughly 30% of the corrugated seasonal battery display to Duracell's 40%. Rayovac has 30% of each of these displays, but is also the only brand with a checkout end cap on one of the Wal-Mart checkouts. Overall, Energizer has 29% versus 25% 2 years ago, which should improve the take-away. We also see the roll-back at Wal-Mart for the EcoAdvanced product from $6.37, equal to Duracell's Quantum, to 5.97, comparable to Energizer MAX, which should provide an Energizer edge in premium product sales at Wal-Mart.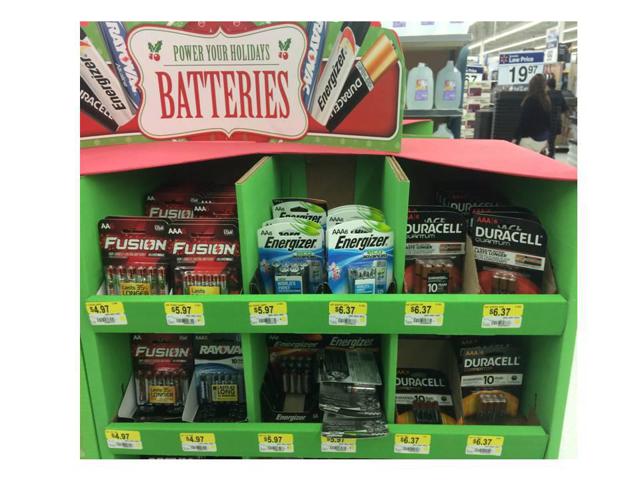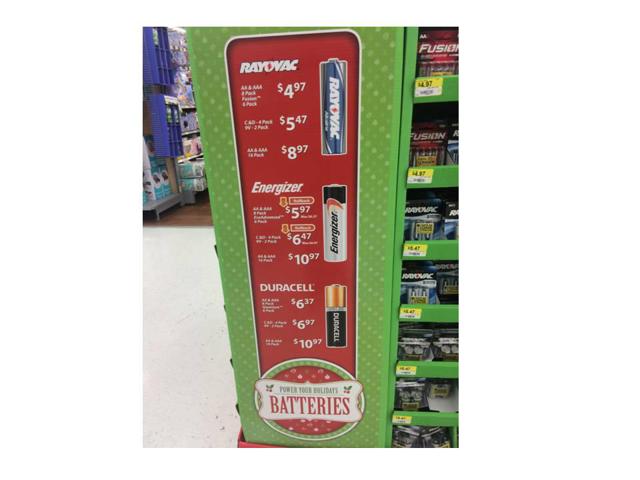 Conclusion
With Energizer as a focused standalone battery company, I was hoping for more signs of merchandising and advertising to move share back to what was the company's historical share of the battery business.
We are seeing the first signs of progress, with the company's Q2 advertising increases and its too-gradual progress with Wal-Mart as we move into the Christmas buying season.
I still believe there is an Energizer opportunity, especially with the delays in the closing of the Duracell move from P&G to Berkshire Hathaway, but I am still searching for the execution evidence from Energizer.
This article was written by
Since 2002, I have been the owner of a consulting business, Alpha Beta Planning, that specializes in the areas of business development and planning as well as sales and market forecasting. I also provide marketing and forecasting due diligence for investors in the private capital markets. I am an  Advisory Board Member for BWG Strategy, consulting on battery related companies. I am a former Vice-President, Business Management at Duracell Batteries where I spent 28 years with experience that included extensive work in new product development and licensing, marketing management, market research and sales forecasting as well stints in manufacturing and financial planning.
Analyst's Disclosure: I am/we are long ENR. I wrote this article myself, and it expresses my own opinions. I am not receiving compensation for it (other than from Seeking Alpha). I have no business relationship with any company whose stock is mentioned in this article.
Seeking Alpha's Disclosure: Past performance is no guarantee of future results. No recommendation or advice is being given as to whether any investment is suitable for a particular investor. Any views or opinions expressed above may not reflect those of Seeking Alpha as a whole. Seeking Alpha is not a licensed securities dealer, broker or US investment adviser or investment bank. Our analysts are third party authors that include both professional investors and individual investors who may not be licensed or certified by any institute or regulatory body.