When I woke up this morning, I saw that Gold Fields (NYSE:GFI) was up over 20% in pre-market trading. Immediately I thought the company must have gotten bought out by a big senior producer, as it's highly unusual to see a company this size, surge that much in this depressed gold environment. But upon a quick scan of the news headlines, I realized that it was in fact earnings that were driving the stock higher. The company announced Q3 results in the very early a.m. hours EST - Gold Fields is based in South Africa, which is why the news was disseminated so early. The stock was up as much as 29 percent in Johannesburg, or to R39.98 a share. That's the largest one-day gain since September 1999.
Here in the States, the stock hit $2.66 intraday, or up 22.5%, but has since settled down a bit as the 50-day moving average is providing some resistance.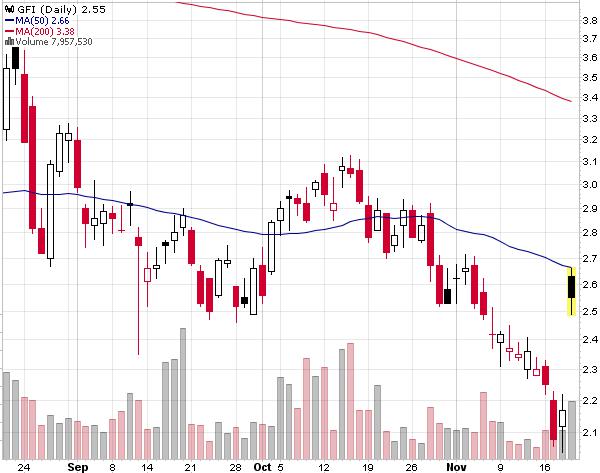 (Source: StockCharts)
Why the sudden rush into the shares and the massive gain? It wasn't just one event, as there were many positives contained in the Q3 report. Although the news regarding South Deep most likely had the biggest impact.
Improved Grade and Performance From Australian Operations
Back in August of this year, I wrote an article on Gold Fields in which I highlighted how the company has rapidly expanded its footprint in Australia, and its core group of mines in this region were about to show big improvements in ore grade thanks to highly successful exploration.
You have the huge Invincible discovery at the company's St Ives mine finally coming online this year. Invincible is an open pit deposit that contains 1 million ounces of gold at a grade of 4.59 g/t. That is exceptionally high for a near surface orebody, and one of the best open pits that Gold Fields has ever seen at St Ives. St Ives has several open-pit and underground deposits in production. The open pits have been averaging a grade of about 2.00 g/t, which is very robust and was helping to offset the relatively low grade from the underground mines. Now with Invincible online, St Ives is going to see significantly reduced AISCs and increased free cash flow for the next several years.
Then you have the company's Granny Smith mine - which is already at an $800 per ounce AISC - about to start hitting even higher grade as big discoveries were found at depth. The Wallaby deposit has several lenses (or zones) that are being mined, and the deeper the deposit goes, the better the grades are becoming. Gold Fields is just getting into Zone 100, which contains 1.5 million ounces of gold at a grade of 6.86 g/t. 150 meters below that, in Zone 110/120, there are over 900,000 ounces at 7.51 g/t.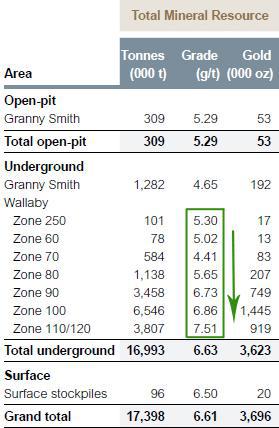 (Source: Gold Fields)
Then you have Gold Fields' Agnew/Lawlers mine, which contains the high-grade FBH underground orebody that just started contributing mill feed. FBH contains 585,000 ounces of gold resources at an average grade of 9.5 g/t. To put that in perspective, Agnew/Lawlers averaged 6.8 g/t in 2014. The development of the FBH ore body started about a year ago, and it just finally delivered its first ore to the plant this past October.
So you have these three major mines (St Ives, Granny Smith, and Agnew/Lawlers) all in the process of ramping up production from high-grade ore bodies. In total, these mines will produce about 900,000 ounces of gold in 2015, or about 41% of Gold Fields' total production. The company does have a fourth mine in Australia (Darlot), which produces about 88,000 ounces. While there is plenty of exploration potential, the mine life is currently very short as there is little left in reserves and resources. In other words, it doesn't have much in terms of expectations.
Now let's look at the performance of these mines in Q3. Sure enough, big jumps in grade quarter over quarter as some of these high margin ounces start to come online. As a note, the table below is recovered grade (yield), not head grade (which is actually higher). St Ives' surface grade increased to 2.45 g/t, from 2.06 g/t in Q2. The combined grade for the quarter was 3.1, a slight improvement from 3.0 last quarter. There is a typo for the September quarter in the company's Q3 report and table below. It should be 3.1 g/t and not 3.0 g/t. This combined grade will improve further as Invincible continues to contribute more high-grade ore to the mill. Agnew/Lawlers showed a big jump in grade as well, even though it didn't see any mill feed from the FBH orebody in Q3. Granny Smith is getting into those higher grade zones that I talked about above. And look at little ol' Darlot, a huge increase in grade and very unexpected, as the mining/development of Lords South Lower ore body seems to be going well.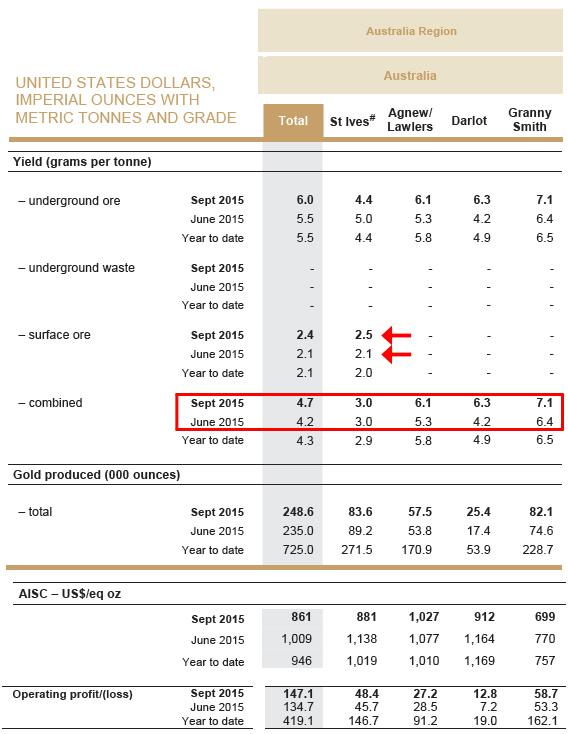 (Source: Gold Fields)
If you notice above, gold production for September was 248,600 ounces from these four mines, a roughly 14,000-ounce increase over the previous quarter. But look at the difference in AISCs, major declines across the board. Granny Smith goes from strength to strength. Darlot knocks it out of the park (even though it might be short-lived). Agnew/Lawlers still hadn't produced from the FBH oredbody as of Q3, but showed a $50 per ounce decline in AISC nonetheless. And while St Ives' Q2 AISC was skewed higher because of certain one-off events, the $881 AISC for Q3 shows how much Invincible is going to help turn the mine into a very low-cost operation. The improvement in AISCs from these mines resulted in a higher operating profit for the region last quarter, even though the price of gold was almost $60 lower compared to Q2. Net cash flow generated from the region was US$64 million, compared with US$40 million in the June 2015 quarter.
Salivating Over South Deep
I'm not going to go into the details regarding the South Deep mine, as I talked in depth about its issues in my previous article on Gold Fields. To give a brief summary, it contains 76 million ounces of gold, and could produce 650,000-700,000 ounces per year for 70 years at an average AISC of US$900 per ounce. In other words, it's a massive deposit, a true company maker, and it could be considered one of the last great mines in South Africa. But Gold Fields has struggled mightily over the last few years to ramp up production at South deep. In Q2, it produced just 39,000 ounces of gold at an AISC of $1,895 per ounce.
Most investors are skeptical that South Deep will ever reach its expected potential, and its failure (or a very watered down version of the original mine) has been fully discounted into the share price. But there is nothing wrong with the ore body, and the project is basically completely built. Which means it has a ton of leverage if production can scale up to where it should be.
The problem is the mine is highly mechanized, and Gold Fields was having issues finding enough skilled workers to not only use the equipment, but also maintain it. And they also had to go back and rehabilitate many kilometers of haulages, as they were very dangerous and unstable. The company shut the mine down for 4 months in 2014 to repair these issues and make it safer. But it meant they couldn't distress the ore body during that time, which meant they couldn't open up many of stopes that they were hoping to mine this year.
The Q3 report gave investors a big boost of confidence that South Deep could be in the process of a massive turnaround. There was a drastic improvement in all metrics for the quarter. Grade increased, gold produced jumped to 54,900 ounces from 38,700 in Q2, operating costs per tonne declined by a good margin, and AISCs were down almost $500 per ounce to just over $1,400. Net loss improved dramatically, and as one analyst put it in the conference call: It looks like Gold Fields is "going to get to break-even a hell of a lot quicker than I think you were guiding to before."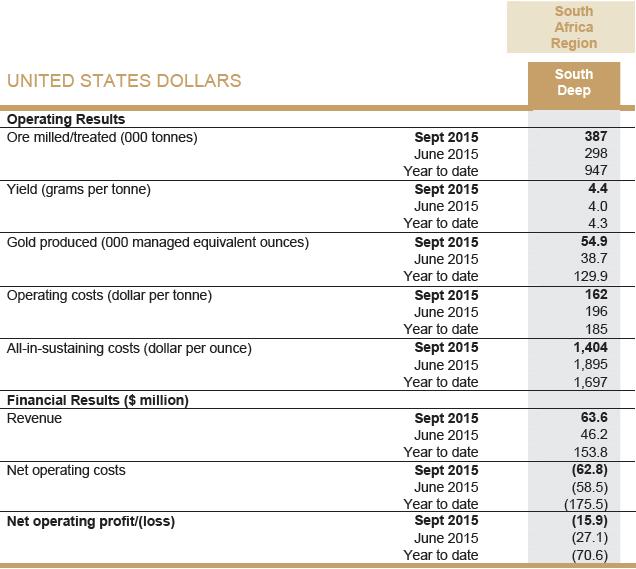 (Source: Gold Fields)
The company says they expect this quarter at South Deep to be even stronger than Q3. And in the report, they stated:
We expect 2016 production to be significantly better than 2015.
Now investors are salivating over the stock, as the leverage here is enormous as production increases. Gold Fields didn't expect to break-even until the end of 2016, and many were skeptical that target would be hit. Now it looks like South Deep could be out of the red in just a few quarters.
The company also announced at the end of Q3, that 87% of the critical skill positions to operate all of the machinery had been filled. This is an important piece to the puzzle to get South Deep firing on all cylinders.
What's going to help drive production increases further and faster is the change to high profile (5 meter vertical height) destressing from low-profile (2.5 meter vertical height). It didn't get the name South Deep for nothing, as the deposit is well below the surface and there is enormous pressure as a result. Gold Fields is destressing the reef that will be mined in order to relieve some of this pressure, then they go in and mine the deposit after the destressing is complete.
With the low-profile method, they had to go in twice - once to open it up to a 2.5-meter height, and then a second time to open it up even more to 5.5 meters. Then they would use long-hole stoping on the deposit. Now they just have to go in once, which means the lead time between opening up these cavities and mining the associated longhole open stopes should be quicker. They should also be getting more tonnes for every meter they advance because the cavity is bigger.
Gold Fields seems to be flying now, as development increased by 318 percent from 83 meters in the June quarter to 347 meters in the September quarter. And destress mining increased by 57 percent from 6,056 square meters in the June quarter to 9,523 square meters in the September quarter. The faster they can destress the faster mining volume will increase in the future.
Increased Cash Flow And Reduced Net Debt
As a result of declining costs at South Deep and at the company's operations in Australia, All-in sustaining costs on a company-wide basis declined to US$948 per ounce in Q3, compared to US$1,029 in Q2. Net cash flow was $75 million for the quarter, compared to $30 million in Q2 and $63 million in Q3 of 2014. I want to also point out that this increased net cash flow is occurring as the price of gold received by Gold Fields has declined from $1,265 in September of 2014, to $1,103 in September of 2015. An impressive feat and part of the reason for the share price surge today. As a result of this increased profit generation, the cash balance at the end of last quarter increased to $486 million, from $415.1 million in Q2.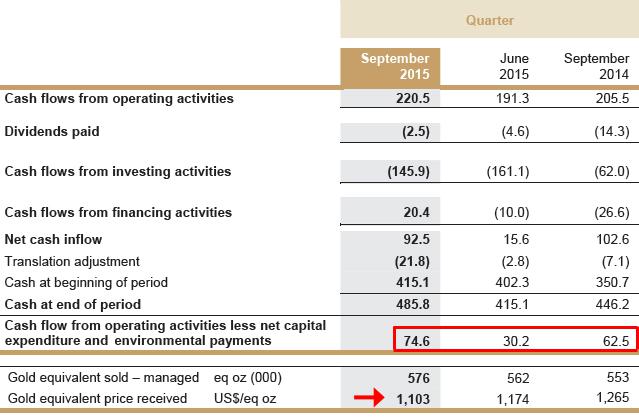 (Source: Gold Fields)
Net debt declined by US$50 million to US$1,427 million at the end of September 2015, compared to where it was at in June 2015. The net debt/EBITDA ratio improved to 1.41x, and Gold Fields has a long-term objective by the end of 2016 to try and get that down to a one to one ratio.
Still Way Too Cheap
It's important to keep today's move in context. Despite the huge jump in price, the stock was just at a multi-year low a few days ago, and is still well below where it was last month. It remains a bargain, and the news regarding South Deep could cause a further re-rating in the shares, as investors start to price this mine back into the stock.
The company continues to show improvements, and they have many high quality international operations that I didn't discuss in this article (about 1 million ounces of gold production per year comes from these other assets). My previous article on Gold Fields contains more in depth coverage of those mines.
With the Australian operations showing vast improvements in costs, South Deep is looking a whole lot better, and with the improved net cash flow and reduced net debt, this remains one of the best positioned companies when the price of gold turns.
Disclosure: I am/we are long GFI.
I wrote this article myself, and it expresses my own opinions. I am not receiving compensation for it (other than from Seeking Alpha). I have no business relationship with any company whose stock is mentioned in this article.