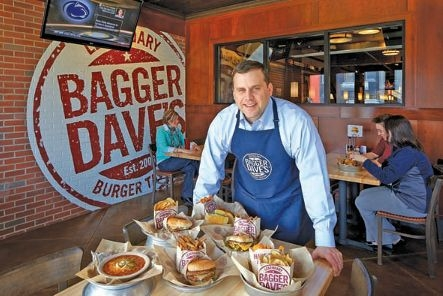 Photo Courtesy: Diversified Restaurant Holdings, Inc. - CEO Michael Ansley at a Bagger's Outlet
Diversified Restaurant Holdings (NASDAQ:SAUC) is the parent company of two brands: Bagger Dave's, which is its own brand, and Buffalo Wild Wings, of which it is now the largest franchisee.
The journey began in 1996 when founder Michael Ansley opened the first of his many B-Dubs franchises in Sterling Heights, Michigan. Since 2008, when the first Bagger Dave's restaurant launched in Berkley, Michigan, the company has quickly grown in stature and size, with acquisitions, expansion and performance management playing their respective roles in the company's history.
Group Unit Growth
Strong unit growth has been the foundation of DRH's recent successes - on which, we believe, its future will be built. Diversified is squarely in the full-service segment, but with two major differences:
The majority of its units are franchise operations; but...
...the twist here is that they are the franchisees, not the franchisors.
As the largest B-Dubs franchisee, it now runs 62 units, crushing a target it set for itself of 52 restaurants by the year 2017. The accelerated growth has caused some balance sheet issues, as we will see. Nevertheless, it's not a case of running away with the idea of expansion; it is more of a calculated spurt that puts it strategically in control of a major market geography for B-Dubs - St. Louis.
While the growth fire has been burning bright on the franchise front, Bagger Dave's has been showing action of its own. It currently owns and runs 26 Bagger Dave's burger and beer restaurants, and earlier intended to take that up to 50 by 2017. But with the recent changes in investment plans to solely favor the Buffalo Wild Wings franchise uptake, everything has shut down on that front.
Until now, it looks as though the company made a hasty decision in deciding to grow its B-Dub franchise holdings so quickly. However, as we look at the individual brands and in light of the company's recent press release, a clear pattern emerges of President and CEO Michael Ansley's vision for the next wave of DRH success.

Bagger Dave's Burger Tavern
This original brand - which is now possibly under the axe or at the very least being sent to the sidelines - founded by Ansley primarily focuses its menu offerings around fresh burgers and craft beer. Alcoholic beverages accounted for 13.7% of Bagger Dave's total sales in 2014.
The company sees itself as a full-service, family-friendly restaurant that offers an "ultra-casual dining" experience to its guests. With no current plans to expand any further, stripped of its coveted BAGR ticker that's been replaced with the SAUC that better reflects the new strategic direction of the company, Bagger Dave's has already become the neglected child.
Buffalo Wild Wings Franchise Division
Though Bagger Dave's growth has been impressive in the last five years, it is B-Dubs that has been hogging the limelight - at least over the past few quarters. It is now clear which brand will get the most resources, but Bagger Dave's definitely can't complain that it had a great run.
Starting with 42 units at the beginning of the year, the company has added a phenomenal 21 Buffalo Wild Wings units in the 39 weeks, marking the end of Q3.
The original plan was to grow these units steadily until they reached 52 units in 2017. However, it has now grabbed a dangling opportunity by acquiring Sure Wing, LLC and bringing in 18 units to add to its existing 42. In addition, the company also opened three new franchises in Florida and Michigan.
The acquisition came at a cost of $54 million, bringing the average cost to about $3 million. Says President and CEO Michael Ansley:
Also, immediately after the quarter, we acquired 18 highly successful and very profitable Buffalo Wild Wing restaurants in the St. Louis area. As a result of this transaction, DRH now own the entire St. Louis market for Buffalo Wild Wings, making us the largest franchisee within the Buffalo Wild Wings system. This transaction is immediately accretive to our shareholders, but these restaurants are already highly profitable.
From that, we can safely assume that the cost of $3 million per restaurant is actually a good deal.
Think about this: The cost of opening a new franchise of B-Dubs is between $1.9 million and $2.1 million. Now, if you pay $2 million to open a restaurant and develop the business from scratch to get the AUV up to $2.34 (per QSR Magazine), then it makes sense to pay a million dollars more to acquire a restaurant that's already doing well and has an established customer base. If you look at the goodwill amount of $39 million it paid to get its hands on the 18 units, that kind of puts things into perspective.

Financial Health
From what we've seen in recent margin reports, it's obvious that the acquisition of profitable BWW franchises has had no significant impact on the company's expenses as a percentage of revenue - except for a few issues. However, the general state of its margins is certainly something to be worried about if you're an investor.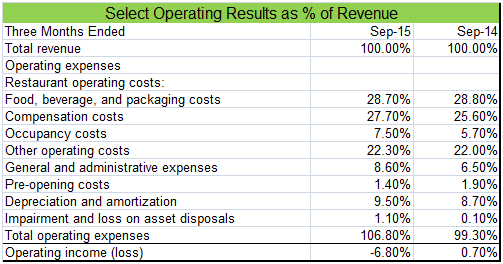 As you can see, Q2 did show an increase in G&A, but that's a typical pre-acquisition phenomenon. That's an increase that will reduce over the coming quarters. If you compare the three months ended data for Q3 over Q2, you'll notice a sharp drop that demonstrates this.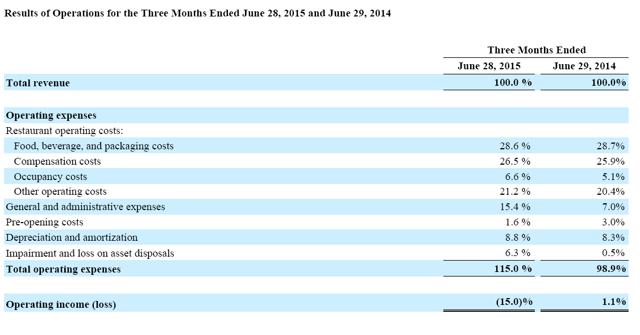 Second, SAUC's labor problems at Bagger Dave's has forced it to increase its spend on compensation for its company-run units.
From a press release at the time of the Q2 earnings release:
As a percentage of revenue, compensation costs increased 60 basis points to 26.5% compared to 25.9% in the year-ago period as a result of ongoing investments in minimum labor standards at Bagger Dave's to ensure a consistent positive guest experience as well as higher minimum wage rates.
In Q3 (3 months ended Sept. 2015), that figure increased a further 120 basis points to hit 27.7%, for a total year-over-year increase of 210 basis points. If higher compensation is Bagger Dave's bane, then it's logical to assume that management is going to do something drastic about it pretty quickly.
Third, its occupancy costs have gone up by 180 basis points - possibly from more premium locations it has moved into in recent months and escalating rental costs overall.
Alone, none of these increases would have been major red flags, but together, you can see the impact on operating income. It's already put it in the red, but...
...that's nowhere near the end of its problems. Let's now take a look at the two biggest challenges to long-term sustainability.
Caught Between Debt and the Deep Blue Sea
Perhaps, the biggest impact of the rapid expansion can be seen in DRH's balance sheet. The company accumulated a significant amount of debt in the past three years as it doubled its overall unit count. In the past four years, DRH has gone from 28 units and $17 million in long-term debt to 89 units and $113 million just until Q3 2015.
In commensurate measure, interest expenses have shot up as well; in just the first nine months since the beginning of fiscal 2015, that figure has shot up from $1.4 million to $2.4 million.
There's no question that the acquisition was intended to boost the company's presence and help it dominate a key market like St. Louis. It may even bolster its margins a few quarters down the road. But with the combination of cash position, margin situation and debt load SAUC faces, it's definitely not something it can repeat in a hurry.
One thing is amply clear: it's having trouble with labor costs and customer service over at Bagger Dave's, and B-Dubs could the very thing the company needs to salvage its future. But even there, things may not be going too well.
Now consider this very carefully: SAUC's own comp store sales (2-brand composite) versus what Buffalo Wild Wings is reporting as its average franchisee comp sales seem to be an ocean apart from each other. That could mean one of two things:
SAUC's own franchise units of B-Dubs aren't doing as well as the parent company's other franchisees, or (and that's what we'd like to point out)
Bagger Dave's comps are so abysmal that the only thing that makes it look good is its B-Dubs siblings within the DRH family.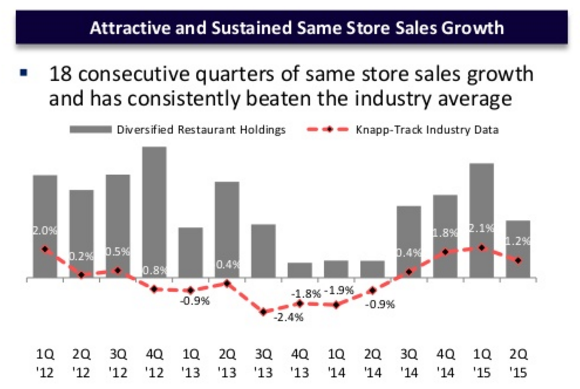 Source: DRH Presentation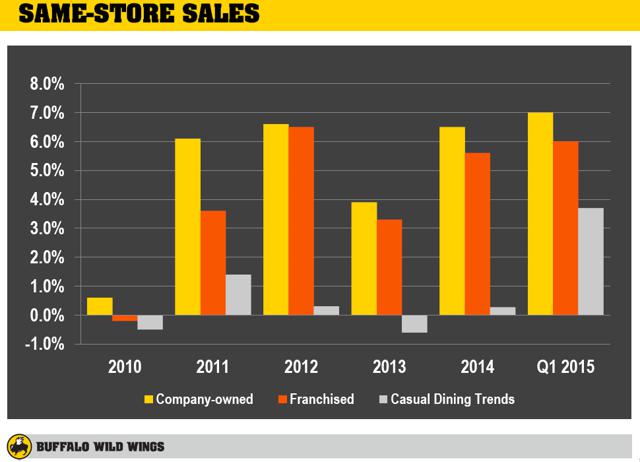 Source: Buffalo Wild Wings Presentation
Our Conclusion
If B-Dubs is what's keeping the company (or will keep it, in the future) at a manageable financial level, then what does it have to say about its franchisee chain performing below the B-Dubs overall average? Comments are more than welcome.
The future of Bagger Dave's is on the chopping block as of this announcement. Nothing has been revealed about future plans for this brand, but we foresee a darkness in its horizon that could well result in either a rapid closure rate, significant employee downsizing or both. Worst-case scenario: Could this be the next Romano's Macaroni Grill, we wonder?
If you think this article had substance, please review our insightful coverage of major and minor players in the restaurant industry here.
Disclosure: I/we have no positions in any stocks mentioned, and no plans to initiate any positions within the next 72 hours.
I wrote this article myself, and it expresses my own opinions. I am not receiving compensation for it (other than from Seeking Alpha). I have no business relationship with any company whose stock is mentioned in this article.
Editor's Note: This article covers one or more stocks trading at less than $1 per share and/or with less than a $100 million market cap. Please be aware of the risks associated with these stocks.