Plug (NASDAQ:PLUG) delivered record quarterly revenue in Q3 of $31.4m, above analyst consensus of $30.7m but below my bullish expectation of $33.4m. Plug delivered 1,221 GenDrive units that were recognized as revenue only 29 units below my estimate of 1,250. So what exactly happened in Q3 that would cause revenue to come in below my bullish estimate of $33.4m and for gross margins to decline over 10% quarter over quarter?
Plug's financial report left a lasting negative impression with investors as product gross margins declined from 26% in Q2 to 16% in Q3. If you believe that Plug lost control of manufacturing costs, you would be 100% wrong. The real issue behind the drop in gross margins was due to a sharp decline in the ASP (average selling price) of GenDrives.
If you are wondering why Plug's ASP would decline $2,400 or 14% quarter over quarter, the answer is not because of competition or a loss of pricing power. The real answer is due to the mix of GenDrive units sold that was comprised primarily of Class 3 units for Wal-Mart (NYSE:WMT).
Now you might be thinking that Plug's ASP will continue to be under pressure; however, historical data supports a significant increase in Q4 as well as variation in ASP depending on the quarter and the customer mix of deployments between retailers (Class 3) and manufacturers (Class 1 and 2) of GenDrives.
Additionally, Plug CEO Andy Marsh expects product mix to improve in Q4, which will not only drive revenue growth on the top line but will also support significant gross margin expansion in Q4.
Plug has been bending the cost curve for GenDrive units produced from its Latham, NY manufacturing facility over the past two quarters. The cost of GenDrives has declined over $2,000 or 15% over the last two quarters from $14,544 in Q1 to $12,336 in Q3.
The first image below tracks Plug's quarterly GenDrive ASP, which fluctuates quarterly and is impacted by customer mix alongside cost of goods sold (COGs) and gross profits.
The second image below depicts GenDrive COGs over the last 7 quarters, which continue to trend down without the advent of Plug's in-house produced lower cost stacks that feature a simpler design and come with a longer useful life.
Images Sourced from Wall Street Forensics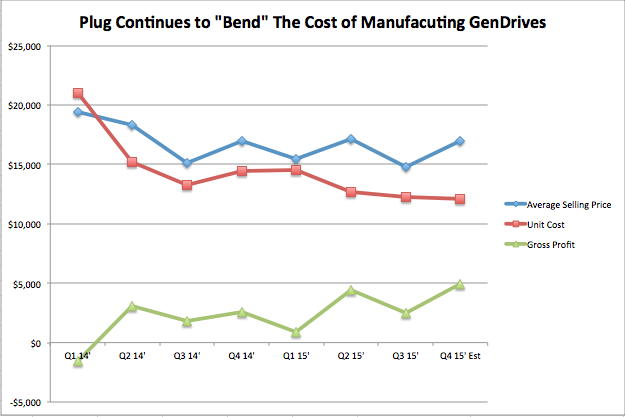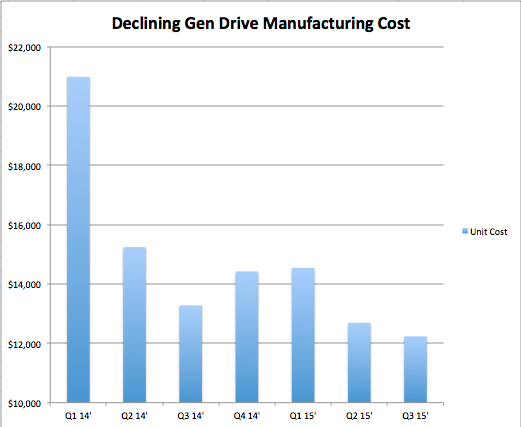 Investors who sold Plug's shares due to a decline in gross margins are missing the boat. Gross margins will expand significantly in Q4 due to an uptick in ASP due to favorable customer/product mix. Additionally, a higher percentage of GenDrives containing Plug stacks will ship in Q4 versus Q3, which will result in additional cost reductions as these units flow through cost of goods sold in Q4 and into 2016 and beyond.
My base case in the forecast below depicts a tightening GenDrive ASP due to a larger and more diversified customer mix, which will draw ASP towards the historical mean and limit the ASP fluctuation over time. In terms of COGs, my base case calls for a continuous decline over the course of 2016 as the percentage of Plug stacks deployed into the field increase throughout the year.
Image Sourced from Wall Street Forensics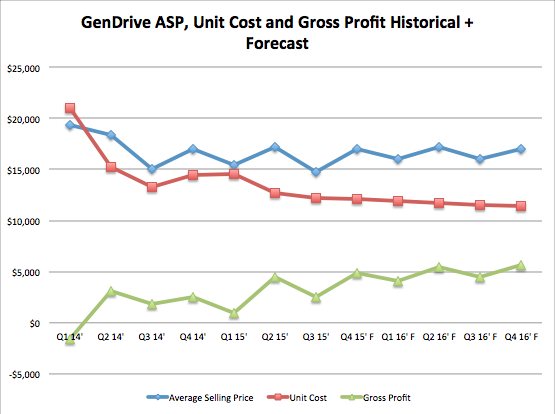 Last week, Plug announced that it was sourcing fuel cell membrane electrode assemblies from 3M (NYSE:MMM). The announcement confirmed the name of the company that has been working on Plug's internal designed stacks since the summer of 2014. Plug's announcement was not made to deflect attention from premature stack failures discussed during the Q3 conference call. Plug announced 3M as the supplier to celebrate another achievement and fulfillment of management's strategic vision to produce stacks in-house by Q4 of 2015.
To date, the Plug Power and the HyPulsion stack development team have evaluated MEAs from key membrane suppliers, like 3M and others, and have selected a finalist to use in our own design. Additionally, simulations have been completed to determine plate active area and the size of the stack needed for our products. During this quarter, the stack design was tested in France and is currently being tested in Latham, New York, where we've seen favorable results. We remain on schedule to release this product in the fourth quarter of 2015. (Andy Marsh Q3 2014 CC)
The only reason why Plug's revenue came in below my estimate of $33.4m in Q3 was due to unfavorable product mix that led to a steep decline in ASP during the quarter. As many of you are aware, Plug offers 3 classes of GenDrives, which are referred to as the Class 1 (lift truck), Class 2 (reach truck) and Class 3 (rider pallet jack) with the ASP being the highest with Class 1 and lowest with Class 3. Each class is equipped with a different voltage amount that determines the power that can be delivered to the forklift. Each GenDrive class is also equipped with different casing, but other than that the units are interchangeable.
From a component standpoint, the assembly process and materials that go into the assembly of a Class 1, 2 or 3 units are almost identical. As a result of the uniformity of the base, parts and assembly process the cost of goods sold for each unit is fairly uniform and consistent across all 3 classes.
The Class 3 units are in high demand by retailers, including Wal-Mart, while grocery stores such as Kroger (NYSE:KR) and the Big Box retailer known as The Home Depot (NYSE:HD), "Plug's Newest Billion Dollar Cow", will gravitate to high power Class 1 and 2 units.
Plug's product gross margins are strongly influenced by customer installation mix. During the 3rd quarter, Plug experienced a larger mix of Class 3 installations largely due to the deployment of several Wal-Mart distribution centers in Q3.
As a result of the installation cadence from customers, Plug's GenDrive ASP dropped over $2,400 per unit in Q3 versus Q2. The drop in $2,400 GenDrive ASP in Q3 resulted in over $3m of revenue that was not recorded in Q3 due to normal fluctuations in GenDrive ASPs based on customer mix.
Plug's management has laid out financial and gross margin targets for Q4, which include a third consecutive quarter of record revenue ($35m target) and a sharp improvement in gross margins (25% target).
The most important question that investors have is will Plug achieve these targets? Or will investors get dressed for the party only to find out that Plug stood them up again?
My answer is an unequivocally a resounding yes. Plug will not only meet expectations, but exceed them. I'm not going to provide my estimates for revenue and gross margins today, but I can tell you both targets ($35m revenue) and (25% product gross margin) are closer to an uncontested lay-up than a 3-point shot.
Plug is on track to finish out 2015 with year-over-year revenue growth of over 58%. GenDrive gross margin improvement of over 80% from 13% in 2014 to 23% in 2015. Gross profit generated from each GenDrive unit sold is on track to finish the year up over $1,600 per unit to just under $3,800, or a 74% increase from $2,165 in 2014. Some critics have argued that the more Plug sells the more it loses on each unit and that is absolutely 100% false.
Images Sourced from Wall Street Forensics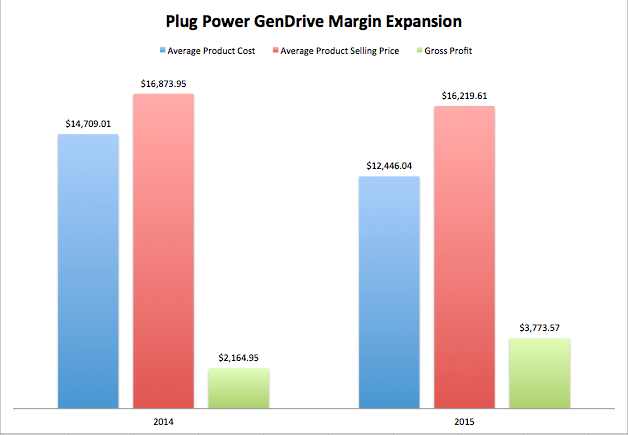 Looking ahead to 2016, Plug is well on track to achieve significant gross margin expansion related to GenDrives but will also make meaningful strides to improve service gross margins despite incurring additional costs of approximately $1m per quarter over the next 6 quarters to replace GenDrive units that require premature field replacement.
An increase in 2016 manufacturing volume over 2015 levels will continue to influence cost of goods sold lower. Internal Plug air-cooled (Class 3) and liquid-cooled (Class 2) stacks that feature simpler designs and fewer parts will also produce meaningful contributions to reduce cost of goods sold in 2016.
Plug's customer list continues to expand and I expect new customers like Home Depot will ramp up site deployments in 2016, which will have a positive impact in ASPs in 2016 versus 2015. An increase in GenDrive ASPs in 2016 is a headwind for gross margins.
My official stance is that Plug's Q3 surprise decline was merely a speed bump that could have been avoided if management delivered proper messaging to investors and analysts surrounding product mix heading into Q3. Management to its credit has already indicated that Q4 product mix will improve versus Q3, but only to defend gross margin estimates of 25% in Q4.
I'm expecting Plug's Q4 results to show a dramatic improvement in product gross margins and expect the company to deliver revenue ($35m target) and product gross margins (25%) in excess of targets due to specific measurable and predictable tailwinds that include favorable product mix coupled with another quarterly drop in COGs. I also believe GenDrive gross margins will move above 30% in 2016 driven by increased manufacturing volume, internal Plug stacks and additional volume discounts from suppliers.
Disclosure: I am/we are long PLUG.
I wrote this article myself, and it expresses my own opinions. I am not receiving compensation for it (other than from Seeking Alpha). I have no business relationship with any company whose stock is mentioned in this article.