Canada and the US are both very large oil-producing countries, with the US being ranked 1st and Canada 5th. Per capita, Canada's production is about 3 times the US's. Of course the US being much larger has by far the largest companies, and those companies tend to have resources world-wide. The very largest US oil company is Exxon (NYSE:XOM) with revenues of over $350B per year. Suncor (NYSE:SU), on the other hand, has revenues of about $40B per year. In this article I will present 8 reasons I think Suncor is currently the best investment alternative.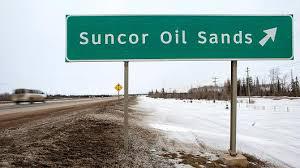 1. Suncor is in the safest of jurisdictions.
In an unstable world where oil geopolitics continually runs amok, having all of your assets in Canada is a very safe bet. Not only is Canada a pillar of democracy its government realizes the importance of its oil industry (it is the largest exported product) and the Canadian government is unlikely to pass any laws severely depreciating its capabilities. Exxon on the other hand is very diversified world-wide and that has some value. The problem with that diversification is the number of Exxon locations that are in unstable countries or countries in turmoil or countries where government dictates can change 180 degrees upon an election or a coup. I think it is fair to say that Nigeria, Chad, Equatorial Guinea, Angola, Saudi Arabia, Qatar, Papua New Guinea, Venezuela et al are much less stable than Canada.
2. Suncor's $20 per barrel operating costs allow it to make significant profits even at $40 oil.
At a recent meeting Suncor CEO Steve Williams stated 2016 OPEX will be about C$27-30 or about $20 US. This is the result of continuing cost improvements by Suncor since 2013. Also since all the oil reserves are in the same area, CAPEX is minimized because E&P expense is almost zero - they know where and how much oil they have and they have about 50 years worth. No need to go to Angola to look for oil.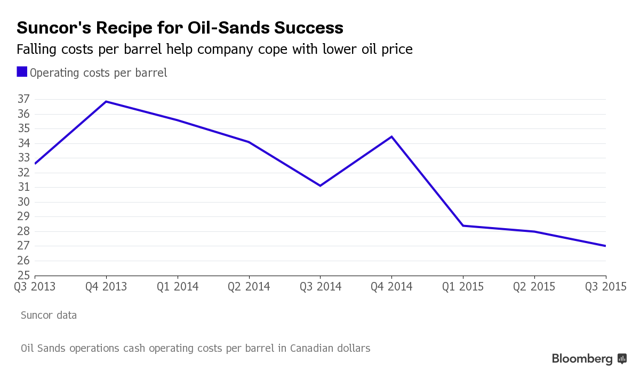 3. Suncor just increased its dividend to 29 cents per quarter from 28 cents.
It is likely that Exxon's dividend will not be raised this year due to the decrease in cash flow. Exxon has already cut back its stock buyback program from $3B to $1B to 500M per quarter so it only makes sense that the dividend will be frozen until (or if) oil prices go back up.
4. On an Operating Cash Flow (OCF) basis Suncor is doing much better than Exxon.
For the quarter ended Sept. 30, 2015 Suncor's price to OCF was about 15X ($28/$1.91) compared to Exxon's 43X ($80/$1.87). OCF is Important because all good things start with it. And it is OCF where Exxon has had trouble in the last 12 months with OCF dropping 26% from $12.4B to $9.1B while Suncor's has stayed virtually the same at $2.91B vs $2.8B.
5. Warren Buffett sold all his Exxon but bought more Suncor.
In the 4th quarter 2014 Buffett sold 100% of his Exxon shares. He liked the company but did not like their prospects in the new low-oil price environment. "We thought we might have other uses for the money," he said, and was quick to add, "Exxon Mobil is a wonderful company."
On the contrary, Buffett added to his position in Suncor in the 3rd quarter of 2015. Now Buffett is not perfect but when he dumps one company's stock in its entirety and continually adds shares of a competitor you have to pay notice. Apparently he sees one better use of Exxon funds is to buy more Suncor.
6. Suncor is a "little Exxon," but domiciled in one very safe country with a low-cost source of products.
Suncor has a full range of upstream and downstream businesses. Not only do they have the oil sands as a source they have refineries specifically designed to handle the heavy crude that comes from oil sands. And they have Petro-Canada a full retail and wholesale distributor of the output from their refineries.
7. Exxon is facing potential reserve write-downs; Suncor is not.
Even with its huge world-wide resource base of 25 billion BOE (barrels of oil equivalent) Exxon continually finds more oil than it produces. Last year it replaced 104% of the oil equivalents it produced. The problem is of those 25 billion BOE there must be some that are not economic to produce at $40 or even $50 a barrel and oil companies are required to calculate those reserves each year. From Exxon's 2014 10K:
"Proved oil and gas reserves are those quantities of oil and gas, which, by analysis of geoscience and engineering data, can be estimated with reasonable certainty to be economically producible - from a given date forward, from known reservoirs, and under existing economic conditions, operating methods and government regulations - prior to the time at which contracts providing the right to operate expire,"
and:
As required by the Financial Accounting Standards Board, the standardized measure of discounted future net cash flows is computed by applying first-day-of-the-month average prices, year-end costs and legislated tax rates and a discount factor of 10 percent to net proved reserves.
8. If oil prices stay down, Exxon will eventually face a credit rating downgrade.
This idea was unthinkable a year ago but now you have to wonder if shale oil (and Iran) marks a paradigm shift in the oil industry, a slow moving Black Swan as it were. Barring a war in the Middle East I don't think oil prices will ever see $80 again and if that is true then credit agencies will have to look closely at all the major oil companies. Will that happen this in 2016? No, but if prices remain subdued then 2017 could see a slew of downgrades or at least credit warnings for all the oil majors. For more on Exxon's downgrade possibility see my article "5 Reasons Why Exxon's AAA Credit Rating Is In Jeopardy". Also here is my article on why I think prices will remain low until at least 2018 "4 Reasons Why Saudi Arabia Will Keep The Spigots Open Until 2018". And SA contributor Robert Aguilera, co-author of the book "The Price of Oil" makes his cogent arguments for continuing low oil prices here.
Conclusion
As Buffett said, Exxon is a great company, but at this point in the cycle, Suncor is a better investment. Exxon's far flung asset base was once a strength but now may be a detriment especially if prices remain subdued for years. Of course they may lessen the damage of low prices by picking up assets on the cheap but long-term low prices will eventually make that less of an advantage.
Personally I would not buy any oil company at this point, but if I did, it would be Suncor. Exxon is a sell and Suncor is a hold until the future direction of oil pricing becomes clearer.
Disclosure: I/we have no positions in any stocks mentioned, and no plans to initiate any positions within the next 72 hours.
I wrote this article myself, and it expresses my own opinions. I am not receiving compensation for it (other than from Seeking Alpha). I have no business relationship with any company whose stock is mentioned in this article.