I've been actively following the evolving story of Sarepta Therapeutics (NASDAQ:SRPT) for the past two years. Sarepta's lead compound Eteplirsen, an exon-51 skipping duchenne muscular dystrophy treatment emerging from the company's RNA remodeling technology, is the subject of its own Peripheral and Central Nervous System Drugs Advisory Committee meeting tentatively scheduled for January 22, 2016 with an accompanying PDUFA date of February 26th. For most shareholders of developmental biotech enterprises, one Adcomm involving a therapeutic on the cusp of regulatory approval is anxiety inducing enough but for Sarepta there are two.
Competing commercial and developmental stage biotech BioMarin (NASDAQ:BMRN) presently has a 2-month lead on the road to approval with their own RNA altering exon-51 skipping therapeutic Kyndrisa (formerly Drisapersen) up for Adcomm consideration this coming Tuesday, November 24th with a PDUFA date of December 27th prior to the merits of Eteplirsen ever being discussed at Adcomm.
The Essential Arguments In Favor Of An Approved DMD Drug
I think it's fair to say that up until this past Friday at 5:54 AM PST, most observers of these 2 companies and their upcoming Adcomms expected that because of a dearth of therapies offering real benefit to the child sufferers of this terrible disease, and since both compounds offer similar mechanisms of action but differing results that might appeal to different patients, that both Eteplirsen and Kyndrisa would ultimately be approved by the FDA. Briefing documents critical of Kyndrisa, however, exacerbated BioMarin's slumping share price while igniting Sarepta's by as much as 30%. One look at this next slide provided by BioMarin will no doubt tell you that one of these drugs will be an approved therapy for the approximately 9,750 patients amenable to exon-51 skipping worldwide.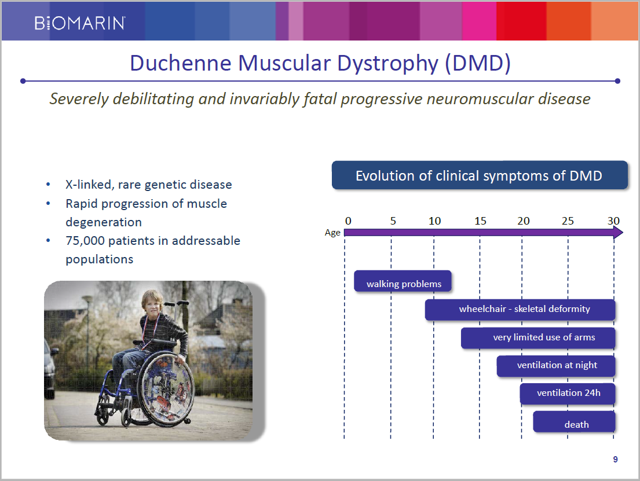 The Essential Arguments In Favor Of Kyndrisa Approval
Like Eteplirsen, Kyndrisa has been granted Orphan drug status and Priority Review in the U.S. but also in Europe, and unlike Eteplirsen, has also received the coveted Breakthrough Therapy designation by the FDA in June of 2013. Over 300 patients have participated in 3 randomized, placebo-controlled trials and 2 open label studies using an endpoint that has supported multiple product approvals. In fact, BioMarin argues that Kyndrisa patients have over 500 years of cumulative exposure to the drug.
Additionally, Kyndrisa has been proven to delay the progressive decline in motor function of DMD patients measured by baseline walk distance, has also done so in more advanced patients, and demonstrated pronounced benefit in those with a treatment duration in excess of 2 years. And while there have been some mild-to-moderate side effects along the way, none, according to CEO Jean-Jacques Bienaimé, have been severe.
And finally, Kyndrisa's sponsor BioMarin has a list of approved therapeutics in a commercial pipeline that is 5 products deep and generating up to $900M in annual revenues. They also have a history of good relations with the U.S. regulatory body that can best be summed up in this response to Adam Feuerstein's recent article providing his take on the aforementioned briefing documents.

What this respondent failed to note was that there will be no vote of committee members on approval of the drug. More on that later.
The Essential Arguments In Favor Of Eteplirsen's Approval
Sarepta seems to lack everything that BioMarin has. Far fewer patients have been exposed to the drug, fewer trials have been conducted and none of them placebo controlled. Furthermore, Sarepta's former CEO had a troubled history of communications with the FDA that led to his abrupt departure earlier this year.
What Eteplirsen does have going for it, however, might be even more important in the eyes of a regulatory agency entrusted to protect the health and well-being of children with this debilitating illness. Eteplirsen appears to be more effective, with fewer side effects and no patients discontinuing treatment for any reason.
It's also worth noting that neither company has to deal with competing therapies or big pharma interests at their respective Adcomms and, therefore, fall to the benign end of the spectrum in my Regulatory Bias Index.
The Application Of A Thaumaturgical Analysis Revealed Trouble Ahead For BioMarin
I've been doing tarot card readings of biotechnology stocks for quite some time now. This particular analysis is but one of many that I've posted on the internet in the form of educational videos. Though only as perfect as the flawed practitioner that publishes them, they've been as successful at pointing me towards problems with an equity, as they have been controversial to some of my readers. While I don't expect everyone to embrace what to me is a sacred practice of divination refined for over 2-decades through discipline, attention to detail and reflection, I would also appreciate not being derided with ad hominem attacks. These readings are done in addition to left-brained analyses and must conform to logical assessment or they're discarded. Interestingly to me, investors seem to readily accept stock chart readers who claim that a cup and handle formation, for instance, is auspicious to a biotech stock performance, or that insider selling is a good indicator of a stock's decline when I've recently debunked that myth.
This reading on Sunshine Heart (NASDAQ:SSH) led me to the subsequent observation that the Counter-HF study was suffering from slow enrollment inspiring my short thesis that led to a 76.8% decline in equity value. I've predicted disastrous outcomes for numerous companies and therapeutics including Amarin's Vascepa at the now notorious ANCHOR Adcomm. My well publicized exception to success was predicting on a "soft signal" reported privately to a fellow contributor that the FDA didn't want MannKind's (NASDAQ:MNKD) Afrezza approved as an insulin therapy, something the comportment of agency representatives at Adcomm seemed to suggest and the subsequent labeling of Afrezza for commercial failure seemed to confirm. It was, in fact, a rebellion by Adcomm committee members against FDA guidance that, I believe, precipitated a change in the format of this Adcomm by not allowing committee members to vote for Kyndrisa's ultimate approval.
The Best Way To Detect Success Or Failure At Adcomm Is To Listen To The Most Recent Corporate Presentation Online
Prior to Amarin's ANCHOR Adcomm, I had the pleasure of listening to CEO John Thero's presentation at Canaccord Genuity in which Mr. Thero spent an excessive amount of time reassuring investors that they were thoroughly prepared for the upcoming binary event. According to Thero, they'd hired numerous consultants and were even role-playing various question and answer scenarios. This was a clear indication to me that something was seriously awry that other investors were seemingly oblivious to. And so, I made it a point to listen to the presentations of CEOs prior to their dates with destiny.
Like Thero, BioMarin CEO Jean-Jacques Bienaimé seemed unsettled at the recently held Credit Suisse Healthcare Conference in which he pressed a case for Kyndrisa approval that not even he believed to a certainty. To illustrate this, listen to Bienaimé's attempt to play down Kyndrisa's side effect profile.
Adverse event profile: now we have 500 years of exposure so we have a pretty large safety data base. We believe that adverse events are, you know, mild to moderate, most of them and have resulted in treatment discontinuation in very few patients - less than 5% of the patients in all of the studies.
Contrast this with the FDA's opinion expressed within the briefing docs.
Even in the context of an invariably disabling and fatal disease such as DMD, the safety profile of drisapersen is concerning ... Severe toxicity across many organ systems was encountered in the nonclinical studies, and appeared to predict a number of the adverse events that were subsequently observed in the clinical studies.
Because there can't be 2 distinct realities, either Bienaimé is minimalizing or the FDA is exaggerating. But regardless of who is right or wrong, the treatment population is, for the most part, composed of children. Consequently, the issue is one that needs to be addressed realistically.
Bienaimé seemed to struggle to justify Kyndrisa's trial designs claiming that they were out of BioMarin's control. It should be noted that the compound was acquired in the midst of clinical experimentation from Prosensa.
Here's a recap of the Phase-2 again, we have 2 randomized, placebo controlled, Phase-2 trials. The DEMAND-2 trial which was the first, by the way, those 2 trails were done concomitantly. Actually, the 2 Phase-2 trials and the Phase-3 trial were done concomitantly so, which is the history of the development of the product so, we, it was difficult to use the Phase-2 data to learn how to design the Phase-3 trial. Again, this was not, at that time, under our control.
Notably, the Phase 3 trial failed to reach its primary endpoint with statistical significance. This too is a problem that no amount of charismatic persuasion will gloss over easily. And in this particular setting, Bienaimé spent an inordinate amount of time explaining away Kyndrisa's shortcomings rather than emphasizing positive attributes. I find this to be a clear indicator of trouble ahead.
Sometimes A Question Posed Provides An Unexpected And Better Answer Than The One Intended
In stark contrast to Bienaimé's presentation at Credit Suisse, Sarepta CEO Ed Kaye, M.D. seemed remarkably relaxed and well composed at the Q3 2015 Earnings Call held on November 5th. But it wasn't what he said during the presentation that caught my attention but, rather, a response in the following Question and Answer session that brought the reality of this situation into crystal clear focus.
The question had to do with BioMarin's drug coming to market first and how there would be a rush from parents to get their kids on Kyndrisa which would make them unlikely to switch if and when Eteplirsen arrived. Here's the latter part of Kaye's rather hopeful answer.
If you recall, we started this a few years ago, we were two years behind. A couple of months difference now. I think based on the profiles of the drugs, I think over time people will chose whatever drug is best for the patients.

So I think it's a temporary setback but it's something that we certainly - I think give people the data and reasonable people make a reasonable decision.
The better answer to that question might come from the desks of FDA regulators who are no doubt entertaining the same possibility. In other words, is it in the best interest of DMD children to have Kyndrisa come to market first? The answer, of course, is no. And because of this, I believe BioMarin will either receive a CRL prior to Kyndrisa's PDUFA date or a postponement of that date which will allow for Eteplirsen to come to market first.
And it is for this reason, that I'm initiating coverage on Sarepta Therapeutics with a 3-month price target of $60. A more thorough examination of Sarepta's technology and pipeline will be forthcoming but for now, I've consumed all the time and attention you're likely able to give me.
In Conclusion
Duchenne Muscular Dystrophy is a cruel disease that needs therapies to address it. Both of these products offer benefit to exon-51 skipping patient subgroups. But Sarepta's offers, on balance, greater benefit at higher doses with significantly enhanced tolerability. This is something regulators can't and won't ignore.
Because my hypothesis is that at least 1 of these 2-drug candidates will be an approved therapy, I don't need to know if Sarepta's Adcomm will be a success or failure because BioMarin's clearly won't be. The only nuance might be a postponement of Kyndrisa PDUFA date for the unexpressed purpose of allowing Eteplirsen to go to market first.
If I'm right, Sarepta is a $60 stock overnight. If I'm wrong on any level, then Sarepta's stock will fall slightly on follow-on approval and precipitously on denial. But that's biotech!
Always be well...
Disclosure: I/we have no positions in any stocks mentioned, but may initiate a long position in SRPT over the next 72 hours.
I wrote this article myself, and it expresses my own opinions. I am not receiving compensation for it (other than from Seeking Alpha). I have no business relationship with any company whose stock is mentioned in this article.
Additional disclosure: Any information or opinion expressed herein may not be true, accurate or correct and it does not constitute any suggestion to buy, sell, hold or adopt any investment strategy for this stock or any stock that may be mentioned. Reliance upon information in this article is at the sole discretion of the reader. The sole purpose of my article is to entertain by providing information, the accuracy of which is as good as the public sources it was derived from. Do not act on anything I have written. Rather, do your own due diligence and consult an investment professional before making any investment decision. Acting on what any one writer, including me has imparted to you is foolish at best. I have no better access to resources or gift of opinion formulation than you do. I sometimes make mistakes. There are a myriad of things, which can happen in lieu of any forward-looking statement I have made. Any stock featured or mentioned in an article I compose is subject to all manner of influences, which can change its value in dramatic fashion upwards or downwards. These events can be of a wide variety not limited to news-related occurrences, managerial decisions, trial failures, stock manipulations and so on. I make every effort to declare positions I have in stocks I cover or mention in an article but reserve the right to move in and out of said investments at my own discretion based upon the wisdom of doing so. I implore you to do your own due diligence, invest at your own considerable risk attaining the just reward your efforts have wrought.