Introduction
On November 8, 2015, two large timber real estate investment trusts, Weyerhaeuser (NYSE: WY) and Plum Creek (NYSE: PCL), announced a proposed merger, which if approved by shareholders is projected to close in late first quarter (or early second quarter) of 2016. This stock for stock merger would result in Weyerhaeuser issuing 1.60 shares for each Plum Creek share. The pro forma ownership would be WY shareholders owning 65% and PCL shareholders owning 35% of the merged company. Weyerhaeuser would be the surviving entity, however, for clarity's sake, I will hereafter refer to the merged company as WY/PCL. The stated implied premium to Plum Creek shareholders based on a 30-trading-day volume weighted average is 13.8%. Other particulars of the transaction include a post-merger $2.5 billion share repurchase program, a strategic review of Weyerhaeuser's Cellulose Fibers business, and $100 million in annual "hard" synergies, primarily obtained from corporate and operating overhead cost savings.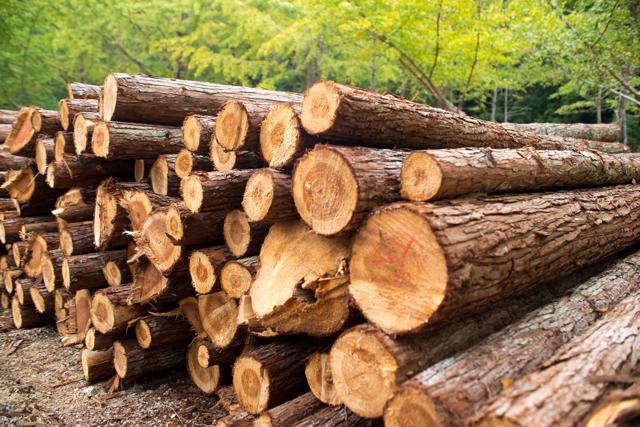 This proposed merger of two timber real estate investment trusts would create a timberland behemoth. WY/PCL would own 13 million acres of productive timberland, with an estimated $23 billion equity market cap. To put this into perspective, currently there are five publicly traded U.S. timber REITS with a total market cap of $27.6 billion. These five timber REITS are shown below. The WY/PCL combination represents a merger (by value) of almost the entire U.S. timber REIT universe, with WY/PCL representing approximately 83% of the respective recent market cap of the U.S. timber REIT space.
Weyerhaeuser $16 billion
Plum Creek $7 billion
Rayonier (NYSE: RYN) $2.87 billion
Potlatch (NYSE: PCH) $1.30 billion
CatchMark (NYSE: CTT) $0.43 billion
Total for timber REITS $27.6 billion
Note: In addition to the above listed timber REITS, there are two other publicly traded timber companies that are within the public U.S. timberland investment universe. However, neither of these two companies shown below are REITS.
Deltic (NYSE: DEL) $0.76 billion
Pope Resources (NASDAQ: POPE) $0.25 billion
Data Sources: WY and PCL, company news release. Other data from Yahoo Finance.
For investors wanting to invest in publicly traded U.S. timberland, this proposed WY/PCL merger is a material event. Granted, publicly traded timber is not the only way an investor can gain exposure to U.S. timberland. For example, investors can own timberland directly, but this alternative is beyond the capabilities of many investors due to the complexities and risks associated with the owning and operating of large tracts of land. Large institutional investors do buy timberland, frequently either directly or via pooled private equity investment vehicles. This private equity institutional market is estimated to be about $60 billion in size. The WY/PCL combination is large relative to both the timber REIT public market and the institutional private equity market for timber. What does this mean to Plum Creek shareholders, to WY shareholders, and to other timberland investors?
Is this merger good for Plum Creek shareholders?
For Plum Creek investors, this transaction is good news. If I owned PCL (which I don't, nor do I own any of the other stocks mentioned), I would be delighted. I collect a 13.8% premium. In addition, the combined WY/PCL represents a more diversified timberland portfolio, thus reducing risks. For example, while Plum Creek currently owns timberland in the Pacific Northwest, Lake States, New England, and the Southeast, its portfolio has less exposure to timber export markets (primarily exports to China, South Korea, and Japan) as compared to Weyerhaeuser's portfolio. In addition, a Plum Creek shareholder (who swaps for WY stock) also obtains its pro-rata future share of the reported $100 million annual "hard" synergies. Finally, the WY/PCL shareholders are expected to receive dividends of $1.24 per share, which is a 13% increase for Plum Creek shareholders.
But what about the counter arguments? Some of Plum Creek's "naysayer" shareholders could argue that a better deal could be had and that the reported cost/revenue synergies will not develop. Let's first discuss the "better deal" argument (and postpone the synergies issue for later).
It is always possible (though I suspect unlikely) that another bidder(s) will enter the public process and increase the bid. Thus a Plum Creek shareholder has not completely foregone obtaining a better price via the public markets. But what about obtaining a better price in the private markets? Disgruntled Plum Creek shareholders could argue that a better price could be had if the company was sold or liquidated via the private market. The main thrust of this line of reasoning is that private timber equity markets tend to trade at higher values than do public markets. However, there are a couple of counter arguments to this line of reasoning. First, any such transaction needs to transact at a price above the stated 13.8% premium. Second, many private equity buyers want pure forestland (not mills) and do not typically want to buy corporations (as opposed to the real estate assets). In addition, taxes could be a material factor if Plum Creek sold assets. Finally, Plum Creek shareholders have not completely foregone the speculative opportunity to get a better price via the private markets as WY/PCL still retains an ability to sell assets (which it likely will do on an ongoing basis to optimize its portfolio).
Is this good for Weyerhaeuser shareholders?
For Weyerhaeuser shareholders, they probably are less excited about the merger. Weyerhaeuser shareholders could have created a synthetic WY/PCL portfolio by holding their WY shares and buying PCL shares without paying the 13.8% premium. Furthermore, the net diversification benefit of the larger timberland portfolio for a WY shareholder isn't as much as for a Plum Creek shareholder. Plum Creek's Northeast and Lake State assets have low values per acre, and on a value weighted basis, may not significantly change the WY/PCL portfolio's risk (versus the WY portfolio) due to these added diversified holdings. From a Weyerhaeuser shareholder's perspective, this looks more like a doubling of a bet on Southeast U.S. timberland. While this may prove to be a good or bad bet, shareholders could have taken this bet without Weyerhaeuser taking it for them. In addition, this combined portfolio possibly has added net risk to a WY investor due to the larger net bet on Southeast U.S. timber. (Although this Southeast timber exposure may be somewhat lessened due to a previously announced pending sale of 260,000 acres of timberland from PCL's Southeast portfolio into a JV structure (Twin Creeks Timber LLC), with PCL retaining a 25% interest in the JV.)
On a more positive note, if WY wants to grow its timberland base, buying timber via the public markets can be a more cost effective way to grow than purchasing assets via the usually higher priced private markets.
What about the reported $100 million synergies?
The WY/PCL press release, presentation, and conference call provided only limited insights into the $100 million synergies. The synergies are reported to be "primarily corporate and operation overhead cost savings," with management stating on the conference call that about 80% of the savings would be attributed to "head office" and 20% to "within the regions." This $100 million is stated as an ANNUAL perpetual stream of $100 million "hard" synergies. In addition, management states that other significant operational synergies are not included in this $100 million figure. Without further detail, these synergy statements are hard to vet. As one caller on the conference call stated, "in the past, assumed synergies have tended not to fully materialize." Whether these synergies actually can be captured to the amounts claimed are especially important to a Weyerhaeuser shareholder, whose primarily benefit is receiving its future ongoing pro rata share of the synergies.
The magnitude of these synergies begs a few questions. If there is that much "corporate and management overhead" to be saved, does this suggest that the pre-merged companies could have shed much of these costs without merging? Conversely, if there truly is this much cost savings, then RYN, PCH and CTT could be at a competitive cost disadvantage. OR, maybe this "efficiency" or "inefficiency" issue sheds light on the cost of holding timber in a public vehicle and helps explain the price differential between the private and public timber markets. Bottom line is that whatever the true answer, management needs to provide more cost saving detail such that investors can properly evaluate the transaction. Hopefully more information will be forthcoming in the proxy statements.
What about the other public timberland investors? What does this transaction mean to them?
As previously stated, an investor could have created his/her own synthetic WY/PCT portfolio without Weyerhaeuser having to create it for them by paying a premium. All an investor needed to do was buy the respective amounts of WY and PCL shares. However, an investor would not have been able to squeeze any cost synergies out of this synthetic portfolio.
The WY/PCL position becomes a virtual U.S. timberland REIT index, comprising about 83% of the timber REIT public market. (Note: This 83% figure is merely for public U.S. timber REITS, which represents only a fraction of the total timberland ownership. In addition, timberland is also owned by other entities including private landowners, institutions, state and federal governments, and Native Americans.) While investors may benefit from the increased liquidity of the WY/PCL shares due to its larger market cap and likely larger daily trading volume, investors have one less timber REIT option to choose from. This downside may be more than offset by the benefit of making the WY/PCL combination a more efficient operating structure. To properly weigh these trade-offs, it is again important to better understand the synergies.
Summary
The proposed WY/PCL merger will result in it representing about 83% of the public U.S. timber REIT market.
PCL shareholders should benefit from the transaction via the price premium, the reported synergies, the increased dividend, and the net timber portfolio diversification benefit.
For WY investors, a lot of their benefit relies on the reported synergies. Furthermore, the transaction represents a doubling of a bet on the performance of Southeast U.S. timberland, with less net diversification benefit (as compared to PCL's diversification benefit). WY shareholders could have taken this Southeast timberland bet themselves without WY taking it for them. However, if WY wants to increase its timberland holdings, buying timberland in the public markets is likely a better method than purchasing assets in the private market.
For other investors, they will have the ability to invest in a merged timber behemoth (WY/PCL) that represents a virtual timber REIT "index." This merged entity should be more efficient than the two pre-merged entities. However, investors will have less ability to create their own customized portfolios as the two largest public timber REITS will now become one.
Disclosure: I/we have no positions in any stocks mentioned, and no plans to initiate any positions within the next 72 hours.
I wrote this article myself, and it expresses my own opinions. I am not receiving compensation for it (other than from Seeking Alpha). I have no business relationship with any company whose stock is mentioned in this article.