Strong consumer confidence is often a leading indicator of opportunity in equity markets. Companies in the consumer sector tend to be especially well positioned to benefit as confidence strengthens. With that as a backdrop, Nielsen's most recent survey of Global Consumer Confidence and Spending Intentions was just released. Three of the top 6 nations in consumer confidence are India, China and Brazil. Coincidence or not, each one of these countries is covered by a consumer focused ETF, and the analysis of these ETFs is surprising. But first here's the global consumer confidence leaders and laggards according to Nielsen.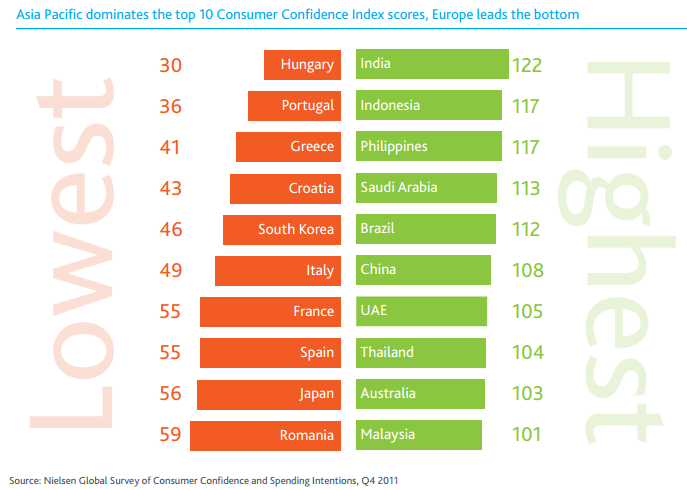 After reviewing the graphic and the study, there are a variety of takeaways. First India has retained its title of consumer confidence champion, which it has held for eight consecutive quarters. This is especially notable as United Nations' data projects India to be the most populated nation in 2020. BRIC mates Brazil and China are in the top 10 as well, showcasing the attitude and potential of the emerging market consumer. Also of note is the bottom of the list, which has a few familiar names in the headlines lately. Could this be a contrarian opportunity? At some point the answer is yes, but not quite yet.
Traditionally, consumer confidence levels are closely followed in developed countries where domestic consumption makes up more than 50% of GDP. Today, as emerging markets like India and China are quickly growing their domestic consumption as a percentage of GDP, consumer confidence is becoming a more relevant market indicator. In that spirit, here's a quick overview and comparison of the consumer sector ETFs that focus on India, China and Brazil.
EG Shares India Consumer ETF (NYSEARCA:INCO)

The leading nation in consumer confidence may have tamed its inflation issues, and appears to be on track for interest rate cuts this year. INCO focuses on a basket of 30 companies within the consumer sector in India. Here's the industry breakdown of the ETF as of 12/31/2011 from EG Shares website. Note the prominence of the Automobiles and Parts industry within INCO.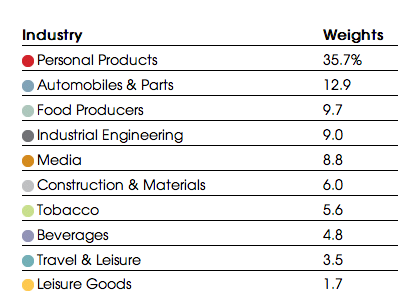 At first glance, INCO has not been very enticing since its launch in August of 2011 which explains its low asset level. In fairness, however, Indian markets did not perk up until the beginning of 2012. Since then INCO has gained a solid 21%, trailing the more well known broad based India ETFs like WisdomTree's EPI and PowerShares PIN. Here's the stockcharts.com performance chart comparing INCO since inception to the largest India ETF, EPI. Notice that INCO held up better during India's tough finish to 2011 but has lagged EPI by a few hundred basis points recently. On a relative basis, INCO appears much more attractive.
Click to enlarge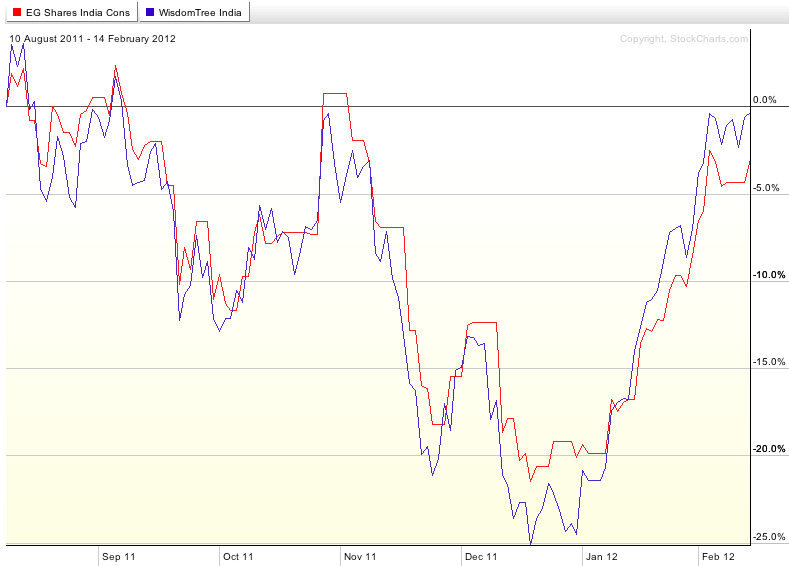 Going forward, many expect India's 8.5% interest rate level to begin to fall this year. Should this happen, domestic consumption will perk up as credit becomes easier for consumers to bear. This could be a boon to the Indian consumer stock sector.
Global X China Consumer ETF (NYSEARCA:CHIQ):
Launching in November 2009, CHIQ has gathered over $150 million in assets and is designed to reflect the performance of the consumer sector in China. Here's a breakdown of CHIQ by industry from the 12/31/2011 fact card. Note that over 45% of this ETF is dedicated to Retail and Consumer Service stocks.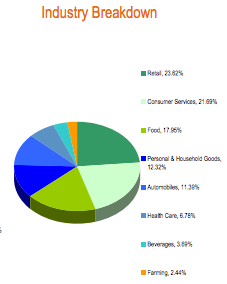 While Chinese markets have been up and down the last few years, CHIQ has produced a smoother ride versus leading broad based China ETFs like iShares' FXI. Here's the performance comparison from Yahoo Finance of FXI versus CHIQ since its inception. Note that they are essentially in the same place after more than two years, but with very different journeys. CHIQ appears to be a great complement for investors who want to see lower volatility from their China allocation.
Click to enlarge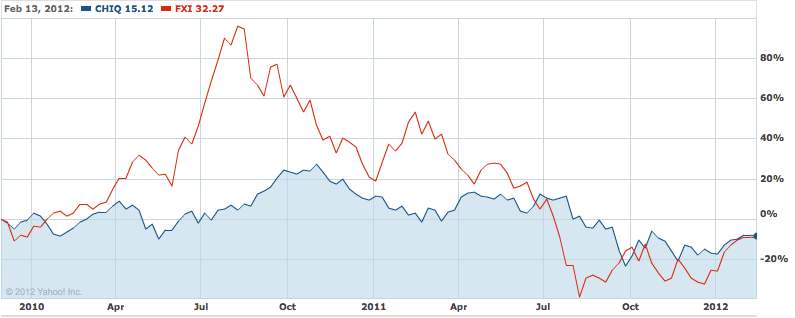 Global X Brazil Consumer ETF (NYSEARCA:BRAQ):
Global X launched BRAQ in July of 2010 and it tracks a basket of around 30 stocks focused in the consumer sector. Unlike other consumer ETFs mentioned, BRAQ is fairly concentrated in a single industry. Food and Beverage companies make up close to 50% of the portfolio. Here's the industry break down as of 12/31/2011 taken from BRAQ's fact card.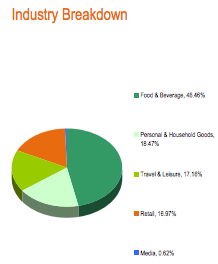 BRAQ's concentration in Food and Beverage companies appears to have worked for it, as it has pummeled the broad based iShares Brazil ETF (NYSEARCA:EWZ) since inception. Here's the performance chart of the two ETFs from Yahoo Finance.

BRAQ has essentially outperformed EWZ for its entire existence. It is surprising that this 30 stock ETF has not gained more interest from investors.
A quick overview of the India, China and Brazil consumer ETFs showcases several interesting investment opportunities. This is especially true relative to traditional broad based country ETFs. Going forward, Nielsen's most recent consumer confidence data for these countries appears to point to continued opportunity for these sector ETFs as a complement to existing allocations.
Disclosure: I have no positions in any stocks mentioned, and no plans to initiate any positions within the next 72 hours.
Additional disclosure: Christian Magoon is the publisher of IndiaETFs.com.