Investors are concerned about the ROE
When Fly Leasing Limited (NYSE:FLY) initiated its IPO back in September 2007, the world was just starting to feel the pinch from the global financial crisis. In the first year or so, the stock price went down from the IPO price of $23 per share to $2.5 per share - almost a 90 percent decline.
While we all mourned and blamed it on the global economy, Fly Leasing Limited management kept on going and delivered some of the company's best years as far as return on equity was concerned.
Figure 1: Fly Leasing Limited Stock Price in Relationship to Its Return On Equity (TTM)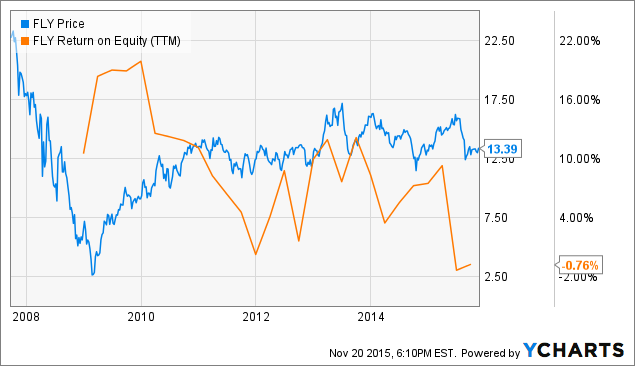 At the end of 2009, at the height of the global financial crisis, Fly Leasing Limited's return on equity (TTM) topped around 20 percent. Unfortunately, however, the performance of 2009 did not repeat itself.
Figure 2: Return On Equity of Fly Leasing Limited Compared to Its Close Competitors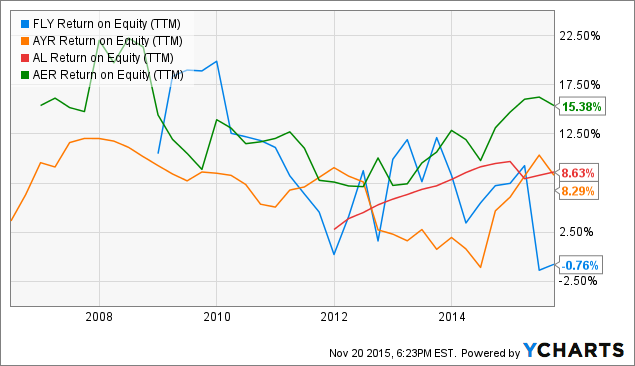 We all know that the aircraft leasing business does not produce returns of 20 percent a year, and nobody is expecting such jaw-dropping performance year after year. But -0.76 percent is not acceptable either, which is Fly Leasing Limited's latest TTM ROE.
If the whole industry were suffering and all of Fly Leasing Limited's competitors, such as Aircastle (NYSE:AYR), Air Lease (NYSE:AL), and AerCap Holdings (NYSE:AER), were having a bad decade, then maybe we could justify it. But its closest competitors are having a great time. AerCap Holdings just posted a 15.38 percent ROE (TTM), where the other two, Aircastle and Air Lease, posted 8.29 percent and 8.63 percent ROE (TTM), respectively.
A Strategy for Improving ROE
After Q1 2015, when Fly Leasing Limited's ROE was higher than that of Air Castle and Air Lease, management tried something new. The Chief Executive Officer, Colm Barrington, took the lead and implemented a strategy to improve the company's ROE.
During the Q2 2015 earnings call, the proud CEO said that, "Our strategy for improving ROE has focused on four main areas. First, selling aircraft and leases that are underperforming; secondly, activity managing our liabilities; thirdly, reducing selling generally and administrative expenses; and fourthly, investing in higher yielding aircraft and leases."
Figure 3: Fly Leasing Limited Quarterly Financials Q2 2014 to Q2 2015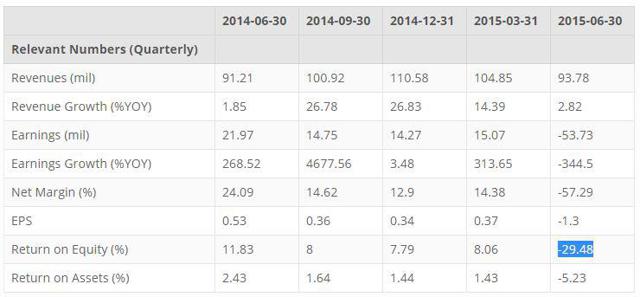 (Source: Capital Cube)
The result yielded Fly Leasing Limited a 29.48 percent decrease in quarter-over-quarter ROE. Well, we do not want to be short-sighted and focus on a single financial metric. Let's find out what caused this.
Figure 4: Impairment Charges Caused The Loss in Q2 2015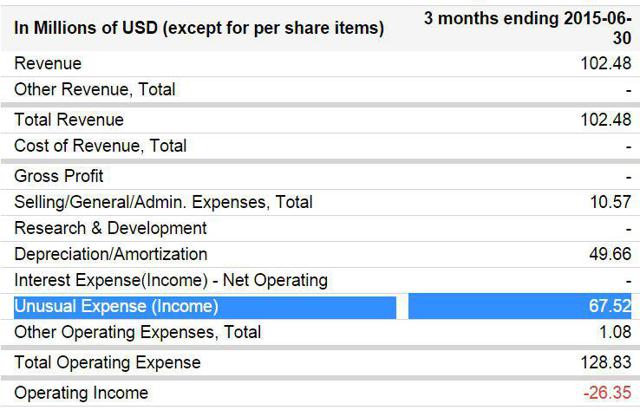 (Source: Google Finance)
Actually, we do not need to dig that deep to understand what happened. During the Q2 2015 earnings called, Gary Dales, the CFO, revealed that Fly Leasing Limited wrote off around $65.4 million in impairment charges. If you bother to check its financial figures, you can clearly see the unusual expense shot up to $67.52 million in Q2, which was the written off impairment charges. So, it was not really the result of the management strategy to turn the company around.
The Fleet Rejuvenation Program Is Going Strong
Fly Leasing Limited decided to sell 57 of its older aircraft over the course of 2015. These 57 aircraft have an average age of 13 years. This fleet rejuvenation program would bring the average age of its overall fleet from 12.2 years to around 8 years.
Besides selling off older aircraft, the company is also acquiring newer models. Like the new cargo aircraft, Boeing 777-200LRF, it acquired in October.
Signs of Hope Lie in the Cash Flow
Figure 5: Fly Leasing Limited Cash From Operations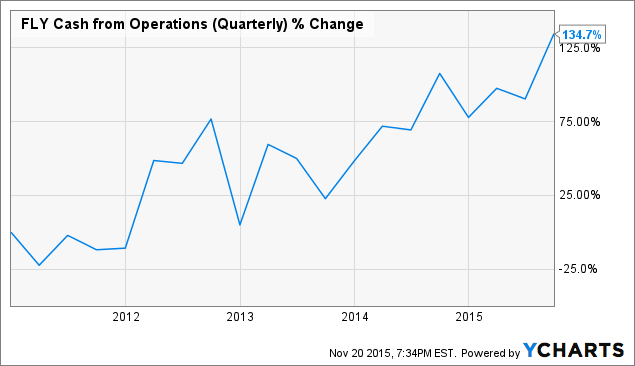 In this part of the thesis, we are finally excited about something, and that is Fly Leasing Limited's cash from operations. It is no fluke that the company has managed to increase its year-to-date cash from operations by 31.96 percent!
Although the top line was capped at $130 million in Q4 2013, since the start of 2011 the company has constantly performed well, and over the last five years it has increased its cash from operations by 134.7 percent. Currently, the quarterly figure stands at $73.36 million.
Conclusion
At first glance, investors may get worried about management's decision to rejuvenate the bulk of the fleet. Especially, the data from Figure 2 had us a little worried. However, if you consider that since January 2014, Fly Leasing Limited has acquired $1.5 billion worth of new of aircraft with an average age of 2 years that the company would be able to lease for the next 10 years, your negative perception is bound to change.
We understand that since July 2015, the stock has not performed poorly. However, it has remained mostly range-bound for the past few weeks. This happened because investors are tentative about the short term, regardless of the long-term prospects of this company.
During the Q3 earnings call, we learned that BBAM, the company that manages Fly Leasing Limited's fleet, has agreed to invest $10 million in FLY stock. That is a good sign, because it understands the potential of this company better than analysts like us.
At the end of Q3 2015, Fly Leasing Limited had quarterly cash and equivalent of $378.87 million, which enabled management to initiate a $100 million share repurchase program and invest $214 million in acquiring new aircraft.
On November 13, five analysts put a price target (higher estimate) of $23, based on Friday's (November 20) closing price of $13.39. This offers secondary investors a 71 percent upside potential. The lower estimate is $15, which is a stone's throw away.
We believe the long-term potential of Fly Leasing Limited would materialize over the next few years. As low fuel price is bound to attract travelers and create organic demand for airlines, the whole aviation industry is going to see an expanding market, and Fly Leasing Limited management seems prepared to take advantage of the situation.
Disclosure: I/we have no positions in any stocks mentioned, and no plans to initiate any positions within the next 72 hours.
I wrote this article myself, and it expresses my own opinions. I am not receiving compensation for it (other than from Seeking Alpha). I have no business relationship with any company whose stock is mentioned in this article.