Chatham, NJ-based Appaloosa Management, headed by David Tepper and Jack Walton, is a legendary hedge fund manager, perhaps most famous for the killing it made in 2009 buying investment banks at distressed prices at the bottom, a contrarian move that netted $7 billion for the fund and gave Tepper one of the biggest pay-days known, at $4 billion (save a purported $5 billion by John Paulson of Paulson & Co. in 2010).
Appaloosa's specialty is distressed investing, an esoteric field even among hedge funds, with most of the big names either being into global macro investing, quantitative strategies or the more traditional stock-picking based long/short approach. Appaloosa in a way combines these by taking a global macro perspective to identify a sector or investment thesis, and then takes it to the micro-level by finding investment ideas that can help it leverage that thesis.
The fund is concentrated in just over 50 positions, with the top five positions accounting for over 55% of its 13-F assets, which were reported to be $765 million in its Q4 filing this Tuesday, February 14th. Approximately a third of its holdings are in large-caps, about 40% in mid-caps and the remaining quarter is in small-cap equities.
The following are Appaloosa's major buys in Q4 based on that analysis, that are also trading under-valued compared to the peers in their group (see Table):
Apple Inc. (NASDAQ:AAPL): Probably among the most innovative companies the world has ever known, this maker of the iPhone, iPod, and iPad, founded by the late Steve Jobs, is one of the world's largest manufacturers of personal computers, mobile communication devices, and portable digital music players. Appaloosa added $73 million in Q4 to their $20 million prior quarter position.
We have written about our bullish outlook on AAPL several times before, and it is telling that even a 'distressed style' hedge fund manager finds value in AAPL shares. The stock, one of the strongest long-term performers in the market, is up a massive almost forty-fold in the past decade and currently trade near all-time highs. Surprisingly, this gem of a company can still be bought for 10-11 forward P/E compared to 9.2 average for its peers in the micro-computer group, while earnings are projected to increase at a compound 30.7% annualized rate from $27.68 in 2011 to $47.29 in 2013, compared to the average 5%-10% growth rates for many of its peers in the group.
Boston Scientific Corp. (NYSE:BSX): BSX is a developer of medical devices used in cardiology, endoscopy, oncology, neuromodulation and other interventional procedures. Appaloosa added a new $46 million position in the company in Q4. BSX reported a disappointing Q4 about two weeks ago, missing on revenue and earnings and guiding FY earnings lower. The stock was initially weak after the Q4 report, but it has since found support and is holding steady, probably based on its cheap valuation and given rumors that emerged shortly thereafter of a possible private equity take-out of the company, most likely at higher prices. The stock, currently off more than 85% from its 2004 highs near $46, trades at a 12-13 forward P/E and 0.8 P/B compared to averages of 29.3 and 3.9 for its peers in the medical products group.
Oracle Corp. (NYSE:ORCL): ORCL develops database and middleware software and business application software and hardware systems for enterprises. Appaloosa added a new $34 million position in the company in Q4. ORCL has been through an eventful couple of months with its shares taking a nose-dive in mid-December after its Q2 (November) came up short, missing on both analyst revenue and earnings estimates. Its shares currently trade at 10-11 forward P/E and 3.2 P/B compared to averages of 38.9 and 4.5, respectively, for its peers in the computer software group, while earnings are projected to increase at a modest 7.6% annual rate from $2.22 in 2011 to $2.57 in 2013.
Delphi Automotive Plc (NYSE:DLPH): DLPH manufactures vehicle components, powertrain, safety and thermal technology solutions for automotive and commercial vehicle markets worldwide. Appaloosa added a new $7 million position in Q4. DLPH has been a strong performer, rising about 50% from its $20 IPO price about three months ago. The company recently released a stellar Q4, beating estimates and guiding FY earnings higher; the stock still trades at a reasonable 7 forward P/E and 5.6 P/B compared to averages of 8.7 and 2.7 for its peers in the auto/truck OEM group, while earnings are projected to grow at a strong 11.9% annual rate from $3.33 in 2011 to $4.17 in 2013.
Select Stocks that Appaloosa is most bearish on based on its moves in Q4 (see Table) include:
Valero Energy Corp. (NYSE:VLO), an independent petroleum refining and marketing company operating through three segments: refining, retail and ethanol, in which it cut $116 million from its $139 million prior quarter position;
Micron Technology (NASDAQ:MU), a leading manufacturer of semiconductor memory solution, including DRAM, NAND and NOR flash memory, phase change memory, and image sensors, in which it cut out completely its $74 million prior quarter position;
United Continental Holdings (NASDAQ:UAL) provides air transportation for passengers, freight and mail with over 5,675 flights daily to over 372 airports on six continents, in which it cut $66 million from its $94 million prior quarter position;
Hollyfrontier Corp. (NYSE:HFC), an independent petroleum refiner and marketer in the U.S., that is engaged in the production of high value light petroleum products such as gasoline, diesel fuel, jet fuel, and other specialty products, in which it cut out completely its $55 million prior quarter position;
Applied Materials (NASDAQ:AMAT), a provider of manufacturing equipment, services and software to the semiconductor, flat panel display, solar photovoltaic (PV) and related industries worldwide, in which it cut out completely its $54 million prior quarter position;
Western Refining Inc. (NYSE:WNR), a refiner and marketer of crude oil and refined products in West TX, AZ, NM, UT, CO and the mid-Atlantic region, in which it cut out completely its $38 million prior quarter position; and
Tesoro Corp. (TSO), engaged in the refining and marketing of petroleum products in the mid-continental and western U.S., in which it cut out completely its $31 million prior quarter position.
Table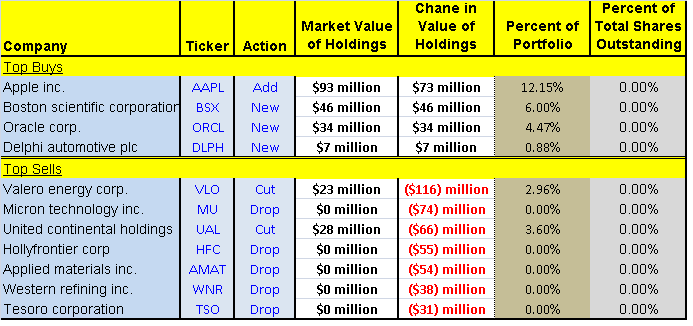 Credit: Historical fundamentals including operating metrics and stock ownership information were derived using SEC filings data, Zacks Investment Research, Thomson Reuters and Briefing.com. The information and data is believed to be accurate, but no guarantees or representations are made.
Disclosure: I have no positions in any stocks mentioned, and no plans to initiate any positions within the next 72 hours.
Disclaimer: Material presented here is for informational purposes only. Nothing in this article should be taken as a solicitation to purchase or sell securities. Before buying or selling any stock you should do your own research and reach your own conclusion. Further, these are our 'opinions' and we may be wrong. We may have positions in securities mentioned in this article. You should take this into consideration before acting on any advice given in this article. If this makes you uncomfortable, then do not listen to our thoughts and opinions. The contents of this article do not take into consideration your individual investment objectives so consult with your own financial adviser before making an investment decision. Investing includes certain risks including loss of principal.