The price of Brent crude has spent most of 2011 above $100 USD per barrel, and is now hovering around $117, threatening to break even higher.
(Click on chart to enlarge)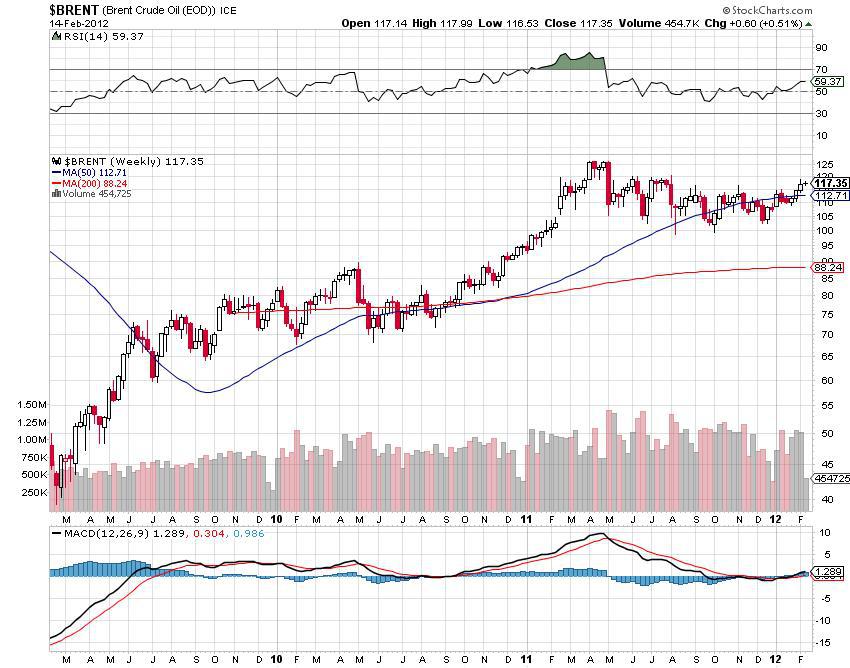 Factors supporting the high world prices include the antics of countries positioning themselves over the impending Iranian oil embargo. In America, the domestic oil price is no different as revealed by the EIA:
The U.S. Energy Information Administration (NYSEMKT:EIA) revealed last week that it expects the price of West Texas Intermediate (NYSE:WTI) crude to average $104 per barrel in 2013.
Kurdistan Oil Consolidation
Amid high oil prices, the oil super-majors are recognizing the difficulties of increasing supplies organically and are taking the path of discovery, and pushing into new frontiers such as Kurdistan, as related in the earlier article. Former BP CEO Tony Hayward's Vallares has merged with Turkish Genel Energy (OTCPK:GEGYF) in fall of 2011. Exxon Mobil (NYSE:XOM) announced its acquisition of six exploration blocks in Kurdistan, in November of 2011, incurring the wrath of the Iraqi central government.
Chevron (NYSE:CVX), Total (NYSE:TOT), Royal Dutch Shell (NYSE:RDS.A) and TNK-BP (Russian private company) are among the oil majors making moves in Kurdistan. Quite simply, the oil majors are moving to the northern Kurdistan part of Iraq, as the oil agreements there have more generous terms than the southern Iraqi agreements have returned, as France's Total observes:
"It's a place where there are important oil and gas reserves and contracts are better" than in the rest of Iraq, he said.
As the oil majors push into Kurdistan, they are creating strong speculative interest as to the possible oil juniors that will benefit from this.
"Acquisitions, relinquishment, consolidation expected"
Oleaginous Candidates
This link provides a large map that outlines the Kurdish oil fields and the major details of each.
DNO International ASA (OTCPK:DTNOF)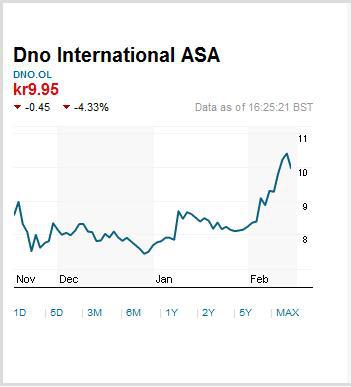 A prime target is DNO, a Norwegian oil firm that has just increased the size of its Tawke oil field in Kurdistan by 25%, to 800 million barrels of recoverable oil. Analysts speculate that this field may contain up to 2 billion barrels. DNO is producing 70,000 barrels at this field per day, and expects to increase this to 200,000 barrels per day.
CEO Eide is very upbeat about the company's buyout speculation and confirms the drilling on Tawke's north flank to confirm the oil extension and that the company is just "approaching the target zone". DNO's fourth quarter 2011 profit was 203 million Norwegian crowns ($35 million USD). Note the recent increase in DNO's share price.
Gulf Keystone Petroleum (GUKYF.PK)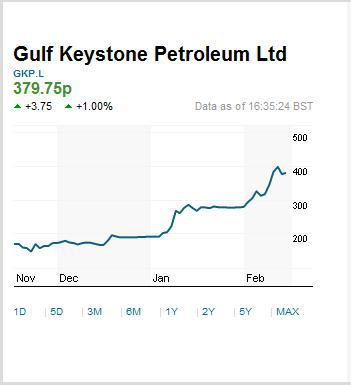 Gulf Keystone Petroleum is a London AIM listed junior oil that has performed spectacularly, with a market capitalization of well over two billion pounds ($3 billion USD). Its shares started rising last fall with Exxon's move into Kurdistan, and it received a boost in January, when the company confirmed an agreement with the Kurdistan Regional Government (NYSE:KRG) to assign interest in their Shaikan and Akri-Bijeel blocks.
GKP has opened up for bidding its 20% share of the prospective Akri-Bijeel block, operated by MOL Hungarian Oil and Gas. The operators' estimate of this resource is P50 of 2.4 billion barrels of oil in place. Drilling began in January at Aqra-1, the first appraisal well. Presently, GKP is appraising the quality of its Shaikan discovery with 3 more wells in 2012. Its initial reported results from January 23, 2012, indicates that its Shaikan-4 well could be the company's best result in Kurdistan to date. GKP is also drilling at Ber Bahr, where there is an estimated 1.5 billion barrel of oil. Note the 33% increase in GKP's share price since the beginning of February, 2012.
WesternZagros Resources (OTCPK:WZGRF)
(Click on chart to enlarge)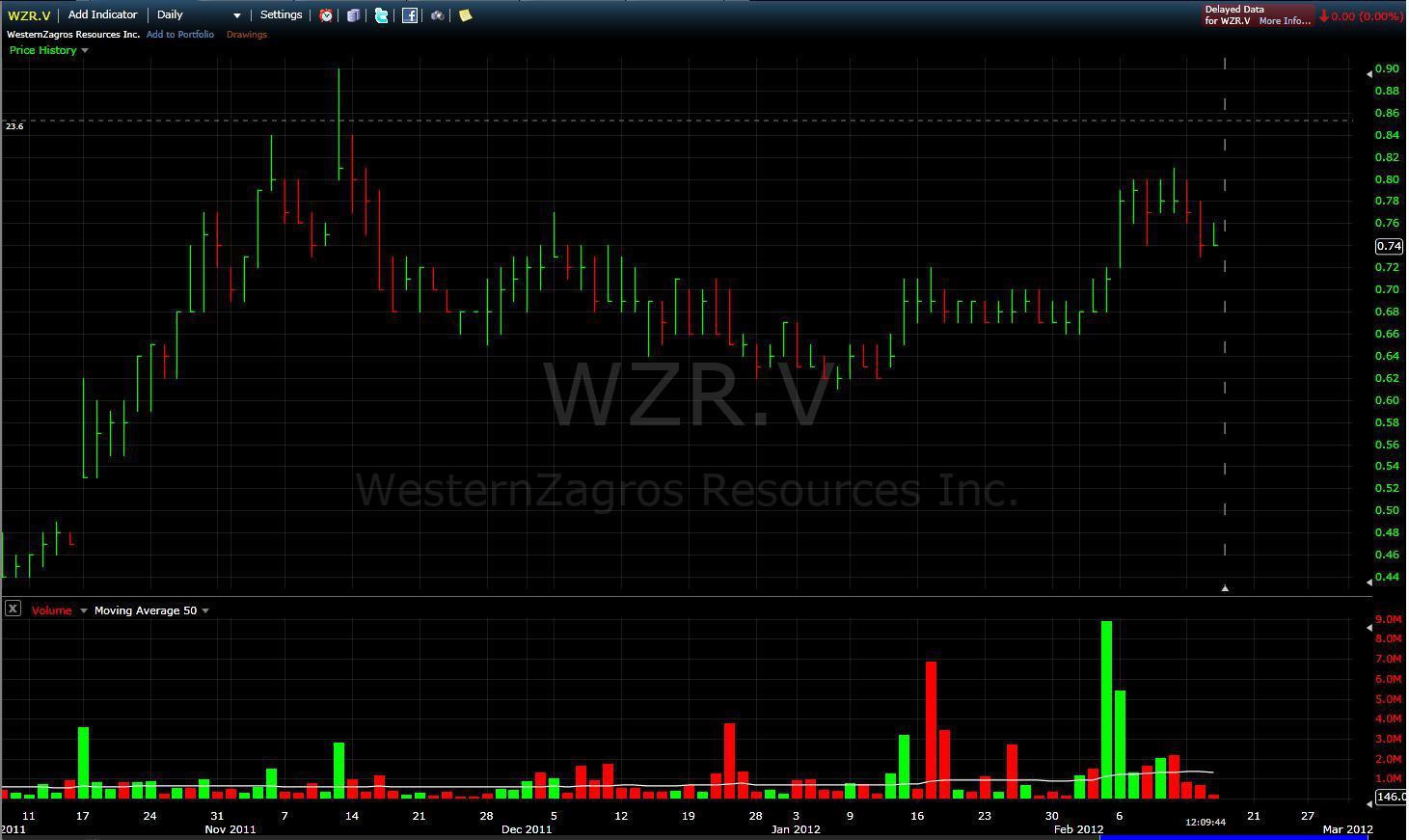 Westernzagros Resources [WZR] is a Canadian-based junior oil that has stakes in two Kurdish oil blocks, Garmian and Kudamir. WZR made a gas and condensate discovery at Kudamir in 2010, and its partner Talisman Energy (NYSE:TLM) is drilling the Kudamir-2 well, targeting downflank oil.
At Sarqala-1 in the Garmian block, WZR made an oil discovery that is now producing 5000 barrels a day by trucking to domestic markets. Also, WZR is testing its Mil Qasim-1 well, which is adjacent to its Sarqala discovery. Presently, 40% of the Garmian block is up for grabs, and will be assigned by the KRG, possibly to one of the persistent oil majors. Embedded is Westernzagros' presentation to the World Outlook Financial Conference Presentation Feb 12, 2012.
Investment Summary
With the oil prices above $100 per barrel and making no moves to go lower, there is much urgency to lock in possible future production. Large oil companies are making acquisitive moves into the Kurdistan region of Iraq. I believe in the billion barrel potential of these Kurdish oil fields, and I hold shares in Westernzagros.
Disclosure: I am long OTCPK:WZGRF.
Disclaimer: The information and opinions contained within this document reflect the personal views of the author and should be viewed as food for thought and amusement only. The author may from time to time have a position in any of the securities mentioned. There are no guarantees of the accuracy, reliability or completeness of the information contained herein. Independent due diligence and discussions with one's own investment and business advisor is strongly recommended. These writings are not to be construed as an offer or solicitation with respect to the purchase or sale of any security or as an endorsement of any product or service. We do not request or receive compensation in any form in order to feature companies in this publication. It is prohibited to copy or redistribute this document to any type of third party without the express permission of the author. This document may be quoted, in context, provided proper credit is given.