Research In Motion's (RIMM) recent share pricing indicates what is already obvious to Wall Street: Blackberry is a sinking ship. Even value investors who take notice of RIMM's discounted price-to-earnings multiple of 4.25 and sustained corporate market-share aren't inspired about Research In Motion's future. Blackberry does possess true value in its software patents, especially in an era in which companies use patents as a means to blockade the competition. In terms of the quality of product, Blackberry's smartphone systems are secure and extremely viable, especially within the corporate sector. However, the phones still lack the capabilities and innovation of the other big smartphone players.
As Apple (NASDAQ:AAPL) and Android continue to create innovative products, eventually RIMM's business will be reduced solely to corporate end-use. Moreover, the rate at which Android and Apple, and their "clones", are taking market share away from RIMM indicates that it is only a matter of time before Research In Motion loses its corporate market-share too. Research In Motion is a "has been" tech company that we can reasonably assume should be trading at $3-$5. Although there is always the risk that it gets bought out for a price comparable-- or greater-- than its current share price, I don't think that will be the case. Why would Apple or Google (NASDAQ:GOOG) try to buy RIMM at current prices, when all they have to do is wait for it to go down to $3?
RIMM's negative trajectory is not yet completely manifested in the company's financials. RIMM's consensus book value per share is $19.77. The current share price of $15.58, coupled with a Price-to-Earnings multiple between 4 and 5, paints a rather misleading picture that surreptitiously suggests RIMM's current valuation is cheap. Despite these deceptive figures, two key year-over-year data points within RIMM's financial statements speak to the company's longer term bearish trend: 1) quarterly revenue growth of -5.90%, and 2) quarterly earnings growth of -70.90%.
On December 20, 2011, the Blackberry maker hit a low of 12.52, signifying its lowest level since 2004. On December 21st, the following trading session, RIMM traded higher off of this support level on heavy volume of 70,000,000 shares. This price point constitutes a critical level of support, as is evident by this large volume of most probably attributed to institutional value investors and a short-covering rally. If RIMM retraces this $12-level and breaks through it on the downside short-sellers will have a field day driving the stock lower. Since there are virtually no levels of support within the past eight-years, long-investors will be more likely to cut their losses.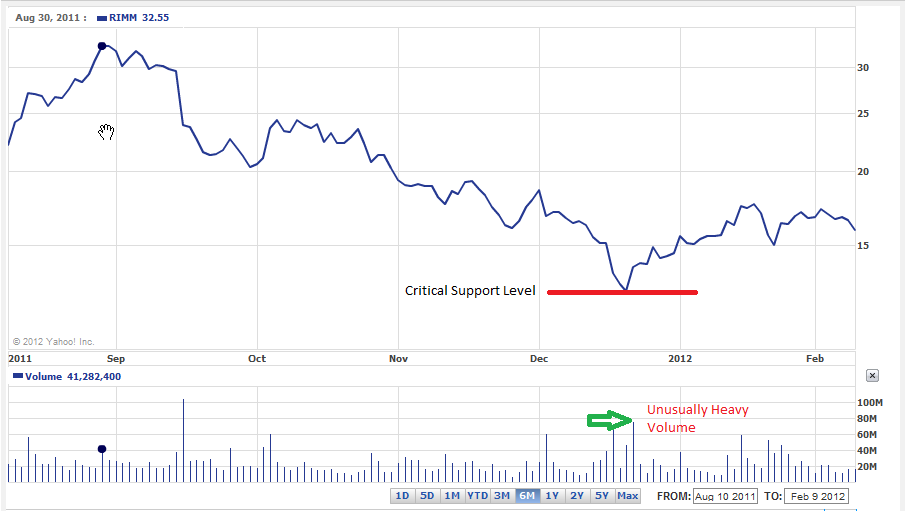 Research In Motion's tumultuous nosedive over the past 12+ months makes a short-squeeze pop highly probable. In the near term, this formality makes RIMM's pricing particularly vulnerable to violent rips up and down, thus making shorter-dated options too risky. However, the company's lack of innovative products in the pipeline, and its competition's superior software and products make it doubtful that Research In Motion will be able to innovate enough to warrant a turnaround in directional market-share relative to those of Apple, Android, LG, etc.
The January 2013 $13 puts are optimal to minimize the theta value per day relative to the value of the contract. The ratio of the value of the contract to the contract's time premium is [-.01]/2.10. In other words, 1 cent of time premium is lost every trading session from now until expiration day. In addition, the Vega value is .05. This means that each incremental deviation of implied volatility, price fluctuation, adds five cents of value to the option's contract. This is important, particularly in an overbought market in which larger market dynamics which moves share prices will increase the vega even if the net deviation over a period of high volatility is zero. The contracts are up modestly as of Wednesday, but are still relatively cheap at $2.10 per contract.
The stock is currently trading at $15.50 and the delta of the contract is .19. Thus, ignoring time decay, the options will be worth roughly 30% higher when the contracts are at the money ($2.10 + $0.19(3)). However, each incremental dollar move in the underlying stock will correspond to a dollar move in the options value. If RIMM pierces the 12.52, the stock will tumble below ten due to a lack of key support levels- more than doubling the value of each contract.
Entry Strategy
To maximize the probably of this event, it is important to wait for RIMM to get to a price level in which favorable macro headwinds and positive macro data has already boosted the stock price. Wait for RIMM to reach the $18-20 range before buying these long-dated puts. After positive data has pushed the stock price higher, there should be little in the way of a catalyst to push Research In Motion's stock higher and positive growth sentiment.
Disclosure: I have no positions in any stocks mentioned, but may initiate a short position in RIMM over the next 72 hours.