This article serves two purposes.
First, for investors who have been looking for an alternative way to bet on regulatory action at BofI Holding (NASDAQ:BOFI), I think that the liability FBR & Co. (NASDAQ:FBRC) could face as a result of its underwriting relationship with BOFI is fundamentally misunderstood. Therefore, I see shorting shares of FBR as an asymmetric opportunity to play the regulatory risks embedded in BOFI without dealing with the inherent volatility in BOFI. Readers are well aware that I believe the zero-node at BOFI is a very high likelihood, due its leverage positioning and its highly questionable financials and potential non-compliance with banking/securities laws.
However, a BOFI short position comes with tremendous day-to-day volatility risk given that sell-side analysts have been promoting "catalysts" such as stock splits in order to engineer squeezes in BOFI shares. I think smaller investors looking to play the BOFI situation, and who can weather illiquidity, should therefore seriously consider a short position in FBR. Should any of the public accusations surrounding BOFI prove true, I believe that FBR is likely to suffer not only substantial reputational fallout, but also financial damages.
Second, this article is designed to provide helpful information to individuals currently considering or involved in class action shareholder litigation against BOFI. Given that the sell side (particularly FBR) has been so instrumental in promoting BOFI's shares to clients, I think that class action lawyers can use the research compiled in this note to begin assessing the sell side's role in helping BOFI sell equity to unsuspecting investors who were in the dark about BOFI's business practices.
FBR's relationship with BOFI is unique versus other generic sell-side / company relationships in that it has an ongoing due diligence requirement associated with its role as chief underwriter on BOFI's ATM offerings.
In this note, I will show conclusively that FBR has been aware for a long period of time about BOFI's "non-traditional" lending model, yet has been willing to underwrite sales of BOFI stock to the investing public that was totally in the dark regarding these business practices. I will also identify specific "red flags" that the company has chosen to ignore despite its responsibilities as the ongoing lead underwriter of BOFI shares. Case law makes it clear that underwriters must go beyond simply relying on management in their due diligence efforts, and I believe FBR's public positioning has made it clear that the firm has put all of its faith in management's claims.
While I see the other underwriters as being equally culpable, FBR represents a unique short opportunity given it is much smaller than its peers and has a far less diversified business model (in other words, Stifel and Raymond James can much better weather the type of reputational damage associated with underwriting BOFI offerings based on false pretenses).
Should my view on BOFI be accurate, I am also writing this article so that the underwriters of BOFI offerings do not try to hide their involvement in this fiasco. With FBR recently reiterating its outperform rating on BOFI due to a "stock split" thesis that has absolutely no bearing on fundamental value, it is becoming abundantly clear that the company has been willing to go to rather extreme measures to help support BOFI's share price.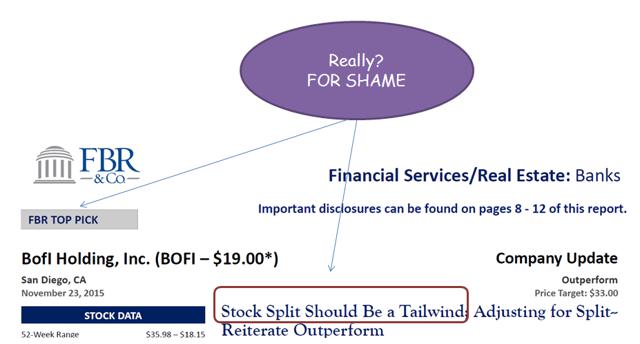 Source: FBR
I can think of only two reasons why FBR would so shamelessly support BOFI.
The first would be to keep BOFI's share price high in order to maximize underwriting fees on ATMs. (BOFI has yet to file a prospectus supplement for its next ATM offering. Either the underwriters are likely vying for lead left, or BOFI already did a capital raise through one of them without filing a prospectus supplement.)
The second would be to keep BOFI from being exposed and going to zero, which would open FBR up to litigation. The former reason is relatively benign, but the latter reason suggests that BOFI may have morphed into a "bigger" issue for FBR at a corporate level than investors may realize. BDO may not be the only 3rd party on the hook in the event BOFI unravels.
Note: The basis for many of the legal issues raised in this article can be found here. I think that article does a very good job of summarizing the potential risks underwriters face regarding inadequate due diligence or missed red flags.
The Red Flags FBR Saw, But Chose to Ignore…
Red Flag #1: Since November 2014, FBR Ignored Clear Red Flags Regarding BOFI's Non-Disclosure of its Esoteric Lending Activities
In its 10-K description, FBR touts its capital raising efforts as being supported by "extensive due diligence".

Why, then, was it willing to underwrite BOFI offerings when it had direct knowledge that the company was engaged in esoteric and undisclosed lending practices when it took on the role of underwriting BOFI offerings?
In its November 2014 initiating coverage report, the FBR analyst on BOFI discussed in detail that BOFI engages in so-called "non-QM lending" and that the company lends to foreign nationals. BOFI disclosed none of these business practices in its June 2014 10-K. In fact, even today as of its June 2015 10-K, the company still makes only a passing mention of some of the generic risks associated with issuing mortgages that are non-qualifying in the risk factors section, and makes no mention of its foreign national business lending practice. It does not actually provide any disclosure of meaning regarding its involvement in these business lines.
FBR's Knowledge of BOFI's Exotic Mortgage Business (November 2014 Note):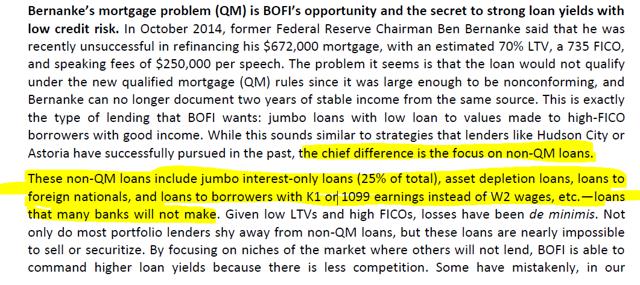 Source: FBR
Despite BOFI disclosing absolutely nothing about non-QM loans and foreign nationals in SEC filings, FBR was well aware of these business lines of the company. Yet, somehow, FBR did not see it as a massive red flag that these business practices went completely undisclosed in BOFI's financial filings. If this was the only instance in which FBR looked the other way, it would be one thing; however, the laundry list of problems goes on...
Several months later, in October 2015 (pre-whistleblower lawsuit), FBR continued to demonstrate knowledge that BOFI's financials somehow looked "different" from those of other banks. In an October 5, 2015 note, FBR discussed BOFI's wider-than-average mortgage yields:

Source: FBR
I think FBR is clever enough to know that only a fool would pay 150bps over market for a loan due to "speed of closing". A materially different mortgage yield profile is something that should have immediately been seen as a red flag and warranted further examination.
Instead, FBR appears to have taken management at face value. I am quite frankly surprised that it used the words "we think" in the paragraph above, when it looks quite clear to me that the company simply echoed management's claims from the September 2015 business update call.
Greg Garrabrants on September 2015 Business Update Call:

Source: Bloomberg Transcripts
It is clear that FBR was aware that BOFI engaged in esoteric lending activities. It is also clear that BOFI never disclosed these practices in its SEC filings. So what should FBR have done given it had knowledge BOFI was outperforming peers in its mortgage book?
In Escot v. BarChris Construction Co., the courts provided enhanced color on the role of underwriters in investigating company filings: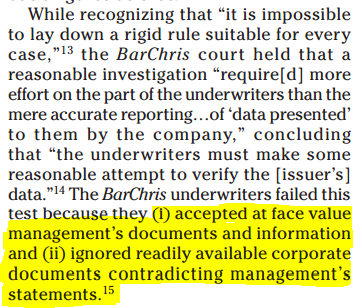 Source: Omm.com
Following the whistleblower lawsuit, I think FBR was obligated to at least dive deeper into BOFI's business practices and why the company failed to disclose its involvement in these business practices.
Red Flag #2 - BOFI's Financials Are Impossibly Better Than Any Peer, While FBR Looks the Other Way
As background, WorldCom underwriters ultimately paid over $6 billion to settle Securities Act claims. In the case of bankruptcy, underwriter indemnification can often fall apart. Should BOFI fail, FBR may find itself in a similar position to WorldCom auditors. In the court's decision regarding WorldCom, the court identified two red flags that the underwriters should have been more focused on, yet ignored: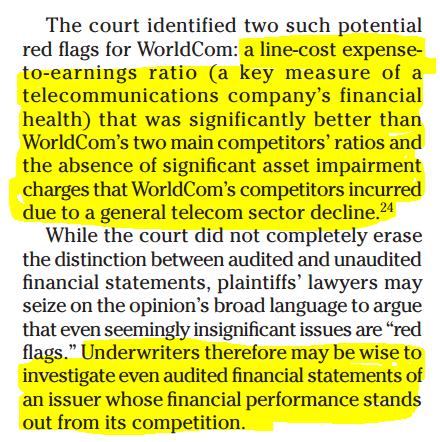 Source: Omm.com
The parallels in the case of WorldCom and BOFI are uncanny.
EMPHASIS: "Underwriters may therefore be wise to investigate even audited financial statements of an issuer whose financial performance stands out from its competition".
Like WorldCom, BOFI's traditional financial metrics are a MASSIVE outlier relative to its competitors. This includes charge-off history, loan loss history, reserves, and loan growth. It is not as if only one aspect of the company's financials are too good to be true - it is each and every piece of the pie that is unbelievable, which, on a mutually exclusive multiplicative basis, should have immediately signaled red flags to the underwriters. In the case of BOFI, it is even more staggering than WorldCom given that it has hundreds of competitors and operates in one of the intensely competitive areas of the market (the lending of money).
The court also pointed out that WorldCom's asset impairments looked suspect. BOFI charge-off history (and what appears to now be a web of SPE entities) should also immediately raise red flags for any bank analyst. FBR has notably chosen to ignore recent notes regarding BOFI's web of lending relationships with off-balance sheet entities.
The question is, then, has FBR ever acknowledged BOFI's financial performance as being too good to be true? I think so, based on this note:

Source: FBR
You're right, FBR. I don't believe it's a bank. Neither should you.
Red Flag #3 - Potential Violation of Bank Examiner Privilege / Transcript Alteration - FBR Commends the Company and Takes it on the Road
I'm mostly pasting this comment below to make sure that everyone in the free world can see that FBR proudly boasted it uniquely had specific knowledge of government regulatory actions. The transcript alteration was an embarrassment in that a public company (so far) got away with that type of behavior in a public setting. What is even wilder is that BOFI outright, in multiple instances, discussed its conversations with bank regulators on public conference calls, which appears to be a violation of the bank examiner privilege. Again, this should have been an immediate red flag for FBR. If the company was acting as a "prudent" underwriter of BOFI, it would have engaged outside regulatory experts to opine.
Instead, FBR felt it could, in fact, "put the issue to rest". Following a luncheon that it hosted with BOFI and investors (a luncheon that likely generated trading fees), FBR put out the following statement:

Source: FBR
The transcript modifications were not slight. The company was highly evasive in responding to Bob Ramsey on the earnings call. He himself sounded surprised and shocked on the call. (I encourage all of you to go back and listen to his reaction when Garrabrants refused to discuss the existence of ongoing investigations.)
FBR's casual response to BOFI's alteration of the transcript suggests that the company is willing to look the other way when red flags emerge. Again, if you are a trial lawyer reading this note, please screenshot this part of the piece, as it is speaks to the "motive" piece of the puzzle.
Red Flag #4 - FBR Should Have Looked Deeper into the Former Bankrupt Felon Executive Who Took Loans from BOFI and Has No FDIC Waiver In Place; Instead, it Decided to "Stop Responding to Individual Blog Posts"
Following my note on BOFI employing a former felon in a senior role in the lending division of the bank, KBW put out the following note that includes commentary from BOFI management:

Source: KBW
This issue has been reviewed by multiple bank lawyers, who disagree with the statements above. Their view is that prior employment at an insured institution is not grounds to get around a waiver. Furthermore, the individual in question had a break in employment. Did BOFI simply not run a background check on him?
I presume FBR received a similar response from BOFI management. Instead of running this by independent regulatory counsel, the company appears to have just ignored the piece all together.

Source: FBR
Maybe it is time the higher-ups at FBR realize that the firm's continued support of BOFI has become a firm-wide problem - i.e., not one that can be selectively side-stepped when an article containing facts is unflattering or difficult to address without rebuking or being critical of management… again, FBR needs to put on its underwriter hat first before putting on its sell-side promotion hat.
In the earlier case study of WorldCom, the courts stated that a prudent underwriter may choose to consult with 3rd-party experts to confirm that unusual accounting treatment is appropriate. In this case, why did FBR (or for that matter KBW) not choose to consult with 3rd-party regulatory counsel to confirm that BOFI did not require an FDIC waiver / that BOFI is not in the wrong for having lent the guy money after he went bankrupt. In light of the whistleblower lawsuit, one would expect FBR to take as many cautions as possible before ignoring public allegations of wrongdoing if the firm was attempting to limit its liability.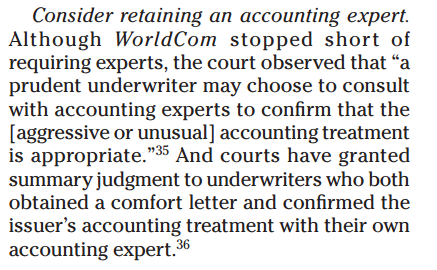 Source: Omm.com
FBR's simultaneous acknowledgement of short-oriented research, and yet its unwillingness to respond to said research suggests to me that the company's liability in the BOFI situation is growing.
Which leads to the bigger-picture red flag...
Red Flag #5 - Questionable Insider Loans and Felonious Executive History Point to Serious Problems with Management; FBR Just Ignored It
In Phillips v. Kidder, Peabody, & Co., the court held that the underwriters' due diligence was adequate because, among other things, it involved investigating management and directors' backgrounds.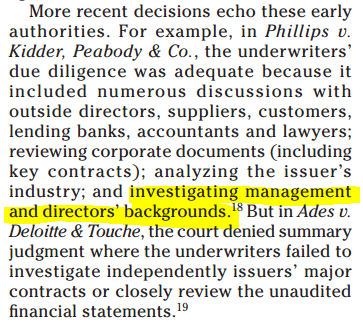 Source: Omm.com
A tremendous amount of evidence-based research has emerged relating to the management team's use of bank deposits for personal loans over the past few weeks. Yet, again, FBR has avoided discussing these issues, instead focusing on the topics that really matter for BOFI - stock splits.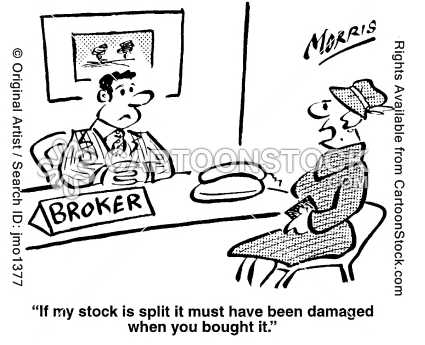 Source: CartoonStock.com
Red Flag #6 - Given BOFI did not Hire a Third-Party Investigator, Why Did FBR Not Commission an Investigation Itself?
Given that BOFI chose not to hire a third-party investigator, FBR should have immediately seen this as a huge red flag. See below the investigative criteria that authorities suggest should be entailed in a "reasonable investigation":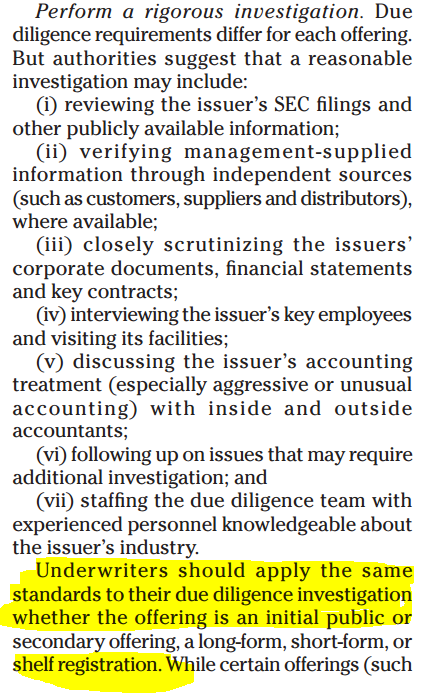 Source: Omm.com
So far, FBR's notes have focused solely on regurgitating management's claims, highlighting only positives, or construing compliance with laws even when the facts strongly suggest otherwise.
Again, if you are a shareholder of FBR, you should be asking yourself about the quality of this firm's underwriting due diligence efforts and the reputation risks it appears willing to take.
Closing Thoughts
I found the following example from a Chinese RTO fraud / Macquarie as being rather helpful color for underwriters. To-date, I see no public signs that FBR has done any of the below as part of its due diligence program: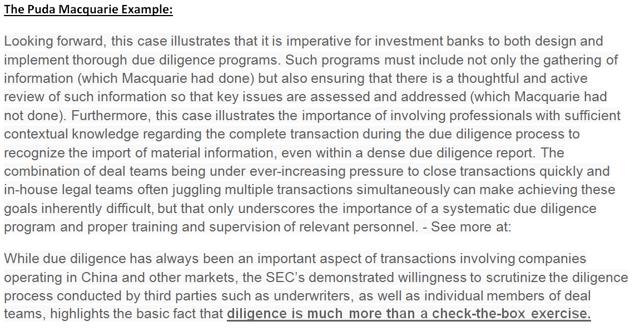 Source: Ropes & Gray
If you are a shareholder in FBR, it is time for you to start asking management questions about why the firm continues to blindly support BOFI despite continued allegations of extreme wrongdoing, many of which have emerged independently from the whistleblower lawsuit, and all of which are grounded in facts - facts that the management team itself has acknowledged. You should also ask FBR why the firm has looked the other way when it was well aware that BOFI was misrepresenting its business model to investors. While BOFI told a story of branchless cost efficiency in its investor relations presentations and SEC filings, FBR was well aware that BOFI was engaged in esoteric lending practices. This point should not go ignored, as FBR has essentially (in my view) aided and abetted with BOFI in keeping shareholders in the dark regarding the true nature of the company's business practices.
If you are an investor and afraid to short BOFI due to its inherent volatility, FBR represents an idiosyncratic means of getting short exposure to BOFI. While some may argue the risks to FBR are small and contained, I think the firm has gone so far out of its way in this instance that it has put itself at real risk. This is particularly true if I am right and BOFI's precarious financial positioning results in a zero node. Should this occur, shareholders with losses will be out with pitchforks looking to hold someone responsible, and FBR has put itself in the center of the scandal given its incessant promotion of BOFI shares - shares that FBR itself is aware were being sold on a false narrative.
In closing, I challenge FBR to publicly express that it has consulted with credible banking attorneys and former regulators regarding the issues highlighted above in the firm's next promotional piece. This would certainly help protect FBRC shareholders! Ask yourself, "Why wouldn't they want to do this given it would greatly support their valuation case?"
Disclosure: I am/we are short BOFI.
I wrote this article myself, and it expresses my own opinions. I am not receiving compensation for it (other than from Seeking Alpha). I have no business relationship with any company whose stock is mentioned in this article.
Additional disclosure: Correction: At the time of the original publication, the author was short BOFI and did not hold any positions in FBRC. This article represents the opinion of the author as of the date of this article. This article is based upon information reasonably available to the author and obtained from public sources that the author believes are reliable. However, the author does not guarantee the accuracy or completeness of this article. It is merely the author's interpretation of the information contained in the article. The author may buy or sell any security at anytime without notice. The author encourages all readers to do their own due diligence. This is not a recommendation to buy or sell a security