Response Genetics (TICKER: RGDX) is a specialty lab company that focuses on cancer diagnostic tests (Lung, Colon, Gastric and Melanoma) that are based off multiple platforms including PCR, IHC and FISH.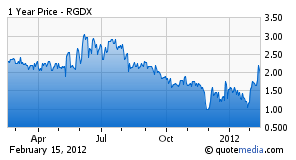 I previously wrote an article about this company (see here for good primer on the company) in May 2011 when the stock price was near these levels ($2.09). Since then, the company has executed well on its plan to transform into a a top-notch specialty lab company.
When it comes to small companies, leadership is almost always the most important key. The previous founder/CEO of RGDX, while a visionary, was not the right person to take this company to the next level. After a 6 month search, the Board of Directors found a stellar CEO who has the credibility, experience and motivation to take Response Genetics to the next level.
In December 2012 Response Genetics hired Tom Bologna, who subsequently rounded up investors who know his track record and raised almost $8m in capital at a 27% PREMIUM to the stock price at the time of the deal. What is equally impressive is the fact that ALL the Board of Directors and top management team participated in the capital raise, lending further credibility that insiders believe in the new leadership and strategic path set forward. It's good to note that insiders already owned a considerable amount of the shares outstanding, but seeing them step up here is a great sign for investors. Here is link to the insider buying.
At about a $2.00 share price as of this writing, the stock is still well below its 52 week high of $3.05 even though the company now has stronger management, a clear vision of the future and ample cash to achieve profitability. Based on any financial metric and vs. comps to other small lab companies in the industry, RGDX is "cheap" and would be considered a "value" stock - but the potential for growth is imminent.
On the Response DX side of the business the salesperson headcount is a key metric to watch. Based on significant opportunity for growth, RGDX has been adding salespeople. At the recent UBS Healthcare conference last week, management stated that the salesperson head count was now 22 (up from approximately 15 last summer - a 50% growth rate). Additionally, they stated their goal was to increase the salespeople head count to 25 salespeople over the next few months given the large opportunities before them. What is clear to me based on my analysis of the penetration of the sales force, there is ample room for growth and tremendous low hanging fruit that can be capitalized on. Here is a link to RGDX's recent PPT Presentation from the UBS Healthcare conference.
On the pharma side of the business (companion diagnostics) business is lumpy, but RGDX is continually winning some newer (albeit smaller) relationships. Eventually, given its experience in companion diagnostics, they will be able to scale this business appropriately, as this is the direction the pharma industry is going. I expect this will be a significant growth business in the next 6 to 12 months.
Mr. Bologna's background seems to be priming the company for sale.
From April 2006 until joining Response Genetics, Mr. Bologna served as President and Chief Executive Officer of Orchid Cellmark, Inc., a NASDAQ-listed corporation and a leading service provider of DNA identity testing that was recently sold to Labcorp (NYSE:LH) for a hefty premium. Prior to joining Orchid Cellmark, Mr. Bologna was President, Chief Executive Officer and a member of the board of the venture-backed Quorex Pharmaceuticals, Inc., where he orchestrated a successful sale to Pfizer Inc. (NYSE:PFE). Prior to leading Quorex, Mr. Bologna was Chairman of the Board, President and Chief Executive Officer of Ostex International, Inc., a NASDAQ-listed biotechnology company that developed and commercialized disease management products with a focus on osteoporosis. Mr. Bologna oversaw the sale of Ostex to Alere Inc. (NYSE:ALR) (formally Inverness Medical Innovations).
Additionally, Mr. Bologna has CEO level experience at a few of the larger molecular diagnostic labs in the industry. He was Chairman of the Board, President and Chief Executive Officer of Gen-Probe (NASDAQ:GPRO) a $3.2B market cap company a global leader in the development, manufacture and marketing of molecular diagnostic products.
He led Gen-Probe through its initial public offering on NASDAQ and oversaw its subsequent sale to Chugai Pharmaceutical Co., Ltd. Mr. Bologna has also held senior-level positions with Becton Dickinson & Company (NYSE:BDX) and Warner-Lambert Company (Pfizer), two leading Fortune 500 healthcare companies. Mr. Bologna served as President of the Becton Dickinson Diagnostic Instrument Systems Division and as a Vice President of the Warner-Lambert Company.
So what is RGDX worth?
There is no secret in this industry that the larger diagnostic companies have been serial acquirers of the smaller growing lab companies that produce their own unique tests. And that small labs with cancer tests have been the preferred target.
Therefore, I believe that RGDX (trading less than 2x sales) is a great candidate for a take out because of the growing cancer diagnostic niche it serves. Based on comparable industry acquisitions, RGDX is worth at least DOUBLE where it is trading today; see an example list of some recent acquisitions below:
Additional catalysts include:
1) Management engaging Wall Street and getting analyst coverage. Currently, there are no analysts covering the stock; I expect that to change real soon as many sell side analysts that cover small cap biotechs I have spoken to are aware of the changes afoot at the company.
2) Management will begin holding conference calls and increasing IR awareness. Based on my conversations with management, I believe that it is very likely that now that Mr. Bologna is in place, they will hold their first conference call since 2008. Investors have been clamoring for transparency for sometime, so it will be an important step when quarterly conference calls are reinstated.
3) More new tests are coming. RGDX recently announced its FDA approved ALK test for lung cancer. This is the first new test in a series that the company said will include new panels that will include bladder and pancreatic cancer.
4) The scale up of its sales division to at least 25 reps and improved focus and strategy.
Disclosure: I am long RGDX.