Intro
For me, retail is one of the most difficult market sectors in which to find opportunities. Low switching costs for consumers lead them to consistently chase the best deal, which in turn breeds intense competition between the firms vying for this business. Occasionally, I find one that's managed to carve out a niche somewhere (Chipotle Mexican Grill, Inc. (NYSE:CMG)), but in today's market, these stocks are often priced at rich multiples that will require many more years of flawless execution in order to justify. Thus, it's rare to come across a retailer that offers both a differentiated concept and a reasonable valuation, at least for me these days. However, I believe Dave & Buster's Entertainment (NASDAQ:PLAY) meets both these criteria and presents an interesting investment opportunity at current prices.
Company Background
Dave & Buster's (I'll also refer to them as D&B) owns and operates venues that combine dining and entertainment for adults and families in North America. Its venues offer a menu of entrées and appetizers and an assortment of entertainment attractions centered on playing games and watching live sports, as well as other televised events. As of the third quarter of 2015, the company has 76 stores. D&B was founded in Dallas in 1982 by two friends - one a restaurant owner and one an entertainment center operator - who noticed patrons often went from one business to the other and wondered if there was an opportunity to put both concepts under one roof. The company had its IPO in 1995, and remained public until being purchased by a middle-market private equity firm called Wellspring. Four years later (after an aborted 2nd IPO in 2008), the company was sold to another PE operator (Oak Hill), which finally returned it to the public markets in October 2014.
The key tenets of my investment thesis are as follows:
Unique Concept with Market Leadership and Scale
PLAY's combination of dining and entertainment is unlike any other business model in the market today. Stores are 44k square feet on average, and are split fairly equally between a dining/bar area and a fully adjacent space that contains the video games (typically a second beer/wine bar is open within the gaming area on busy weekend nights as well). The dining area contains around 40 large TVs, visible throughout, for sports viewing. In its operations as a traditional restaurant, DB aims to provide a wide range of menu items at a variety of price points (generally $9-20 for entrée) and sizes (i.e. full meal vs. snacking while watching a game).
The company calls it "Fun American New Gourmet"; while I'm not sure I'd go as far as 'gourmet', I do think that almost anyone could find something that suits their tastes. This strategy helps avoid the 'veto' vote that occurs when a group makes dinner plans and one member dislikes a certain food category, and also creates a compelling option for groups or individuals looking to watch a specific sporting event.
Though the food is good, there are plenty of places that offer that- it's the games that are really the key differentiator here. These games are modern versions of traditional arcade games (including both redemption/ticket-winning and simulation games) across a wide range of genres, geared towards a more mature audience - think 'Chuck E. Cheese' for adults. In total, there's usually around 150 games per store.
D&B facilitates the process by providing a pre-loaded card that one swipes to play a given game, removing the headache associated with keeping track of the coins to play with and the paper tickets won. Importantly, this is an experience that is not easily replicated at home (or at a competitor, for that matter) - most people/restaurants don't have even one full-size arcade game, much less 150+ to choose from.
Not only does this combination of dining and entertainment open the door to a wider range of audiences, it also creates meaningful cross-selling opportunities- the company offers "Eat and Play" combo discounts during off-peak hours to drive greater traffic. In order to keep the brand relevant, PLAY typically updates around 10% of their games per year (with costs equivalent to about 2% of sales). Any competitor wishing to enter the space at any sort of scale would be facing a massive capital outlay (I estimate $165-175 M) in order to match D&B's gaming arsenal.
Outstanding Unit-Level Economics
Thanks to its unique value proposition and three separate revenue streams, PLAY now has industry leading average unit volumes (AUVs). Its $10.8 M average is more than double the comp set median: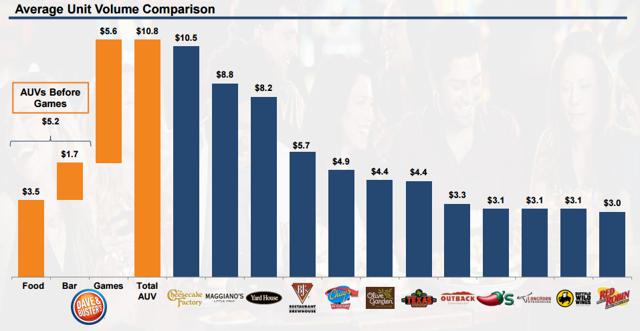 (Source of all images: Investor presentation)
These strong volumes are even more attractive given the company's margin profile. PLAY's dining gross margins are similar to peers, but its high margin gaming revenues allow it to enjoy structurally superior overall figures:

This best-in-class profile is even more apparent on the EBITDA line item - once installed, D&B's games entail little incremental operating expenses:

This combination of high volumes and high margins is very rare within the retail world - usually companies are forced to pick one or the other - and it's a key reason why I view PLAY as a truly differentiated concept.
It's instructive to quickly walk through PLAY's new store operating model to see how this margin profile yields strong store-level profitability. The company has two main store formats - smaller ones generally target $7.5 M in first-year sales after $6 M in development costs while larger ones aim for $11.6 M in sales after $8.3 M in developments. Both formats look for 28% EBITDA margins in year one. Running the math on this indicates that either format allows the company to generate a highly attractive 35% return per store in the first year of operations.
These aren't just pro-forma projections either; thus far, the company has easily exceeded this target. Average cash-on-cash returns since 2008 have been 44%, a figure that increases to 56% when considering only the past three years. Thus, it appears that far from running out of attractive potential locations, the company is actually improving its expansion process as it grows!

Significant Operating Momentum
D&B's business strategy has been very successful so far. The company has posted same-store sales (SSS) above the industry average for each quarter three years straight, across times of both growth and decline across the industry: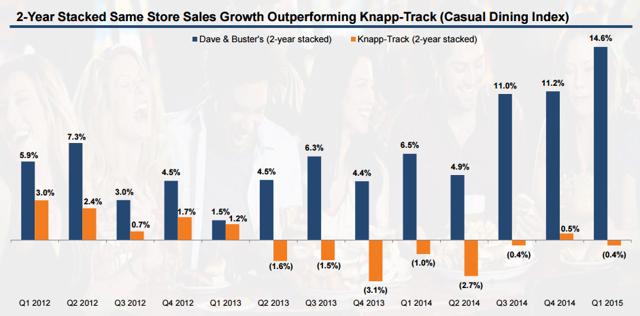 I believe SSS are poised for further growth in the upcoming years as well. The company has identified a variety of initiatives to make this happen which target both traffic and average check size. Management sees an opportunity to increase exposure with the 'sports bar' and 'special event' demographics as well as increase visit frequency with a robust product and promotion calendar and powerful loyalty program. Aside from gradual inflation-like price increases, PLAY plans to use consistent food/drink product launches (aiming for 3 a year), expanded PPV sports content, and continued cross-selling improvement to maximize customer spend once they've drawn them into the venue.
Enhancing D&B's SSS gains has been consistent rollouts of new locations. After adding only 2-3 locations from 2008-2011, PLAY ramped up its expansion by adding 4-5 stores in 2012-13. This process has now further accelerated, with 8 stores opened in 2014 and 7-8 targeted for this year (4 have already opened).
Long-term Platform for Growth with Lots of Whitespace
Including this year's openings, D&B still has only 78 total locations (for context, Buffalo Wild Wings, Inc. (BWLD) has 1,131, Texas Roadhouse, Inc. (NASDAQ:TXRH) has 451, and The Cheesecake Factory Incorporated (NASDAQ:CAKE) has 177). Future growth will be aided by the flexibility of PLAY's store format - each of the two sizes can be stylized as either freestanding or mall-based locations. The company sees potential for over 200 locations in North America alone, including a mix of new markets and fill-in opportunities. To that end, it's developed a deep pipeline that includes 17 signed leases and 2 stores already under construction.
Their opportunity is further expanded once one considers international locations - management aims to sign an agreement with an international partner by the end of the year, and open the first non-North American store sometime in 2016. All in all I expect they can continue adding at least 8 stores for the next few years without any deterioration in their targeted unit economics, and could actually probably further accelerate the rate if desired.
Experienced Management Team
All front office members have over 20 years of experience in the industry, and the team is generally considered to be excellent operators. CEO Stephen King joined the company in 2006 after a successful stint at Carlson Restaurants Worldwide; CFO Brian Jenkins also joined in 2006 from Six Flags (NYSE:SIX). All NEO compensation is weighed towards performance-based metrics (fixed salaries are less than 25% of the total), with incentives tied to EBITDA and SSS growth.
Valuation
Between its growth potential and the proven success of its operating model, I view PLAY as a long term, buy-and-hold investment that will compound intrinsic value over time. As such, I look ahead to 2017 and try to figure out fair value at that point just over 2 years away.
While total store units for 2015 are already pretty much known, I assume that the company continues its current expansion pace and opens 8 stores in 2016 and 9 in 2017 - this is in line with management's 10% annual store growth target. Given the acceleration of its expansion in recent years, I view that as reasonable if not conservative. AUVs should continue to trend upward modestly assuming management has at least some success with the SSS initiatives described above.
Multiplying the two provides a sales run rate, from which I adjust for stores opened midyear and thus will not fully contribute to revenue (for anyone interested in details, I assume they open a total of 12 large format and 5 small format stores). Assuming essentially flat store EBITDA margins and slight growth in corporate-level expenses yields a base EBITDA figure. To that I add back PLAY's pre-opening costs (as is the standard in the industry) as well as a variety of miscellaneous items like changes in deferred amusement revenue to arrive at an adjusted EBITDA figure that can be compared apples-to-apples in peers.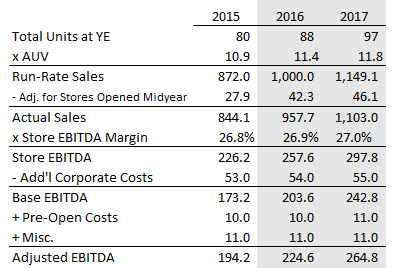 The comp set is below. As you can see, multiples in the space are fairly consistent across metrics on both an EBITDA and FCF basis.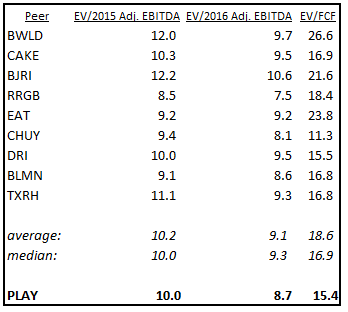 Given its best-in-class margin profile and superior growth prospects, PLAY probably deserves a premium multiple. However, I'll merely assume it gets one in line with the comps above that do over an 11% EBITDA margin (BWLD, CAKE, BJ's Restaurants, Inc. (NASDAQ:BJRI), Brinker International, Inc. (NYSE:EAT), Darden Restaurants, Inc. (NYSE:DRI), and TXRH) - the average of this group is 10.8x, but I'll round PLAY down to 10.5x. Even though this is still below the broader market, I don't generally like paying 10.5x EBITDA, but for a long-term compounder like D&B, I think it makes sense in this situation. It's currently a fair price rather than a cheap price, but nice thing about buy-and-holds is that the multiple will shrink over time and quickly become cheap relative to the purchase cost.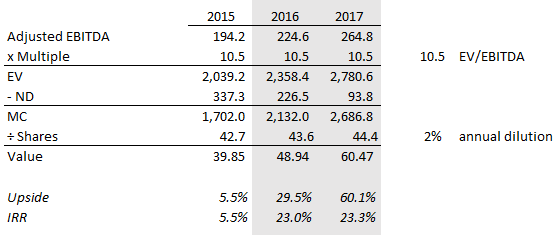 My net debt figure is taken as the actual value from the most recent quarter, reduced each year by my estimate of free cash flow from the prior year. For anyone interested, my FCF calculations are below. Maintenance capex here includes the cost of refurbishing ~10% of the company's games per year. In the end, I arrive at a valuation of around $60 just over two years out, which works out to a low-20s IRR.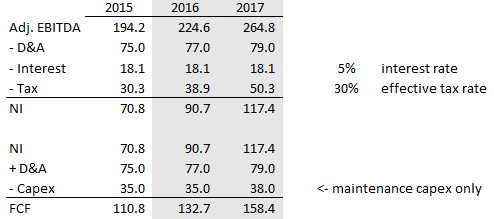 Relative to the Street, I'm roughly in line on a revenue basis and higher on the EBITDA line overall. I'm above the one analyst that has put out 2017 numbers. I don't know how she arrives at her assumptions, but her track record is mixed, and in any case, I feel comfortable with the numbers I walked through above. As a sanity check to my EBITDA-based valuation, taking an EV/FCF multiple about a turn below the peer average (incidentally quite close to my forecasted FCF growth rate as well) yields a 2017 price target very similar to the $60 one derived above.
Downside Protection Makes Risk-Reward Attractive
Even if PLAY's significant operating momentum were to crash to a halt, investors could reasonably expect to at least avoid permanent capital impairment. If one assumed a bear-case scenario of: 1.) store growth decelerating to 7 per year, 2.) negative SSS comps of -1%, 3.) store-level EBITDA margins falling to 26%, 4.) corporate costs ballooning to $57 M, and 5.) the market only awarding the company an 8.5x multiple, which is what the lowest of the peer group (Red Robin Gourmet Burgers, Inc. (NASDAQ:RRGB)) has with no income growth and marginal FCF, PLAY would still be worth $38 in two years, roughly in line with the current price. Thus, I'm happy to take the "over" side of the bet and let the upside work out for itself.
Catalysts
There are no imminent catalysts to drive a dramatic re-rating of PLAY stock, but that doesn't really bother me here. As discussed above, this is a buy-and-hold investment where value should consistently accrete over time. I hate the term 'time arbitrage' so I won't use it here, but it's true that the market is a weighing machine in the long run and will eventually reward PLAY if it manages to consistently increase its intrinsic value.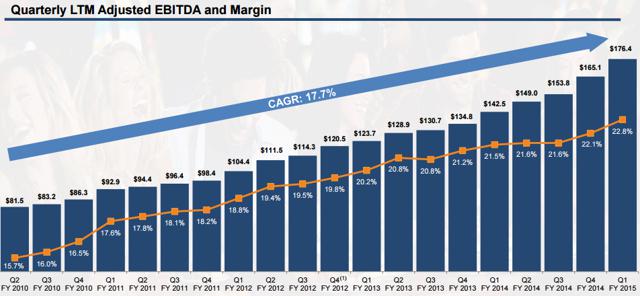 A continuation of the 19-quarter pattern above should more than suffice as a catalyst for a long-term investor. In the meantime, more of these strong earnings reports (or a good sell-side initiation, though I'm not counting on that) will likely help draw more interest to this story.
Why the Opportunity Exists - What is the Market Missing?
As mentioned earlier, the sell-side seems somewhat asleep at the wheel on this one. The consensus EBITDA estimate for 2015 is $183 M - even though on the latest conference call management guided to a range of $199-203 M (PLAY has consistently beat on almost every metric too, so this cannot be explained as simply a lack of faith in management). Moreover, as many on this board are aware, analysts often take a fairly short-term view of a company and its prospects - hence only one estimate so far for PLAY's 2017 (see below).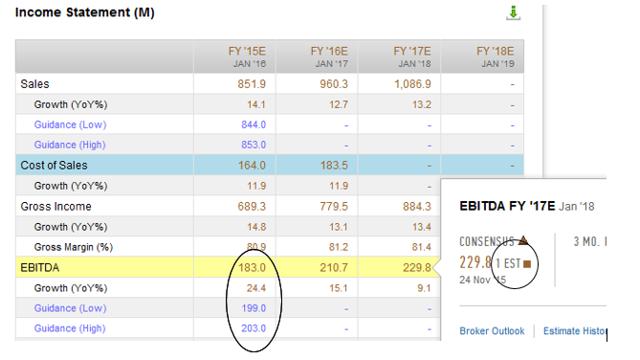 In my experience, it also takes a while for information and opportunities to fully disseminate throughout the market, particularly if there's no hard catalysts present, and I think that's the case here. PLAY only went public a bit over a year ago, with limited fanfare given its sub-billion market cap at the time. The stock has done quite well since the IPO (see chart below), and I view that as a function of investors gradually catching wind of the story and realizing the opportunity here.

So while it's not exactly a 'hidden gem', I believe the evidence indicates the broader market has not yet fully appreciated the company's potential. A quick check of Google search volume on the brand since the IPO indicates this is a reasonable guess given the slow but consistent increase in interest over time.

Risks
Oak Hill still owns 24 percent of PLAY (though they've already monetized most of their stake), and at some point, there could be a secondary so that they can fully exit their position. This is mitigated by two things. First, history indicates this would only be done from a position of strength in the stock price (the first one, in February of this year, occurred after a big quarter). Second, the increased liquidity stemming from any secondary could help draw interest from a larger set of institutional investors.
Retail stocks are always somewhat sensitive to the macro environment, and PLAY is no exception, but this is a broad market risk and not a stock-specific issue. There's always a chance the company's execution or ability to find attractive real estate locations could decline, but based on PLAY's track record and comparatively small footprint, I don't think that's likely. Finally, the downside of the company's unique business model is that it lacks perfect comps, which I think is part of the reason the sell-side appears to be paying only limited attention - but that helps create the opportunity today.
Summary
It's rare to find a truly differentiated concept in retail. Rarer still is such a concept available at a reasonable valuation. That said, I believe Dave & Buster's provides just that, creating a compelling opportunity for the patient investor. Terrific unit economics, strong operating momentum, early inning expansion plans, and a savvy management team have driven the stock to double since its IPO, but I still think there's plenty of upside from here. Over time, I think investors can reasonably hope for a 20%+ IRR, with 60% upside to my target price.
BUY (AND HOLD) PLAY.
Disclosure: I am/we are long PLAY.
I wrote this article myself, and it expresses my own opinions. I am not receiving compensation for it (other than from Seeking Alpha). I have no business relationship with any company whose stock is mentioned in this article.