Grocery stores are not seen as an attractive investment. They are known for razor thin margins, high employee turnover, and an extremely competitive market. With that said, it is normal to step aside when investing in a supermarket. Truth is technologies eliminate the need for many processes we do like driving 20 miles to deliver a paper thanks to the creation of the email or going to buy a camera at a retail store and using your phone to take a picture instead. As for food, we still eat various times a day, we transport the food from where it was harvested or produced to where it will be consumed, and we devote a lot of money, time, and joy to one of life's most pleasurable moments, eating.
Though the need to eat has not changed since the creation of mankind, the type, quality, and manner in which we eat has definitely changed. As of now and looking into the future, no supermarket offers greater innovation in the United States (and possibly in the world) than Whole Foods Market (WFM) in my opinion. When a Whole Foods is visited, the experience is fabulous. Acknowledging we need to eat and Whole Foods is a leader in the organic food retail segment ranked by sales and store count, further research for Whole Foods and the industry is merited.
The Organic Market
For the last ten years, organic food sales have grown at a double digit annualised rate. As of 2014, only 4 percent of food sales were organic and for 2015, 5 percent. This clearly demonstrates the room there is for growth in subsequent years.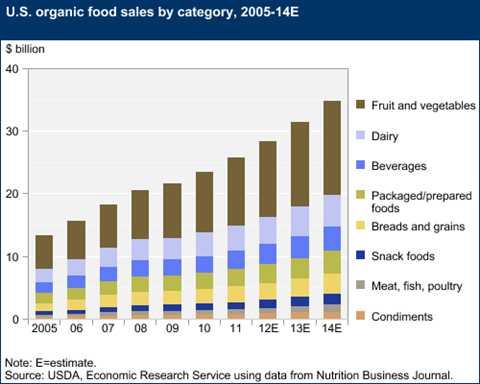 Source: USDA
From the producer side of the table, 26 percent of organic farmers are under 45 years old. There are more than 25,000 organic operations in the world. All indicators clearly show that people have a clear preference to consume organic products. Price is the primary factor (if not the only) that backs consumers from purchasing this type of product.
Source: OTA
Why is the organic market so important for Whole Foods Market?
To answer your question, here is Whole Foods' business description taken from their 2015 10-K:
"Whole Foods Market is the leading natural and organic foods supermarket, the first national "Certified Organic" grocer, and uniquely positioned as America's Healthiest Grocery Store™. The Company incorporated in 1978, opened the first Whole Foods Market store in 1980, and is based in Austin, Texas. We completed our initial public offering in January 1992, and our common stock trades on the NASDAQ Global Select Market under the symbol "WFM."

Whole Foods Market is a mission-driven company that aims to set the standards of excellence in food retailing. Our motto - Whole Foods, Whole People, Whole Planet - emphasizes that our vision reaches far beyond food retailing. Our success is measured by customer satisfaction, team member happiness and excellence, return on invested capital, active environmental stewardship, service in our local and global communities, and win-win supplier partnerships, among other things. Through our growth, we have had a significant and positive impact on the natural and organic foods movement throughout the United States, helping lead the industry to nationwide acceptance over the last 37 years.

We have one operating segment, natural and organic foods supermarkets. We are the largest natural and organic foods supermarket in the U.S., the 5th largest public food retailer, and the 10th largest food retailer overall based on 2014 sales rankings from Progressive Grocer. As of September 27, 2015, we operated 431 stores in the United States ("U.S."), Canada, and the United Kingdom ("U.K."), averaging over eight million customer visits each week. Our stores average 39,000 square feet in size and are supported by our Austin headquarters, regional offices, distribution centers, bakehouse facilities, commissary kitchens, seafood-processing facilities, a produce procurement center, and a specialty coffee and tea procurement and roasting operation."
Source: 2015 10-K
Not only sales of organic and healthy products is Whole Foods' business, it's the only segment in which they operate. If you believe in the organic movement (I do), Whole Foods seems an attractive investment.
Income Statement And Sales Growth
Whole Foods Market sales have grown from $93 million in 1991 to $15.4 billion in 2015. This equates to approximately a 24 percent annualised growth rate. For 2014, food retail industry sales were $638.30 billion. This equates to a market share of 2.4 percent for Whole Foods Market and demonstrates the opportunity they have to gain more share. From 2011 to 2015. yearly sales grew 52 percent representing an annualised growth rate of 11 percent. As the company has grown and matured, its sales growth has declined. Even with decline in sales growth, Whole Foods still has the opportunity to continue gaining market share.
Balance Sheet
Whole Foods Market has something every investor looks for, simplicity. Examining their balance sheet, only around 30 line items show up. On top of that, Whole Foods has no debt. It is stated in their annual filing that most of their stores are accounted as operating leases meaning they are not reported in the balance sheet as liabilities. Though this might frighten you, there is no doubt management is aware that underperforming stores should be closed as soon as possible. Also, once studies have been done to prove the viability of a store opening, the store should be closed in a short time notice. Whole Foods' balance sheet boasts over $3 billion in net tangible assets. Currently, the company has a market cap of $10.2 billion. This equates to a price to book ratio of 3.3. For a growing company, this is an attractive valuation and provides a margin of safety.
Cash Flow
Whole Foods' return on invested capital hovers around 9 percent including the effect of capitalizing operating leases. Excluding this figure, ROIC turns out to average 14 percent. Operating cash flow has been in excess of $1 billion for the last three years growing subsequently. Capital expenditures attributed to open stores (non-growth item) was $335 million in fiscal year 2015. This leads to a free cash flow of $794 million and a cash flow yield of 7.78 percent. Whole Foods' numbers are not astronomic but they are attractive and consistent.
Competitors
Whole Foods' main competitors are Trader Joe's (private company), Kroger (NYSE:KR), The Fresh Market (NASDAQ:TFM), and Sprouts Farmers Market (NASDAQ:SFM) including many other privately owned businesses. Industry wide, Costco (NASDAQ:COST) and Wal-Mart (NYSE:WMT) are also Whole Foods competitors.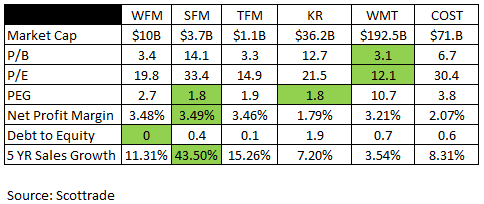 As seen on the image, Whole Foods ranks first in lowest debt to equity ratio. On all other metrics, Whole Foods demonstrates reasonable numbers. Also, I feel confident in stating that their valuation is reasonable on an absolute basis.
Valuation
Here is a share price calculation I made of Whole Foods using a cost of capital of 10.48 percent, five-year growth rate of 10 percent, and long-term growth rate of 5 percent. The cost of capital was obtained by averaging the result of the CAPM and the Gordon model. Risk free rate used was 2 percent, market return used was from the 10-year SPY performance, beta was obtained from Yahoo, and FCF was calculated as operating cash flow less capital expenditures for non-growth items. Not only is the result of this calculation almost double of Whole Foods' share price, if you change short and long-term growth rate to 3 percent, share value turns out to be $32.45. This calculation demonstrates that Whole Foods' share price is attractive.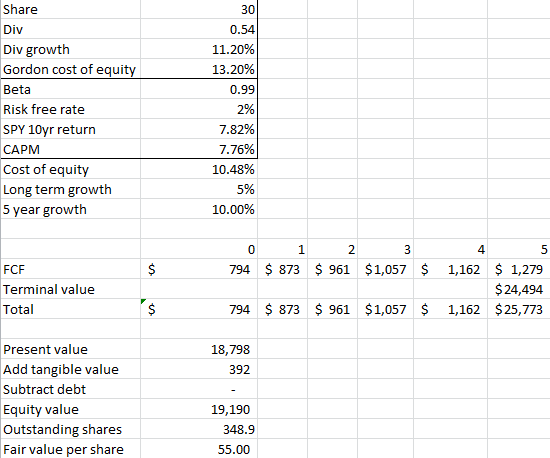 Risks
Whole Foods' industry is extremely competitive and not only are health foods getting into the organic craze, other big box retailers are also offering natural products at competitive prices. A complaint often heard about Whole Foods is that they are not economical. Hearing this not only from the media but from word of mouth can heavily affect Whole Foods' reputation translating into fewer sales.
Qualitative Factors
Whole Foods co-CEO and co-founder John Mackey has astonishing values, which he runs the company by. He is a vegan and previously was a vegetarian for many years. This clearly shows Whole Foods' intentions to not only operate for profit but also to provide healthy food at accessible prices.
Whole Foods is in the process of opening their 365 stores. These stores will be smaller in size and will focus on offering products at lower prices than what Whole Foods currently offers them. Though the market is skeptical about this endeavor, it seems like another opportunity for Whole Foods to continue growing.
Conclusion
Whole Foods' valuation is clearly attractive. The company operates in a competitive industry. The products Whole Foods sells are heavily demanded and appear to continue to be popular for the foreseeable future. With 365 stores on its way, people conscious about their health, and Whole Foods being a competitive company in the industry, Whole Foods Market is a buy in my opinion.
Disclosure: I/we have no positions in any stocks mentioned, but may initiate a long position in WFM over the next 72 hours.
I wrote this article myself, and it expresses my own opinions. I am not receiving compensation for it (other than from Seeking Alpha). I have no business relationship with any company whose stock is mentioned in this article.