Bloomin' Brands (NASDAQ:BLMN) is a stock I've been bearish on in the past as I felt it was overvalued, but earlier this year, I said the stock was finally cheap enough to consider buying as it had been crushed from its former highs. Of course, that has turned out to be wrong as a sector-wide rout on restaurants as well as a disappointing Q3 earnings release have taken their collective toll. But with shares now near the lows of 2014, it seems BLMN is quite cheap.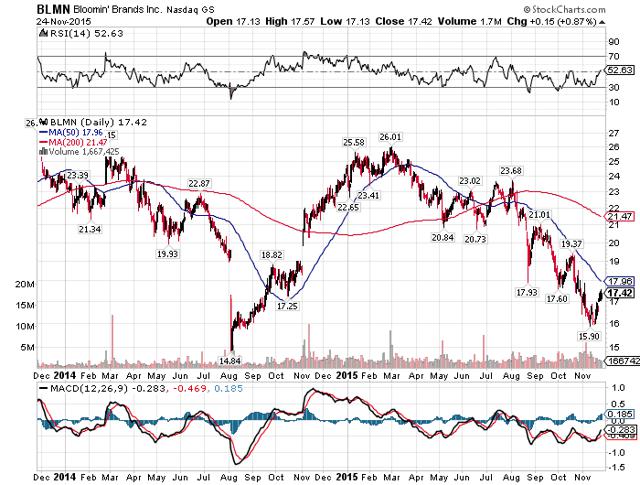 BLMN beat on the bottom line in Q3, but it didn't matter as the company posted a 3.7% Y/Y decline in revenue. The company has been struggling for some time with getting people in the door and Q3 was no exception; comp sales at the company's US restaurants declined by 1.3% during Q3. In addition, the weakness was seen everywhere as only Outback produced a positive comp for the quarter, coming in at 10 bps of growth. This is nothing new for BLMN as it has had a difficult time with Bonefish and Carrabba's, in particular, in terms of boosting traffic. Clearly, Q3 was not the end of this struggle so that is why the stock has continued to selloff. The international business posted a great comp, but that segment is so small in comparison to the US business it really doesn't matter.
Apart from sales that were weak, BLMN continues to do a fantastic job of boosting operating margins. Investors seem to have forgotten that BLMN beat on the bottom line despite weak sales because it is really performing well with respect to its margins. Adjusted unit level operating margins rose 70 bps on a base of just 13.8%, a very impressive expansion. That certainly helped BLMN beat in Q3, and with management's continued focus on boosting profits, I expect we'll see more in Q4 in this space.
In addition, despite the fact that BLMN has done a great job of expanding margins, its level is still low. Many restaurants operate in the high-teen area or even into the low twenties, but BLMN is still sub-15%. That leaves lots of room for margin expansion in the future, but it is contingent upon traffic growth. BLMN has proven the ability to do more with less, but if it is going to get to the next level, it needs comp sales to start growing again. Otherwise, it will never see 18% or 20% unit level margins; it simply doesn't have the traffic to support it.
BLMN provided us with some preliminary guidance for next year, and I think it's pretty interesting. The company is forecasting positive US comp sales, something it has struggled with this year. If BLMN returns to comp growth in 2016, I think we'll see the stock a lot higher, but that is a big 'if' at this point.
In addition, it said commodity inflation and forex headwinds are expected to be muted. It also said operating margins will continue to rise, although it declined to state by how much. But considering the impressive gains in margins this year, stacking any sort of gains onto it next year would be a boon for BLMN's EPS. Its guidance there was for 10% to 15% growth, and given the decline of BLMN's shares, I think that makes it cheap.
We've seen slight reductions in analyst estimates in recent months as BLMN's comp sales struggles have materialized, but the moves down have certainly been small enough to be manageable. The company is expected to post 2.3% sales growth next year, and if it really does post positive comps, that shouldn't be a problem at all. BLMN will get a small boost from new stores so I'm not concerned about it hitting that number.
It is expected to grow EPS at 11.8% next year, and if we assume 2.3% of that will come from sales growth, we are left with 9.5% that must come from margin expansion and a lower share count. BLMN said it would see higher margins next year but declined to state how large the increase would be. The company did repurchase $60 million of shares in the 3rd quarter alone, exhausting 60% of its newly-minted $100 million authorization. I expect we'll see the $40 million go quickly in Q4 and that we'll also get a new authorization either during the Q4 earnings release or some time shortly thereafter. BLMN has proven the willingness and ability to buy back stock, and with shares languishing, I believe management is probably out buying lots of stock right now. If we assume the company will produce another $100 million authorization for next year, we could see 4% or more EPS growth from a lower share count, significantly lowering the bar for required margin expansion.
The thing is that even if BLMN misses its 11.8% growth target, I think the stock is already priced to absorb it. Sentiment on BLMN is terrible right now and I think expectations are that the company will miss in 2016. The stock wouldn't be trading for 12 times forward earnings as it produces double-digit EPS growth if investors were confident in its ability to execute. That makes me very bullish because I like the fundamentals, and I like the fact that investors have thrown BLMN out into the trash heap of restaurant stocks. It doesn't deserve to be there and that presents an opportunity.
In addition, the chart is saying that the selling is likely coming to an end. BLMN has been in a nasty downtrend for months now, but the stock hasn't been oversold since late September. It is still within the current downtrend but is knocking on the door of a breakout. Breaking out of the current downward sloping channel is the first step towards building a base and eventually moving higher. I think BLMN is close because the momentum indicators are diverging very bullishly from the weak price action. That means that buyers are outnumbering sellers and that is critical for seeing a breakout from the channel and then eventually moving higher.
The combination of the favorable chart setup, the fact that sentiment is so terrible and a very cheap valuation make me really like BLMN here. The stock is unloved for sure but that is the kind of stock that is the best to buy as that kind of setup generally offers a valuation that has overshot to the downside. I think that is exactly what we have with BLMN and I love it.
Disclosure: I am/we are long BLMN.
I wrote this article myself, and it expresses my own opinions. I am not receiving compensation for it (other than from Seeking Alpha). I have no business relationship with any company whose stock is mentioned in this article.