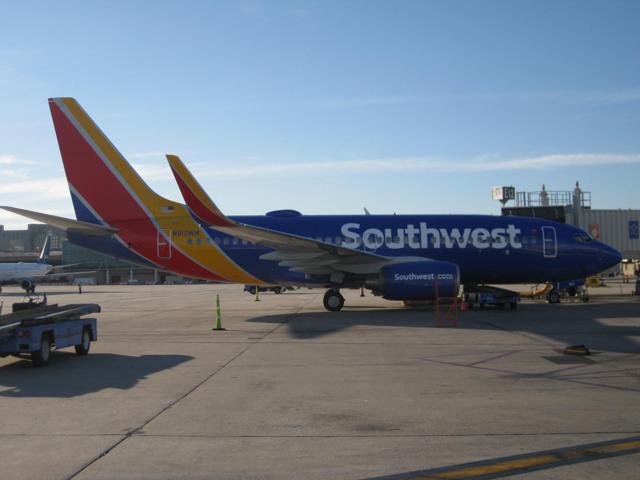 Img 1: A Southwest Airlines aircraft
As Southwest (NYSE:LUV) hits new 52-week highs, it may be time to pack up your bags and get out. Pilots at the company recently voted 61.6% to 38.4% against a new contract and that is just the tip of the iceberg of many potential problems at the company.
I predicted in an earlier article I wrote that the contract would not pass at Southwest, something I got a good idea of by getting out there and talking to staff who work at the company. I spoke to many pilots after the vote and asked what the biggest problems were with it. I heard many things, from signing bonus being too low, 401(k) match being worse than what is offered at peers, fatigue calls now requiring a report, the potential for codesharing and overwhelmingly, the fact that the company is making record profits yet the contracts being offered do not reflect this. The bigger thing that struck me however is that many of the grievances are not financial things, but also things surrounding long-term job security.
One of these things was codesharing. Management at Southwest has gone to great lengths to install the equipment required to allow Southwest to codeshare with many other airlines starting early 2016. Pilots, however, are overwhelmingly against this from what I have heard from talking to many. They see it as a threat to their jobs and believe that if Southwest wants to capture passengers from Brazil for instance that it should be flying there itself rather than codesharing, especially if the destination is within range of its aircraft. This is a stark contrast to the attitude at JetBlue (NASDAQ:JBLU) and Alaska (NYSE:ALK) where codesharing is seen as a big opportunity and provides 15% of total revenues at Alaska.
Pilots at Southwest likely became increasingly concerned with codesharing when rumors emerged that Southwest was working to codeshare with JetBlue in markets where JetBlue is much stronger than Southwest such as New York and Fort Lauderdale. Southwest pilots would rather see this flying done by themselves as opposed to sending it off to another airline. There are big opportunities for Southwest with codesharing and Air China (OTCPK:AIRYY) was reportedly interested in codesharing with Southwest at Los Angeles due to its excellent network from LA. By rejecting codesharing, pilots at Southwest are putting the company at a competitive disadvantage going forward.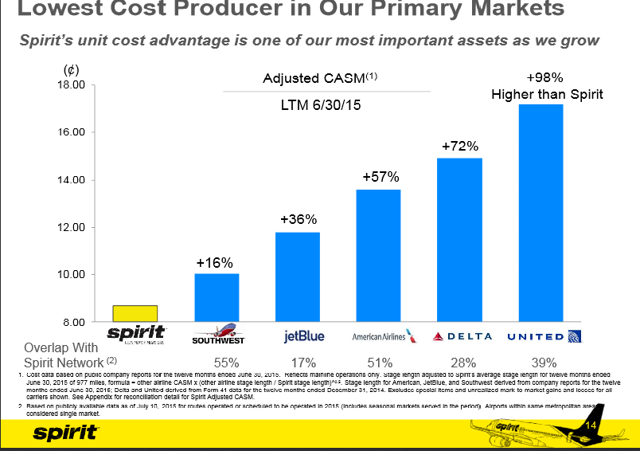 Img 2: Operating costs at U.S. Airlines
Southwest has a large disadvantage in operating costs compared to the lowest cost producer Spirit Airlines (NASDAQ:SAVE). Any further increase to this as a result of higher salaries is going to hurt the company in terms of earnings and ability to compete on price. A lack of codesharing plus a higher cost base comes together to make the airline stuck in the middle between ULCC carriers and full service airlines. It will be hard to win over high-value clients who require international travel, if you do not have any international partners you can codeshare with.
In addition, if your costs are not the lowest as shown above, the majority of leisure passengers, a core part of Southwest's customer base will not choose you. Southwest does have the benefit, however, of a large point-to-point network of cities that business travelers can travel to and from without the need to connect at an airline hub along with good frequency. It also is a much better performer than Spirit and other low cost competition in on time performance, something many higher-value passengers do care about.
This truly does, in my opinion, mark a turning point for an airline that was historically known for its excellent labor relations. Aside from the Pilots waiting over 3 years and counting for a new deal, there are also flight attendants waiting over 2 years, and 87% of them voted down the last offer in July. Then there are the ramp workers 5 years overdue who have been picketing at airports and the company's annual meeting to vent their frustrations.
It then begs the question, with the company running on outdated labor contracts, how much longer can it keep its costs artificially low before it has to face the reality and raise the wages to the industry standards, and levels that keep employees happy given the profits being reported at Southwest. At this point, then, how does labor cost affect earnings. I decided to take a look at last quarter, and calculated a 25% increase in salaries and how that would affect earnings. The result almost reduced the earnings by half to pretax earnings of $509 million versus the $933 million reported. It may need to eventually follow the rest of the industry and turn to bag fees and look at other revenue generation tools to help its financials going forward.
I believe Southwest is a great company at its foundation; however, I am concerned with the large salary hikes to adjust to reality going forward at the company and how these will affect earnings. In addition, an attitude from the pilots that is against codesharing is not good for the company long term and places it at a large competitive disadvantage. To see a company that was once so well known for its excellent labor relations develop such a divide between management and staff is quite concerning in my opinion and has the potential to affect customer service negatively in the long term as well.
Fourth quarter will be able to beat guidance given at Southwest, as the company will not be paying out the signing bonus and higher salaries that were placed into the Q4 guidance. However, past Q4, I am neutral on Southwest for now with a more negative than positive view going forward until we can see some new contracts put in place and see their associated costs.
Disclosure: I/we have no positions in any stocks mentioned, and no plans to initiate any positions within the next 72 hours.
I wrote this article myself, and it expresses my own opinions. I am not receiving compensation for it (other than from Seeking Alpha). I have no business relationship with any company whose stock is mentioned in this article.