Yields in the overall stock market have been down in the dumps, and this collapse in stock market returns has been a result of macroeconomic weakness overseas, especially in emerging markets such as China (where growth has been slowing as of late), Brazil (where political instability abounds), and Greece (whose credit troubles have been shaking the markets). All of these negative events have been increasing investors' fears of a possible global downturn in the stock market in the near term, and thus, investors have been in search for alternative asset classes in which to invest and hide their capital from the onslaught of downward pressure.
These alternative asset classes certainly offer investors advantages that the stock market does not offer. However, they come with their own risks as well. For instance, real estate often requires a large upfront capital investment and is a very illiquid investment. Commodities and derivatives require specialized knowledge in order for investors to operate with maximum efficiency in these markets. Precious metals perform with a negative correlation with the overall stock market, and therefore investors would be betting against the stock market, usually a bad bet in the long term given stocks' naturally tendency (as a whole) to increase in value over time.
Thus, investors would be best suited towards investing in equities, and if they indeed want to protect themselves against capital losses, they should consider investing in large, diversified companies that are all about stability. One of these companies is Newell Rubbermaid (NYSE: NWL), an American-based global marketer and producer of a variety of goods with well-known brands such as Rubbermaid food storage, home organization, refuse container products, Sharpie markers, Paper Mate, Parker and Waterman pens, Aprica and Graco children's products, and a whole host of other products as well. Thus, investing in Rubbermaid is like investing in several different companies at once since the Company holds so many diverse brands. Furthermore, these brands are well known and are essentials within the American economy. After all, everyone needs these basic essentials.
And investors are certainly pleased with the results the Company has posted over the past five calendar years, which is evident from the significant capital appreciation the Company's stock has experienced over the past five years. Capital invested at the onset of calendar year 2011 would have generated a return on investment of more than 120%, much higher than what the overall S&P 500 would have returned over the same period. Furthermore, most of the capital appreciation has been spread out over the five-year period, which illustrates that the Company has grown at a rate that is not in line with the overall S&P 500. Thus, investors have the potential to benefit from outsized returns. From a technical perspective, the 50-day moving average has stayed above the 200-day moving average for the most part. More recently, the 50-day moving average continues to remain above the 200-day moving average, which could indicate near-term upside.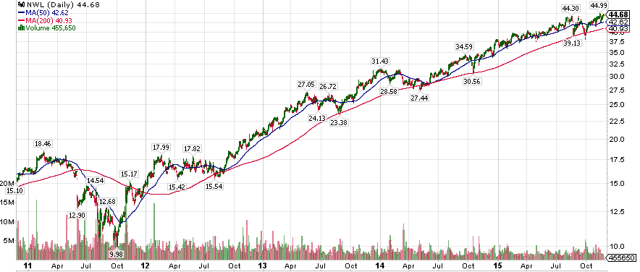 Source: Stockcharts.com
Of course, long-term investors should be focused more towards the solid, long term, unbreakable fundamentals that the Company possesses, and needless to say, these fundamentals will protect investors' investments long into the future. First of all, Rubbermaid operates in a moaty industry, given the industry's requirement of large upfront capital investment in order to construct the machinery and obtain the labor necessary for producing the products. Given its dominant position in the conglomerate market, the Company is protected from new entrants as a result of its incumbent status.
However, Company-specific advantages abound as well. Although acquisitions have and continue to account for a portion of the Company's growth, the Company has also grown through a large amount by organic growth. Although inorganic growth can help boost a Company's earnings, it is organic growth that indicates whether or not a Company can continue to maintain its outstanding performance in the long term.
Combined with a dividend yield of about 1.15%, investors benefit from a combination of capital appreciation and quarterly paychecks. This is supplied through the Company's incredibly stable free cash flows, which have historically hovered around the $400M to $500M range. Furthermore, even though the Company's balance sheet indicates a decent amount of leverage in the Company's capital structure, the Company still has some optionality in its balance sheet for share buybacks or further acquisitions, which could boost growth in the midterm.
Thus, investors are looking at a company that can double both as a sword and a shield against capital loss. A strong balance sheet, high organic growth, and strong free cash flow all are great positives for the Company. Invest in Newell Rubbermaid for unparalleled diversification and capital preservation.
Disclosure: I/we have no positions in any stocks mentioned, and no plans to initiate any positions within the next 72 hours.
I wrote this article myself, and it expresses my own opinions. I am not receiving compensation for it (other than from Seeking Alpha). I have no business relationship with any company whose stock is mentioned in this article.