Overview
Exterran Corporation (NYSE:EXTN) is a recent spin-off from Exterran Holdings, now known as Archrock Inc. (NYSE:AROC). Following the spin-off which occurred on November 3rd, 2015, EXTN has been a largely orphaned security, which I believe has set up a highly attractive valuation and is a classic "spin-off" special situation opportunity. The company's primary focus is in the international compression sector, characterized by steady cash flows and long-term growing end-markets. EXTN also sells compression and processing equipment to domestic and international customers through its fabrication (or "product sales") segment, which creates volatility in results, but contributes less meaningfully to earnings. Recent technical selling and cyclical industry pressure has depressed the valuation to where I believe investors have an opportunity to purchase shares at highly attractive relative and absolute multiples of free cash flow and EBITDA less capex. In particular, it appears the market is applying a trough multiple to potential trough earnings for EXTN, setting the stage for a massive rebound in the stock as conditions normalize. I believe EXTN offers more than 100% upside today at valuations in line with its closest peer, despite being a fundamentally better business. In short, the spin-off situation has temporarily depressed the price, leading to a very attractive valuation of just 4x LTM EBITDA and 6x my estimate of 2016 free cash flow.
This write-up focuses on EXTN, but the parent company, Archrock, has also been depressed due to many similar factors, and a separate write-up on AROC has also been posted. Naturally, some of the language is similar regarding why this opportunity exists between both posts, because the companies share a common past.
Background:
On November 3, 2015, Exterran Holdings (EXH) completed the spin-off of Exterran Corporation. Prior to the separation, Exterran Holdings was composed of four businesses: domestic compression (NACO), international compression (ICO), equipment fabrication, and compression aftermarket. The businesses that went with the spinco, Exterran, were international compression, fabrication, and international aftermarket. This leaves the remaining company, AROC, purely focused on the domestic compression market. Upon separation, the parent changed its name to Archrock, Inc. Subsequent to the spin-off, both pieces have traded off materially despite reporting third-quarter results that generally beat the Street's expectations.

Company Description
Exterran Corporation is primarily an international compression business which has many similar characteristics as the domestic compression business (see the AROC write-up). Compression refers to the mechanical process of adding pressure to a specified volume of natural gas in order to facilitate its transportation from one point to another. Natural gas compression services provide the necessary horsepower involved in the extraction and transportation of natural gas from wellhead through the pipeline, and is typically done under longer-term contracts. Compression demand is linked to natural gas production volumes (supply), and therefore, natural gas demand, with little short-term impact from oil or natural gas prices or drilling demand. Compression equipment (or units) vary in size, and are typically measured in horsepower. EXTN's involvement within customers' production footprint is typically larger than in domestic compression operations. This is because international markets typically have less existing energy infrastructure. As a result, Exterran will provide its compression customers additional services, such as engineering and construction for adjoining processing facilities. The initial fixed contract term is 3-5 years, after which customers typically extend. Including extensions, the trailing 5-year weighted average ICO contract duration is 10 years, adding predictability and stability to cash flow at EXTN. Additionally, international customers are typically less sensitive to commodity prices, and demand is more a function of growing infrastructure needs supporting local economic development. The company's existing ICO compression base is well diversified across 130 active projects.
EXTN's fabrication business sells compression and processing equipment. This is by far the company's most volatile segment as new orders flex with production capital expenditures. However, it is capital-light and cash-generative. It also feeds EXTN's international aftermarket business servicing the installed base of customer equipment.
Current Capitalization

Why Is This Mispriced?
I think one of the most important things in special situations investing is to first identify why a particular opportunity exists. In the case of EXTN, there are myriad factors that have led to the current dislocation. Frequently, spin-offs experience selling pressure upon separation. The classic example would be a large company spinning off a small, non-core division that legacy shareholders quickly unload in the market once the new ticker shows up in their portfolios. In this particular case, shareholders of the old EXH (now AROC) received 1 share of EXTN for every 2 shares of EXH they owned (i.e., EXH = 1 AROC + ½ EXTN). The decision to sell can happen for many reasons. First, oftentimes market cap size or liquidity mandates at large asset managers restrict them from owning the smaller entities. The spin-off is often outside the thesis for why current shareholders own the parent company, resulting in little price discrimination when selling. Third, different corporate structures or dividend policies attract different sets of investors. Lastly, event-driven investors frequently trade spin events, accumulating positions pre-spin and quickly unwinding post separation hoping to clip a quick gain. This fast money can magnify volatility soon after the event, especially if these investors do not immediately see the benefits from the spin-off transaction. AROC and EXTN check all of these boxes emphatically:
Low market capitalization - The combined company had a market cap in excess of $1.5B, and paid a dividend. Both standalone companies now have market caps under $1B, likely tripping mandates at large managers. Once EXTN began trading out of the gate well below estimates, the selling pressure compounded with little bid for a very clearly underfollowed stock. In fact, the heavy volume across both stocks in the first week of trading mimicked the 2-for-1 spin ratio (meaning, the EXTN shares that traded were double AROC's volume, suggesting prior EXH holders were selling both pieces indiscriminately). Volume has been light since, suggesting these stocks have been left for dead, with few investors paying attention. As further evidence of technical selling, the sum of the parts (AROC + EXTN) has actually traded down since the spin-off, which is atypical of a spin-off transaction expected to unlock value.
No major research coverage - Neither security has meaningful research coverage, which doesn't help support price in a difficult market environment. Seeking Alpha didn't even have EXTN as a ticker in its system until this article was submitted.
No MLP involvement and no dividend - Post the separation from AROC, EXTN does not pay a dividend and has no ties to the MLP space. While AROC is the general partner of its underlying MLP, EXTN is a simple C-Corporation, so there was likely turnover in the shareholder base for both of these reasons.
International operations - The prior company was predominantly a US-based operation. Because EXTN is an international business, some investors may not want to research the international market for compression, or may be unable to own companies that predominantly operate internationally.
Cyclicality - The EXTN fabrication business has elements of cyclicality that are more meaningful to the overall enterprise than when it was a part of Exterran Holdings. Some investors may be spooked by this cyclicality, though I believe a new selling opportunity will more than make up for this over time, as EXTN can now sell horsepower units to third-party customers that it previously couldn't sell as part of Exterran.
International Compression Market
Exterran Corporation's international compression business is strongest in South America, with a growing presence in the Eastern hemisphere. There is understandably less visibility in this market. Management believes the demand for international compression projects is generally less susceptible to commodity prices, and is instead driven by long-term planning for local markets' energy needs. This makes sense conceptually in that markets without access to local production could be burdened by transportation costs, so the economics of investing could be different internationally versus domestically. More importantly, long-term contracts and a cheaper valuation more than offset the lower visibility. This underlying stability can be seen in the international compression business' operating results over time.
Historical Financials/Projections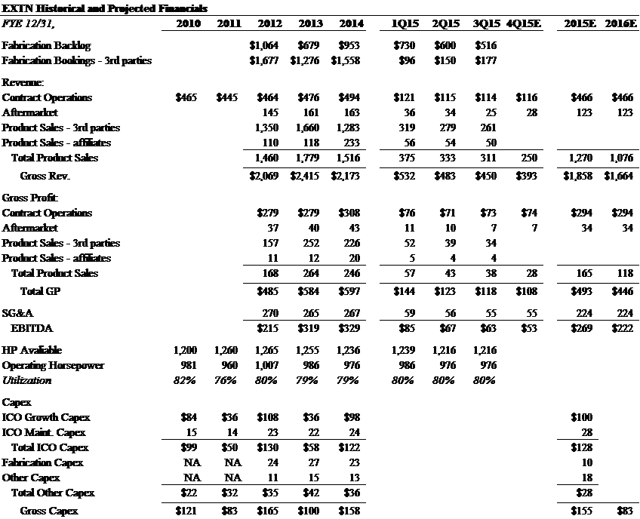 I am modeling 2016 product sales demand using bookings from 3Q15 of $177M. These booking did not include orders from Archrock Partners. These orders used to be an intercompany elimination, and show up as capex pre-spin and amounted to ~$50M in recent quarters. Also, third-quarter bookings are typically a seasonal low, and marking up future quarters by average seasonal adjustments translates to just over $1B in sales. This should represent a conservative trough estimate. I held gross margin flat with 4Q15 guidance
Now separated, EXTN will have the opportunity to sell equipment to domestic competitors of Archrock now that the businesses are separated. Sales to these former competitors represents about a $200M total revenue opportunity and should help EXTN grow product sales off the trough.
Valuation
The two most obvious ways to value EXTN are by using market comparables and an absolute valuation based on the free cash flow the company generates. Both cases yield substantially higher values than the current trading price. Baseline projections for EXTN are as below:
EXTN Comparable Valuation
Exterran Corporation only has one true comparable in the market - a company called Enerflex (OTCPK:ENRFF) that trades on the Toronto exchange (listed as ENRFF in SA, TSE:EFX otherwise). Enerflex is a $1.1B CAD market cap ($825M USD), and has a very similar business as Exterran. Its balance sheet is similar too, with a couple turns of financial leverage. Enerflex trades at 8x 2016 EBITDA, a value that would imply EXTN shares at ~$36 versus $16.31 today.


Enerflex shows a year-over-year decline in EBITDA, but I am modeling an even larger decline for EXTN, to be conservative. The primary difference between the two is the weighting of segments contributing to earnings. Exterran and Enerflex have similar contribution from product sales to their gross earnings, but Exterran has much greater exposure to contracted compression, while Enerflex is heavily weighted to aftermarket. Contracted compression offers the most stability and should merit a higher valuation. Enerflex entered the international compression market in June 2014 by acquiring assets from Axip Energy Services, a company controlled by TPG Capital. Enerflex very clearly likes this market, and touts its growing exposure to recurring compression demand above its other segments. For example, the following passage from the company's 3Q15 earnings release discusses this point (note, "rental" refers to contract compression):
Notwithstanding the weaker markets, the Company's financial performance has and will continue to benefit from increasing recurring revenues including a number of new and renewed new long term rental and service contracts, and from a geographically diversified business. With the acquisition of the Axip Business, Enerflex has successfully positioned itself to deliver growth from market opportunities in the Latin America and MEA regions, and to increase recurring revenues globally.
This suggests that at the minimum Exterran Corporation should trade at a similar multiple to Enerflex due to its greater exposure to recurring compression revenue. Instead, it trades at a massive discount to an obvious peer, likely due to the recent spin-off and lack of research coverage. Comps are usually the first benchmark used to value new spins. Such a large gap between comparable businesses is rare, and it's clear not many have cared to look.
Importantly, although this peer valuation yields a substantially higher value for EXTN, one could actually argue for a premium to Enerflex.
Exterran Corp.'s Cash Flow Valuation
Using a comp-based valuation, EXTN looks obviously undervalued. However, an easy pushback would be perhaps that Enerflex is overvalued. Instead of relying on comps, I also like to look at businesses on absolute multiples of cash flow. EXTN is trading 6x and 9x levered and unlevered cash flow, respectively. The S&P 500 trades at 16x forward earnings. Exterran is not a sexy business, but it has contract coverage across a range of long-term projects with a growth trajectory through the cycle. Given these broad market benchmarks, it looks easily justifiable that EXTN should trade at least 10x trough cash flow. Cash flow projections and valuations at a range of multiples are below: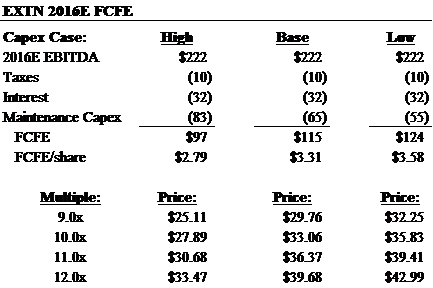 The multiples attached here are capitalizing trough earnings power from Exterran's fabrication segment. Typically, businesses with cyclical end-markets see multiple expansion during downturns. For example, the O&G equipment and services subgroup of the S&P 500 trades at 27x FY2016 EPS given the depressed level of current earnings. However, even assuming the market disregards this dynamic, EXTN looks way too cheap.
A Note on Capital Expenditures
An obvious pushback one could have with EXTN would be the high level of ongoing capital expenditures as it continues to purchase horsepower units. Although the company provides a figure for "maintenance" capital expenditures, the reality is that overall horsepower hasn't grown much over the last several years. This calls into question whether the "growth" capex is actually maintenance. However, growth capex is misleading, because it is not purely for compression assets. Much of the growth capex is spent on non-core engineering and installation that is reimbursed to the company upon project start-up. This non-core capex is outside the compression assets, and effectively represents working capital accounts. Exterran records the upfront reimbursement as deferred revenue to be amortized over the initial contract term (3-5 years). This exaggerates capex and D&A levels depending on the timing of projects. It has been investing in a number of growth projects in compression over the last few years, including a large gathering project in Brazil utilizing 28K of horsepower coming online next quarter. This has led to a period of elevated capex over the past 3 years. Capex will decline as the market cycles down next year, and should reflect maintenance-type levels. The company's guidance for maintenance capex is only $55M (including fabrication and other capex), but to be conservative, I chose to use the amount invested the last time the market cooled off in 2011 (the "high" case). Another way to estimate maintenance capex levels is using Exterran's gross compression PP&E balance of $1.5B divided by a useful life of 24 years, which implies $65M. I believe these adjustments were necessary to conservatively value the business at a more normalized level of free cash flow.
Conclusion
In conclusion, I believe EXTN is a highly asymmetric undervalued spin-off opportunity with over 100% upside at valuations in line with the most obvious public comparable. Additionally, EXTN is cheap on an absolute basis as a multiple of ongoing free cash flow. As research coverage increases and the company continues to generate free cash flow and deleverages, investors should be rewarded as the valuation becomes more appropriate and it at least trades in line with its closest peer.
Downside is protected by contracted cash flows, modest debt levels, and a low current valuation. Company-specific risks would include execution on large projects, which has been smooth historically, and the geopolitical climate in international markets. The CEO is new, but his background with GE looks solid. The CFO came from EXH, and has a lot of experience with the business. Both will be highly motivated alongside shareholders, as performance-based stock option grants will be priced at these basement levels.
Disclosure: I am/we are long EXTN.
I wrote this article myself, and it expresses my own opinions. I am not receiving compensation for it (other than from Seeking Alpha). I have no business relationship with any company whose stock is mentioned in this article.