One thing about investors I never understand is their disdain for a company investing in itself. They seemingly hate when a company actually looks beyond the next quarter and spends some money to make itself more competitive down the road. They often seem to prefer the company hoard money or even sell parts of it, hindering future growth in order to give money to shareholders.
Is that an effective use of money? CBS Corp. (NYSE:CBS) recently heeded calls to unlock value. It spun off its outdoor billboard advertising company and used that money to buy back stocks.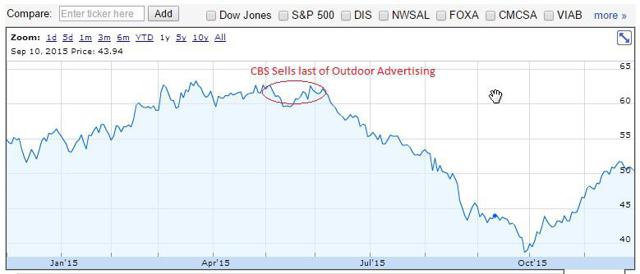 Not a real shock here; selling that part of the company cost it revenue and thus earnings, and CBS just ended up buying the stock back at a high price. That sort of return to shareholders I can do without, thanks.
As it turns out, Wal-Mart (NYSE:WMT) is now in the position of attempting to invest in itself, and is being punished by shareholders for the upfront costs involved. However, if you have the wherewithal to look beyond the current expenses, you will likely be handsomely rewarded when these investments pay off.
Let's start by taking a look at the company's chart and discussing some of the challenges it is facing.
For such a steady and slow-growth company, that's a lot of volatility. So why the big drop? It has to do with a few things. Higher-than-expected shrink a quarter ago, a feeling that Amazon (NASDAQ:AMZN) and online retailers are stealing Wal-Mart's business, and finally, as alluded, the decisions by Wal-Mart to spend more money on its employees and digital infrastructure.
But there's more to this story, in my opinion, and this goes back to typical short-sightedness. What set this up was the decision by former CEO of US operations, Bill Simon, to get away from the whole reason Wal-Mart exists: low prices. He wanted more rational pricing, and started instituting price hikes. I remember it well, because I thought it was a big mistake. I was a fan of the previous head of US Operations, Eduardo Castro-Wright, who wanted to push Wal-Mart's rock-bottom prices even lower in order to absolutely strangle all competition. Of course, his strategy would have taken time to take effect, and with typical investor impatience, he was forced out in favor of Bill Simon, who, as you can read in my link, started jacking up prices faster than Black Friday deals flying off shelves.
This all seemed like a great plan, as the stock price soared with higher sales numbers, but hidden were the seeds of problems to come, as Wal-Mart lost its low-cost leadership. I saw this coming (as did Kramer, by the way), because without low cost, there's no reason to shop at Wal-Mart, now is there? This finally started showing up in sales, and after five quarters of negative US sales, Bill Simon headed for the greener pastures of his old compadre Jeb Bush's campaign.
With that being said, what can we expect from the new CEO of US operations, Greg Foran? Low prices, thank God! This guy gets it seemingly, that value is the raison d'etre for the company. This is one of my keys to value investing - when management "gets it". They finally know there are problems, have identified said issues, and are taking steps to address them.
What else is management addressing as snags? In addition to low prices, Wal-Mart's infamously low wages, agreeing first to raise worker's wages to 9 then 10 dollars an hour. I think this is an outstanding idea for several reasons. Let's turn to another chart.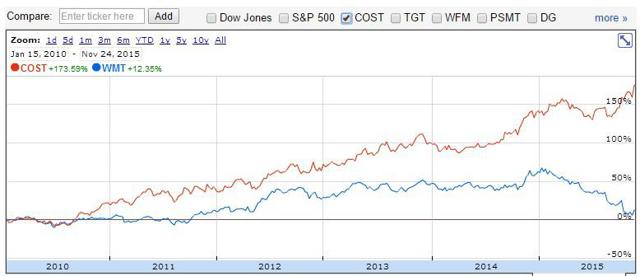 Costco (NASDAQ:COST), especially under Jim Sinegal, has been known as one of the more lucrative retailer employers. For this sector, Costco actually has traditionally paid good wages. This, of course, costs the company money up-front. Looking at that chart, does that seem to have hurt the company? Not really. Quite the opposite.
There is plenty of research showing that higher-paid retail associates actually increase sales. The theory is that they are happier and more loyal to the company, work harder and care about the company's success. Additionally, employee turnover is much lower, and new hires are not cheap, often costing about $3000 for each one at box retailers. It's no coincidence Costco has the lowest turnover rate in retail. It's costing Wal-Mart about 20 cents a share right now, but it will most likely pay off with less shrink, better service and higher sales. It's also a nice public relations move, as Wal-Mart has always been dogged by the reputation as a company that doesn't care about its employees. Better workers, a better image, likely higher sales and less mistakes and turnover? What's not to like?
The best thing here is that what Wal-Mart does, the others have to do. It sets the standard in retail, and I know this having a background working in retail. If the company raises wages, you better believe Home Depot (NYSE:HD), Target (NYSE:TGT) and everyone else will too. When it cuts prices, the others have to follow. However, rivals often cannot absorb the costs like Wal-Mart can. By cutting prices and raising wages, the company is actually improving its competitive position. I am sure of it, as this puts pressure on all its competitors to do the same.
Not only is Wal-Mart investing in its employees, but the company is also spending money to ramp up its online business (about 9 cents a share). It's an area of potentially huge growth, and one that needs attention. Amazon and others have become a growing threat for years to specialty brick-and-mortar stores like Best Buy (NYSE:BBY), but they are even creeping in on staples like Wal-Mart - and Wal-Mart, an early innovator with Site to Store, has really ignored its web business. To stem this, the company is all about improving the online experience, and like its online rival Amazon, is testing drones for faster delivery. Wal-Mart has a service similar to Amazon Prime now. And it is finding success in online grocery pickup.
Don't think that Wal-Mart is on the losing end of a one-sided match against its online rivals. The company has an intrinsic advantage over the strictly online sellers in that it can leverage that huge store and delivery base, as well as its scale for pricing. While I think it's unlikely it will overtake Amazon in online sales, Wal-Mart can still sell a lot. As a matter of fact, it already does; at over $12 billion last year, it is the third biggest online retailer, behind Amazon and Apple (NASDAQ:AAPL).
Another cause of concern the last few quarters has been shrink, which means goods lost but not accounted for. These losses can be through employees' mistakes or through theft, and it's a huge consideration for any retail outfit. I have personally noticed Wal-Mart addressing this. I've seen more warning signs, more surveillance and more arrests of shoplifters (yes, I shop at Wal-Mart frequently). It's paying off, to quote the quarterly report: "we are pleased with our efforts thus far on addressing shrink, which has been a significant headwind for us this year. "
Now that we understand what is causing some of the current share price drop, let's look at Wal-Mart in other ways. This company is historically cheap, valued at under 13X earnings. Over the last decade, it has usually been over 15X. The yield is around 3 1/4%, and is very safe. Get this - revenue has increased every year for the last ten, including the Great Recession. That's quite a statement, and also brings up a good point about this company; of all the Dow Jones 30 corporations, Wal-Mart was the only one to actually have its stock price go up during the last recession. Eventually, there will be another downturn, and Wal-Mart and its value leadership will shine during that time.
You want to know something else funny? Contrary to popular opinion, Wal-Mart is actually a company you can feel good about owning. In addition to the raised wages, it has actually committed to complete renewable power eventually. The company does a lot to reduce waste and be efficient; it feels this is smart business as well as good for the environment.
What you are seeing in Wal-Mart now is the spread in its investment cycle; it are spending the money to improve the company, but hasn't seen the rewards yet. This is impacting its earnings, but reasonably, this money spent should pay off in some fashion. Ever look at Amazon's earnings? It doesn't actually make any money, it spends most of it expanding the business. I don't think anyone can argue this has been a successful strategy. Most importantly, Wal-Mart's management understands what is wrong. They realize their app is awful. They know they have too much shrink. They see that Amazon is a threat. They finally realize that paying garbage wages gets you garbage work. And best of all, they get the most important fact: Wal-Mart is about low prices, first and foremost. These reasons make this a great time to buy the retail Goliath before its investments pay off.
Disclosure: I am/we are long WMT, CBS.
I wrote this article myself, and it expresses my own opinions. I am not receiving compensation for it (other than from Seeking Alpha). I have no business relationship with any company whose stock is mentioned in this article.
Additional disclosure: I may purchase more Wal-Mart stock at these levels.